Imagining What Disability Actually Is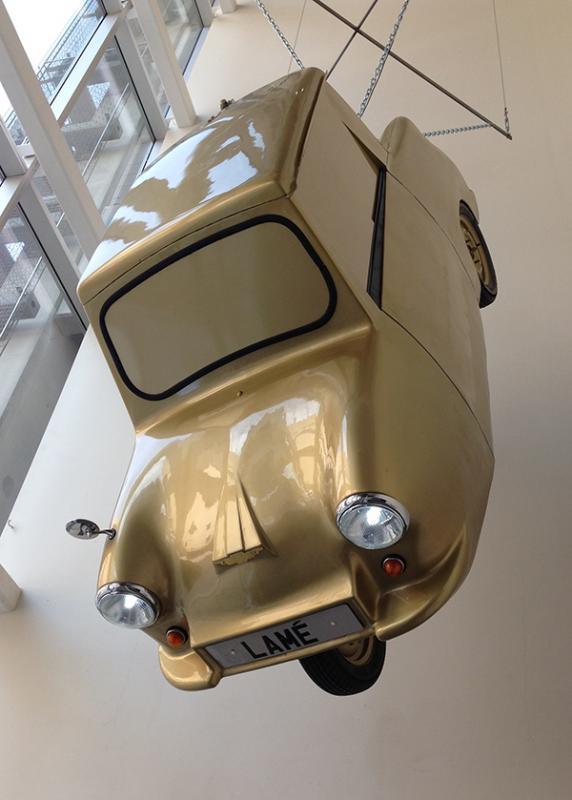 Christopher Smit has spent his life and career at the intersection of art, culture, and disability. An associate professor of communication arts and science at Calvin College in Grand Rapids, Michigan, Smit has edited a collection of essays on disability and film, written cultural critiques on popular music, and fronted a folk and roll band called the New Midwest. Smit also has had spinal muscular atrophy, a form of muscular dystrophy, since birth. "As a person living with a body that didn't quite fit into the cultural categories of normality, I have always had a keen interest in the way that difference is experienced and communicated," he said. "Art, a natural vehicle for discussions about being different, has always offered me a rich terrain to investigate, critique, and celebrate the experience of physical disability."
This spring, he has channeled his interests into DisArt Festival, the largest disability art festival in U.S. history. Held from April 10 through 25, 2015, in Grand Rapids, this inaugural festival featured a touring international exhibition, local gallery shows, a film festival, dance and theater performances, a fashion show, workshops and discussions, and family activities.
The idea for the festival began in June 2013 when Smit and fellow board members of Disability Advocates of Kent County (DAKC) began to discuss ways "to help Grand Rapids imagine what disability actually is." He thought tackling that goal via an arts event would be a fun and effective approach. As Smit said, "I firmly believed then and I believe it even more now that art is one of the best ways to mess with people's preconceptions."
With the tagline, "Changing perceptions about disability, one work of art at a time," the DisArt Festival sought to ignite conversations about what it's like to live with disability and how that experience informs how art is made and shared.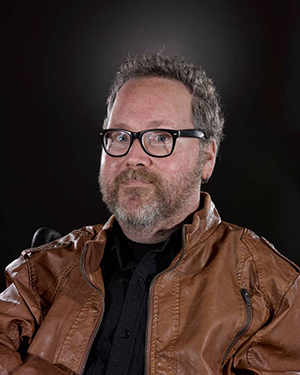 When it comes to "messing with peoples' preconceptions," Smit said, "I hope that when you leave our events or our galleries that you will be unable to not think about what it means to be living in a body that doesn't work in a so-called 'normal' way. And I don't use those words easily. There is no normal, only a perception of what normal is."
One of the first exhibits to sign on was Art of the Lived Experiment, which debuted in 2014 at DaDaFest, a well-established and well-respected international disability arts festival in Liverpool, England. The exhibition featured works by artists with disabilities in a range of mediums including sculpture, video, painting, photography, and performance. The works centered on the themes of experimentation and creative play as the means to explore change and the possibility of transformation.
Amanda Cachia, who curated the exhibit's U.S. installation, noted that this was "a very fortuitous collaboration between two international disability arts festivals." The collaboration resulted in a distinct collection of art and experiences for the growing field of disability art in both the United States and around the world. Supported by an NEA Art Works grant, the U.S. premiere of Art of the Lived Experiment included 33 international artists with disabilities, including seven from North America.
The original UK exhibit was curated by Aaron Williamson, a London-based performance artist. "Aaron has developed a powerful theme, looking at disability from an experimental point of view," said Cachia. "There's so much baggage tied to the language of disability." But an exhibition framed around experimentation was liberating for the participating artists. It allowed them to engage different mediums and ideas, to explore the themes of change and adjustment as well as the kinds of transmutations once believed possible through the medieval practices of alchemy.
Cachia added, "Unfortunately, the history of the disabled body is one in which, from a medical perspective, the body has been experimented upon as a specimen in a hospital or in a lab. [In this exhibition] this concept has been turned around such that the disabled person has the agency to experiment on their work and on their lives. Their lives could be considered playful experimentation as they adapt to 'able-ist' architectures and 'able-ist' points of view."
For artist, writer, and curator Riva Lehrer, the festival celebrated what she has known for years but believes has been hard to break through to the larger public consciousness: that art created by people with disabilities has long surpassed the days when it was viewed as art therapy or the work of a few individuals processing their physical challenges. "Disability arts has matured into a movement that is self-conscious and interconnected," said Lehrer, whose work focuses on issues of physical identity and the socially challenged body. Artists with disabilities not only share certain truths but interact with and are inspired by each other.
She adds that the festival, where she exhibited her work and delivered a gallery talk, offered people fascinating things they've never seen before. But more importantly, it opened doors. "There is something so profound about permission. Like any marginalized community, it starts with one or two people doing gutsy work who step forward, and by so doing, give others permission to share their own personal vision." She hopes other artists will be emboldened by the festival to join the movement.
Beyond visual arts, one of the more unique elements of the festival was the fashion show, which presented clothing designed specifically for disabled bodies. The garments were developed by Open Style Lab, a collaborative and interdisciplinary program at the Massachusetts Institute of Technology. Using the principles of usercentered design, interdisciplinary teams of students and mentors worked with disabled clients to create individually designed clothes that were both functional and attractive.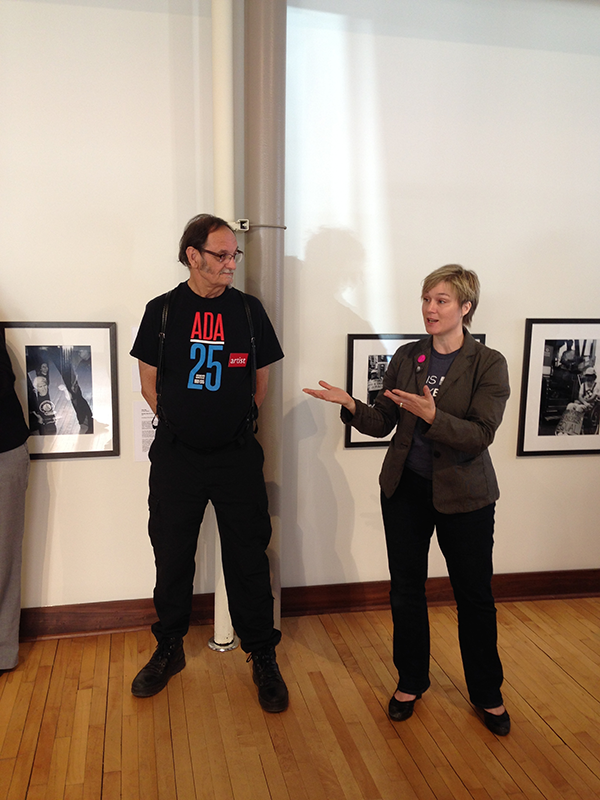 Festival attendees could also take in a number of events at the independent film festival. Among the offerings was a conversation with actor Mat Fraser of American Horror Story: Freak Show fame. Christian von Tippelskirch and Simi Linton talked about their documentary, Invitation to Dance, a powerful film about Linton's life as a disabled woman and the emergence of the disability rights movement. All told, Smit hoped that the various events would draw 20,000 visitors. But his goals for the festival extended beyond attendance. Quoting his friend, writer David Dark, Smit said, "I want to 'rearrange the mental furniture' of this city and really change the way we commune together. We think we can rebrand Grand Rapids not only as one of the fastest-growing cities in the Midwest and one of the best cities to live and be employed in, but also as the first universally accessible city."
Smit is heartened by the accessibility progress already achieved through ArtPrize, an international art festival also hosted by Grand Rapids, which emphasizes programming that removes the cultural and physical barriers to contemporary art. He also credits Grand Rapids Mayor George Heartwell and his vision, commitment, and energy promoting accessibility, especially via his declaration of 2015 as the Year of Arts and Access. Smit said, "By doing this, he is committing all of us to celebrate creativity and empowerment."
Mayor Heartwell added, "The City of Grand Rapids is indeed proud and honored to host the inaugural DisArt Festival. I extend the cultural imagination of our city to the artists featured in this show. This arts festival continues the rich tradition of inclusiveness celebrated throughout our community."
Smit has been known to cite the words of another friend and artist Neil Marcus: "Disability is an art—an ingenious way to live." From this perspective, disability is not focused on struggling against adversity but rather experiencing one's disability as a form of art; day-to-day living that requires creativity, perseverance, honesty, and courage; a manifestation of how radical both art and disability can be.