Solutions to Change People's Lives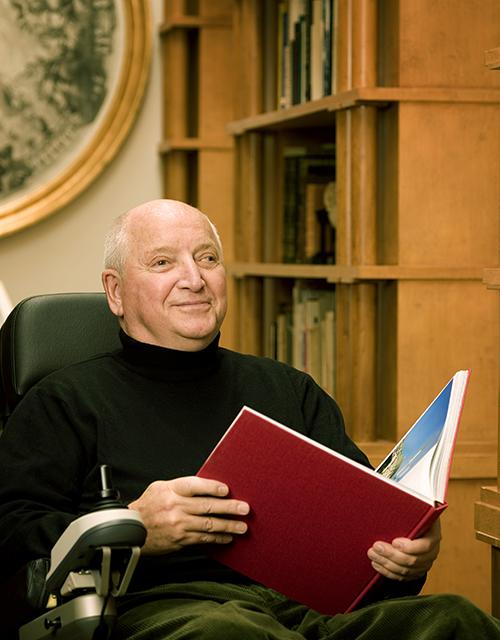 On the day we were scheduled to interview Michael Graves, the celebrated architect, designer, professor, and National Medal of Arts recipient passed away at the age of 80. But as is often said, an artist speaks through his work—and through his products and buildings, Graves' legacy carries on.
Graves first gained acclaim in the 1960s and '70s for his post-modernist buildings, and received widespread recognition for projects such as the Portland Building in Portland, Oregon, and the Humana Building in Louisville, Kentucky. However, the architect extended his influence into our homes when he began designing products for Target, a line that later moved to J.C. Penney. Dismissing all notions of highbrow and lowbrow, Graves was intent on making great design accessible to every household, down to our clocks, vases, lamps, and shears.
This populist ideal became more pointed in 2003, when Graves contracted a spinal cord infection that left him paralyzed from the chest down. It was during that initial hospital stay that Graves began to realize the extent to which medical design did not accommodate individuals with disabilities. From his wheelchair, he was too low to see the bathroom mirror. Neither could he reach the faucet, the bathroom's electrical outlet, or window shade cords. Furthermore, he frequently said that it was simply too ugly a facility in which to die. Great design, it seemed, still eluded the healthcare industry.
Over the past decade, Graves redirected his firm to increasingly focus on healthcare projects and products. In many cases, he had his staff use wheelchairs, walking sticks, and walkers to understand the needs and limitations of someone who might rely on one on a daily basis. Until a person experiences a home or sidewalk with a mobility aid, "you can't really understand the emotional impact of it," said Rob Van Varick, principal of product design at Michael Graves Architecture & Design. "Only then can you design a complete, holistic product."
The four projects highlighted here demonstrate how Graves used design to make difficult medical experiences more manageable, more enjoyable, and easier on the eye. "The most important thing about healthcare design is you get the opportunity to truly change people's lives for the better. Not many people get that opportunity. It was Michael's passion," said James Wisniewski, the senior associate director of architecture at Michael Graves Architecture & Design. "It's about coming up with solutions that change people's lives but are also beautiful. Those things aren't isolated."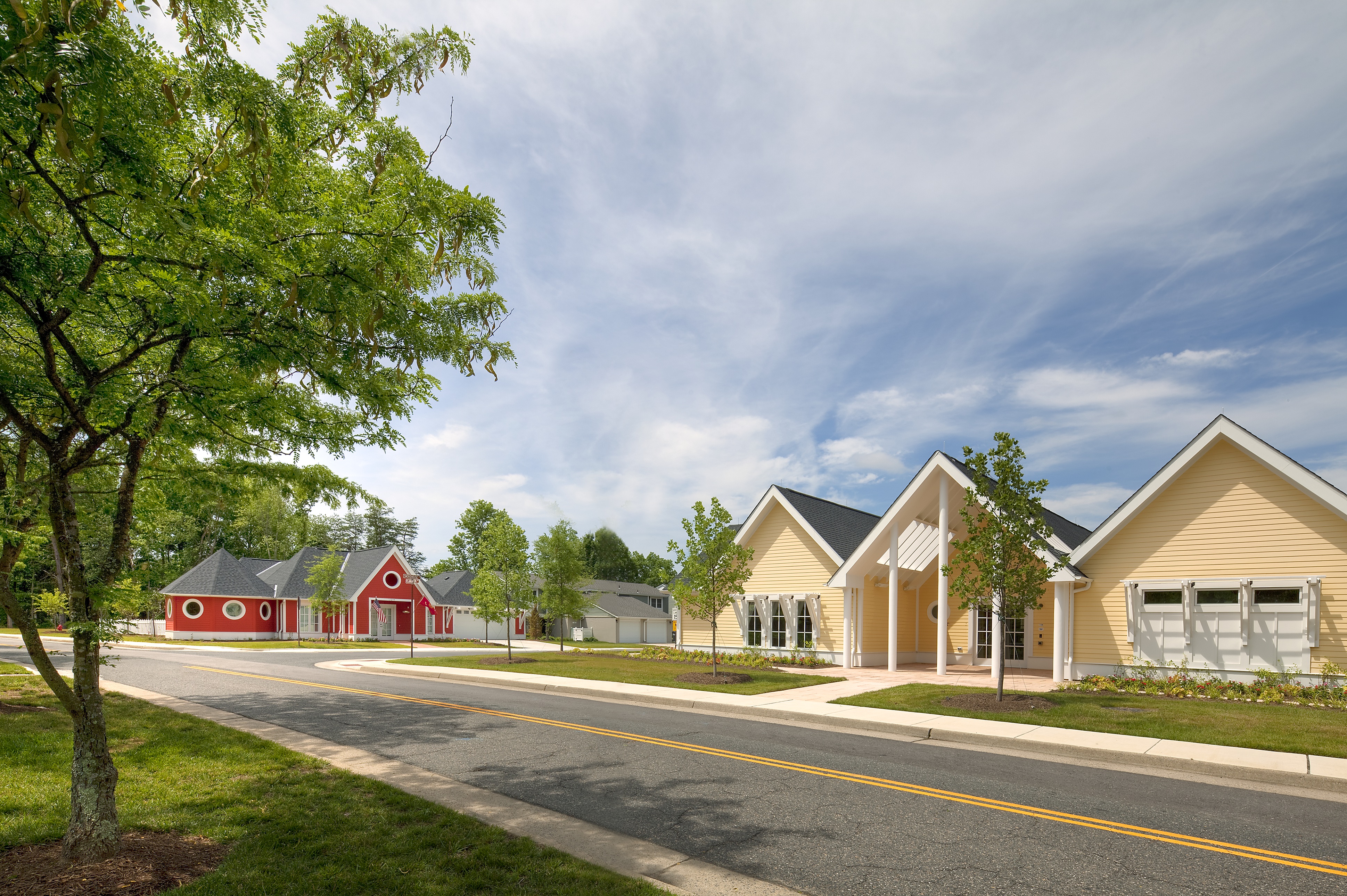 WOUNDED WARRIOR HOME PROJECT AT FORT BELVOIR (FORT BELVOIR, VIRGINIA)
In 2011, two model homes for wounded service members were unveiled at Fort Belvoir, Virginia, where the NEA supports visual art and writing therapy. To accommodate complex conditions that might entail paralysis, prosthetic limbs, burns, and post-traumatic stress disorder, "we had to design as many solutions as we could throughout the house," said Wisniewski.
To start, this included designing hallways wide enough for someone in a wheelchair and a companion to pass by one another, and flush conditions throughout the entire footprint. This meant eliminating steps and raised thresholds, and ensuring the front and back yards were "at grade," or flat. This allows someone in a wheelchair to seamlessly move between yard, home, garage, and even
shower without assistance. In the kitchen, the stove, sink, and countertops can all be adjusted vertically, and dishwashers have a pull-out drawer instead of a drop-down door, which can be difficult to manage for those in wheelchairs. "This is how someone who's trying to get back to their life needs to operate," said Wisniewski. "They need to be able to cook and do the dishes so they can start to get their life back together." To foster a sense of security, there are video monitoring systems, large windows with low windowsills, and a glassed front door so residents can see who's approaching.
Of course, upholding aesthetic beauty was a consideration throughout. "I think that's the real magic," said Van Varick. "You walk through that home and you think, 'Wow, I want to live here.'" 
PRIME TC: HOSPITAL TRANSPORT CHAIR
The design for most wheelchairs used in hospitals was patented in 1933. Needless to say, it was time for an update.
To develop the Prime TC, a collaboration with the medical technology firm Stryker, Graves' team studied 38 hospitals and shadowed patient escorts, whom they found were walking eight to 13 miles a day through hospital halls. Through their research, they discovered that of the one million annual falls that occur in hospitals, many involve wheelchairs, particularly as people transition in and out of them. Chairs are also a risk for spreading infection: the large rear wheels are rarely wiped down as chairs are wheeled in and out of patient rooms, and bacteria can quickly gather along the tire circumference. As soon as a patient brushes against these, "the hospital is on their hands," said Van Varick.
To counteract these issues, the Stryker chair has smaller wheels that are out of reach for patients, minimizing the spread of infection. Footrests pop up as soon as feet are lifted, eliminating a notorious tripping hazard as patients transition to or from the chair. To maximize the comfort of escorts and prevent back strain, push handles were raised to elbow level, and foot-activated brakes replaced hand levers at the bottom of the chair.
These simple changes can shift the way a patient experiences the hospital and a staffer experiences his or her work. "When people are going to hospitals, they're in a vulnerable position. Something is wrong," said Wisniewski. "You want to create a set of spaces and products that they can react to in a positive way.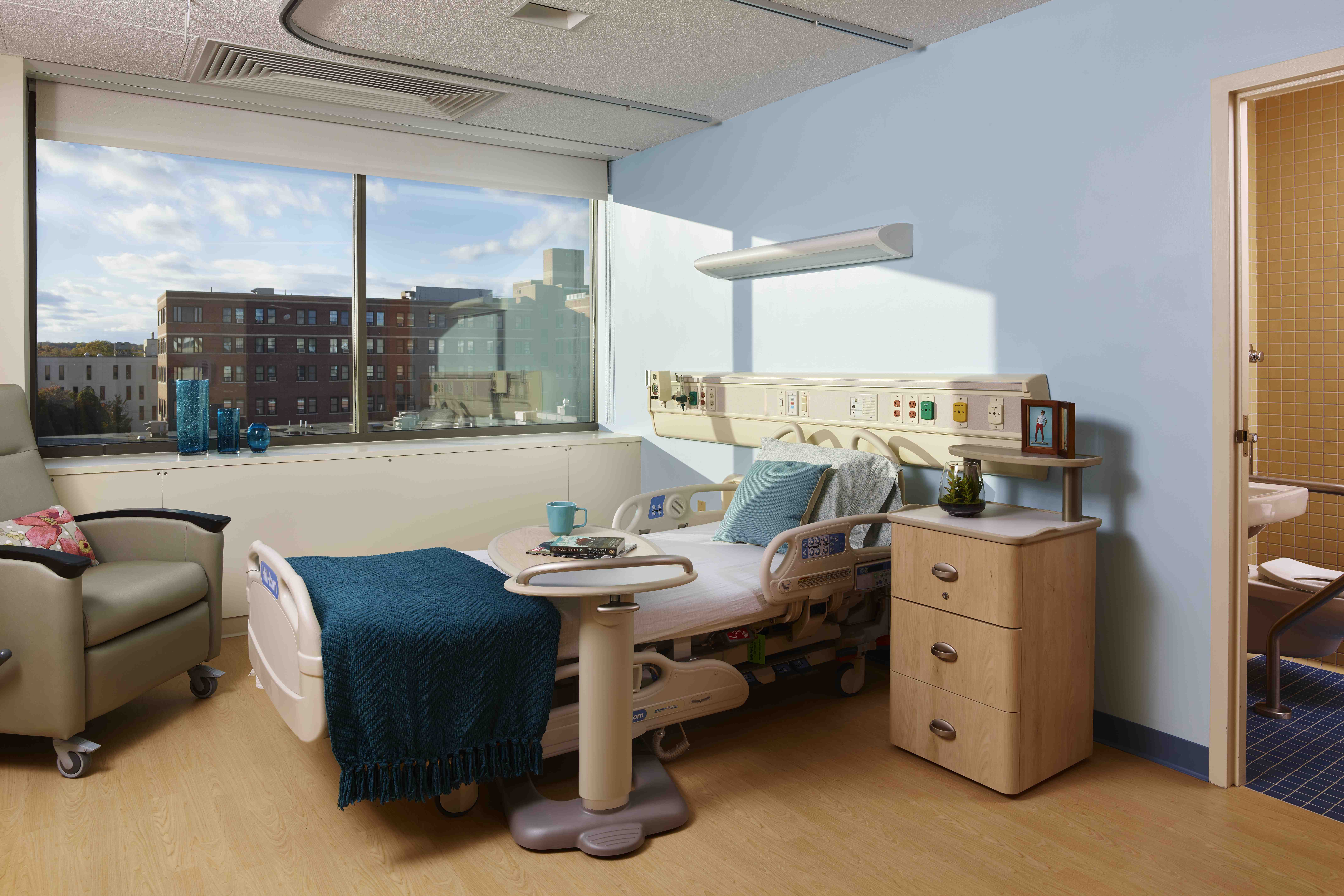 YALE NEW HAVEN HOSPITAL CENTER FOR RESTORATIVE CARE (NEW HAVEN, CONNECTICUT)
The Center for Restorative Care is a geriatric facility for patients aged 65 years and older. In doing research for this 10,000-square-foot renovation project, Graves' firm found that this age group needed three times as much color contrast and four times as much light in order to distinguish between objects. Knowing this, the firm began to question whether these two factors could help prevent
the risk of falls, a major concern for geriatric patients.
"If [patients] can't see the difference between the wall and the grab bar, or the wall and the floor, they're much more likely to fall," said Wisniewski. For this particular project, "color isn't used for color's sake. It's used as a device to help create solutions." For instance, there is a high-contrast visual threshold between rooms and around door frames, and walls and floors are never the same color. In showers, the back wall, side wall, and floor are tiled in different hues, and the shower nozzle, soap dish, and toilet paper dispenser all double as grab bars.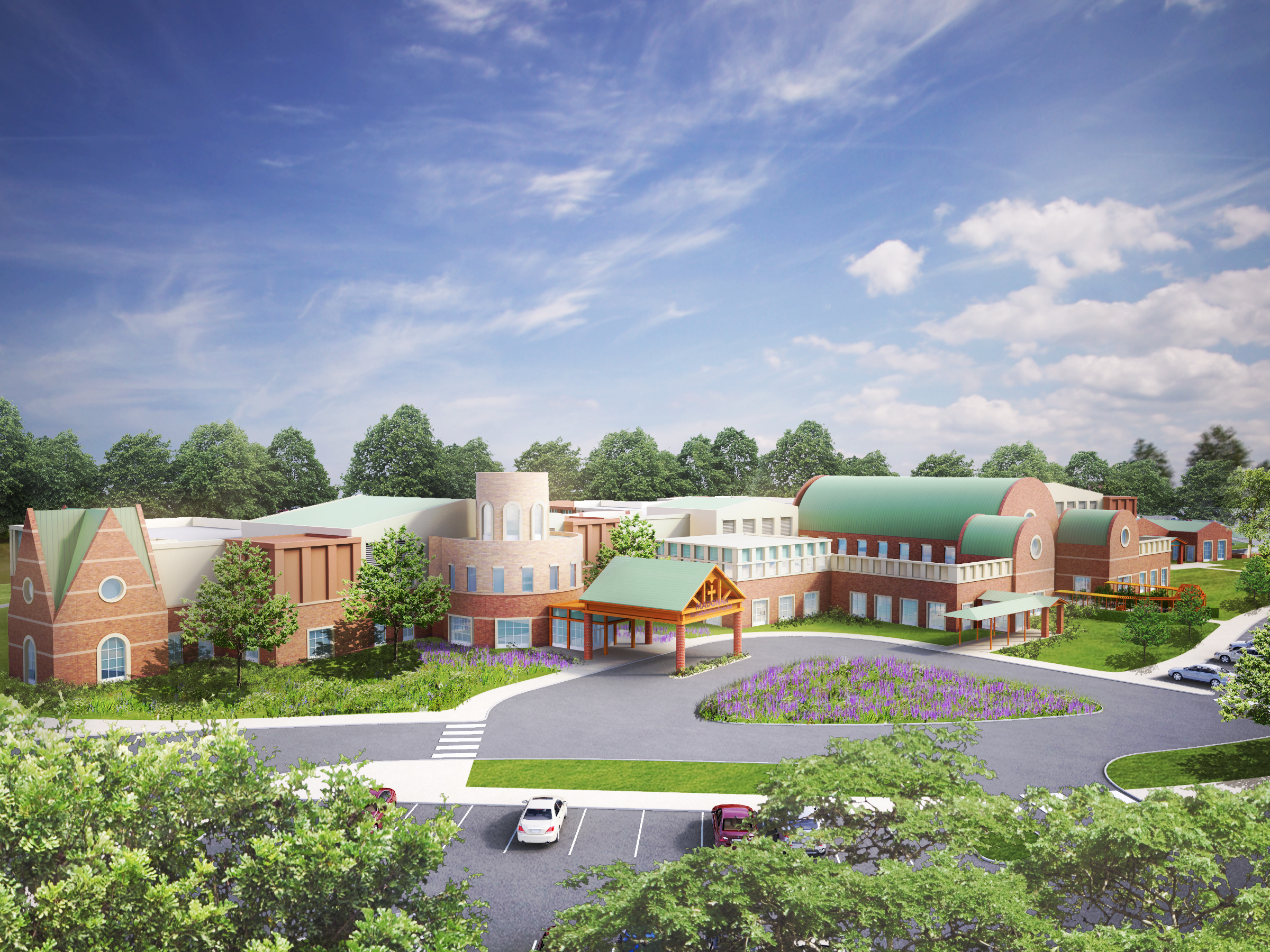 MADONNA REHABILITATION HOSPITAL (OMAHA, NEBRASKA)
Set to begin construction in 2016, the Madonna Rehabilitation Hospital offers long-term rehabilitation for those who have experienced traumatic brain injury, stroke, spinal cord injury, and other similarly debilitating conditions. "We worked with them on how to emphasize holistic rehabilitation," said Wisniewski. "So not just how to heal the body, but how to heal the mind and the soul."
They began at the beginning: the entrance. "We studied a lot of cases where there are these grand atrium spaces," said Wisniewski. "Often what that does is create a scale and proportion issue for someone in a vulnerable position. If the space is so large and grand, it actually makes them feel smaller." Instead, Madonna features a more intimate two-story entrance, which maintains a sense of openness while remaining warm and inviting. This sense of warmth continues with natural wood tones, which play off views of wooded wetlands, and complement bright spring accents. All patient rooms are wheelchair accessible, and were designed to accommodate visiting family members with sleeping alcoves and extra storage space. "All these pieces are interconnected—the surroundings of the patients, the color, the texture, the lighting," said Wisniewski. "How they make people feel and affect healing is really starting to puncture the mindset."