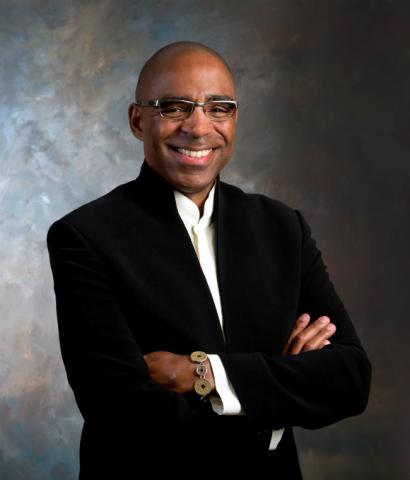 When Aaron Dworkin—dean of the University of Michigan School of Music, Theatre & Dance—started violin lessons at five years old, he knew he wanted to grow up to be a concert soloist. What he didn't know was that as he progressed further in his music studies, he wouldn't see many, if any, faces among his peers that were brown like his. In fact, it wouldn't be until Dworkin was in college that he would learn about African-American composers or hear any mention of historic interpretations of the classical canon by black musicians. Though he was still a student, the self-described social entrepreneur refused to be content with the status quo. He decided instead to do what he could to create opportunities for people of color to thrive in the classical music field as he had.
Turns out that what he could do was quite a lot. Starting with a contribution from James Wolfensohn, then-president of the World Bank, and a partnership with the University of Michigan, Dworkin's alma mater, he founded the Sphinx Organization. Since then, Sphinx has become an internationally renowned incubator for talented classical musicians of color, boasting a range of programs in music education, performance, mentorship, and more. In his own words, here's Dworkin—a member of the NEA's National Council on the Arts—on his aha! moment, how Sphinx has been able to get more people of color in the room, and what more has to be done.
CLASSICAL MUSIC'S DIVERSITY PROBLEM
I went into a lesson one day with my teacher Steve Shipps at [the University of Michigan] and he said, "Do you want to play music by black composers?" I was actually a little surprised and a little put off because I was like, "I'm a real violinist, what do you mean? Jazz? What are you talking about?" He laughed and started pulling these volumes of works off his shelves of all of these composers I never knew existed: William Grant Still, Roque Cordero, Joseph Bologne de Saint-Georges (who was an Afro-French contemporary of Mozart). As a biracial violinist, how could I never have known that there were any black composers? How could there be major pieces that I played like the "Kreutzer Sonata" that I never knew was actually premiered with Beethoven by George Polgreen Bridgetower, a black violin virtuoso?
I also began thinking about why there was no one who looked like me onstage or in the audience at concerts I would go to. How could this art form not be inclusive given the role it played in my life? That led to this unfold-ing of an awareness of the richness that really existed in our field and [the thought]—is there something I could do about it? My personality is such that when I see things or view things where there could be change, I think, "What could do I to be part of that?"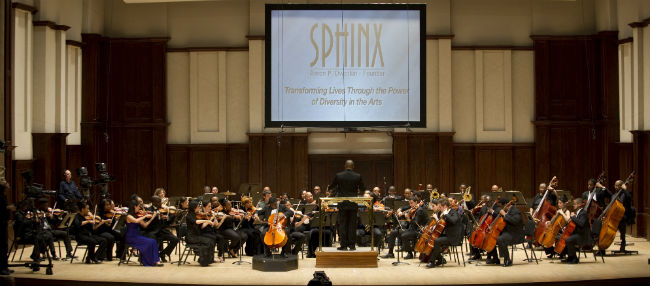 THE EARLY VISION FOR SPHINX
[My initial thought] was what if there was a competi-tion for young students of color like me, and we could play music by composers of color which would bring light to these incredible works? And [what if we] gave scholarships and resources so that we could develop professional careers? It was that simple. I thought if there was a competition like this, within a few short years it would completely diversify the field and classical music would never be the same. When I really began to delve into it, I realized it was a much more complex problem, one that involved every stage of a musician's career.
I never viewed Sphinx as an affirmative action mechanism in that it was not designed to be an organization that helped a particular underrepresented group. The goal was to build inclusion in the performing arts, specifically in classical music, [because] there was not a representation of all of the voices that make up who we are as a society. I believe classical music suffers or is hampered by the lack of voices. Chimamanda Adichie, a Nigerian author, talks about the danger of a single story. What she says is the danger of a single story is not that it is untrue, but that it is incomplete. I felt very strongly that the stories we were weaving with classical music were incomplete, because we were not telling all of the stories.
FINDING THE TALENT OUT THERE
First of all, 99 percent of people I talked to said that [my idea] was unrealistic and not attainable. In addition, there were many people who said, "That's a nice idea but that talent does not exist within black and Latino communities. So even if you are successful in building a platform, the musicians you ultimately have will fall short and you could do more damage than good." Then the first competition happened, and [violinist] Tai Murray was one of our winners along with Christina Castelli, who went on to win major international competitions. Tai Murray is currently based in Berlin and is a BBC musician and one of the great soloists of today. Immediately after that first competition, people could no longer say the talent is not out there because it was. In fact, one of the most compelling [comments] shared with me was actually by Isaac Stern, who came to the inaugural competition. After spending time with the majority of our semifinalists, hearing them individually as well as in their auditions, he said to me, "Thank you for inviting me. I did not know this talent was out there." Every single year after that, until he passed, he welcomed the top laureates to his New York studio so that he could coach and work with them and advocate for them. After that first competition, I never heard any more "the talent isn't out there." It became, "How do we connect with that talent?"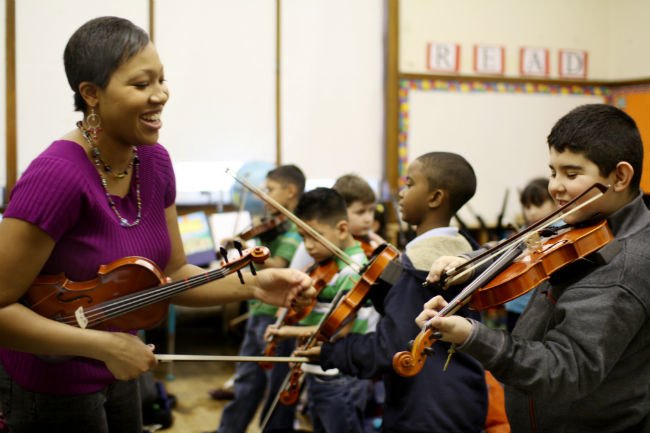 MAKING A DIFFERENCE
Prior to Sphinx, it was pretty much unheard of for a musician of color, especially a string player, to solo with an orchestra. That now happens over 20 times a year just from Sphinx's programs alone. There were no core training opportunities for young students of color in the summer, which is a huge time period that creates that achievement gap. Now there are two of those summer programs every year. It was unheard of for a chamber orchestra of color to perform, and now the Sphinx Virtuosi tours 15 cities every year, where audiences have the opportunity not only to hear that unique ensemble but to hear music by composers of color that they otherwise would never hear. [There's also] the full Sphinx Symphony as well. Sphinx alums have gone on to every single top-ten music school. They've gone on and populated dozens of orchestras, including positions in seven of the major orchestras. Since Sphinx's inception, the number of African-American musicians in major orchestras has actually doubled. In all of those instances, either the orchestra was a partner of the Sphinx organization or the musician was a Sphinx alumnus. In addition, Sphinx has granted millions of dollars in support and scholarships to young students of color who have gone on to become professors of music and to build their own artistic enterprises and launch their own nonprofit organizations in the field.
TANGIBLE NEXT STEPS
I am not of the belief that there is active, if you will, professional racism in the classical music field. However, because there was a historical legacy [of racism], we do have the responsibility to be thoughtful so that we can provide a pathway for those who previously were barred to have the opportunity, if they choose, to excel in this area. Unlike the various movements in higher education, business, law, unlike literally almost every other field that did this—of course with varying degrees of success, but certainly with success—we, as a field, have lacked the initiative or the will or the prioritization to implement such initiatives. So we can't be surprised when our trajectory on building diversity has been so slow and often not ideal. It's very rare that I come across someone who says, "I would not like to see more inclusion in classical music." Of course, everyone wants to. The area where it gets tough is how do we achieve that? A big priority of Sphinx is to be a catalyst to the field, to say this should be your priority. It is absolutely critical to your fundraising, to the health of you as an organization, your public responsibility to your community. But above all it's what's best for the evolution of our art form.
We need to affect the exposure and the accessibility of early music education in our schools, especially our school systems for our most underserved communities. But also our major orchestras, for example, need to commit the resources and the strategic priority to this issue; for the vast majority they have not. Our philanthropic communities and all of the key funders in the field, I believe, need to require these types of steps and support this type of work, because, obviously, a lot of the work that is done follows funder priorities and interest. If the philanthropic community makes this a priority, then the field will follow in many ways. We really need these tangible, concrete steps to be taken by the field to really build this trajectory. Because, despite Sphinx's success, no one organization can achieve this work alone.