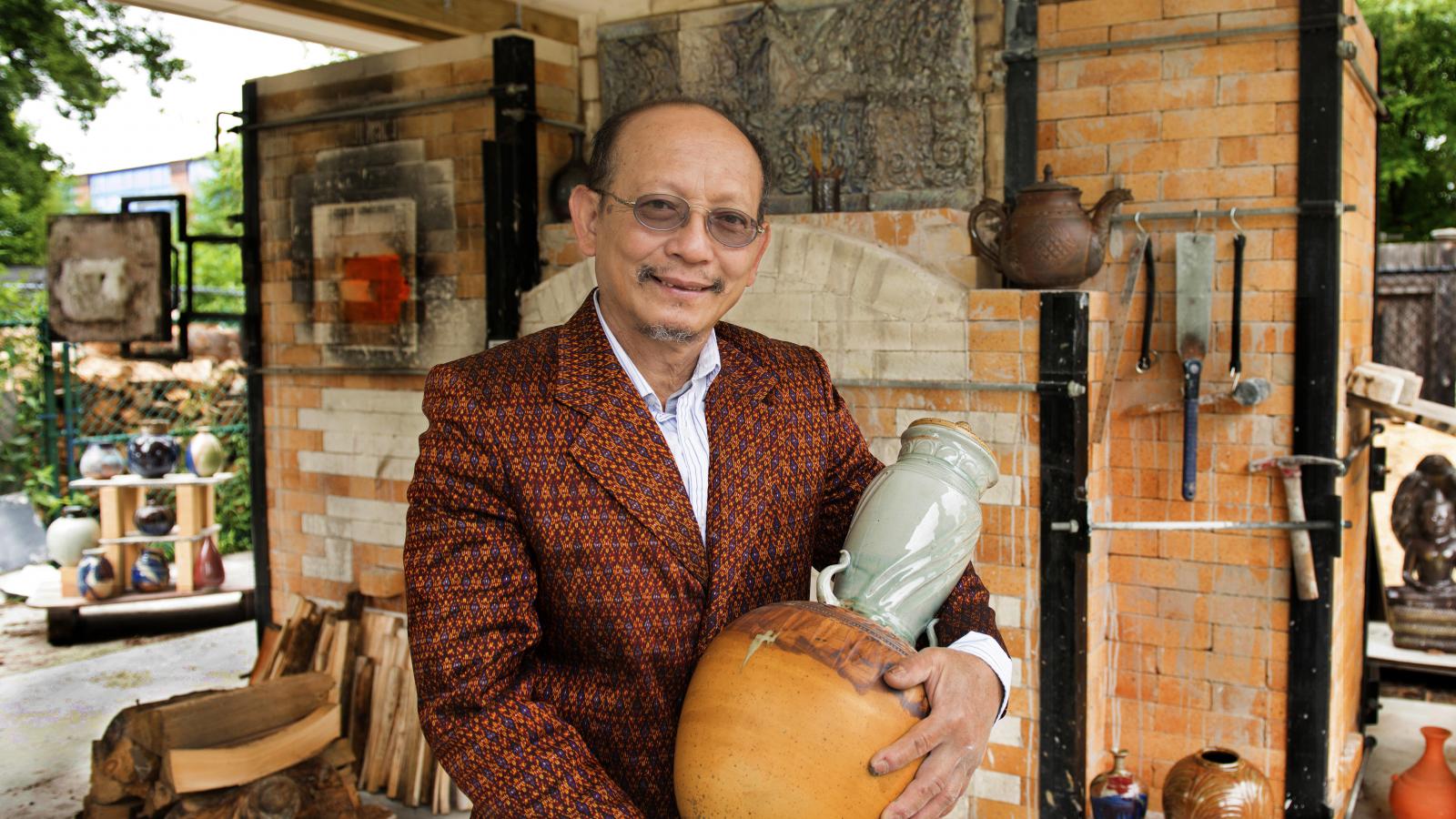 The NEA National Heritage Fellowships are the highest honor the U.S. government awards in the folk and traditional arts. They are awarded to those artists who work to preserve their traditions within the larger American culture, creating bold, new hybrids of artistic forms while maintaining the traditions that make the art form significant. One such artist is Yary Livan. Livan is one of perhaps only three Cambodian master ceramists to have survived the 1975 Khmer Rouge genocide. After escaping the Khmer Rouge, Livan spent many years in various refugee camps before finally making his way to the United States in 2001. He shares his artistic knowledge with the next generation through classes and apprenticeships, even building a traditional Cambodian wood-burning kiln using space provided by the Lowell National Historic Park in a partnership with Middlesex Community College. Josephine Reed talked with Livan in Washington, DC, before he received his 2015 NEA National Heritage Fellowship. Here are his thoughts on his art form.
LIVING UNDER THE KHMER ROUGE REGIME
When I was young, I never knew about ceramics. In my country there was no toy store, so if kids want to play, they dig in the clay near the border river or lake or something like that and make something to play with, like a small car or little toy. We didn't have ceramic skill—it was just play. I started to understand ceramics when I went to art school.
When the Khmer Rouge came, if I told them I am a student in the university, they would kill me. They tried to kill all the people who had higher education, because they are hard to control. We had to live in the fields or the jungle, not in the village.
My mother was a tailor, and the Khmer Rouge needed people to make the hats from palm tree leaves. She was really, really good at making a hat, a beautiful hat. She worked for them making a hat for the leader of the Khmer Rouge, and she cut the cloth for their black clothes.
The Khmer Rouge wanted to make a wood kiln for roof tiles, but they didn't know how to make it. My mother said, "My son, he knows how to build the kiln." So the Khmer Rouge bring me back from the fields and let me teach them how to build the kiln and train them. At the time, I thought that once I trained them and they knew how to build it, they will kill me. But I'm lucky—the Vietnamese came through my country and fought the Khmer Rouge out. I ran away with my family.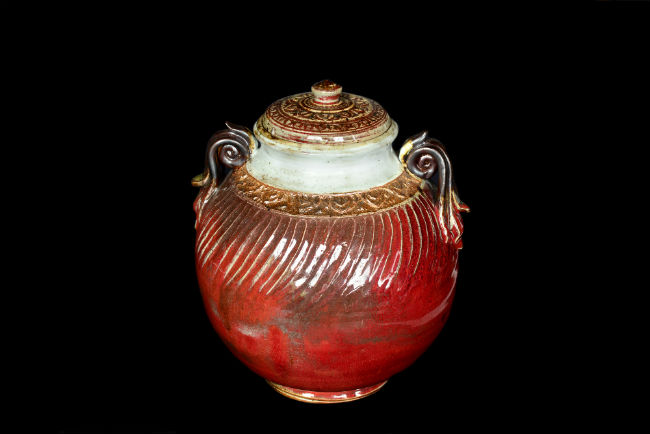 PRESERVING THE CULTURE IN THE U.S.
I came to the United States, to Massachusetts, in July 2001. And soon after that, the ceramic program at Harvard called me because they found out that an artist in Cambodian ceramics had come to the United States. They offered me a scholarship, and I started my life back in clay.
The period from 1975 to 2001 [when Livan was in refugee camps and not working in ceramics] is a long time. If you do something, work with art, the main point is you have to practice, practice, practice every day. Even when not practicing, the mind still thinks about that tool. Everything was still in my head. Just a couple of pieces of clay and everything started coming back to me. I have to open my eyes when I work on my pieces, looking for ways to improve my skill more and more.
I started learning at school [in Cambodia] from the wood-burning kiln. Here, we work with the gas kiln. It makes a beautiful color, but I make the same thing, the same color; it doesn't change a lot. If we fire in a wood-burning kiln, you glaze in blue, but it changes— some spots are blue, some spots are purple, some spots a little bit green. The effect from the smoke and ash and heat, they change the regular glaze to anything. It becomes a unique piece. I can't make another one.
Artists, they don't want to do something the same, the same, the same. That becomes too boring. Artists love to create something new.
I had an idea to make a small kiln [in the Lowell National Historic Park], easy to produce the pottery quickly. If you make it bigger, you spend like a month to produce a piece. It's small—six feet by five feet and six feet tall. Every semester we fire twice, including my piece and my students' and local artists', and everybody meets together at night time to talk and cook, because there is a cooking chamber, and everybody knows how to make pizza!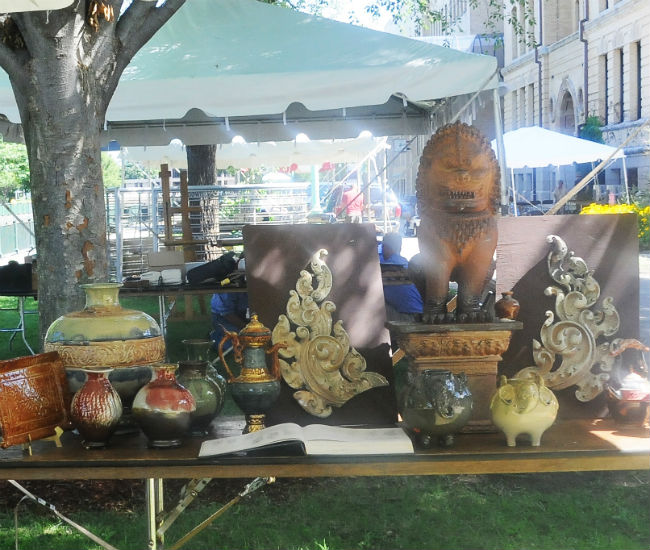 THE TRADITION OF CERAMICS IN CAMBODIAN CULTURE
We have two kinds of ceramics in Cambodia: one from the past, around the Angkor period from the sixth century to early 15th century, and one everybody can use every day, like a container for storing water. Some pieces are used for the king ceremony and by monks in the temple ceremony; they look like my elephant pot. And there are a lot of people that use the ceramic for roof tiles. They make beautiful roofs.
[I worked with] a young Cambodian architect [Samnang Khoeun, through a Massachusetts Cultural Council Traditional Arts Apprenticeship in 2010]. He didn't understand about the Khmer design too much, because some artists don't learn about the Cambodian culture [in school]. We have to tell them about traditional Cambodian design, because in Cambodia they love everything to look traditional. So I showed him about the artistic tradition of Cambodian ornaments, because [the styles] have some ups, some downs, and move in and move out of fashion.
TEACHING THE TRADITION TO A NEW GENERATION
In my country, we learned how to do something just through the teacher telling us how to do it. In this country I'm just demonstrating to them, telling them the technique, but they love to create by themselves. They change a little bit from my instructions. They work very well. I walk around and help them. I look for simple technique, easy so everybody can get it. It's so important.
I try to do the best I can. I hope in the future that the younger generation will continue. If I stop working, that they continue [the tradition]. But I can't stop—I have to continue and keep teaching.