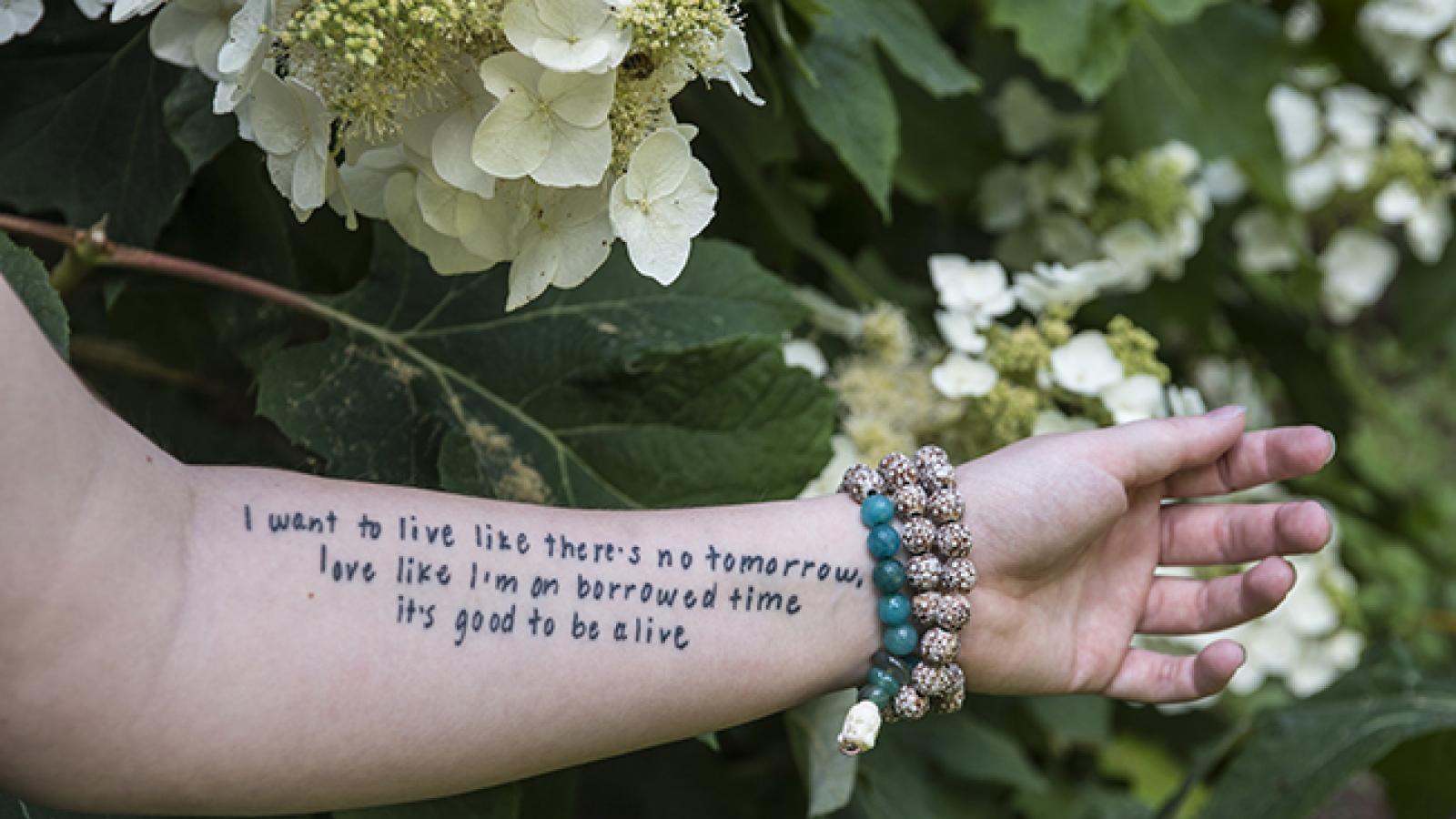 Are you okay? 
These three words may seem simple on paper or screen, but when spoken with kindness to people in pain, they can transform worlds and save lives. This was the powerful concept at the center of Ask the Question, an Oregon-based public health and art initiative that explores the topic of suicide—and how the alchemy of heartfelt compassion and creative expression can stop such tragedies before they start.
Ask the Question grew from a partnership between Oregon's Clackamas County Arts Alliance and Clackamas County Behavioral Health division, with support from the National Endowment for the Arts. The initiative was created to address a disturbing rise in the suicide rate of the county, the third most populous in Oregon. One person dies every five days by suicide in Clackamas County, the Arts Alliance reports on its website, a number that is 16 percent higher than the national rate—and going up.
The NEA has long believed in the power of arts to impact mental and physical health, and Ask the Question is far from the first healing-oriented program to receive support. The Arts Endowment sponsors widespread research focusing on the nexus of arts and health, for example, supporting investigative labs at Rice, Drexel, George Mason, Vanderbilt, and other leading universities. The NEA's Creative Forces initiative also helps wounded and traumatized members of the military, via creative arts therapy clinics across the nation.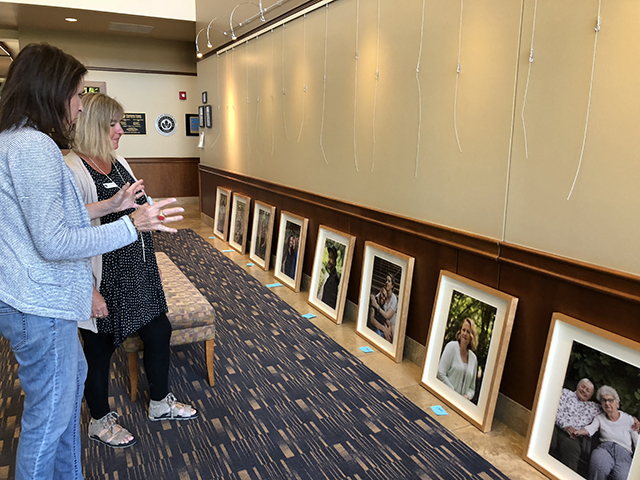 The idea of an arts-based remedy to Clackamas County's troubling suicide rate was born of a brainstorming session between the partnering organizations. "We were tossing around ideas of how to reduce the stigma associated with suicide, especially suicide attempt survivors," said Galli Murray, suicide prevention coordinator for Clackamas County Health, Housing, and Human Services. "The idea came up—why don't we capture individual stories in a way that's external-facing, something that the community can see and experience?"
Organizers including Nina Danielsen, health promotion coordinator for the Behavioral Health Division at Clackamas County, drew inspiration from Live Through This, a groundbreaking online collection of stories and images from suicide attempt survivors. "Stigma around suicide, and those who have attempted suicide, prevents people from seeking help and connecting with others," said Danielsen. "By modeling our work after Live Through This, we hoped to counter that on a local level."
Ask the Question began taking shape in the first half of 2018, as commissioned local artists Julie Keefe and Mic Crenshaw started interviewing and photographing suicide attempt survivors who had volunteered to join the initiative. By September, the resulting portraits—accompanied by quotes related to the survivors' struggles—were on display as part of a stunning public art exhibit. The goal? To start conversations about suicide and break down the crippling shame and fear that can surround the topic, to provide inspiring stories of survival to those in pain, and ultimately, to encourage community members to simply ask each other the question, "Are you okay?"—and stop suicide attempts before they start.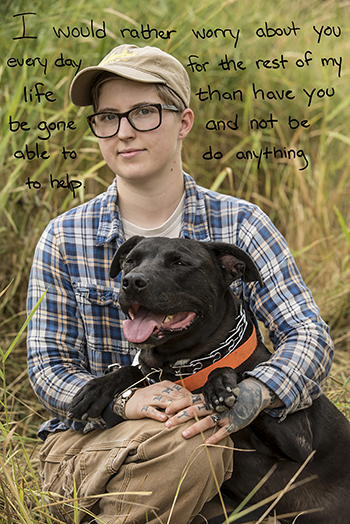 Even from the program's earliest moments, it was clear that Ask the Question resonated with residents of Clackamas County. When organizers first posted an ad asking for volunteer participants who had survived suicide attempts, responses poured in. Among them was a note from Jane, a suicide attempt survivor whose name has been changed here to protect her privacy, and whose journey in many ways encapsulated Ask the Question's success.
Suzi Anderson, programs manager for Clackamas County Arts Alliance and an Ask the Question organizer, recalls the group's first encounter with Jane. "At the beginning of the program, we had a meet-and-greet with the artists and participants, and she was so physically uncomfortable even being in the space with everyone," Anderson said, noting that Jane suffered from intense anxiety and was unable to work. 
Through the course of creating the Ask the Question exhibition however, organizers witnessed a remarkable evolution. "When we opened the exhibit in September, she was there with a lovely haircut, a beautiful neon pink dress, and she was glowing," said Danielsen. "She told us that there was something so special to her about sharing her story, and feeling that her experience could help others in need. It gave her courage to believe that such a scary experience in her life—her attempt at suicide—could have a different purpose. The program helped her find a voice that she didn't know existed."
Anderson described how Jane was even the very first to respond when a local media partner requested participant volunteers for a television interview. "She said that she'd love to talk and did an amazing job," said Anderson. "They filmed her right in front of her portrait. Her journey was such an amazing transformation to see."
Hopefully, Jane's transformation is just the beginning. "Ask the Question is right in the petri dish phase," said Anderson. "We could not have done this project without the financial support of the NEA, and we are truly grateful for the grant. There are many ways that we could expand it. We just know that it's an important project and our work is not done." 
Yet even at this early stage, Ask the Question's gains are real, and its potential remarkable. The Clackamas County organizers report numerous conversations with colleagues and community members, all praising the courage, honesty, and impact of the exhibit and program. "Even in our own county building, the impact of what we've heard from employees and visitors has been resoundingly positive," said Anderson. "People have told us that it's an amazing way to capture people's stories, that it sends the message that we are all in this together. Those portraits look just like the rest of us. These survivors, these people, are our people, and talking about suicide is a conversation that we, as a community, can have."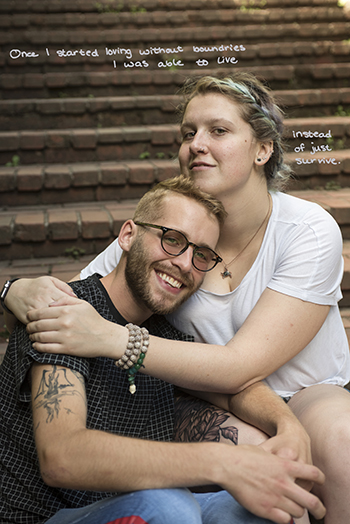 Ask the Question is inspiring courage not just within the borders of Clackamas County, but in other communities around Oregon, with nearby counties forming similar cross-organizational alliances, gathering information and lessons learned from the Clackamas County organizers, and laying the groundwork for their own manifestations of Ask The Question. Some of the strongest ambassadors for Ask the Question actually have been the participants themselves: one featured survivor recently served as lead presenter for a statewide conference in Sunriver, Oregon, speaking in support of a proposal to expand the program's reach, breadth, and funding.
As communities everywhere deal with the dark echoes of suicide, Ask the Question's organizers want the program's momentum to continue spreading knowledge and hope to those in need. "Research has shown that the vast majority of people who attempt suicide and survive do not attempt again, and that for every person who dies by suicide, there are 25 people who attempted and lived," said Anderson. "I hope to see this project not only reduce stigma, but to expand the messages of recovery and resilience around people who have survived, and have gone on to lead hope-filled lives."  
Michael Gallant is a composer, musician, and writer living in New York City. He is the founder and CEO of Gallant Music.