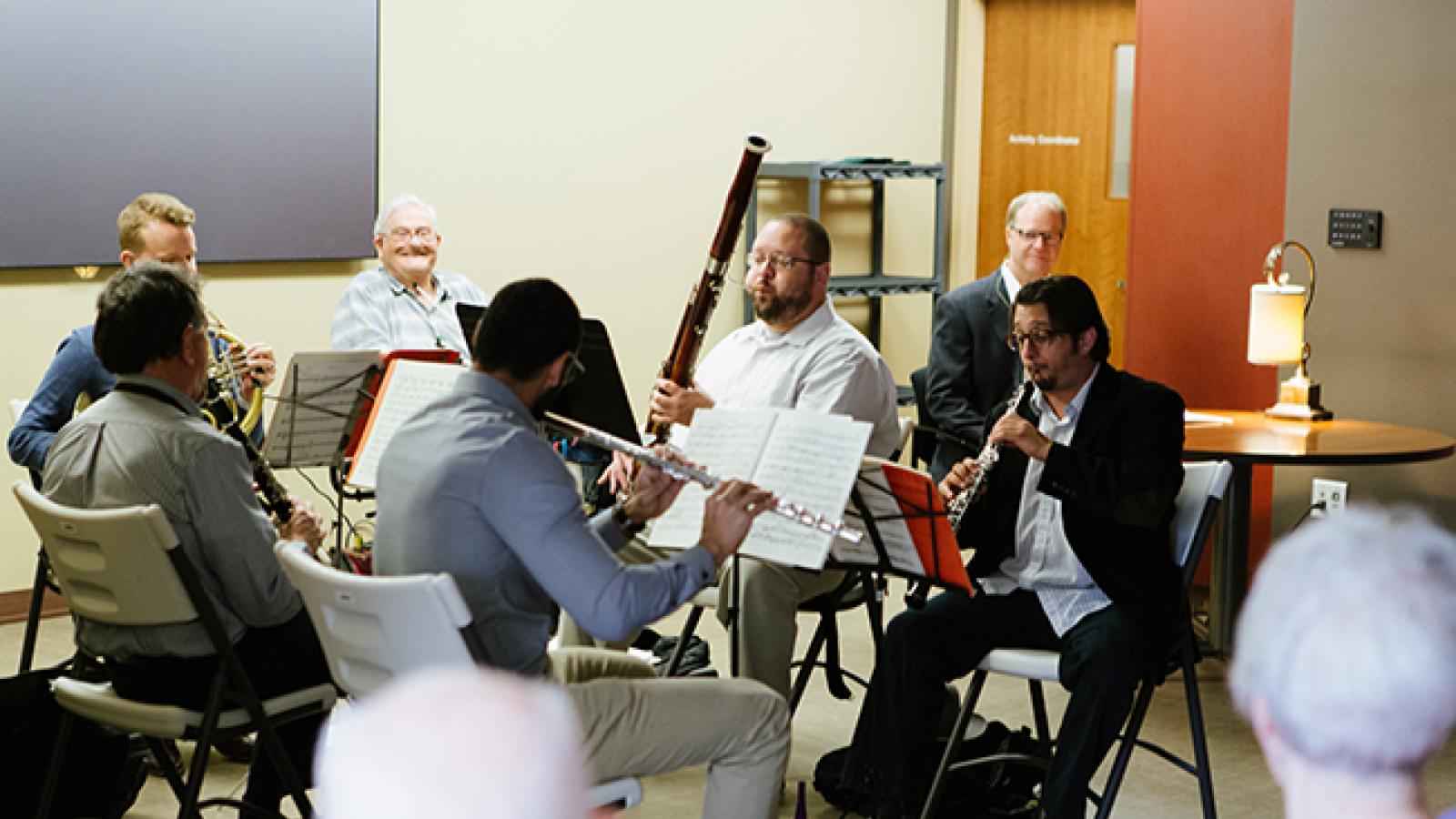 The National Endowment for the Arts has long supported programs that intertwine music and well-being, including the recent Sound Health initiative, collaborating with the John F. Kennedy Center for Performing Arts and the National Institutes of Health to examine how the brain processes music and to look at the impact of music on health, science, and education through research, performances, and presentations. The Arts Endowment has also supported numerous research projects involving music and health outcomes, including a study at the University of Florida that evaluated the impact on patients when professional musicians performed in emergency and level-one trauma care settings. And through the NEA's Creative Forces partnership, research has been conducted on the effects of music therapy on service members experiencing mild traumatic brain injury and other psychological health conditions.
The agency also has supported music and well-being projects through its grantmaking, projects such as Music as Medicine in Sioux Falls, South Dakota. The South Dakota Symphony Orchestra (SDSO) teamed up with Avera Health and Sanford Health to provide patients, their families, and staff with the opportunity to listen to live classical music while in the healthcare facility. This program received a Creativity Connects grant from the National Endowment for the Arts in 2018. These grants support arts and non-arts organizational partnerships like the one between the orchestra and the healthcare facilities. 
Every month, a wind quintet and a string quartet travel to Avera Health and Sanford Health facilities and perform in various locations, including hospital lobbies, hospice centers, children's wards, and retirement homes.
The performances typically involve classical music for adult crowds, while for children, music can range from video game theme songs to Christmas music. These performances can often change the atmosphere of healthcare facilities and lift the spirits of patients and residents, who are sometimes in pain, often filled with fear and anxiety, and whose days are typically only punctuated by visits from nurses to take vital signs.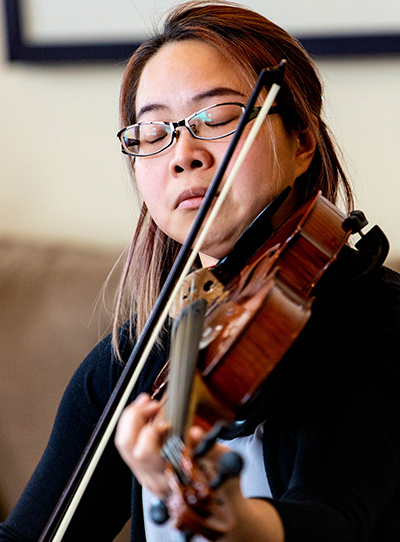 "Having the opportunity to help people through a difficult time is something that we really pride ourselves on," said Kristy Kayser, the SDSO community engagement manager. Kayser said musicians frequently hear from healthcare staff about patients who haven't left their room in weeks, but get up from their beds because they heard music and wanted to see the performance. For bed-bound hospice patients, even just hearing music drifting to their rooms from the lobby can provide a momentary escape from their circumstances. "It's about making people feel like they are a part of something," she said.
Dr. Mark VandeBraak, a music therapist and thanatologist at Avera Behavioral Health Center who works with Music as Medicine, agreed, noting that the program "can brighten the mood," as he described it. "It can add a different dimension of the day, something to look forward to, something to provide hope, and something to instill confidence." 
To measure such effects, the SDSO is in the process of conducting a study that will track the mood of patients at the Avera Behavioral Health Center before and after a Music as Medicine performance. VandeBraak, who hosts the monthly Music as Medicine performance at the behavioral health facility, said the program can be particularly impactful for the patients he sees, who are dealing with a variety of psychological health conditions. 
Through arts interventions, "[Patients] are given the opportunity to change how one thinks, the opportunity to change and grow," said VandeBraak. "That to me is so important, because when, for example, depression is one of the main diagnoses, you get so secluded and so isolative [that] many people think there's no way out. What music and the arts do is they provide that opportunity to expand the mind." 
To extend these positive effects, patients are invited to talk post-performance about how the music made them feel, which creates a dialogue and provides an outlet for emotional expression. "Having music as a platform to allow people to open up is really important," said Kayser. "It's building this culture to have very open conversations about emotions and mental health."
At times, Music as Medicine has helped in medical observations by revealing underlying issues in patients. There have been instances of nurses observing sensory issues that needed to be addressed because of a patient's reaction to various sounds from a performance. Kayser also recalled a time when a child told the concert master that he saw different colors during different parts of the songs, which led his nurse to discover that the boy had synesthesia, a neurological condition in which stimulation of one sensory pathway leads to an automatic, involuntary experience in a second sensory pathway.
VandeBraak also discussed how the program is beneficial to dementia patients, helping them cross barriers and make connections in their minds. "Working with dementia patients, maybe their language is limited or they're not able to recognize family members," said VandeBraak. "But yet remarkably, they still can remember a song. They can tap along with it or they can actually sing the words to it, which then keeps the brain activated."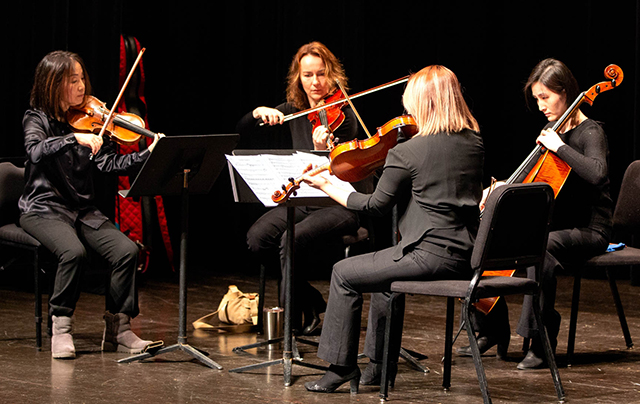 Kayser agreed, noting that, "[Dementia patients] seem vacant inside their bodies," she said. "They just light up as soon as they hear a familiar tune."
To bolster Music as Medicine's offerings for older adults, the SDSO wind quintet also partners with storyteller Darrel Fickbohm for the program's Memoirs project, which serves the residents of Avera Prince of Peace Retirement Community. This program allows residents to talk to Fickbohm about their life experiences, which he shapes into a script that is sent to SDSO musicians so that they can prepare complementary music. During performances at Avera Prince of Peace, residents read the scripts narrating their life stories, with music for emphasis, to their families, other residents, and staff.
"The point of the program is everyone has their own story to tell—you just need to take the time to listen," said Kayser. "People have said it's been so special, especially for the people that tell their story and then soon after pass. Their families have recordings of this to share with future generations."
For the performers who bring such experiences to patients and their families, Music as Medicine has been equally rewarding. "They're constantly finding ways to experience music differently than [how] they've been trained to experience music," said Kayser. "This is their full-time job; sometimes it's easy to forget the feeling of it. These patients constantly remind them of the way that music can move people." 
SDSO Principal Viola, Yi-Chun Lin, who participates in Music as Medicine, agreed. "I feel like I'm helping [patients] even though I'm just playing the music. We are providing them with a few minutes of peace and they can put their guards down," she said. "The part that strikes me the most is when the music starts, people's faces start to soften. They start focusing on the music instead of their own issues."
Ultimately, Music as Medicine amplifies the healing power of music, and its ability to bring people from different backgrounds together and provide a shared experience. "It's really become a community effort," said Kayser. "We all have the same end goal. We want people to feel good, we want people to be happy, and we want everyone to have a dialogue about what they're feeling. The orchestra, the doctors, the patients—it's a community that's looking to better the situations that we have on hand."
Justin Wise was an intern in the NEA Office of Public Affairs in spring 2019.