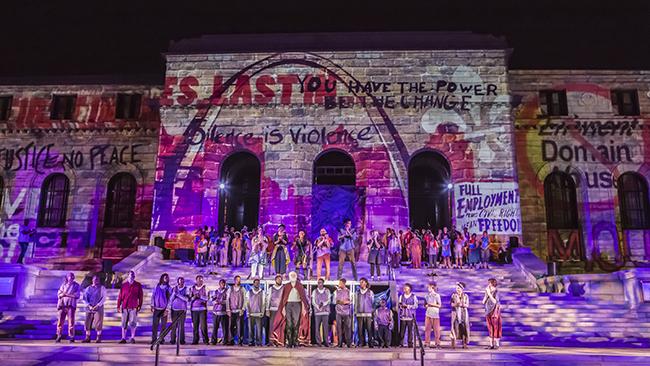 One of the oft-repeated phrases from literature is E.M. Forster's dictum: "Only connect." In context, Forster is talking not only about human interconnection, but the connection of human beings to art. Shakespeare Festival St. Louis takes this instruction to heart. Through its Shakespeare in the Streets program, supported by the National Endowment for the Arts, the organization works to heal the wounds of social disconnection and alienation caused by racial, economic, geographical, and other barriers. 
The program began in response to actual physical barriers formed when St. Louis city streets were blocked off to form cul-de-sacs in certain neighborhoods. The theater decided to see if it could deploy (temporary) barriers in the opposite way: to create sites for fostering conversation, connection, and healing by presenting community-based theater works inspired by the plays of William Shakespeare. The objective was to encourage residents to get to know each other and feel a sense of joint ownership of their communities by telling their own personal stories as well as the stories of their neighborhoods. 
According to Shakespeare Festival St. Louis Executive Director Tom Ridgely, "Anytime that you erect a barrier or separate yourself from someone else or another group of people, you're opening up a wound in the social fabric. But to [engage with the arts can] accomplish the opposite, to bring people together and to actually break down those barriers and bring people across them into a community or neighborhood that they've been separated from in some way. That sort of bringing back together is healing."
Each Shakespeare in the Streets project is built on a series of relationships. Once Shakespeare Festival St. Louis has identified the neighborhood in which the company wants to work, they build a relationship with a partnering organization in that location. For past projects, partners have included mayors' offices, libraries, and a number of community nonprofits. Then, with the help of the project partner, a team of artists put together by Shakespeare Festival deploys to the chosen neighborhood over the course of 12 to 18 months, and fosters connections with community members through interviews, story circles, workshops, and other relationship-building activities.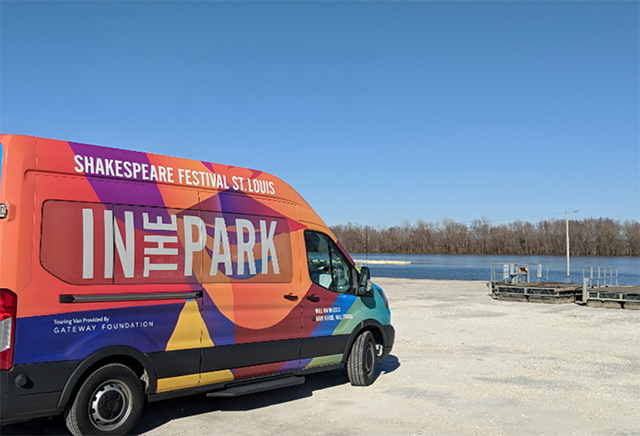 As Ridgely explained, "[The artistic team will] do anything they can to get close to and start to try to understand the people who live and work there." The goal is to gather the residents' own stories about where they live, their impressions, their hopes, their fears. 
After the initial research phase, a playwright working with Shakespeare Festival St. Louis takes the lead in adapting one of Shakespeare's plays to tell the story of the community. The final script, as Ridgely described, "draws from both Shakespeare's text, texts generated by the community, and the playwright's own original creation." 
The current Shakespeare in the Streets project, built around As You Like It, tackles the urban and rural divide, which Ridgely believes is "one of, if not the most urgent issue facing the country today." He further believes that arts organizations may have inadvertently exacerbated this tension between urban communities and rural ones. "It's so easy for us as arts organizations to be so city-centric; that's where the resources are," he said. "It leaves out an enormous number of people who don't have easy physical access to [urban areas.]"
Still, argues Ridgely, the arts are also uniquely positioned to help heal this divide. "The reason why theater is important is because the whole exercise of going to see a play is asking someone to look at and get to know and understand a person that they haven't before, and to let that enlarge them and hopefully extend their empathy."
He added that using the work of Shakespeare as a starting point is particularly apt when attempting to find common ground between disparate communities. "[Shakespeare's] great gift was this ability to put himself fully into the point of view and the kind of lived experience of another human being," he said. "His plays pull off that magic trick better than probably anyone else's."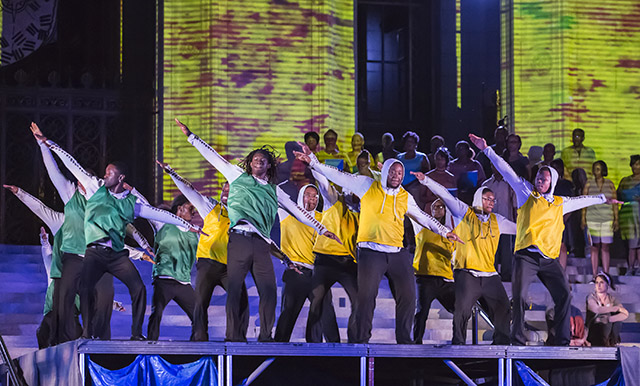 For the project, Shakespeare Festival is working with Beyond Housing, an urban renewal organization based in St. Louis. The project is supported by a Creativity Connects grant from the Arts Endowment, a grant program that is specifically designed to support projects by nonprofit arts organizations in concert with non-arts partners. 
The project will connect two distinct communities, making it the first Streets project to move beyond the confines of St. Louis, as well as the first one centered around schools. The Shakespeare Festival is working with students served by St. Louis's Normandy High School as well as students served by the high school in Brussels, Illinois, a farming community located 45 minutes away across the Mississippi River, and accessible from St. Louis by a ferry. 
There are many stark differences between the two populations. For example, Normandy has for a long time been a predominantly African-American community, while Brussels is populated by the descendants of German settlers. Brussels has only one high school serving four communities, and the school's enrollment hovers around 80 students. Normandy High School, on the other hand, serves 24 St. Louis communities, with an enrollment of nearly 500 students. While Normandy High has a dedicated drama teacher and a thriving fine arts department, Brussels High has no tradition of theater activities.
Ridgely believes that one of the reasons for the urban-rural divide is that people often don't feel seen by "the other side," or that they only see their differences rather than acknowledging their commonalities.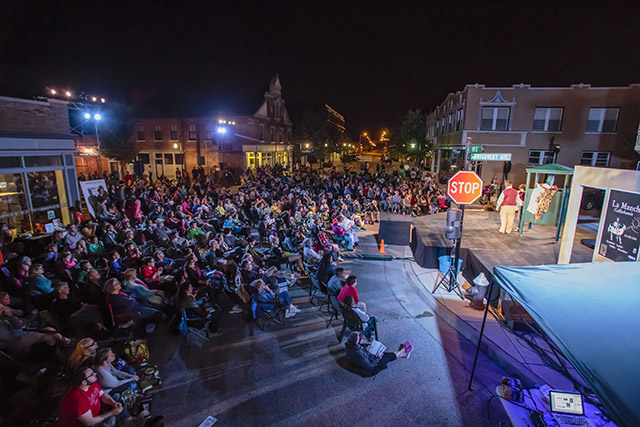 "What feels painful and what feels like a wound to any person is that feeling of invisibility, of not being seen, of not being understood," said Ridgely. "The sense of isolation or alienation is as true in Brussels, Illinois, as it is in Normandy, St. Louis, [which is something] we would never know if we weren't doing the work of going to those communities and getting to know those people." 
In this version of the project, Shakespeare Festival teaching artists are working with students in both locations on an opt-in, in-school basis. As it's still early in the process, the students haven't yet been introduced to As You Like It. They have, however, been engaging in guided activities and writing prompts that mirror the action of the play with questions such as, "Have you ever had a crush? Have you ever run away from something?" 
There are several exchanges planned, which will bring participating students from Brussels to Normandy and vice versa for joint workshops and other activities aimed at capturing their stories and facilitating conversation between the two groups. 
Over the summer, the playwright will take on alchemizing the community stories with the text of As You Like It before passing it on to a production team and cast made up of both Shakespeare Festival staff and members of the Normandy and Brussels communities. 
The final result will be performed over two weekends structured to underscore the ways in which the two communities have worked together to create a unified theater work. For each performance, the play's first act will be performed simultaneously in both Normandy and Brussels. At intermission, audience members will board school buses and experience a more participatory version of Act Two performed on the bus. Finally, both sets of audiences will converge at a midway point to jointly watch the play's finale. 
Ridgely explained that though the performance set-up complicates logistics, it's absolutely necessary to accomplish the goal of breaching that barrier between urban and rural. 
"For the urban-rural exchange to work, we've got to get the urban people out of the urban, and the rural people out of the rural, and we've got to get them into the same place," he said, noting that it was the funding support from the Arts Endowment that enabled the theater to add the travel element into the production. "We know that we have to actually bring people physically together." 
The theater is still several months away from knowing if the project has made any real difference, and if that urban-rural divide has been, if not eradicated entirely, at least somewhat mitigated. Ridgely, however, is optimistic because he believes in the power of the arts. As he said, "What art does is it, even in small little ways, shatters that illusion of separation."