The Cultural and Economic Impact of Little Mekong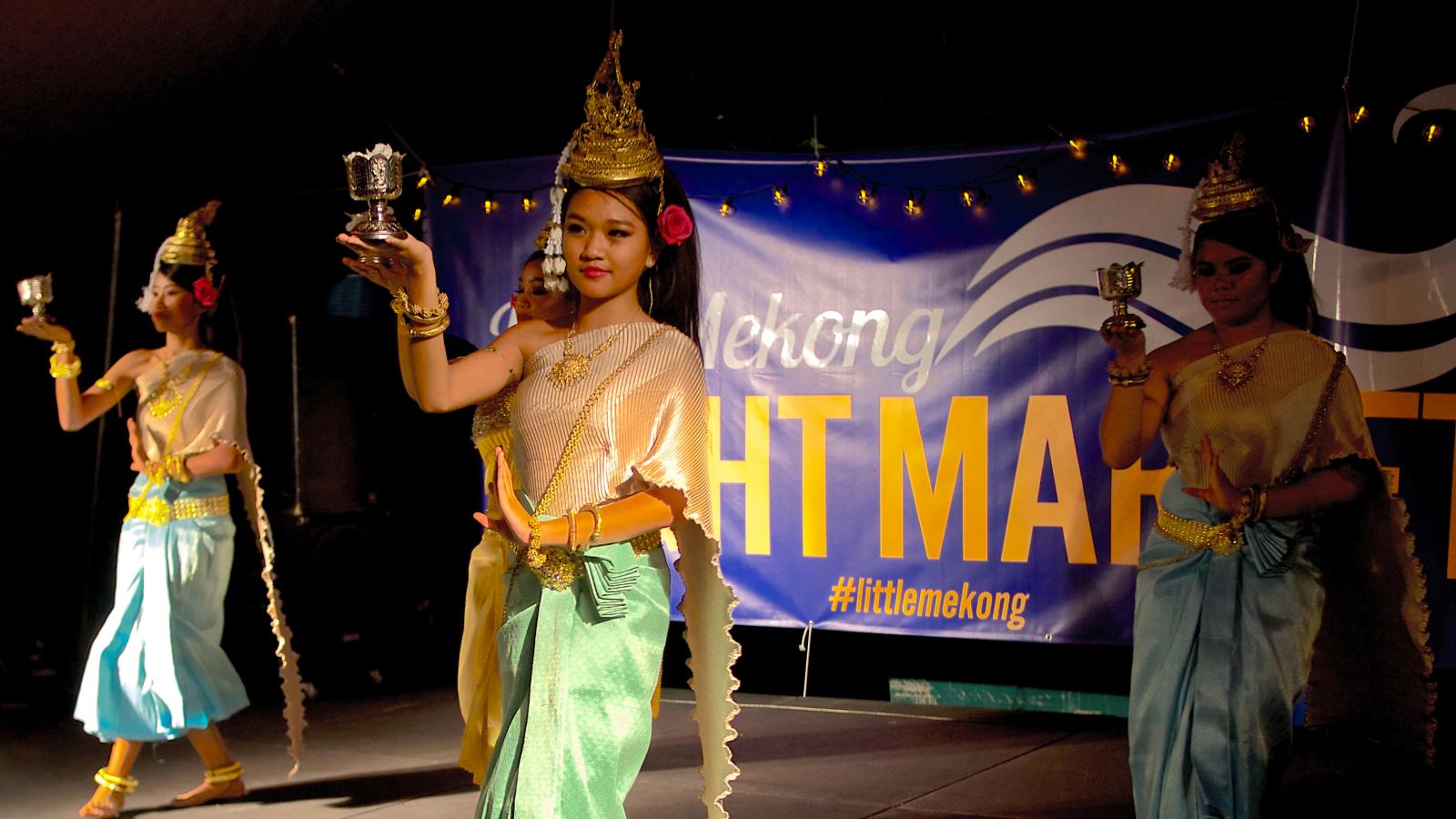 Stepping out of Saint Paul's Western Avenue light rail station can sometimes feel like you've taken a direct flight to Bangkok or Phnom Penh rather than a train ride across the city. Known as Little Mekong, this stretch of University Avenue is home to Southeast Asian restaurants, shops, and markets, and hums with cultural offerings like the Hmong Cultural Center, pop-up arts events, and XIAART, where Southeast Asian artists perform and exhibit. If you time it right, you might also come across major events like the annual Night Market, whose art and food vendors drew thousands of people before COVID-19, or the Little Mekong Water Festival, which was supported by the National Endowment for the Arts.
But it wasn't always this way. A decade ago, the area was in desperate need of revitalization, and was largely unknown beyond the Twin Cities' Southeast Asian community. But through a creative placemaking initiative conceived by the Asian Economic Development Association (AEDA), the area was branded, facades were improved, green space was developed, and a rich calendar of cultural programs was implemented. Like the Mekong River that flows through and nourishes the countries of Southeast Asia, the sense of identity created by Little Mekong has helped give new life to the businesses and residents who call this area home.
We recently spoke with filmmaker-turned-activist Va-Megn Thoj, who is the founder and executive director of AEDA. Born in Laos and raised in the United States, Thoj told us about the evolution of Little Mekong, and how its development has changed the Twin Cities and its Southeast Asian residents for the better.
THE BEGINNING OF LITTLE MEKONG
The Rondo neighborhood and Frogtown happened to be the neighborhoods where a lot of Southeast Asian refugees were relocated. It's lower income, the housing stock was older, and mostly rental. This particular part of the corridor was really in need of revitalization. As [refugees] moved in, they started opening small businesses to serve their community. Eventually many businesses bought the property that they rented. Since the mid-'80s, that area has been a destination for Twin Cities Southeast Asians. You can go there for restaurants, you can go shopping there, you can go to hair salons. But it was sort of unknown beyond the [Southeast Asian] community.
When AEDA first started, our programming really didn't encompass arts and culture. We envisioned the organization being more of a traditional community/economic development organization, with a focus on small business development. But back in 2010 or 2011, this huge infrastructure project was coming through Saint Paul: the development of a light-rail line. A section of that line was in the Asian business district. Because we didn't have resources, we had to come up with a way to support those businesses and to keep customers coming back during construction of this light-rail line, when the streets were torn up and access was problematic for customers.
The solution that came to mind right away was, "Let's do some art and cultural programming so that we can bring people to their businesses." We started engaging with and coordinating artists to work with the businesses along the light-rail line corridor. It really worked. Businesses were happy. Artists were bringing customers back into the businesses in the district. Eventually we felt like we needed to brand that district, and we came up with the name Little Mekong. That has gone a long way, and it has really given Saint Paul's Asian commercial corridor a distinct identity.
Va-Megn Thoj, founder and executive director of the Asian Economic Development Association. Photo courtesy of AEDA

"So many artists come to AEDA and realize that it's not just about their creativity, but it's about their creativity having an economic impact, or a broader cultural impact."
CULTURE AS ECONOMIC GAIN
We know that culture produces economic value, and we want to give people the opportunity to do that. I think especially for communities of color, that's a strength that we should not ignore in terms of building and creating economic value and development.
For the Twin Cities Southeast Asian community, we haven't had those opportunities, so we really want to leverage that asset. One of the reasons why AEDA first started working with arts and culture creators is that we realized the cultures of the Twin Cities Southeast Asian community aren't a tapped asset. We realized that we need to be working together—artists, businesses, and residents—to elevate culture in a way that will have a positive economic impact.
And we've seen that it has had that impact. All the cultural activities that we've created in Little Mekong generate over $6 million dollars in additional revenue to businesses and artists. Prior to the light rail and the branding of the district as Little Mekong, customers would be 90, 95 percent Southeast Asian. But today, I would say that 70 percent of visitors to the area are Southeast Asian or Asian American, and about 30 percent others. We've brought in over 300,000 new visitors to the area, and now we're also having a physical revitalization impact on the district.
So we've increased the number of customers to the area, and we've diversified the customer base. It's become a destination that has broader recognition than it had previously. These are all measurable outcomes we can see and that are having a positive impact on people's lives.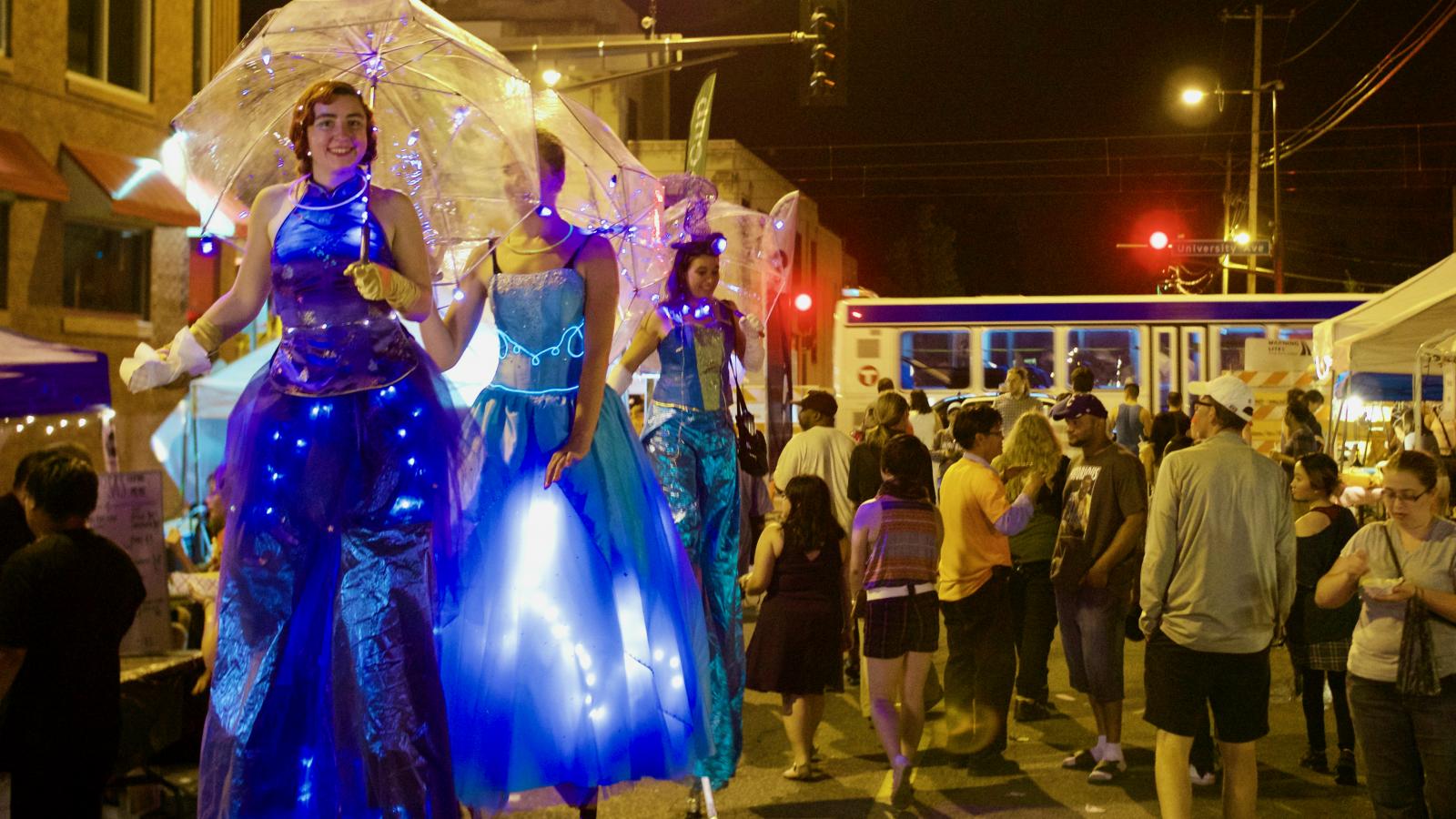 OWNING THE NARRATIVE
I think pride in your own cultural heritage is very important, especially for the Southeast Asian community. Because of the traumatic history of having been relocated to the U.S. as refugees, a lot was lost.
So our first audience that we target is low-income Southeast Asians in the immediate neighborhoods of Frogtown and Rondo, and Southeast Asians [elsewhere] in the Twin Cities who normally don't have access to the arts. It's expensive to access art and culture, and it's really hard to access art and culture in a way that's educational and reinforcing and elevating people's cultural heritage. Everything we've done is free to the public.
In terms of the Twin Cities, we talk about what we do as bridging cultures. We felt that Minnesota's AAPI [Asian-American/Pacific-Islander] population is invisible, and we're only visible whenever there's something negative. Even though in St. Paul we make up 15 to 20 percent of residents, we're still invisible in the sense that our cultural presence and influence is not acknowledged or is ignored, especially when it comes to decision-making and policymaking.
Art and culture really increases our visibility and our impact in a very positive way by sharing our culture with everyone. We want to change the perception of the area as an unsafe, poor neighborhood with a lot of deficits. We're a cultural connector, and present the Twin Cities Southeast Asian community in an authentic way to everyone. It's become part of the identity of the district that not only do you go to Little Mekong if you want to eat Asian food, but it's where you can actually experience the culture of Minnesota's Southeast Asian community. You don't find that in many places in the Twin Cities or Minnesota, which is not a very diverse state overall.
Obviously we're leveraging art and culture for economic benefit, and that's also key. But we don't forget the fact that by our creative placemaking initiative in Little Mekong, we're also having an impact culturally in terms of bridging cultural communities, increasing awareness of Southeast Asian culture, but also just increasing and strengthening that cultural identification that many of us lost when we came to the U.S. as refugees.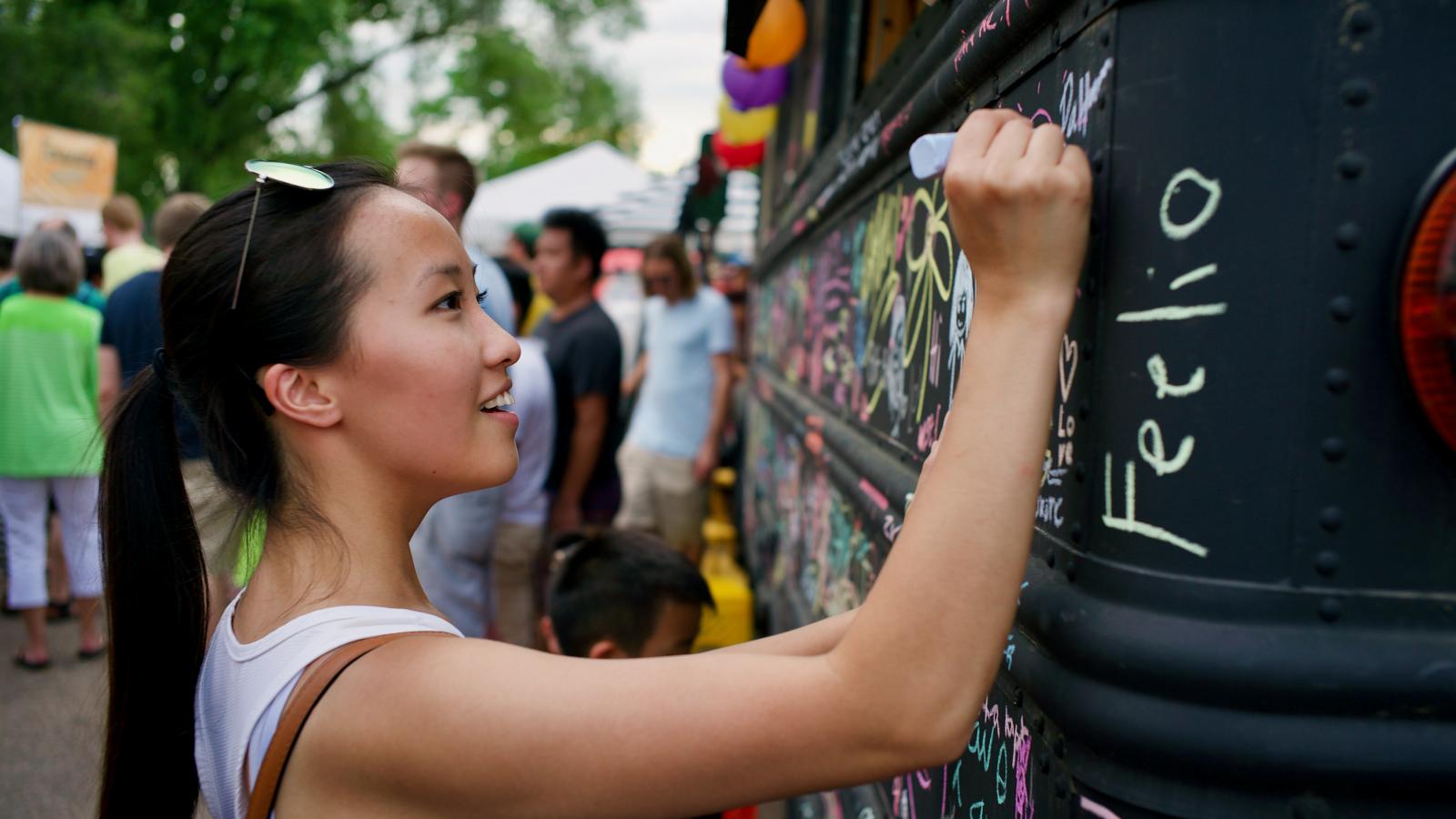 EMPOWERING ARTISTS AS COMMUNITY DEVELOPERS
It's gratifying to see artists who felt they didn't have a place within the creative economy or the cultural landscape feel like they could rely on us. They could go to their roots and leverage that and be connected to their community as artists, and at the same time have an impact on the community in ways that they hadn't thought about.
I think that's the uniqueness of an economic development organization utilizing and engaging artists. So many artists come to AEDA and realize that it's not just about their creativity, but it's about their creativity having an economic impact, or a broader cultural impact. Many artists go through traditional training, and they focus on their art and their technique and their skills. They don't realize that they could be community developers. That's what we're seeing with the work that AEDA is doing. We are working with artists who are realizing that they are community developers in the sense that they're uplifting the community in many different ways.
That speaks to me, because as a filmmaker before I became a nonprofit director, I didn't really see myself as having this kind of impact on the community. I was thinking, "I make my films, and it's about me and my vision, and I hope that I can communicate with people." But it's more than that. Yes, your creativity is important, your vision is important, but beyond that you could have this impact on the economic opportunities of the community.
PUTTING ARTISTS IN THE DRIVER'S SEAT
In terms of creative placemaking, I think it's important for the people who are part of that community to actually take the lead and do this work. If organizations want to work with artists, make sure that the artists are representative of the place that they're working in, and the community that they're working in. That's often not the case, and for us that's very important. There are organizations that work in neighborhoods of color that are not led by people of color, and they find it hard to engage with the community that they're in.
At AEDA, 100 percent of our staff are Asian, and 100 percent of our board members are Asian. But I think what's important to AEDA is that the work that we do has to be led by artists of color. We give them the power to create their work, and let them determine the outcome and the impact that they want to have. That's always been our mode of operation. We want the artists to actually lead.