Bringing Joy and Upliftment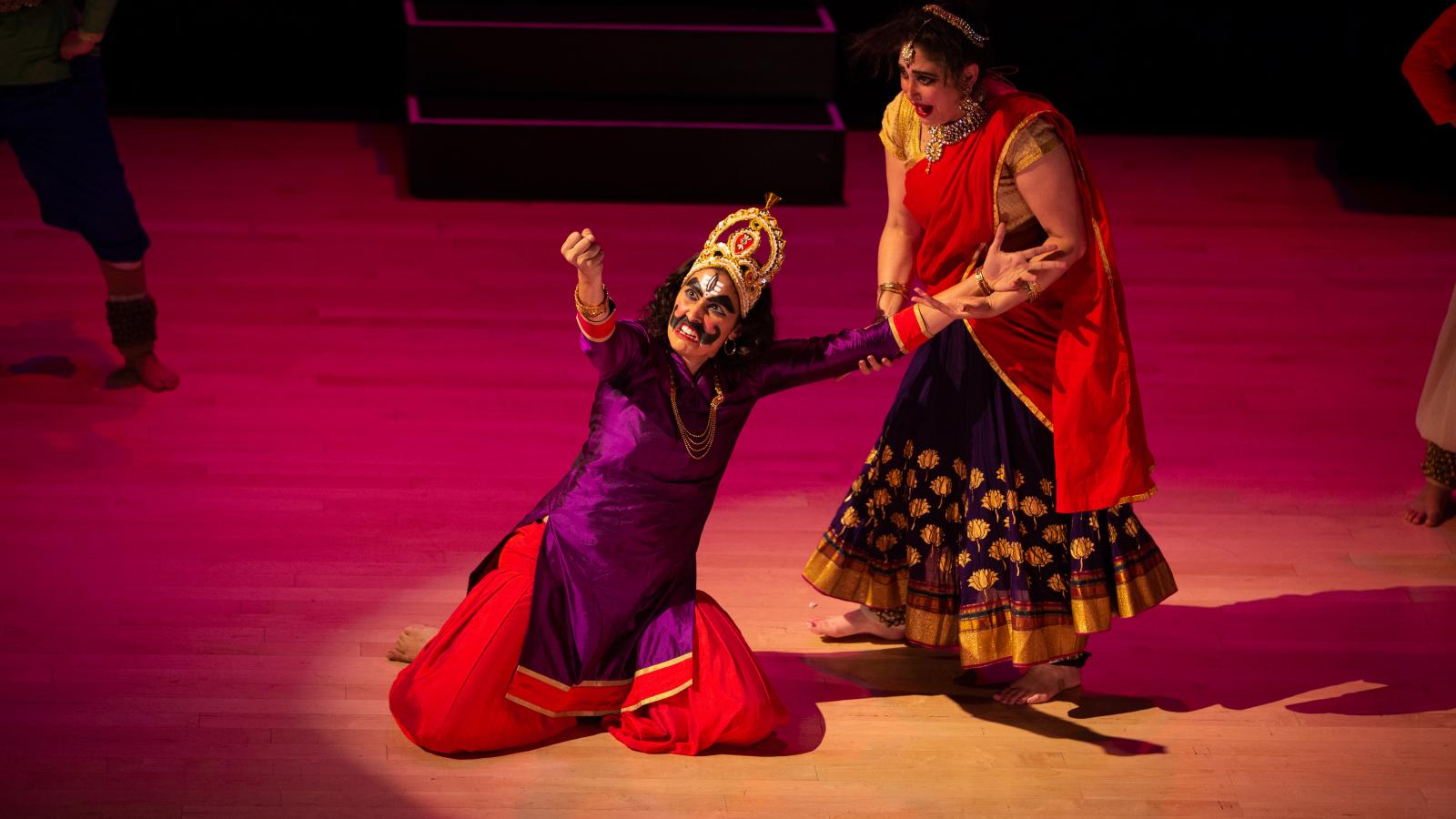 From her earliest days, Rina Mehta was imbued with a passion for dance. The daughter of Indian immigrants, she was raised in Los Angeles, where she began formal training in Bharatanatyam, a South Indian form of classical dance, as a child. She brought her passion with her to the University of California, Berkeley, where she would eventually receive a bachelor's degree in immunology and a master's degree in public health while continuing to devote time to dance.
While at Berkeley, she happened to attend a class in Kathak, a North Indian dance tradition, led by 2009 NEA National Heritage Fellow Pandit Chitresh Das. The impact of Das' class on Mehta was profound. She switched her artistic focus to Kathak, studying with Das in the guru-disciple tradition for more than 15 years. Eventually she performed in his company and taught at his school. At age 33, she made the life-altering decision to leave her public health career and devote herself full-time to dance, becoming a solo performer and traveling and teaching around the country.
Das died in 2015 and in response, Mehta founded the Leela Dance Collective with four of Das' other disciples and students as a way to continue his legacy. An all-women ensemble, Leela is deeply committed to both creative collaboration and supporting women artists. Today, the Leela Academy and the Leela Endowment are bound with the company to uphold and advance the art form of Kathak, combining tradition, authenticity, and innovation. Mehta shared with us why she practices the art of Kathak and the importance of the Leela Dance Collective.
THE KATHAK TRADITION
In India, we have eight classical art forms, and Kathak is one of them. Because India has so many dance traditions, I always like to distinguish among classical dance, folk dance, and pop dance (commonly known as Bollywood dance).
Kathak is a percussive dance form. We make music and rhythm with our feet. Kathak is distinguished by swift pirouettes, dynamic movement, rhythmic poetry, and crisp stances. And at the heart of the form is storytelling.
Kathak actually comes from the word katha, which means "story." The ancient Kathakas were a lot like the bards and minstrels of Europe who traveled from village to village telling the stories of the day through dance and music.
Around the 12th and 13th centuries, the art form moved out of the villages and into the courts. It was in these courts that the art form absorbed the influence of Islamic culture and Islamic aesthetic. Kathak is the only classical art form that has both Hindu and Muslim influences.
When the British arrived, the art form suffered a very big blow. Public performances were banned, [but] many of the teachers and the lineage bearers held onto the tradition underground. Then in the mid-1900s, it emerged again as a sign of national pride. Kathak is trying to make up for the 200 years it lost under British rule.
There is still a lot of subversive imperialism when it comes to India. I would love for there to be more ways for us to authentically communicate the depth and richness of India's artistic and cultural heritage.
I feel like the history of India is mapped onto the art form and onto our bodies, because we really dance the history of [the country] in so many ways. Our bodies, our dance, and our music contain and convey India's dramatic history from ancient to medieval to modern times.
KATHAK IN THE UNITED STATES
For the most part, Indian dance is presented in community venues with minimal budgets and that limits production value, the presentation, the marketing, everything. We have invested in raising the production value of Indian classical dance and we work hard to partner with mainstream venues. So, the impact we have had and we're wanting to continue to have is to pull the art form out of those isolated and segregated spaces, bringing it into mainstream society. For the South Asian community, being in these [mainstream] venues creates a lot of pride and a lot of visibility.
More and more in diasporic communities, Indians are embracing music and dance as a way to embody culture. [But] we have a long way to go in terms of using the art forms as a way to facilitate cross-cultural understanding in a meaningful way.
Rina Mehta, co-founder of the Leela Dance Collective. Photo by Travis Broxton

"Our bodies, our dance, and our music contain and convey India's dramatic history from ancient to medieval to modern times."
BEING A WOMEN'S GROUP
The collective's artistic directors—Seibi Lee, Rachna Nivas, and myself—are all senior disciples of Pandit Chitresh Das. In his generation, most of the masters and teachers and performers were male. By the time we came along, very few men studied the art form [because of] the modern-day stigma of men dancing. We just naturally stepped into continuing the legacy.
All of us being women has led to an organization where the work is not centered around one artistic vision, but rather many artistic voices. Many of our productions are collaborative: SPEAK, which is a Kathak and tap show, and Son of the Wind, which is our traditional dance drama.
We hold high the concept of collective creativity, and that what we can create together can take the art form forward. That's something very unique to us.
Leela's really lucky. There were a lot of women artists in generations above [who] were phenomenal but were not recognized. We're standing on the shoulders of many of those women.
THE IMPACT OF ANTI-ASIAN AMERICAN VIOLENCE
We've had a lot of internal conversations around how we continue to do our work based on how the current climate around us is shifting. We often get pressure to politicize our work.
We have tried to stay true to what our core mission is, which is to bring joy and upliftment through music and dance and where it's appropriate, we would like to use our art form to facilitate cultural exchange and understanding. We now do many more pre- and post-performance talks in addition to more general artist talks to spark dialogue. Ultimately, if we see fellow people from other cultures and other races as human beings, it opens the door.
Joy is joy is joy. To be joyful is a human thing.
WHAT WE CAN ALL DO
Be honestly curious and open-minded. Be willing to learn, learn deeply, and ask deeply. Look beyond the surface.