Resilience through the Arts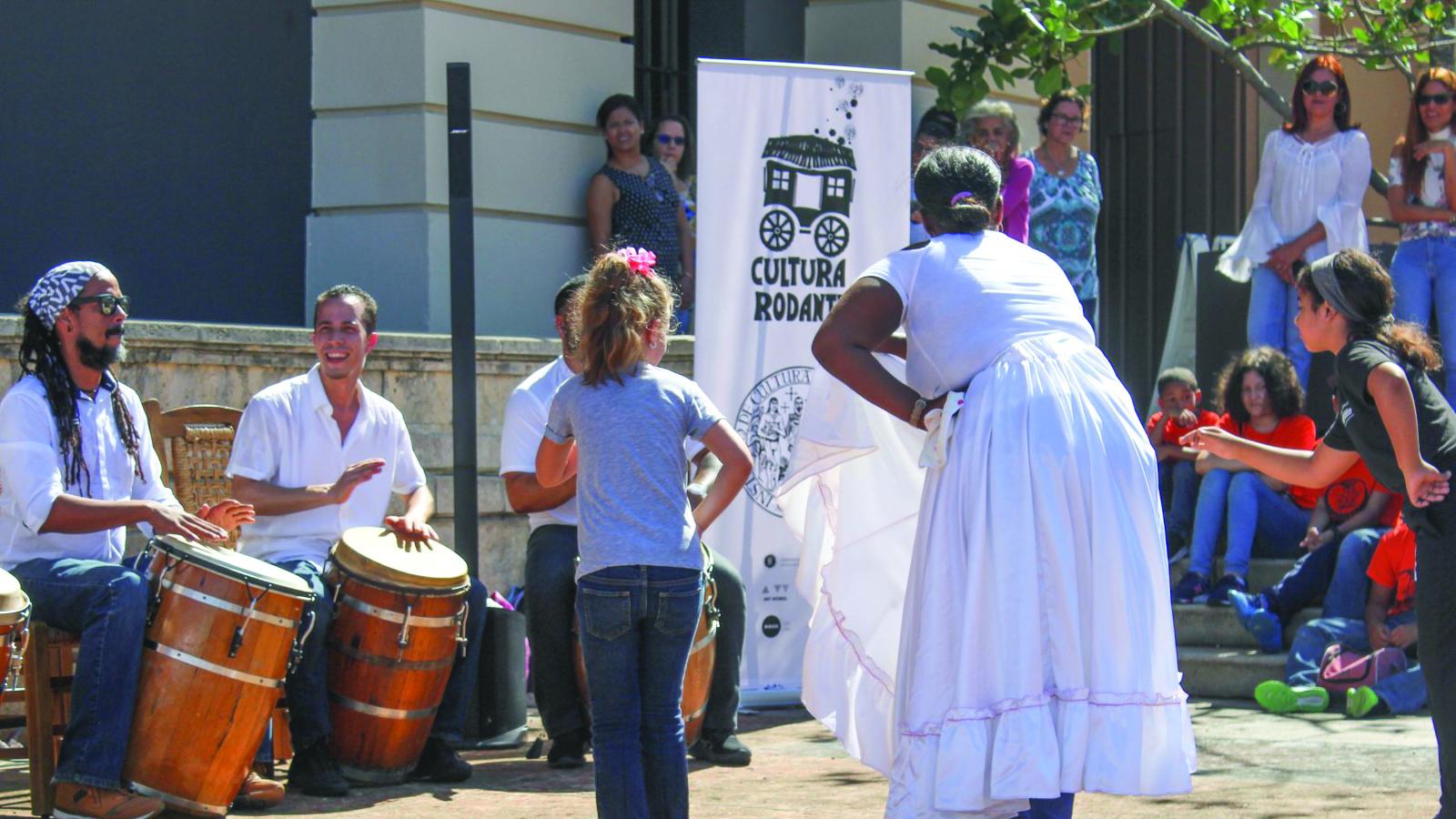 It is understandable that Puerto Rico might be experiencing a strong case of déjà vu. Hurricane Fiona raging across the island in September 2022 was bound to bring back bad memories of the two-punch devastation of Hurricanes Maria and Irma in 2017, from which they were still recovering. Among the local governmental organizations to first start recovery efforts back then was the island's arts agency, Instituto de Cultura Puertorriqueña (ICP), or Institute of Puerto Rican Culture. "We were the first state agency issuing checks in Puerto Rico" after the 2017 hurricanes, stated Freddy E. Vélez, deputy director at ICP.
While Puerto Rico suffered from a complete loss of electricity, much as it has with the 2022 storm, and blocked roadways, ICP managed to work with federal agencies and local organizations to facilitate access to the arts through the program Cultura Rodante (Culture on Wheels). The idea was to provide communities with comfort and help them find some normality by bringing artists and arts organizations to different places throughout the island to work with local constituents. Even Poetry Out Loud, the NEA's national poetry recitation contest for high school students, continued with ICP's assistance despite the power outages.
In addition to being Puerto Rico's arts agency, ICP also oversees the General Archives of Puerto Rico, which contains important historical public documents; the National Library; and the Collections Unit, which stores artworks and historical objects that are often loaned to other institutions, all of which required damage assessments and recovery recommendations.
The NEA, working with ICP and partnering with local organizations and other federal agencies, such as the National Endowment for the Humanities (NEH) and Institute for Museum and Library Services (IMLS), has conducted numerous workshops on funding opportunities for cultural nonprofit organizations. In addition, the NEA worked with the Federal Emergency Management Agency, Department of Interior, National Archives and Records Administration, and the National Park Service, along with ICP, to conduct important historical preservation workshops on topics such as cemetery repair work at historic sites and climate considerations for the management of historic properties, especially those vulnerable to flooding and projected sea level rise.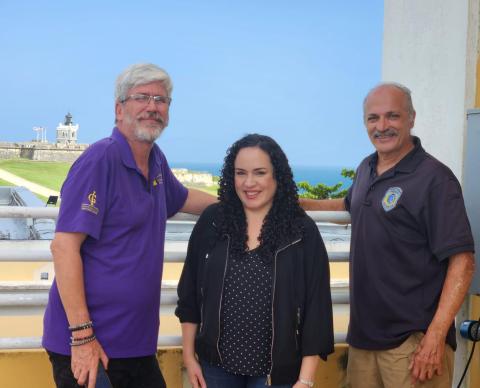 ICP has looked to private sources as well to help rebuild Puerto Rico's arts ecosystem. They received funding from the Mellon Foundation to digitize important historical documents to preserve them and entered into an agreement with Google Arts and Culture—an initiative that was generated through the relationships developed when Lin Manuel Miranda presented a benefit performance of Hamilton—that shares some of ICP's art collection with the world.
We spoke with Vélez, consultant Isabel Rosa, and Specialist on Nautical Archeology Juan Vera from ICP about how the arts agency leapt into action after the devastation, its interaction with the NEA and other federal and local organizations, and how it moved forward after the hurricanes. The conversation took place before Hurricane Fiona hit the island.
BRINGING CULTURE TO HEAL COMMUNITIES
Freddy E. Vélez: So, we were here at the headquarters [after the 2017 hurricanes hit], and it was like, how the hell are we going to work with this? We didn't have any electricity. We didn't have power plants or generators. We didn't have anything. It was like, well, let's see what we can do.
Isabel Rosa: The [state arts agency] has to be a facilitator and have the openness to see how you can best serve your constituents, which is what matters. And that goes from the general public all the way to your arts and cultural-specific sectors.
Vélez: Through the leadership of Carlos Ruiz Cortés [executive director of ICP], we decided to go on implementing a project, which was crazy at that time, going all over Old San Juan, which was almost impossible, and having cultural representation in terms of poetry or even doing a drawing with chalk on the floor at the shelters. We were able to get a listing of the shelters that were open from the Departamento de la Vivienda, the state housing agency of Puerto Rico. First, we focused on shelters because we knew they were operating, they had space and hundreds of people. Then we started realizing that there were more people outside of the shelters, so we decided to go directly to the communities.
Rosa: [That was] Cultura Rodante, which was pretty much taking artists to different parts of the island. It was really effective since artists got to have their income while they showcased their work in communities that were in need of some degree of normality. We were leveraging heavily the NEA funding that was available. I remember telling [the NEA], "We would like to use the regular funding as emergency funding and also provide it for Cultura Rodante." And at the Arsenal de la Puntilla Española, we did eventually set up a co-working space with internet and also facilitated washing machines and potable water for artists, arts organizations, and employees.
Vélez: Cultura Rodante, from October 2017 to December 2018, had more than 934 events featuring over 160 cultural resources all over Puerto Rico, benefitting over 142,000 people in 78 municipalities, including the island municipalities of Vieques and Culebra.
Rosa: You would have the artists that we hired with the NEA funds to be able to at least cheer up these families that had lost everything or bring some normality to wherever it is they were staying—whether it was juggling, painting, or theater art.
Vélez: A lady stated that it was the first time she was able to laugh after the hurricane.
Rosa: And with Cultura Rodante, you started having more participation from the private industry. For example, Liberty, which was one of the main private internet and communications providers, they facilitated internet hotspots.
Vélez: What was Cultura Rodante evolved through the pandemic. In 2020-2021, we had 700 virtual interventions through our social media platforms with over 1,830 cultural resources, reaching over 2.6 million people.
Rosa: Cultura Rodante evolved from an emergency program into a regular program. It is so successful and flexible that it evolved into a virtual program [during the pandemic] and now it's phasing back to a regular program.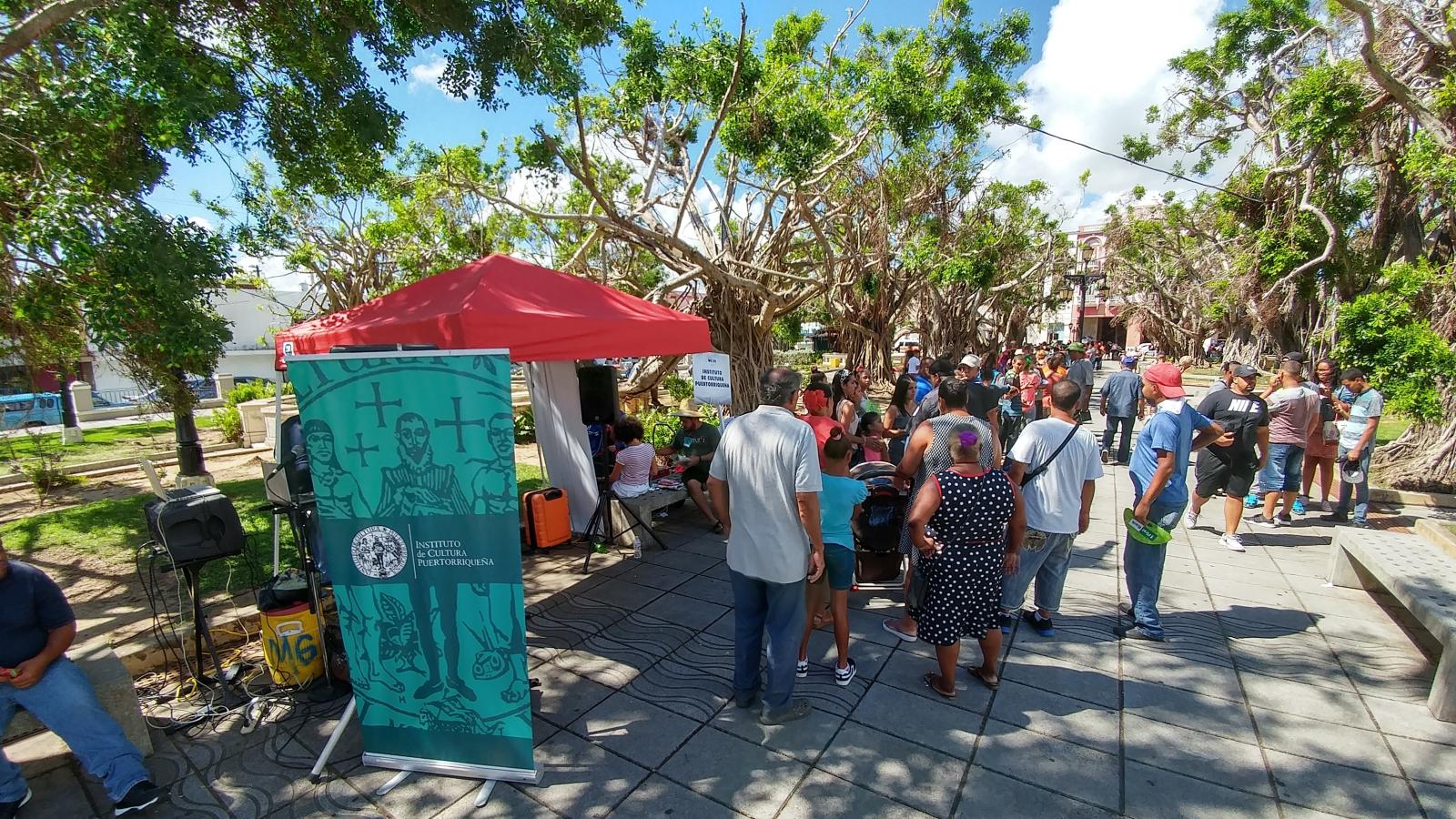 FACING CHALLENGES
Vélez: Every challenge or threat we see as an opportunity. [For example,] when we defined the low rate of 501(c)(3)s [the nonprofit designation required to receive NEA funding] in our cultural organizations, we took action.
Rosa: We submitted a grant to the NEA for a pilot program, the grant writing/grants management program, to allow nonprofit organizations to get their IRS tax-exempt status, or work toward getting it, and to be able to apply for funding that we allocate through our sub-awards as well as directly to the NEA. So that was of extreme help. It is still underway. And we're also giving one-on-ones to further that initiative. The NEA came with IMLS and NEH to share what the competitive opportunities are under the three agencies, and you guys just came back [in August 2022], so that was beautiful. And we've seen an increased number of applications from the arts and cultural sector to the three federal agencies.
I think that we never had the knowledge that the [hurricanes] brought forth. It uncovered many problems across the board. It also allowed for different activities that would otherwise never have occurred. And that includes all of the workshops that concern historic property conservation. This exchange of knowledge with the experts in the field locally, with national and international experts in Puerto Rico—to learn how to perform this construction, this preservation, the whole thing—I think that it wouldn't have happened otherwise.
Juan Vera: There's so much more to be done. But that's what we're here for. We know these sorts of events are going to be occurring more frequently than in the past for different reasons, climate change, et cetera. So, in the reconstruction process, we have to plan with that in mind. Try to avoid damage in the future. Historic preservation activities and workshops for specialists, to address the damaged buildings, were excellent and necessary. These were possible with the collaboration of experts from the federal government, including the Department of Interior and National Endowment for the Arts.
COLLABORATIONS
Rosa: I'd say that pretty much there is no doubt that arts and culture have to be engaged when it comes to recovery. The National Assembly of State Art Agencies has an article that states how you can spearhead and have your economic development gain some traction faster involving arts and culture. And we can attest to it through various natural disaster moments.
We received a lot of support from the federal government, different agencies including the NEA. I think that the state art agencies, in facing a disaster such as the one we did, need all the help they can get. Yes, you need to participate in all those meetings, at least have a voice in there, and pretty much accept all the help you can get from anyone. I have to say that we truly appreciate the National Endowment for the Arts. I can't express how important the assistance was as a state arts agency and to our constituents—pretty much from the general population all the way to top-tier museums, higher education institutions, specialized schools, everything. I mean, it's definitely a joint effort.
Vélez: Another byproduct of the emergency, we were able to establish new networks through the municipalities and local communities. We realized that we have a broader constituency than we previously thought, so we established the cultural networks so we'll be able to communicate more agilely in terms of getting back into the local community. Also, we realized the big museums have unique needs that we might be able to help or be a facilitator in terms of our assessing damages and whatever might be of need.
Rosa: I have to say, it was beautiful to see how museums collaborated with artists. I know that the Museo de Arte de Puerto Rico and Museo de Arte Contemporaneo did amazing things for artists of all different fields. You had these big, solid institutions playing a significant role at the same time with everything that had to be done. For the sake of continuity, mental health, economic health, just getting it done.
Vélez: And I think it was an opportunity for broadening their constituency.
Rosa: Going forward, we're always available for those states and communities that go through natural disasters, available to provide any assistance they need on how to insert arts and culture into the recovery process. We're pretty much naturals at it by now.