In Celebration of Artful Lives
American Artscape | 2023 No. 1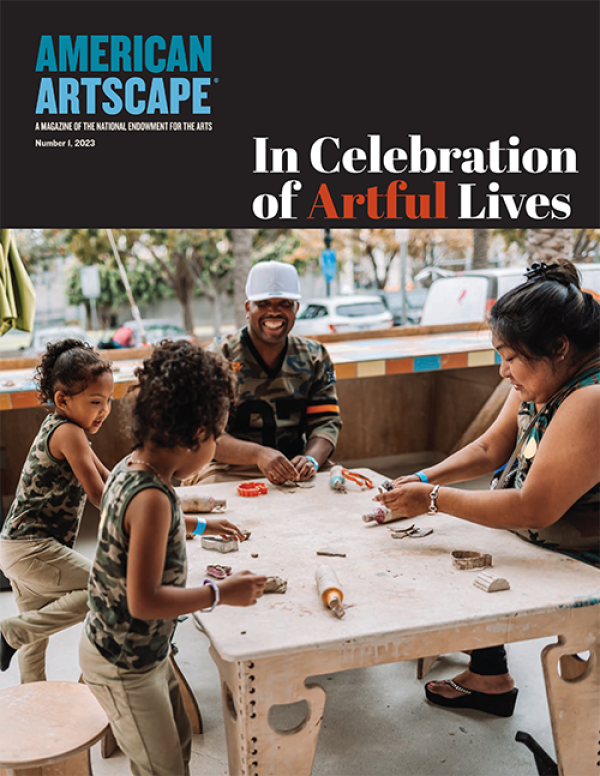 Download Issue
All Issues
About this Issue
Since starting her term in 2021, National Endowment for the Arts Chair Maria Rosario Jackson has routinely discussed the premise of "artful lives" during her travels across the country. As she notes in her essay in this issue, it is "an inclusive concept containing a wide range of arts experiences, including the everyday, deeply meaningful practices and expressions within our daily lives as well as the making, presentation, and distribution of professional art from all disciplines and traditions."
The concept revolves around a set of principles:
All people have the capacity to be creative, imaginative, and expressive on their own terms.
Arts and cultural activity happen in many kinds of places, not just museums and theaters, and our concept of that activity must be expansive.
Art process can be as important as and, in some cases, even more important than art product.
Artists, culture bearers, and designers have many kinds of relationships to the world and help us see things from different perspectives, ask questions, speak truth, and help us imagine what could be.
The arts are intrinsically important (full stop). The arts are most impactful when they exist not in a bubble, in isolation, but in connection to other dimensions of our lives, our communities, towns, and cities—at the intersections of other areas of policy and practice like health, education, community and economic development, transportation, the environment, and more.
In this issue, we spoke with artists, arts administrators, public health professionals, and nonprofit leaders about the important role the arts have played in their lives.