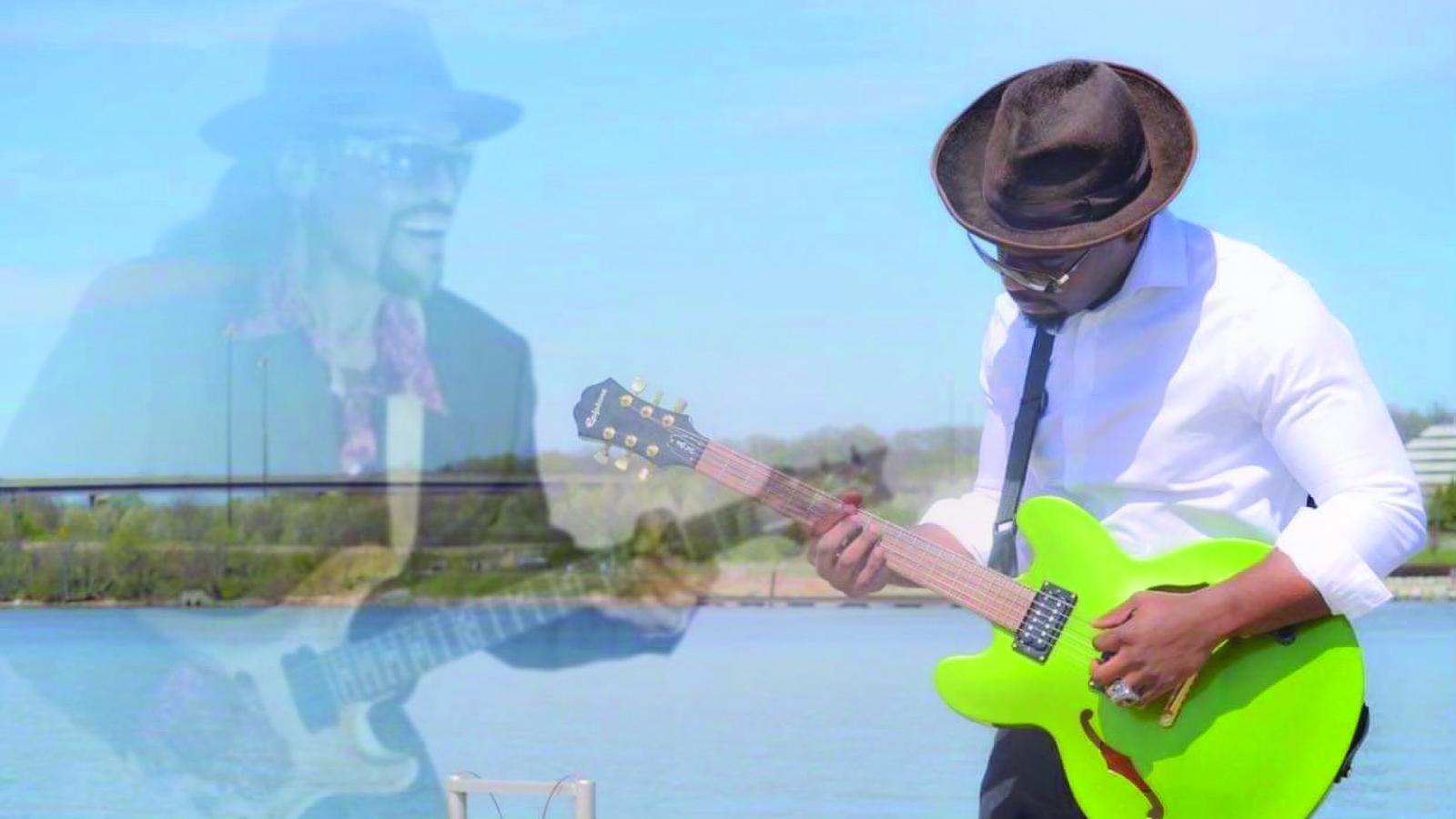 A decade ago, if you were to ask Wiley Brown about leading his father's band in the future, he would've laughed out loud. Literally. I attended Virginia Tech with Wiley and we formed a friendship and comradery as college athletes—I ran track and field and Wiley played football as a defensive back. During our time at Virginia Tech, Wiley never bragged or alluded to his familial ties with music. His primary focus was on the field; under the bright lights of the stadium, with hopes of going to the National Football League upon graduation.
You may be wondering who Wiley's father is. Wiley is the youngest son of Chuck Brown, known as the "Godfather of Go-Go," who passed away in 2012. Chuck Brown, 2005 NEA National Heritage Fellow, was a musical trailblazer who gifted the world the distinctive sound of go-go, an infusion of Latin beats, jazz, African call-and-response chants, and rhythm and blues born in the nation's capital. Among his lifetime achievements and accolades as a musician, his hit "Bustin' Loose" reached number one on the Billboard Hot R&B/Hip-Hop Songs chart in 1979, and he received a Grammy Award nomination in 2011. In 2014, the Chuck Brown Memorial Park was built in Washington, DC, and in 2020, Mayor Muriel Bowser signed the Go-Go Music of the District of Columbia Designation Act of 2019 to make go-go the official music of Washington, DC.
Chuck Brown's legacy is still alive nationally and globally, through the radio airwaves, social media platforms, dancehalls, and street corners and playgrounds of the Washington Metropolitan area. His artful impact continues to the present day through the voice and visage of his son Wiley. If you enter a Chuck Brown Band performance, you will see a young man, donning a fedora hat and dark sunglasses, with a voice that is strikingly similar to his late father—so much so that Wiley will be portraying his father in an upcoming bio-picture that is co-written by his brother Nekos. In addition to leading the Chuck Brown Band, Wiley co-wrote his 2022 debut solo single "Not Obligated" and runs the Chuck Brown Foundation with Nekos.
We spoke with Wiley about the impact of his father's artful upbringing, his pivotal moment in joining the Chuck Brown Band, and his plan to keep go-go music and culture alive for future generations.
GROWING UP WITH A MUSICAL LEGEND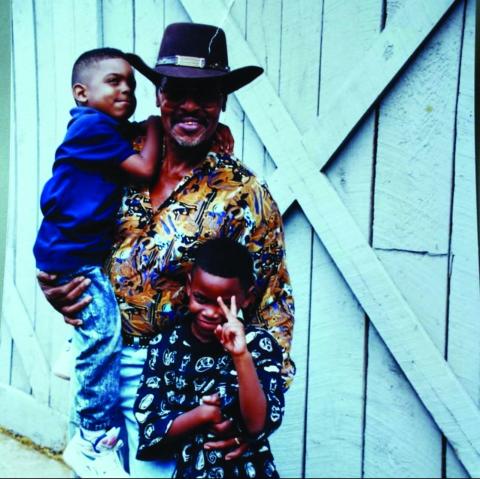 The ways that my father incorporated arts and culture in the household, I got to see it every day. Every day, he would be practicing. I was exposed to a lot of different genres of music even though my dad created go-go. We listened to everything from blues to jazz to classical music to even country. I was always around the music, and I was the one that was always on stage and wasn't afraid to be up there with my dad, ever since I was about five. We grew up with arts all around us, and my mom was big into arts and crafts. She was always working on something, doing some type of project around the house and just making something her own or making something better. The arts were always around me, and my dad, he would tell his stories and sometimes draw at the same time while he was doing it.
TWO ROADS DIVERGED
I would go to sleep to my dad practicing on his guitar, and it got to a point where I would have to go to sleep with some type of music on or some type of noise or TV on. And then I went from music to being around my brothers all the time and playing football. I gravitated toward that even more than music, and followed my brother Nekos—he ended up going to Virginia Tech first. My dad was so excited to have both of his boys at the same school. I finally got to Virginia Tech, and things were going well. By the time my senior year came, it was right before the [football] season started. My dad gets sick and ends up passing away in the spring. My siblings, they asked me right before the season started, "Wiley, what you going to do, man? You going to stay and play or are you going to help us at home with Ma?" My Ma wasn't doing so well. She had a breakdown. Football doesn't last forever, so I ended up finishing school from home. It was rough but I still managed to graduate on time.
I came back to Virginia Tech for my pro day. I had a few teams that were about to bring me on—the Rams, the Colts, and the Jaguars were looking at me. Everything felt like it was getting back on track for me, and then right after my pro day, I went back down there to train and I ended up getting attacked by a pit bull, who bit a chunk out of my ankle and then I couldn't play anymore. At that point, I felt like, "All right. Who am I without this sport?" I really had to do some soul searching.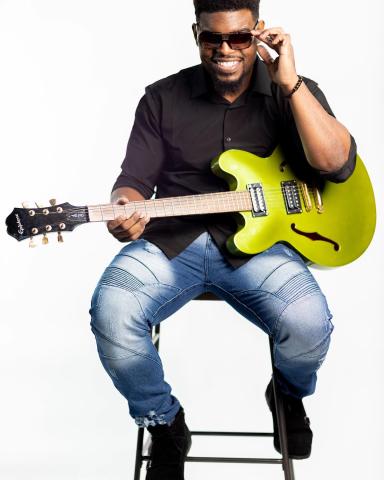 "Life is all about learning from others and not only giving what you got to give to the world, but also receiving what the world has."
LEADING THE BAND
In 2016, the band started doing Chuck Brown Mondays at the Howard Theatre, and just being around the music started to give me that same type of drive that I would get from putting a [football] helmet on. I'm like, "This was it the whole time. This was my first love." It was what I knew before football and here I am back to it.
There was one show we had on Chuck Brown Mondays where I was in the front [of the stage] and the band starts to go into "Chuck Baby," and DJ Rico is right beside me. He's like, "Man, get upstage. Get on the stage, man. You been up there since you were little, man." So, I get on stage and I start singing "Chuck Baby," and I could see the crowd's reactions. I have the raspy voice like my dad, so the band is looking like, "Something is happening here." So, I gradually started doing more and more songs.
I talked to my dad's manager. I told him, "Hey, Tom, I really want to talk to the band and ask them how would they feel about me joining the band full-time." They welcomed me with open arms.
I kind of mix my dad's style and my own and I know my voice is very similar to his and the older I get, the deeper it's getting. Out of my siblings, I look the most like him, and it kind of gives people a comfort like, "Dang, he looks just like his dad." My dad was more old-school, but he always changed with the times. He kept up with whatever was hot, whatever was going on. Made sure he kept his ears low to the ground, and I think that's something I not only incorporate with my own feel, but also take from him to make sure I stay up with what's going on.
KEEPING THE GO-GO BEAT ALIVE
Being in the DMV [District of Columbia, Maryland, and Virginia] area, we express our music and love for the arts in many different ways, many different forms, but I do believe go-go is the soundtrack of the town. You have to experience it live in order to really understand it. I think it's very spiritual, where it gets into your soul and you can't do nothing but move something. You are going to start moving. You are going to start dancing, and the little bit of tension that you might have in your joints and in your muscles, it's going to start to loosen up. I think the art throughout the city is definitely something else that we need a little more of, but it's always there. It's always been there.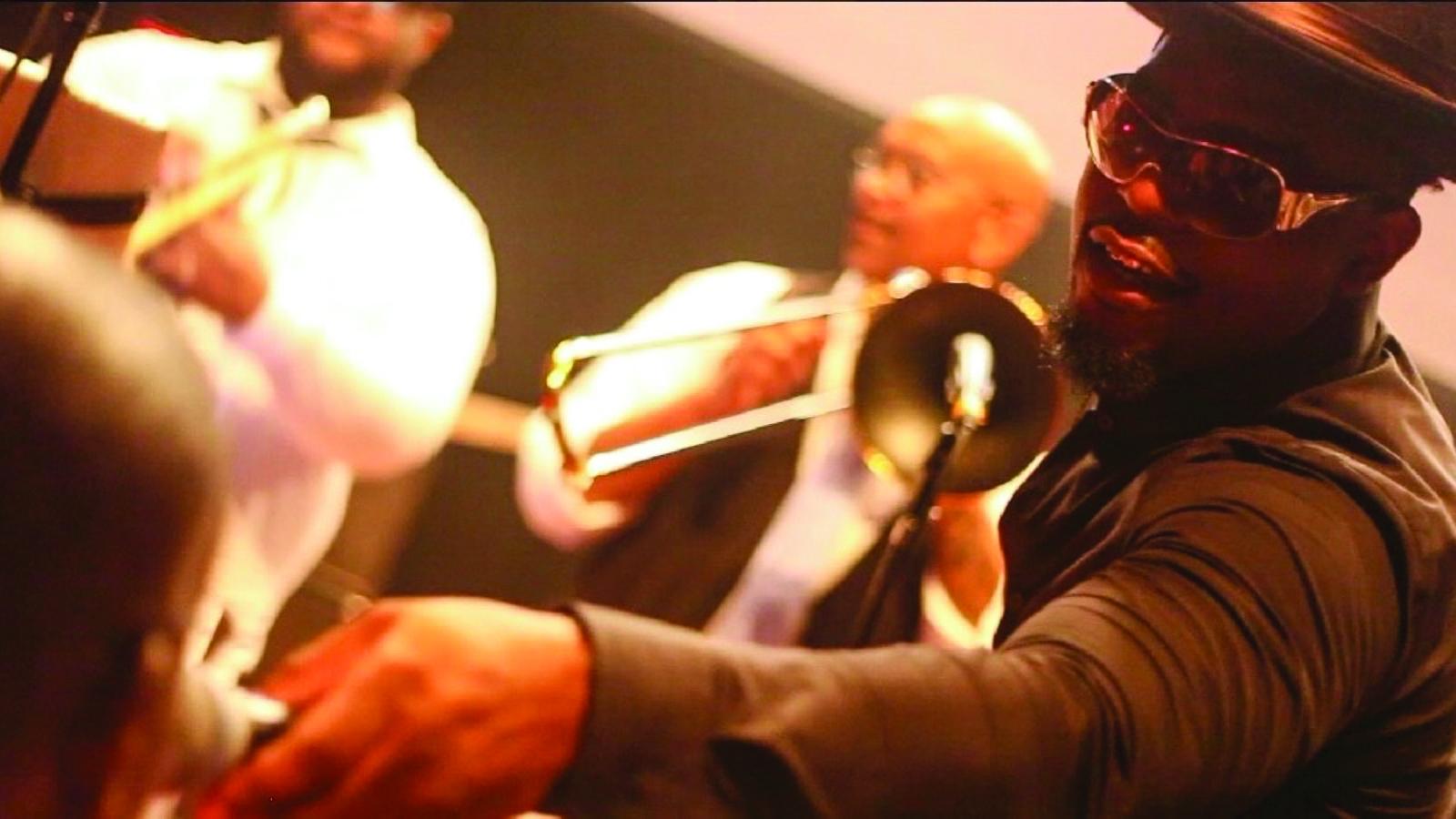 I pay attention to the different art that's around the town and the sculptures. At the Chuck Brown Memorial Park, there's a sculpture of my dad holding out the microphone and the lady [Jackie Braitman] that did it, she's a great artist. When you cross paths with people like that, you want to get into what they're into. What led them to this point? Life is all about learning from others and not only giving what you got to give to the world, but also receiving what the world has. I think just seeing the music and art come and work hand in hand together in the DMV area, is something you have to see and experience to really appreciate.
Our big event is Chuck Brown Day every year, and we try to make sure that it gets bigger and bigger. We had about 6,000 people at one point at Chuck Brown Day and it's an event of love, music, art, and culture. Everything that you want to see and learn about the DMV is at that day. Also, we focus on the things that my dad cared about and had to deal with throughout his life, which is giving back to the homeless and making sure that we give back to education as well.
THE NEXT ARTFUL CHAPTER
I'm currently teaching my nieces, Xena and Xerena, what I know with the guitar. Whenever I come around it's like, "Oh, it's music time. Uncle Wiley's here." So, they'll go run and get the guitar and be like, "Uncle Wiley, can you show me some more chords now?" I see them picking it up and it brings joy to my heart. I understand that there's not only a duty I feel like I have but it's something that I have to keep going in the family. But also, out in the world, I think it's very important for not only myself and the Chuck Brown Band—but also everyone that's involved in go-go—to get it to the youth, because the youth are the future. They're the ones that's going to keep the music going. There's nothing like live music, and go-go is about as live as you are going to get when it comes to live music. I am keeping the legacy going but also creating my own at the same time.