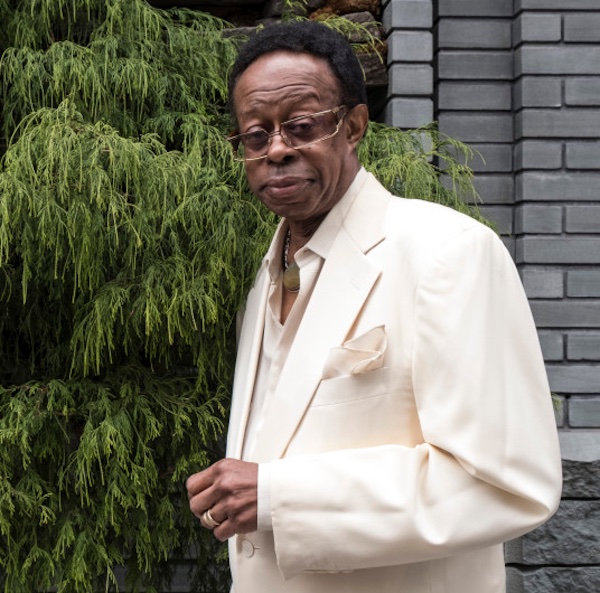 Music Credits:
"NY" composed and performed by Kosta T, from the cd Soul Sand, used courtesy of Free Music Archive
 "Hastings Street" composed and performed by Louis Hayes, from the album, Serenade for Horace, with Abraham Burton, Steve Nelson, David Bryant, Dezron Douglas, and Josh Evans.
"Señor Blues" composed by Horace Silver, from the album Six Pieces of Silver, performed by the Horace Silver Quintet.
"Bohemia After Dark" composed by Oscar Pettiford from the album, Dizzy's Business, performed by Cannonball Adderley Sextet
 "Strollin'" composed by Horace Silver, performed by Louis Hayes,from the album, Serenade for Horace, with Abraham Burton, Steve Nelson, David Bryant, Dezron Douglas, and Josh Evans.
Jo Reed: From the National Endowment for the Arts, This is Art Works, I'm Josephine Reed
You just heard Hastings Street which was composed by drummer and 2023 NEA Jazz Master Louis Hayes. Born in 1937, Louis Hayes remains quite simply one of the great jazz drummers.  With a sense of timing without rival, Hayes is able to move easily from high-flying solo turns to being one of the best accompanists out there with his formidable rhythmic sensibility. Hayes may be one of the originators of hard bop, but no one matches his quiet sensitivity on ballads. He has played in bands led by jazz legends like Cannonball Adderley, Oscar Peterson, Horace Silver, and McCoy Tyner.   In the early 1970s, Hayes co-led bands with Junior Cook and Woody Shaw before leading his own bands that included talent like Kenny Barron, Dexter Gordon, and Freddie Hubbard while featuring new generations of stellar musicians.  If you listen to jazz, you've heard Louis Hayes: he was sought-after sideman and has recorded on hundreds of sessions with artists like John Coltrane, Cedar Walton, J.J. Johnson, and Joe Henderson.  I had the opportunity to speak with Louis Hayes after he had been named a 2023 NEA Jazz Master. And I asked the Detroit native to tell me a bit about the song we heard at the top of the podcast, Hastings Street.
Louis Hayes: I wanted to do a tribute to Detroit. And I thought about this street called Hastings Street.  In the thirties and forties, that was a very special street for people of color.
Jo Reed Now you come, as I had mentioned, you come from a musical city and you grew up in a very musical household. Both your parents played instruments.
Louis Hayes Exactly right. My mother played piano and she sang quite a bit at home and in the church. And my father played piano and drums and also I had a cousin whose name was Clarence Stamps and he played drums also. And that was my teacher, my number one teacher.
Jo Reed So first, what kind of music did your dad play?
Louis Hayes Jazz. Also.
Jo Reed Your father played jazz?
Louis Hayes Yes. In the home I heard recordings of Mr. Ellington, big bands, I would say, and all kinds of music. I mean, it was rhythm and blues. I loved everything that was good that I heard. And it affected me a certain way. But  n my early teens, I  heard this art form they call bebop, and I heard Charlie Parker and the rest of the musicians that basically played that art form that really got got my attention. And musically, I went in that direction at that time, and I'm still trying to get it together.
[00:05:46] Jo Reed I wonder if you can remember, Louis, or even think thinking back now, what it was about that, about Charlie Parker, about bebop that just grabbed your interest so much?
[00:05:58] Louis Hayes Well, I think  his sound, the music that he chose to play, his facilities that he had. This music is a very complicated art form. And you have to be able to perform and have the knowledge to play on a very high level. And he could do that. He played his saxophone. It was sso much clarity and he had so much knowledge of what he was doing. He was like a laser-- he played so well. It takes a lot of practice to do things. Whatever you choose to do is to do it on a very complicated high level, it takes a lot of being by yourself, I should say, and working things out in your own mind. And he had really done that. And that really got my got me to a place where I really went for that art form, because I knew I could do it.
Jo Reed And what drew you to drums?
Louis Hayes Well, the piano was first. But I didn't fall in love with the piano. I fell in love with the drums.  I think one of the main reasons was drums were something that I knew I could do. It became easy for me and I saw other kids playing the drums that were older than me, having a lot of problems, and I would watch them. And this was very easy for me to do. I could outplay them without even thinking about it too much, really. So naturally, I went in that direction. And I like the instrument, I really did. And my father gave me his drum set, and then luckily I had a relative, Clarence Stamps, who was a drummer also, and he had a lot of knowledge about the instrument. I learned my he taught me my rudiments and how to read music and a lot of things that was very necessary to know about the instrument that a lot of people, young kids my age did not know. I got a lot of knowledge from him at a young age.
Jo Reed Detroit was such a rich place to be a musician and especially a young musician. And very, very early in your career, you were kid, you played with Yusef Lateef. How did that happen? How did that come to be?
Louis Hayes I played with my friends at a very young age, the street dances, in each other's basements at home and homes. And I had been on the road different places. My mother let me go. But Yusuf came at a time when I was, I would say, at least 18 years old. And like you said, the quality of the musicians, the art, the way they could play this art form was on very high level. People like Kenny Burrell, the guitarist, and Barry Harris the pianist, Tommy Flanagan the pianist, Paul Chambers bass. I mean, there's so many great artists in Detroit when I was coming up.  I was appearing in a nightclub Klein's Show Bar with an organist and when that job was over with, Yusef was bringing his group at next. The club owner, who's name was Mr. Klein said to Yusef, "You can have the job but I would like for you to have Louis Hayes play the drums." So,he came over to the family home and said to ask my mother it was okay. And he said to me, "I will give you a six weeks trial." And that was just magnificent, a six week trial. And I do not remember how long that I had an opportunity to be with Yusef in the Klein Show Bar, but it was a nice period of time and it was very enjoyable. But a lot of things happened to me before that time. I mean,  I started having a band at 15, So a lot of things happened before Yusef, but Yusef, that was that was a major opportunity for me at that age in Detroit
That helped me get myself together for one night after the clubs close at 2:00, they had an after- hours place called the West End.  And the bassist Doug Watkins, who is appearing with Art Blakey and the Jazz Messengers, and the trumpet player Donald Byrd. So that night we had the opportunity to come together as young people and as musicians. And so when they got back to New York, the Jazz Messengers was disbanding, and Art Blakey was keeping the name Jazz Messengers, and Horace Silver, the pianist, was started his own band. So Doug Wattles and Dallas Bird said to Horace Silver to get me from Detroit to be in the group. So Horace Silver called me in August of 1956, and that was big, that just fixed me right up. My dreams were coming true. And so I came to New York to join Horace Silver at that at that time. And a period with Horace Silver was just magnificent. He wrote so much music and we got along at such a high level. So that's how I started my career at this place that I always wanted to be in New York.
Jo Reed You know, what strikes me is that you begin at the top and I'm not saying it was smooth sailing all along, but just stayed there, moving horizontally and accruing different experiences with different musicians. Because you were 18 when you started working with Horace?
Louis Hayes Actually, 19.
Jo Reed 19, I'm sorry. Still quite young. Tell me, how did you learn Horace Silver's music?
Louis Hayes Oh, that's very interesting question there, because it was difficult. But with Horace, we had this relationship immediately, this feeling together. And Horace would invite me over to his apartment and play the piano and play compositions of his on the piano. And there was no music being written, anything like that. He would let me just listen to his compositions and use my own imagination to do what I wanted to do to accompany and do what I want to do to make music with him. So that's how I basically learned his music. And the first recording date that we did was entitled, on Blue Note, was entitled "Six Pieces of Silver". I came in August, and I'm pretty sure we did that in November, November of 56.
(Music Up)
Jo Reed And of course, it's a classic album.
Louis Hayes You said it, got it right. Yeah that was a magnificent album, it was a classic album, and I had the opportunity to play, to record I should say, five albums with Horace Silver on Blue Note. But during that time, I had the opportunity to meet so many magnificent musicians who were here in New York and record with them also. People like John Coltrane. It was quite a few.
Jo Reed Well, I was going to ask you about the New York jazz scene then, because it's in the 50s and what place for music at that point in New York.
Louis Hayes Yes, we were moving musically in a certain direction. And some guys that I was around were still very young. It was a lot of magnificent places to play, nightclubs and places to play and hangout, places stayed open till 4:00 in the morning. It was my first time being away from home and being able to be free and just be my own person. All that was a major thing.
Jo Reed You know, I just want to talk for a second about Horace Silver, because while his melodies were beautiful, he had really complicated rhythmic patterns as well…that playing was almost percussive. And I wonder how that influenced you, inspired you.
Louis Hayes  Horace gave me the opportunity to grow. I was pretty good when I came here, but I wasn't consistent. I learned to be consistent in playing this art form because you have to be able to be consistent every night. I basically sometimes would play pretty well. But sometimes my ability to play would go down some. And everyone basically coming here when you're a young person, this is the mecca, New York, and you grow here. And it took me at least about two years, I can recall that I could really feel that I was changing, and my ability to play was changing. I was coming into my own. But it took about two years for that. 
Jo Reed  You had to have been like a sponge in some way, just listening to everything and absorbing all this music. But you are also developing your own signature too, your own sound and. You just explained a bit how you were able to you know, how it takes time, but you were able to do that. And it was, I'm going to assume, playing on such a high level all the time and being challenged.
Louis Hayes And another thing that happened to me here that was a big thing. Joe Jones, the drummer who came to New York with Count Basie. He was my mentor. He didn't like too many people, it seems like.  But he liked me, so I had the opportunity to be around him a lot in my younger life. And a lot of times it wasn't actually about music. It was about how to be a man, a young man, and how to live this life and last, take care of yourself. So I learned a lot. I was very, very fortunate. I learned a lot of that from Joe Jones.
Jo Reed You played a lot of it in a lot of sessions. As you mentioned, you played with John Coltrane, you played with-- gosh, you played with so many people. And I'm curious about how you hooked up with Coltrane. Were you called in for that session? Were you playing with him at the time?
Louis Hayes I think what happened was we all were of a major big family. We music people, musicians that live in a certain area and was recording and we knew each other. If it wasn't personally, we knew each other musically. And he was doing things and he just wanted me to be able to record with him at this particular time.  I had the opportunity to do three recording dates with John Coltrane.
Jo Reed Didn't you do Lush Life?
Louis Hayes You're right on it. I would have never thought about it. But you said it. Yeah, you got it right.
Jo Reed Could you just tell me how it works? I mean, would you rehearse? Would you just show up and play? How does it work?
Louis Hayes The record company, usually, it pays for a rehearsal, at least one. So you do rehearse at least one time and then you go into the studio. And things that you are not really comfortable with, you work it out there. And so that's the way it basically happens. The art form takes place just like that.
Jo Reed Okay. So you're working with other musicians while you're with Horace. And after three years with Horace Silver, you move on. And let's talk about that move, because that was really important to.
Louis Hayes You're right. Well, I was appearing on a Monday night, that was an off night, at Birdland, a session night. And appearing that night was Hank Mobley, tenor saxophone. trumpet was Booker Little. Bobby Timmons piano. Sam Jones bass and myself. And when the job was over that night, Sam Jones came to Bobby Timmons and myself and said to us, said to me what he said to me was Cannonball, who is appearing with Miles Davis at the time, said he was leaving Miles and starting up his own band and would I consider coming with Cannon. At the time I was having magnificent time with Horace Silver and everyone in the band. So that was like you said, that was a major decision. And after going back and forth between the two of them, I decided to go with Cannonball. You said I had been with Horace from 56 for three years and I went with Cannonball. And I stayed with Cannonball from 59 to 65, six years. And then that decision that I made was the right decision. It was a family band, I mean, it was Cannonball, his brother, Nat and Sam and myself, we were a real family. And Horace Silver and myself, we still stayed close friends through it all. But Cannonball, we did so much, made so much history in that period of time that it was really a magnificent period of time in my life.
Jo Reed Well, I want to talk a little bit about that history that you made, because this was while what critics call hard bop was being developed and created. And you are one of the people doing that with Cannonball and you're defining this. And I wonder how you would describe the kind of music you were playing with Cannonball.
Louis Hayes Well, it would be hard for me to describe it, because actually what we were doing it, we just was playing what we felt like play it. And we didn't have any name for it. We just was playing what we felt and it felt good. And Cannonball was a fantastic person to be with it. We got to know each other very well, our families. And Cannonball had the kind of band where we not only traveled together, we partied together. If someone had something important happening in their lives and whether it was good or bad, it was something that we worked it out together, if at all possible. That was the most amazing band that I've ever been with that had a closeness to it, that I could ever experience. That was a very unique situation with Cannonball, his brother Nat, Sam Jones and myself. Actually the people, the musicians called Sam Jones and myself the dynamic duo because, like the feeling Sam and myself had as a rhythm section together, so we had opportunity to not only make records with Cannonball but with other artists also.
Jo Reed So right. You and Sam were with Oscar Peterson.
 Louis Hayes Exactly right. Well, when it got to the point after that six years we had been around Oscar Peterson and the trio Ray Brown, Ed Thigpen, on several occasions. But actually for me, I didn't have any idea I was going was Oscar Peterson. It was arranged, I would say. And I mean I never went to Oscar Peterson and we had a conversation about me joining the Oscar Peterson Trio. All I can recall is one day, Cannonball says something about going with Oscar Peterson. He says, "I cannot pay you the kind of money Oscar can pay you." And it went like that. And the next day, I was dealing with Oscar Peterson. And Sam came along, first Ray Brown was still there for a period of time, which was magnificent. magnificent person, Ray Brown, musically and as a person as a man. And then Sam came. So I was there with Oscar Peterson for at least that time all those, over two or three years, something. And then I was gone and I was doing my things with my compadres like Freddie Hubbard, Joe Henderson, and Kenny Barron, and a lot of people and then, you know, so it was something like 70 or 71, Oscar got in touch with me and asked me to come back again. So I had this magnificent opportunity to be with Oscar Peterson trio two times.
Jo Reed Well, Louis, let me ask you what the difference is for you playing, for example, with the quintet or sextet and then moving to a trio. I imagine it's a different relationship musically.
Louis Hayes Yes, it is. And Oscar Peterson being Oscar Peterson, I mean on the highest level of his art form is a challenge and it is different. I was not on my own, just doing whatever I felt like I want to do. With the other groups with the horns, I was basically playing what I felt like playing. I was going in the direction that I want to go. It was Oscar, it was not completely like that. I was playing myself. But no, I had to follow the leader, Oscar Peterson, and listen to him closely, and pay close attention in the direction he was going in. And very close attention. And in a trio, it's harder to play because there's less people. You can't make mistakes cause you stand out on like real good in the trio. So you have to get the arrangements together. And it's very important to play the arrangements right. Because like I say, it's only the three of you. So anything you do wrong is gonna stand out. So it is with the trio, especially with the trio like when we would play with Oscar Peterson, who plays the piano we all know on the highest level, almost, you could ever get, you really have to have it together and be on top of your art form at all times. Because he was.
Jo Reed Meanwhile and this I'm jumping back a bit because you had already released your first album as a leader called Louis Hayes. And I think you did that when you were with Cannonball because you had a lot of his quintet. They were your back up. What did you want to do when you started stepping forward as a leader? What did you want to do with the music that you felt like you couldn't do playing as a sideman with other people?
Louis Hayes Well, actually, I wasn't interested in being a leader. Not at all. It was a DJ from Chicago, Sid McCoy, and he was affiliated with Vee-Jay Records. And he said, like you said, when I was with Cannonball, "Louis, we'd like to record you as a leader." And we were appearing at that time when that happened at the Apollo Theater. You played there all day, and Cannonball gave me his whole band. That's the kind of person Cannon was. And they put the music together. They asked me, who would you like to play saxophone? And since I was had done some things with Yusef before, I said, "Yusuf, brother Yusuf", and they got Brother Yusuf.  That's the way it happened. And after I did that first recording, I still was not interested in being a bandleader. Not at all. I was only about 22 then, or something. But I didn't get interested in being a band leader. Out of necessity, that happened. I was never really interested in it, being a band leader, but like I said, out of necessity, and after I had made so much history and recordings with other major artists, and after being with Oscar Peterson and so many people. I had to become a band leader, there was no other place for me to go. The only thing, for one period of time I was with McCoy Tyner in the trio, and McCoy, we knew each other very well since he was with John Coltrane. We all friends. And actually, what happened was, our daughter, it was time for her to go to college. And I had a band, a quartet, but I was not making enough money, I felt. And McCoy wanted to start a trio and we came together and it worked out perfectly for at least over two years. We were working making money so my daughter can go to college. And that worked out. And then I could back to being a leader again.
Jo Reed I couldn't remember. Now, you did a lot of touring. And I have to ask you this because then, I mean, as now, drumming takes a lot of stamina. You just need a lot of stamina. There's a lot of physicality there. And I would think, especially when you're touring, it becomes even more difficult because touring itself is so exhausting. So how did you how did you work to keep your stamina up so you could keep on doing this for as long as you've been doing it?
Louis Hayes Well, I was, that's a very magnificent question there. I would say it like this. I have been touring a lot with these other groups.  But the thing about putting a band together again... I had a relationship with the tenor saxophonist Junior Cooke, who was also we were together was Horace Silver. So I said to Junior Cooke, "I want to put the band together." So I called that band the "Louis Hayes and Junior Cooke Quintet", and we got this magnificent trumpeter Woody Shaw. Featuring Woody Shaw, the Louis Hayes and Junior Cooke Quintet featuring Woody Shaw. Now, you spoke about traveling and we got this person to head off the business who's here with me right now. Actually, her name is Maxine Gordon. Now, in going to Europe, it was very difficult at that time. Traveling Euro Rail passes and like I said, was very difficult. But we were young. So that made all the difference in the world. Being that age traveling on trains and sometimes hotels that were not the best most comfortable and for long weeks at a time. But to be able to do that for me, you have to be a certain age and love the art form.
Jo Reed Okay. Louis, you said that you didn't want to be a leader and you became one by necessity. But I would still think that there's a sensibility that you wanted to bring to the band as a leader. And I wonder what that was for you.
Louis Hayes I've always been a person that musically, I always want to do what I want to do. I'm not a musician that wanted to make everybody happy. I want to make myself happy first, always. That's the reason why I decided to play. And I wanted to make the musicians that are appearing with feel good next. And next you want the audience to enjoy what you're doing. But I feel in order to make the audience enjoy what you're doing, you have to be happy doing it. So the musicians that I would always choose to play with, and vice versa, would be people that musically we got along well together and as people we get along together well. And people can see that and feel it. Everyone enjoys themselves then. So when we had that band, the Louis Hayes, Junior Cooke, Woody Shark quintet, we recorded together on Muse Records. And then we did some things with Dexter Gordon. And then after that, I moved on, and I had a quartet with Frank Strozier, Strozier alto saxophone, Harold Mabern piano and Stafford James bass. Which was a very unique quartet. The only thing was:  we traveled in Europe quite a bit. When you speak about travel, we did some traveling with that quartet. It's just that it needed someone to handle business on the high level, and we didn't have that. So it only lasted for a period of time. And then everybody went their separate ways.
Jo Reed That quartet was a powerhouse.
Louis Hayes I'm glad you say that.
Jo Reed  Let me ask you this, because you've worked in in many, many sessions, I'd like you to tell me the difference for you when you're working as a session musician, as opposed to working with the group that you're a part of as opposed to working as a leader. What there has to be shifts, I would think, among the three.
Louis Hayes Yes. When you're working as a leader, you're involved in the music and what music that you're going to perform, and you can make yourself comfortable doing exactly what you want to do. But when sometimes when you're working as being a part of someone else's recording date, it might be some things that you're not comfortable doing. But Jo, I must say this: I've been so fortunate. I've had the opportunity to make so many recording dates in my life. Magnificent people that I was recording with, but they were people and artists that was musically coming from the same places I was. I was not out of my pocket. I mean, you know, it was people it was thinking the same way I was. That's how we got together. So I've been pretty fortunate that I've been able to be a person that played this art form all my life and I've done and played music that I felt like I wanted to play.
Jo Reed You know, as a drummer, you take fewer solos than many other musicians. And when you do, it's glorious. And I wonder if you could just share a bit about the clear joy you have in supporting and challenging other musicians who you're working with and then, you know, holding forth and taking that solo.
Louis Hayes Well, I have enjoyed being a person, a supportive person. But I have established a reputation of being able to play time very well and they would say, on top of it, my symbol beat has been a major part in my playing this art form. I didn't start out like that because I wasn't planning on it, but it just it just happened like that. Cannonball featured me soloing on all the concerts. There was one composition he used to play, we used to play: "Bohemia After Dark"
(Music up)
Louis Hayes I was featured all the time with Cannon through the whole period of time that I was with Cannon for the whole six years. He featured we played this ah this this composition. And it was other people like Freddie Hubbard and myself, who was my very close friend, the trumpet player, Freddie Hubbard. We lived in the same building for years in Brooklyn. And we challenge each other. Freddie and myself, we had a band together. Musically, enjoy playing with each other very, very much. And naturally in those situations, I soloed a lot. But those were the times with other groups where lot of it was not recorded. But I was good at it. But my biggest thing was accompanying by my time and the feeling that I had. That was what I'm really known for more so than soloing. And I like that.
Jo Reed  You went on to form The Cannonball Legacy Band. So tell me why you wanted to do that and what you wanted to say with that band.
Louis Hayes Well, this friend of mine who took over the club called Sweet Basil's and they change the title changed the name to Sweet Rhythm. One day, he says, "Louis, we would like to hear that music again that you play with Cannonball Adderley Quintet. Everyone in the band has died but you." So he gave me the club to put a band together for a whole week. And I put together this this personnel together with Vincent Herring, the alto saxophonist who had a period with Nat Adderly, Cannonball's brother, after Cannon passed away. So he helped me put it together. That was at least 19, 20 years ago, and we don't do this all the time, but on occasion we do it. We had the opportunity to record three CDs. And over all of these years, we've made a lot of different appearances, different places in this world with the Louis Hayes Cannonball Adderly Quintet.
Jo Reed You gave us a present for your 80th birthday with Serenade for Horace. So thank you. It's a beautiful tribute album that honors Horace Silver but doesn't try to imitate him and, you know, that can be a tricky needle to thread. How can you tell me how you approach that album?
Louis Hayes What happened was Horace Silver after been living in California back to New York and he bought a home in New Rochelle. And I don't live too far from there.  And like I was saying earlier, Horace and myself, we always had this strong relationship as friends. At this time, Horace was not well. His body was not well at all. And Horace would like for me to come and visit with him. So I would go to Horace's home and we would talk about a lot of different things and he would say  "Louis, you're part of my history." So he didn't have too much time before he was leaving on another journey. And when he did that, Maxine Gordon asked, "Louis, what would you like to do?" And the first thing I said was, I would like to do a tribute to Horace Silver on Blue Note Records. So she put it together and arranged it, made it all possible. And that's how it came about. And I'm very satisfied with the music that we actually put together.
Jo Reed You brought younger musicians into that project with you, and I'm wondering what you told them about Horace Silver's and his music before they began to play it for the CD.
Louis Hayes Actually to be truthful with this-- I didn't have to tell them anything. They do his music. We all know each other. Whether they're younger. The only thing that really counts, major thing, I should say that counts, is if we're compatible together. When I came to New York, I was the youngest one in the band always. Now I know everything changes. I'm the oldest one all the time. But they were we were compatible as people, musicians and musically. So it was no problem with that. They know the music. They know Horace Silver. They knew compositions that I wouldn't have thought of to play. So it worked out just comfortable with it. And we did that and then we moved on from there, with the same personnel. I like having a group. I came up like that as we are, we know. And I like having a group with the same personnel, it makes me very comfortable.
Jo Reed And then in 2021, you brought out another album, "Crisis" with Your Quintet. And I'm wondering what inspired that album?
Louis Hayes Well, one thing the pandemic was happening at that time. And again, Maxine and myself, we're in tune with each other. So Maxine put it together for me to make that recording. And the pandemic was happening and everything was a crisis. So Freddie Hubbard … He had passed away. So I thought of the composition of his entitled "Crisis". And I said, I like the composition and I like the title because everything is a crisis. So that's how it started.
Jo Reed Have you toured since things have begun to open up at all since things opened up again?
Louis Hayes I have played not really on a major tour, but we have played quite a bit since then. In Boston, Baltimore, California, different places in this world we have definitely been playing, and we have some more things to do. So like I said, I haven't been on major tours, but we're into it now and I've had my all my shots. So I'm not worried about it. Now I'm really happy to be able to make this history and to be able to keep on going. And I would like to be able to last as long as my body and I look good, that's very, very important. Look good and feel good.
Jo Reed Agreed. Louis,
Louis Hayes And I continue to move on.  
Jo Reed It's wonderful, Louis. Thank you. Thank you for all your wonderful music.
Louis Hayes Thank you, Jo. Pleasure meeting you like this.
Jo Reed That was drummer and 2023 NEA Jazz Master Louis Hayes. Louis Hayes and the other Jazz Masters are being celebrated at a star-studded tribute concert which will take place Saturday, April 1, at 7:30 p.m. at the Kennedy Center in Washington, DC. The concert is free but tickets are required…you can reserve them at kennedy-center.org and if you can't make it to DC—no worries!  The concert will also be available through a live webcast and radio broadcast. Check out arts.gov for details.
You've been listening to Art Works produced at the National Endowment for the Arts. We'd love to know your thoughts—email us at artworkspod@arts.gov. And follow us wherever you get your podcasts and leave us a rating on Apple, it helps other people who love the arts to find us. For the National Endowment for the Arts, I'm Josephine Reed. Thanks for listening.
In this podcast, Louis Hayes talks about his long and illustrious career as one of the great hard bop drummers. We talk about his growing up in Detroit—home to many great musicians—in a household filled with music. Hayes started drumming when he was young— influenced by the two drummers in his family: his father and his cousin Clarence Stamps, who was his first teacher.  As a youngster, Hayes heard Charlie Parker and it rocked his world.  By 15, Hayes was leading teenage bands, and, at 18, he was playing in a club with Yusef Lateef. He's talks about his life-changing move to NYC to play with Horace Silver and all he learned there, the NYC jazz scene in the 50's, recording with John Coltrane, and the happy experience of playing with Cannonball Adderley for six years before joining the Oscar Peterson Trio. He also discusses his own reluctance to become a bandleader as well as his tribute albums to both Silver and Adderley. But what shines through his deep love for the music and his fellow musicians.
Let us know what you think about Art Works—email us at artworkspod@arts.gov. And follow us on Apple Podcasts.