Kenny Barron
Pianist, Composer, Educator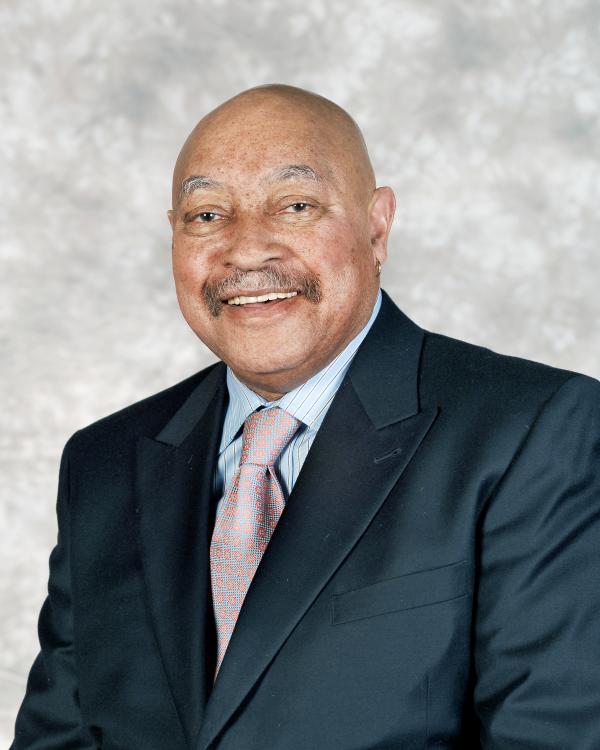 Bio
"I was elated and surprised. And then I kept thinking, damn, am I really this old?"
With more than 40 albums to his name, and scores more that he has appeared on, Kenny Barron's imprint on jazz is large. The pianist has been recognized the world over as a master of performance and composition.
Barron started playing professionally in Philadelphia as a teenager with Mel Melvin's orchestra, which also featured Barron's brother Bill on tenor saxophone. At age 19, Barron moved to New York City and was hired by James Moody after the tenor saxophonist heard him play at the Five Spot. In 1962, he joined Dizzy Gillespie's band, an association that developed his appreciation for Latin and Caribbean rhythms. After five years with Gillespie, Barron began to perform with Freddie Hubbard, Milt Jackson, Buddy Rich, and Stanley Turrentine. In 1971, he joined Yusef Lateef's band, an experience that Barron acknowledges as having been a key influence on his improvisational skills. Three years later, Barron recorded Sunset to Dawn, his first album as a leader.
Throughout the 1980s, Barron collaborated with the great tenor saxophonist Stan Getz, touring with his quartet and recording several albums, one of which was nominated for a Grammy Award (People Time). In 1982, he co-founded the quartet Sphere, which was dedicated to Thelonious Monk's music and inspiration. Sphere comprised Barron, Buster Williams, and Monk band alumni Ben Riley and Charlie Rouse. After Rouse's passing in 1988, the band took a hiatus before reuniting in 1998 (with alto saxophonist Gary Bartz replacing Rouse) and releasing a recording for Verve Records.
Barron's own recordings have earned him nine Grammy nominations, among them Spirit Song, Sambao, Night and the City (a duet recording with Charlie Haden), and Wanton Spirit (a trio recording with Roy Haynes and Haden). He has won numerous jazz critics and readers' polls from DownBeat, JazzTimes, and Jazziz magazines; and is a seven-time recipient of the Jazz Journalists Association's "Best Pianist" honors.
As a composer, Barron's works have been featured in film and documentaries, and he most recently scored the film Another Harvest Moon. In 2009 he was named a Living Legacy by the Mid Atlantic Arts Foundation and was inducted into the American Jazz Hall of Fame in 2005.
As a long-standing professor of music at Rutgers University (1974- 2000), Barron mentored many of today's established jazz talents, including David Sanchez, Terence Blanchard, and Regina Bell. He continues to tour internationally solo and with his trio.
Selected Discography
Peruvian Blue, 32 Jazz, 1974
Sphere, Four in One, Elektra, 1982
Wanton Spirit, Verve, 1994
Canta Brasil, Sunnyside, 2002
The Traveler, Sunnyside, 2007
Interview by Molly Murphy for the NEA
July 23, 2009
Edited by Don Ball
MUSICAL ROOTS
NEA: Begin by telling me about some of your musical roots. Your mother had started you off on piano at an early age.
Kenny Barron: Yeah, she did. She insisted that my two brothers and my two sisters all started piano at an early age. I started when I was six, so everyone played piano. My oldest brother Bill also became a professional musician and he chose saxophone and I stayed with the piano. So, yeah, thankfully she did start us very young.
NEA: Bill was significantly older. Was he like 16 years older?
Kenny Barron: 17 years older, yeah.
NEA: Did he introduce you to a lot of music? Was he playing records and playing jazz around your home?
Kenny Barron: Yes, he was, and I kind of discovered it on my own. For a while I don't think he was even aware that I was playing piano, because he had a day job in Philadelphia at the time. This is in the early '50s, mid-'50s, and I had a fairly good ear and I used to hear my sister playing blues chords on the piano, so one day he came home from work and I was sitting at the piano playing these blues chords and he was surprised because he didn't know. So from that we started talking about music and he started checking me out and asking me questions. So that's kind of how it started.
NEA: Do you have any specific memories about significant experiences that you had hearing jazz?
Kenny Barron: Oh, I've had many. I think one of the highlights for me was when I was still living in Philadelphia, hearing John Coltrane live for the first time at the Showboat.  And he had Elvin Jones and Jimmy Garrison and McCoy Tyner.
NEA: How old were you?
Kenny Barron: I was still living in Philly so I had to be 16 maybe. I wasn't even supposed to be in there, but I was just flabbergasted. I had never in my life heard anybody like Elvin Jones -- let alone what 'Trane was playing. But I was just there with my mouth open all night. So for me that was very pivotal. And then playing with Dizzy was also a definite highlight for me.
YUSEF LATEEF
NEA: One person who has had a significant influence over you, and I think you met him back in that time, was Yusef Lateef.
Kenny Barron:  Oh yeah.
NEA: Who is also in the 2010 class of NEA Jazz Masters.
Kenny Barron: I met Yusef when I was still in high school. He came to Philadelphia. And his pianist, who used to play a matinee in the afternoon on opening day in Philly, his pianist missed a flight. So he called Jimmy Heath and Jimmy gave him my number. So I went and played the matinee with him. And from that, maybe a few months later (this is right after I graduated from high school), I got a call from him. He wanted me to come to Detroit and play a week with him at the club called the Minor Key. So this was my first plane trip. I had a great time on that gig. And from that, he asked me to write some music for an upcoming recording. The recording was called The Centaur and the Phoenix. So I wrote a couple of pieces, arrangements actually, for that.
NEA: How did you know how to compose? You weren't studying music at that point. Was it all just on your own time to figure it out?
Kenny Barron: Basically, I could read and write, so it was just a question of putting down on paper what I was hearing. And of course I was a beginner. Like I said, at the time I had fairly good ears, so it kind of worked.
NEA: That's credited as your first recording. Does it feel like the early nuggets of what you now would put together or does it seem like somebody else might've composed that long ago?
Kenny Barron: No, I can hear what I was trying to do. I don't know if I got there, but it was a beginning. It was a beginning, you know. So for me it was a great experience and I learned a lot from doing that.
NEA: Once you graduated from high school you spent a couple of months in a music school but did not stay.
Kenny Barron: Actually that's true. I went to the Philadelphia Musical Academy, which was a fairly well known institution, but I think I only stayed for maybe three months. I was busy hanging out and plus I was taking music education and I had psychology and math and I didn't want to do that at the time. I wanted to go and hang out and play so after about three months, I just quit.
I spent a year in Philly after I graduated from high school, and I moved. I graduated in '60 and I moved to New York in '61. It was a better education at the time, because it was what I needed. It was a real practical experience in getting my butt kicked and things like that. So yeah, it was great.
NEW YORK CITY
NEA: Can you describe the New York scene? From what I understand your residential setup was right smack in the middle of just a pile of musicians.
Kenny Barron: It was great. When I went to Detroit to work with Yusef, I happened to have a bassist named Bill Wood, who is now Vishnu Wood. But he had a place on East 6th Street, so he said, "Listen, you moving to New York? Why don't you come share an apartment with me? " So that's where I moved. And it turned out my brother lived right next door to 314 East 6th Street, where all the Indian restaurants are now. And upstairs over top, Pepper Adams and Elvin Jones shared an apartment. Across the street sharing an apartment was Lee Morgan, Reggie Workman, Tootie Heath, all Philadelphia people. And Ted Curson lived a few doors up the street. So it was great. I could walk to the Jazz Gallery, the Five Spot. They were all very close by, so for me it was ideal.
NEA: Can you tell me a little about some of your musical experiences that you had when you were playing at the Five Spot?
Kenny Barron: One of the first times I went in there, James Moody was working there, and he knew my brother so he said, "Why don't you come and sit in," so I sat in. And I started working with him and that was one of the places we worked, the Five Spot. And we also worked a few clubs in Brooklyn at the time. One was called the Blue Cornet, and I remember working there with Moody.
NEA:  To someone hearing about that time and that place in jazz, it just sounds like jazz was everywhere, there were clubs everywhere, everyone was playing a lot. How often were you going out and listening to jazz and how often were you able to get gigs?
Kenny Barron: In the beginning, it was working with Moody. But there were a lot of little local clubs. Like in Brooklyn, in the Flatbush area, Crown Heights area, there were a lot of clubs. There were a lot of coffee shops in the Village, the Café Walk, Cave Bizarre, which I think one of those is still here. I got a chance to work with a lot of people at those coffee shops and various clubs around uptown at the Club Baron, Wells, Count Basie's, Mittens. So there was a lot of music, there were a lot of clubs. It was for me a great period of time.
JOINING DIZZY
NEA: Moody helped you get with Dizzy. Is that how the story goes?
Kenny Barron: Moody eventually went back with Dizzy, because he had been with him years before. But he joined a small group and they were working in Berlin. And I just happened to be walking down Broadway one day and I ran into him and he said, "Listen, Lionel Shiffern is leaving Dizzy. Are you interested? " I had just gotten married and I wasn't working so I was like, "Yes, I am interested." So I went to Berlin, talked to Dizzy, and he hired me. He never heard me play. He hired me just on Moody's recommendation, and I think also the fact that I was married. So, you know, I think that helped.
NEA: Meaning he knew you were serious?
Kenny Barron: Yeah, might be a little more settled. I stayed there for four years. It was great.
NEA: How much touring were you doing during those four years and where were you going?
Kenny Barron: I know we were guaranteed 40 weeks of work every year, and I would say 30 of those weeks were on the road. We went to Europe. That was my first trip to Europe. I think it was '64. At that time you would stay in a club (there were lots of clubs down the West Coast and Midwest) maybe two or three weeks at a time. So, you'd be on the road on tour for three months maybe, doing three weeks here, three weeks there, three weeks there. I kind of liked that. You got a chance to unpack your suitcase and meet people. And the advantage of playing together, a lot of playing, all those clubs for three and four weeks at a time -- the band got to be really very tight.
NEA: What kind of a leader was Dizzy?
Kenny Barron: Oh he was great. He was great. He didn't really tell you how to play, you know, except the drummer. He had a thing about drums. I mean he wouldn't demand but he would, if he wanted something from the drums, he could tell you what he wanted and he could almost demonstrate. I remember him telling Rudy to play this certain kind of rhythm, and to play this with his right hand, play this with his left hand, do this with your right foot, do this with your left foot. And it worked. So he knew a lot about rhythms and he knew a lot about piano because he played piano. Some nights we were playing and if the club wasn't crowded the last set he would chase me away from the piano and he would sit down and play a tune or two at the piano. So he could play. He could play.
NEA: Was he directing the repertoire? Did you play a lot of Afro-Cuban music?
Kenny Barron: Yeah we did. We'd play some Brazilian music, and he allowed me to write and would play some of my songs. And at the time I wrote quite a few Latin kind of things so we did play a lot of Latin stuff. I mean I like Latin music. When I first came to New York I would listen to Symphony Sid, who had a Latin night, because you didn't hear that much Latin music in Philadelphia at the time.
TEACHING
NEA: I also want to talk to you about your role as a teacher, because you've taught for 25 years is it?
Kenny Barron: More. I taught 25 years at Rutgers and then I ran about 30 years now.
NEA: You're teaching more than just performance, you're teaching composition.
Kenny Barron: Not now, but I did when I was at Rutgers. I taught jazz composition and arranging, from my own perspective obviously. I taught key one harmony and jazz piano.
NEA: Have you seen any change over the years in the quality of students?
Kenny Barron: Oh yeah. They've gotten really very good, so good sometimes it's scary. I think they're at a much higher level than I was at the same time, the same age, in some areas.  In some areas, like in terms of technique and sight reading and things like that. These young guys are really amazing. I think one of the disadvantages -- I don't want to say disadvantage but one of the problems with learning the music just through an academic situation is that you don't learn a lot about emotion. You kind of play from your head as opposed to your heart. But as they get older I think they'll learn that.
IN THE STUDIO AND LIVE
NEA: Can you identify one or two of your recordings that are particularly significant to you and tell me a little bit about them.
Kenny Barron: Well I think one of the CDs that I really like that I did was called Wanton Spirit, with Charlie Haden and Roy Haynes. And I think one of the things I liked about it is just that I play with Roy and Charlie, because it made me play differently. So it kind of took me out of my comfort zone a little bit. So anytime that happens that's a plus.
And then another recording which kind of did the same thing was a record called Scratch, with Dave Holland and Daniel Humair. So it was kind of the same thing.
NEA: Can you talk about what qualities make jazz different from other music and what drew you to that form of music?
Kenny Barron: Obviously one of the lynchpins of jazz is improvisation. So it's like instant composition, and creating problems for yourself, I mean as a musician, creating problems for yourself while you're playing and having to solve them while you're playing. And it amazes me just to able to grab a handful of notes out of thin air and make something out of it, to make a statement, to tell a story. One of the things that people forget is that a lot of the people, people like Bach, Haydn, Mozart, they were improvisers in the style of the day, but somehow or other that became a lost art in European music. But for me, improvising, I love it. It's just being able to tell a story, to project an emotion, and to be able to reach out to somebody. And I think that's the most important thing, is to be able to reach out and touch somebody. If you can do that, then I think you've accomplished something.
NEA: When you're performing for a live audience, is that important, to have a connection with your audience? Are you aware of how they're responding to you or do you block it out?
Kenny Barron: No, I don't block it out. You try not to let it be that important, but you do want to connect with them. I think that's because you get something back from it.
You just want to do what you do. But I think if you do it honestly, people respond to that. They respond to the honesty. If you're doing it like it's a day job, then they'll respond to that as well. If you're chewing your fingernails while you're playing, they can see that. They can see that it's really just something for you to do. But if you're really into it, people can hear that and they respond to that.