Dee Dee Bridgewater
Vocalist, Producer, Broadcaster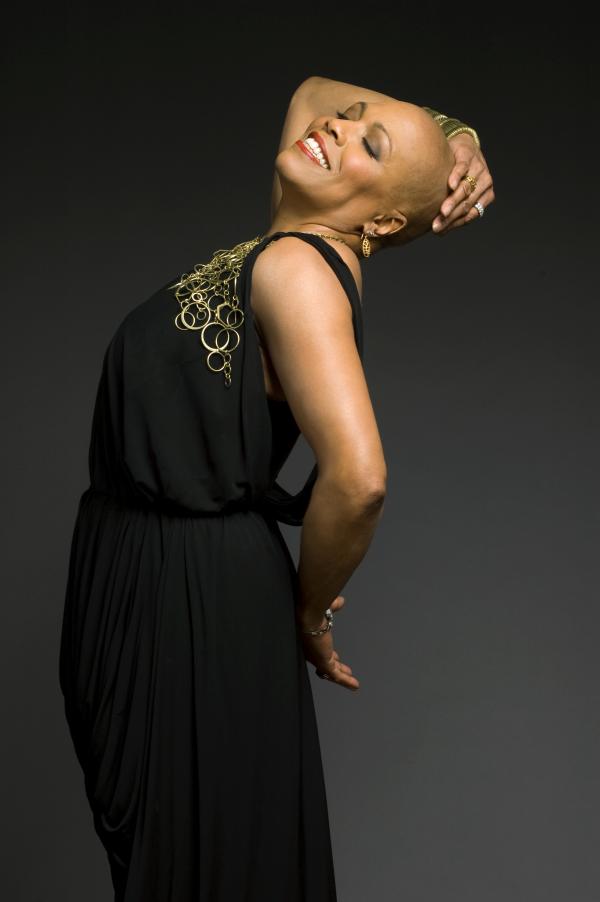 Bio
"I never dreamed I would one day be named an NEA Jazz Master, as so few women hold this distinction. I've fought long and hard to preserve my musical integrity, to garner respect in this male-dominated jazz world. Being selected as a 2017 NEA Jazz Master recipient is, therefore, an affirmation that I was right to push the proverbial envelope. I'm proud to be among the women who hold this, the highest honor bestowed on jazz artists in the United States." 
Dee Dee Bridgewater is a daring performer of great depth whose singing talents have earned her three Grammy Awards as well as a Tony Award. In addition, her commanding personality made her a natural for hosting the award-winning National Public Radio syndicated radio show JazzSet with Dee Dee Bridgewater from 2001 to 2014.
Bridgewater was born Denise Eileen Garrett in Memphis, Tennessee, and raised in Flint, Michigan, in a music-filled home. Her mother introduced her to Ella Fitzgerald's music, which became an inspiration to Bridgewater throughout her career, and her father was a jazz trumpeter who taught music at Memphis' famed Manassas High School. While attending the University of Illinois, she joined the University of Illinois jazz band for a U.S. State Department tour of the Soviet Union in 1969. In 1970, she wed her first husband, trumpeter Cecil Bridgewater. They moved to New York City where she found her first professional gig with the Thad Jones-Mel Lewis Jazz Orchestra as lead vocalist. Bridgewater's career then took off and she soon performed and recorded with some of the giants of the music: Dizzy Gillespie, Dexter Gordon, Max Roach, Sonny Rollins, and Clark Terry. In 1974, she recorded her first album as a leader, Afro Blue.
Bridgewater was also drawn to musical theater. Her portrayal of Glinda the Good Witch in the Broadway musical The Wiz garnered her a Tony Award in 1975. When the international touring company of Sophisticated Ladies (in which she was the female lead performer) ended in Paris, France, Bridgewater decided to stay. During her time in Paris from 1986 to 2007, she starred in Stephen Stahl's musical Lady Day in Paris and London (for which she earned a Lawrence Olivier Award nomination), and continued to perform in musicals such as Black Ballad (with Archie Shepp) and Cabaret (being the first black actress to star as Sally Bowles) while concurrently performing and recording her jazz material.
The vocalist has created a diverse collection of recordings, including tribute albums to Horace Silver, Ella Fitzgerald, Billie Holiday, and Kurt Weill; an album of French love songs,  J'ai Deux Amours, spurred by a Kennedy Center Valentine's Day concert; and an album born out of Bridgewater's search for her African ancestry, Red Earth, recorded in Bamako, Mali, and featuring Malian, U.S., and European  musicians. Bridgewater has produced all her recordings since 1993 and has had her own label, DDB Records, since 2006.
Bridgewater serves on the Thelonious Monk Institute of Jazz's Advisory Board where she has judged several jazz vocals competitions. She also co-leads UNESCO (the United Nations Educational, Scientific and Cultural Organization) and U.S. Department of State sponsored tours to Russia, India, China, and France, and, since 1999, she has been a United Nations Ambassador for the Food and Agriculture Organization. Bridgewater continues to tour nationally and internationally.
Selected Discography
Love and Peace: A Tribute to Horace Silver, Verve, 1994
Dear Ella, Verve, 1997
Red Earth: A Malian Journey, DDB Records/Universal, 2006
Eleanora Fagan: To Billie with Love from Dee Dee, DDB Records/Emarcy, 2009
Dee Dee's Feathers, DDB Records/ Sony Masterworks, 2014