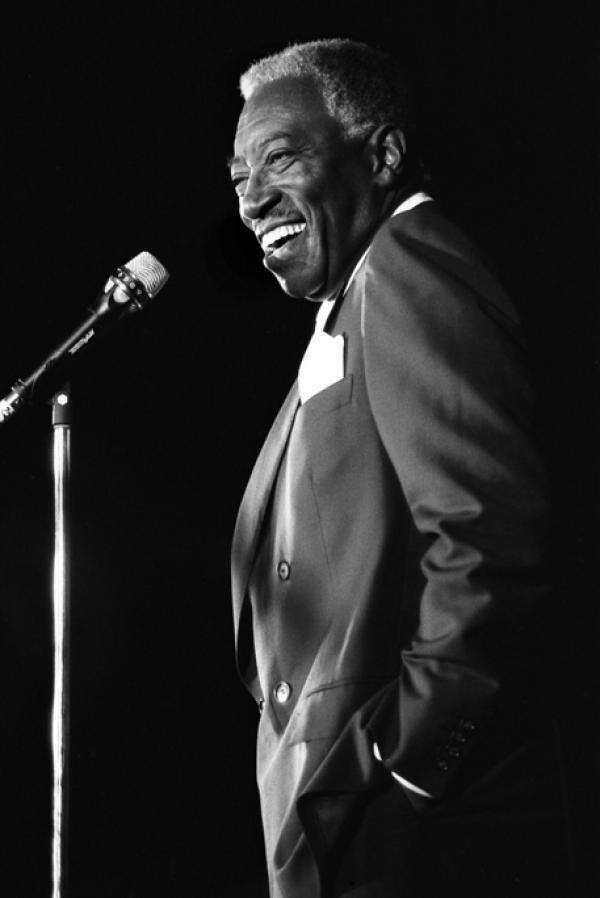 Bio
Joe Williams' versatile baritone voice made him one of the signature male vocalists in jazz annals, responsible for some of the Count Basie band's main hits in the 1950s.
Though born in Georgia, Williams was raised in that great haven of the blues, Chicago, Illinois. His first professional job came with clarinetist Jimmie Noone in 1937. In the 1940s, in addition to singing in Chicago area groups, he worked with the big bands of Coleman Hawkins, Lionel Hampton, and Andy Kirk. Later he sang with two of Cafe Society's renowned pianists, Albert Ammons and Pete Johnson. From 1950-53, he worked mostly with the Red Saunders band. What came after would be a job he would cherish and return to frequently throughout his career: fronting the Count Basie band. Often referred to jokingly as "Count Basie's #1 son," he stepped right into the band upon the departure of Jimmy Rushing. Williams was the perfect replacement in that he did not just duplicate Rushing's vocal style, but offered a new range of opportunities for Basie to use. Williams' sound was smoother, strong on ballads and blues, while Rushing was a more aggressive singer, best on the up-tempo numbers.
Williams' hits with the Basie band included "Alright, Okay, You Win," "The Comeback," and what would become one of his most requested tunes, "Every Day." Starting in the 1960s, he was a vocal soloist, fronting trios led by such pianists as Norman Simmons and Junior Mance. Simmons would later become his longest tenured musical director-pianist. He also toured with fellow Basie alumnus Harry "Sweets" Edison. He continued to expand his range, becoming a superior crooner and exhibiting a real depth of feeling on ballads.
Among his many awards and citations were a number of jazz poll commendations and honors. Late in life, he had a recurring role on the Cosby Show television program as the star's father-in-law.
Selected Discography
Count Basie, Count Basie Swings/, Joe Williams Sings, Verve, 1955-56
Every Day -- The Best of the Verve Years, Verve, 1955-90
Count Basie, Count on the Coast, Vol. 1 & 2, Phontastic, 1958
Me and the Blues, RCA, 1963
Here's to Life, Telarc, 1993