Harry "Sweets" Edison
Trumpeter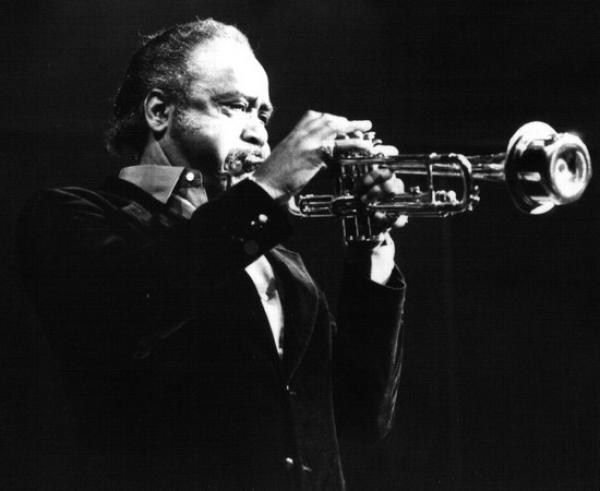 Bio
Known in the jazz world as "Sweets," for both his disposition and his playing ability, Harry Edison was a consummate big band section trumpeter and skilled soloist whose ability to enhance a piece without overpowering it was renowned.
A self-taught musician, his earliest gig came in high school with the Earl Hood band. From 1933-1935, he played in the Jeter-Pillars Orchestra, a prominent territory band of the time. He moved to New York in 1937, spending six months with Lucky Millinder's band before joining Count Basie. It was with Basie that he truly began to distinguish himself, not only as a strong member of the trumpet section, but also as a distinctive soloist. His warm sound, using repeated notes that he would bend and ripple, was a welcome contrast to the usual high-note, piercing solos of most trumpet players. Edison stayed with the Basie band until it disbanded in 1950.
Rarely a bandleader under his own name, he spent the bulk of his career working with singers and with big bands on the road and in the recording studio. Edison's work with Billie Holiday and the Nelson Riddle Orchestra backing Frank Sinatra during the 1950s -- accenting the vocals and setting up the mood of the songs -- is some of his finest. His echoing trumpet on Sinatra's Songs for Swingin' Lovers, for example, helped set the pace of the songs, playing off Sinatra's phrasing of the lyrics. Edison provided some of the bright moments in Holiday's output in the 1950s on albums such as Songs for Distingué Lovers. His tasteful playing created a great demand from singers for his services, and besides Sinatra and Holiday, Edison played behind Ella Fitzgerald, Josephine Baker, Sarah Vaughan, and Nat "King" Cole. Edison was also a welcome addition to the big bands he worked with, including Buddy Rich, Louie Bellson, and Quincy Jones.
Although he left the Basie band as a full-time member in 1950, he rejoined the band on many subsequent occasions for the rest of his career. He worked as musical director for such artists as Redd Foxx and Joe Williams, and collaborated with other soloists, such as Eddie "Lockjaw" Davis and Oscar Peterson. Valued for his superb sense of dynamics, he carved out a beautiful trumpet style noted for its simplicity and good taste. He also found a home in film and television soundtrack work.
Selected Discography
Frank Sinatra, Songs for Swingin' Lovers, Capitol, 1955-56
Jawbreakers, Original Jazz Classics, 1962
Edison's Lights, Original Jazz Classics, 1976
Swing Summit, Candid, 1990
Live at the Iridium, Telarc, 1997