Elvin Jones
Drummer, Composer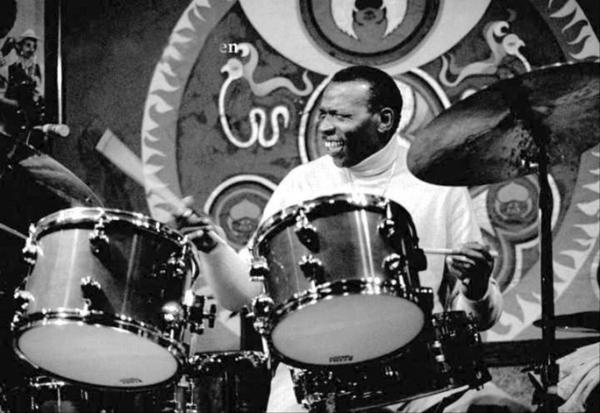 Bio
"I am at a loss for words. This is an honor beyond my wild[est] dreams. I thank you for all those who nurtured and taught me."
The propulsive style of drummer Elvin Jones powered the John Coltrane Quartet during his six-year stint with the group and influenced countless percussionists that followed him over the past 50 years. As with fellow 2003 NEA Jazz Master Jimmy Heath, and a number of other jazz greats, Jones was the product of a musical family. His brothers include pianist Hank Jones and cornetist Thad Jones. The youngest of 10 siblings, Jones began learning the drums during his middle school years, studying the styles of Chick Webb, Jo Jones, Buddy Rich, and the beboppers that followed them, including Kenny Clarke, Max Roach, and Art Blakey.
After serving in the Army from 1946-49, he returned to Detroit, immersing himself in the fertile jazz scene there in the early 1950s, before heading to New York in 1955. After playing with Harry "Sweets" Edison, J.J. Johnson, and Sonny Rollins (at Rollins' famous Village Vanguard session), he joined the John Coltrane Quartet in 1960. His dynamic drumming pushed Coltrane's improvisations to new heights, and provided innovative accompaniment to the rest of the rhythm section: pianist McCoy Tyner and bassists Jimmy Garrison and Reggie Workman.
In 1965, Jones left the Coltrane group and formed his own band, a trio with Garrison and reed player Joe Farrell, beginning a series of recordings for the Blue Note label. Since that time, Jones' trios and his latter day bands, known as the Jazz Machine, have welcomed numerous adventurous players. These have ranged from Steve Grossman, Sonny Fortune, and Roland Prince to such younger players as Delfeayo Marsalis, Nicholas Payton, David Sanchez, and John Coltrane's son Ravi.
Jones frequently performed free for schools and other institutions, and at jazz clinics. Aside from music, he made his acting debut as Job Caine in the 1970 film Zachariah. He toured extensively with his group Jazz Machine and made later recordings with Cecil Taylor, Dewey Redman, Dave Holland, and Bill Frisell.
Selected Discography
John Coltrane, The Complete Africa/Brass Sessions, Impulse!, 1961
Poly-Currents, Blue Note, 1969
David Murray, Special Quartet, Columbia, 1990
It Don't Mean A Thing, Enja, 1993
Bill Frisell, With Dave Holland and Elvin Jones, Nonesuch, 2001