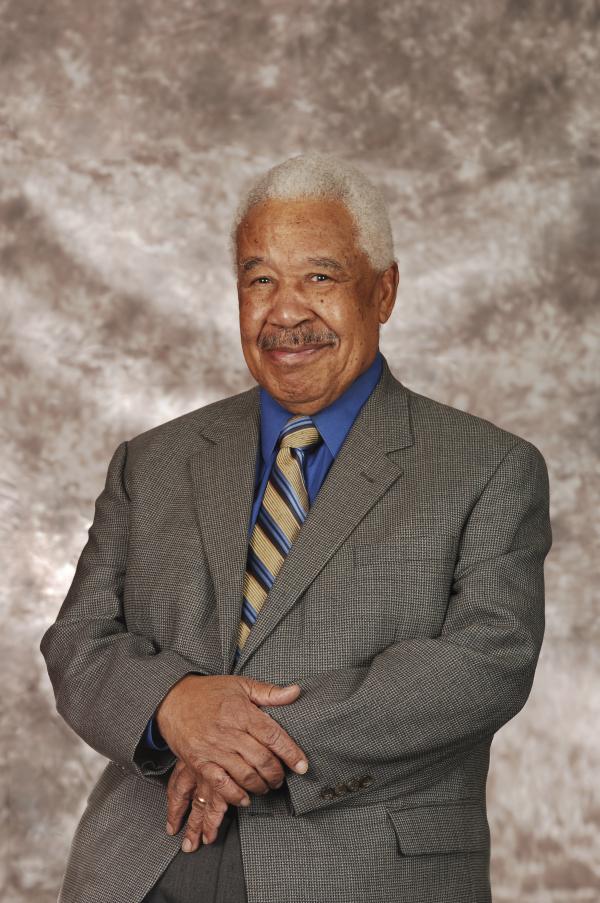 Tom McIntosh
Composer, Arranger, Trombonist, Educator
Bio
"My first reaction to being told that I had been named by the NEA an all time Jazz Master was to rejoice over my long decision to pursue the musical standards established by Dizzy Gillespie and his fellow found fathers of modern jazz. My second reaction was to give vent to joy over being worthy of the biblical vision that says, 'One skilled in their work will become stationed before Kings.' Under it all, I was saddened my wife of 45 years having not lived to see the unfailing support and encouragement she gave every facet of my life, being reward[ed] by the NEA."
Though not well known outside of jazz circles, the unique voice of composer and arranger Tom "Mac" McIntosh made him a favorite of Dizzy Gillespie, James Moody, Milt Jackson, and Tommy Flanagan, among other jazz giants.
McIntosh was born and raised in Baltimore. After a stint with the Army, he attended Juilliard and later became an active participant in the New York jazz scene as a trombone player and composer.
He was a member of the famous Jazztet, formed by Benny Golson and Art Farmer, and was one of the founders of the New York Jazz Sextet. Many outstanding New York-based instrumentalists of the 1950s and '60s migrated in and out of the band, including Thad Jones, Art Farmer, James Moody, Tommy Flanagan, Roland Hanna, and Richard Davis. McIntosh and Moody have a long history of friendship and collaboration that dates to the 1950s when McIntosh played and wrote for Moody's bands and provided arrangements for some of Moody's 1960s recordings.
He also wrote and arranged for Milt Jackson, including his And the Hip String Quartet album, and was a favorite of Dizzy Gillespie, who featured three of McIntosh's songs on his Something Old, Something New recording. McIntosh was an original member of the Thad Jones- Mel Lewis Orchestra, to which he contributed songs and arrangements. He was also much admired by Tommy Flanagan, who often noted that McIntosh was his favorite composer, recording several of his songs.
When jazz's popularity waned towards the end on the 1960s, McIntosh went to Hollywood as a film composer for two Gordon Parks' films, The Learning Tree and Shaft. He remained in California for the next 20 years as a music director for films and TV. Finally tiring of Hollywood, McIntosh returned to the East Coast in the 1990s, teaching at various conservatories, including as music director of the Thelonious Monk Institute at the New England Conservatory of Music. He also continued to write music. In 2004, he released his first recording under his own name (at the age of 77).
Selected Discography
James Moody, Hey! It's James Moody, Argo/Lone Hill Jazz, 1956-59
The Jazztet, At Birdhouse, Argo, 1961
Thad Jones/Mel Lewis Orchestra, The Complete Solid State Recordings, Mosaic, 1966-70
Milt Jackson, And the Hip String Quartet, Verve, 1968
With Malice Toward None: The Music of Tom McIntosh, IPO Recordings, 2003
Interview by Molly Murphy for the NEA
January 10, 2008
Edited by Don Ball
EARLY EXPERIENCES
NEA:  When you were young, did you have any experiences that you can remember that particularly sparked your interest in music? Like listening to somebody on the radio or hearing a band playing?
Tom McIntosh:  Without a doubt. Actually it was my father that instilled in me a natural love of music. He used to sing to me all the time. And I was his first son. I didn't appreciate it at the time, but he could have been the lead singer with the Mills Brothers. His time was perfect, his pitch was perfect, and he instilled those in me. My brother and I used to sing each other to sleep. And I was in a church choir and a singing group. We called ourselves the M&M Quartet, Matthews and McIntosh. We were young boys in the church and so one thing led to another. And then when I got to junior high school we had a wonderful teacher who lamented the fact that there was no musical program in the school. So she initiated one with an aptitude test and in that she gave it to the whole school. And she called me in and she says, "McIntosh, do you know you passed higher than everybody else in the school?"
NEA:  What sort of aptitude test?
Tom McIntosh:  Well, "How long is this note? Is this note shorter than that one? Is this one higher or lower? What instrument do you think that was?" I thought they were very easy questions, but she said I'd scored higher than anybody else in the school. And so she saw to it that I got involved with music. She arranged for me to be recipient of a music scholarship in voice training.
I had a wonderful teacher, Miss Campbell, who broke the color barrier every week. You see, I got the scholarship from Peabody Institute in Baltimore, which is the most prestigious musical conservatory in the city, but blacks could not attend on their own premises. So she would come to a black school every week. Miss Campbell chewed me out royally on occasion, and I just heard nothing but love coming through it all. And she said, "McIntosh, you've got to give up this boxing and this football. Don't you know that you're a natural musician?" She said, "You scored higher on the music theory class than all my students in Peabody." Okay. So I didn't pay any attention. I went on playing football and boxing.
And in that process there was a girl who was part of the program who was being taught to sing like an opera diva. And she used to sing this song every week called Estrellita . And I didn't pay any attention to her. It was a very pretty song. Next thing I knew is that it ended up that I was drafted.
IN THE ARMY
NEA:  Did you play while in the armed forces?
Tom McIntosh:  I ended up in the army in a laundry company where the whole job was to wash clothes for soldiers. And obviously it was a very sad state of affairs. But there were three musicians in the [laundry company]. And every night after this boring job they would take up their instruments and play. And then I could hear longing. "Oh, now I understand this beauty and this personal expression and excellence." So the three musicians discovered that there was a band on the post. And one of them said, "Let's go tomorrow." And the other one said, "No. Let's go today." So I'm just hanging around and so I said, "Can I come along?" They said yeah, okay.
They knew that I was always [listening] when they were practicing, feeling I wish I coulda, woulda, and all of that business. Now I understood what Miss Campbell was trying to tell me. So we go to the quarters for the band and a Master Sergeant comes out, who I discovered later on was jamming with Charlie Parker, and he was awesome as a musician. So when it was explained that one of the guys, the three musicians, played tuba, he just exploded. He said, "Man, you guys are a godsend." He said, "We got a very important parade next Wednesday. And God knows we don't have a tuba player." And then he had second thoughts. He said, "But if I put you in the middle of the band, the rest of the band won't be able to see the drum major, If you are on either side of the band, the bell will make the formations look lopsided." He took one look at me and he said, "Hey man. You've got broad shoulders. Would you mind carrying a tuba for us?" I leaped. And he said, "But don't try to play on it." So my first job as a musician was to use the tuba bell to keep the front line straight. And so I did that very well. Make sure all the guys see the bell on this other end here. Line up between the two tubas and keep the line straight.
So several days later, the sergeant said, "Listen, the colonel said the band looked good and sounded good. You guys are in." And he saw my face drop because I knew I was out. I couldn't play. But he said, "Look man, you did us a big favor. Now it's my turn to do you one. I'll let you stay in the band if you learn how to play some marches on that tuba." Here's my shot. Forget football, boxing and all of that. I'm now going to become a musician.
And because of the voice lessons, I'd gotten enough theory to understand. So I could look at a piece of music and know what that note is and whatever. I could figure the rhythm, but I couldn't figure out what fingering. So I would grab the tuba player, say, "Hey man, how do you finger a C?" "Oh, that's one and three." And so I would write the numbers over the note. And so I taught myself to play the tuba.
Then they had a dance band rehearsal. And it started with a very impressive first piece, a very impressive introduction. And then it went into this beautiful trombone solo played by a guy named Frank Hooks. And he played so soulfully. And he played this song that I used to hear the girl sing, Estrellita . But now I'm hearing it as pure music without the words. I felt like a band of angels rushed in the room saying, "You see? You were indeed supposed to be a musician. The trombone is your instrument and Estrellita is your theme song." It turned my life around.
THE BEBOP REVOLUTION
NEA:  How did you first get interested in jazz?
Tom McIntosh:  I had a dear friend whose name was Ernest Outlaw and he was a brilliant musician, also an excellent musicologist. And he is the one who pulled my coat, made me understand and listen to Duke Ellington, to Count Basie, understand who Lester Young was. He kept driving home that there's a musical revolution going on in the persons of Dizzy Gillespie, Charlie Parker, Kenny Clarke, Thelonious Monk, and those guys. He knew, but we had nothing to listen to.
I'm in the Army in Germany yet. So I'm pushing 20, a young 21. Outlaw had great appreciation for authority. He would never do anything wrong. But on one occasion he came out to the band as they were preparing for a parade and said, "Hey everybody. Diz is on the radio." The warrant officer appreciated that Outaw would never ever show disrespect for the authority, so he said, "This has got to be important. Let's all go listen." So we all huddled around the radio and we all heard Diz for the first time and Charlie Parker. We all knew we would never be the same. I yearned, from that day forward, to be equal to the standard Dizzy was setting. I became just so enamored and joyful when Dizzy Gillespie chose to do an album of music that he called Something Old, Something New [in 1963]. And he called his music old and mine new.  
TURNING DOWN DUKE
NEA:  Tell me about your meeting with Duke Ellington.
Tom McIntosh:  As I was coming up the ladder in New York, there was a man who was always present. Always with a smile on his face, but he was not a musician, but you knew that he knew somebody important otherwise he wouldn't be there. So on one occasion he comes to me with no smile on his face, with his finger in my face saying, "McIntosh, Duke Ellington wants to see you, 8:00 at Jilly's. Be there." Well Jilly's was the place established by Frank Sinatra. No one went to Jilly's unless you got an invite from somebody in the Rat Pack. So he says, "Go." And I knew it was important. So I went there and sure enough Duke was there in his porkpie hat, big salt and pepper overcoat. And I remember his words. He said, "Tommy McIntosh. I've been listening to your music and I love what I hear. You know I lost Strays," that's Billy Strayhorn, and he said, "I need another assistant." My heart leaped and I said, "Is there anybody with a tape recorder here? Is anybody taking a photograph of this?" So anyway I said, "Duke, you got to know there's never been a greater offer in my musical career. But Duke, history will have to show that I turned you down." He said, "What?" I said, "Yeah, Duke, I just got an invite to come to Hollywood to score my first motion picture. And they're going to pay me more money than I would dare ask you for." He laughed and he said, "Yep. I can't meet that. But look, all the best to you. What are you drinking?" I said, "Whatever you are, Duke."
NEA:  So you chose Hollywood over Duke?
Tom McIntosh:  Looking back, I'm very happy that I chose to go to Hollywood. Because essentially what Duke wanted was someone to clean up his book. You know, the third trumpet part is missing and the second trombone is missing on this piece and so forth.
WITH LIBERTY AND JAZZ FOR ALL
NEA:   What did you learn in Hollywood?
Tom McIntosh:  The Hollywood experience taught me many, many things. And the most important thing that it taught me is that the problem with jazz musicians is we're always thinking in terms of the ears, the aural experience. We're looking for excellence in the ears. The human brain thinks in pictures. Hollywood made me understand that. And it was dramatized when the MTV phenomenon occurred. Somebody says, "Well what happens if we pre-sell music with pictures?" You'll have MTV. MTV revolutionized the whole business of entertainment because of that phenomenon. So I was able to see that and understand more clearly why that was. And so I began to work on the art of storytelling, knowing that at the core of all entertainment is telling stories.
And so to make a long story short I have written what I think is the best thing for jazz to date. And it's a story. The story is designed first of all for a live performance, which should be recorded. And then that should be used to stimulate a Broadway show. And then the Broadway show should stimulate the film. And the name of the film is called With Liberty and Jazz for All.   And it's to show that jazz really is a universal experience that actually is showing that jazz is the best musical example of universal justice, otherwise, why else did the U.S. government declare jazz a national treasure? And so the motion picture is designed to reveal what most people are not aware of--I mean even Americans don't know that jazz has been chosen as a national treasure.
NEA:  Why is it such a well-kept secret when that is the case?
Tom McIntosh:  It's because of America's lack of appreciation for the only art form to originate on its soil. I watched this develop, and it started really when Wynton Marsalis became the first person to win a Grammy for classical music and jazz. And so I wanted to hear his acceptance speech, as did everybody in the media. He shocked everybody. He made his speech and it was magnificent. It was to the core. He says the whole business of American music should be ashamed for throwing jazz in the trash in the name of pop culture. Whew. So a whole bunch of people started to listen because it was said in the media. As a result, [U.S. Representative John] Conyers from Detroit began to look into matters.
Incidentally, I happened to be substituting for a great jazz musician while teaching at Aaron Copland School of Music, and my first obligation was to go to his mailbox and retrieve the mail and put it on his records. Lo and behold there was an open letter from Bill Clinton to this jazz master. It was Jimmy Heath. He wrote, "Jimmy, thank you for your help in my campaign. I promise you if I win we will jam in the White House." So I saw this and I said, "Oh, this is interesting, most interesting. Let me see what happens if Bill Clinton won." And so sure thing, the first thing he did was to stage a jam session on the lawn of the White House, knowing that there were those who were not happy about that. He said the shortest and the sweetest thing I've ever heard for jazz. He said, "It is altogether fitting that we celebrate jazz in America's house because like America itself, jazz is a celebration. It's a struggle played in celebration."
I have all this documented in the story, With Liberty and Jazz for All , but it was my music that moved President John Kennedy to stage the first jazz concert in the White House. There was a young group led by a man named Paul Winter, a young white musician, and they were all impressed with my music. And so they came and asked me if I would do an album for them. So I said okay. And I did--it was under their auspices, but they wanted my music. I did the music. They took that music to a classical management. And that classical management got President John Kennedy to hear the music. He said, "Why not?"
As a result of that, in repayment for my favor, they took me to this classical management and I was then able to establish what I called the New York Jazz Sextet, the first group. I knew the musicians would not stay together, but I wanted the best musicians to take part in this arrangement. And so sure enough through those portals came the best:   Benny Golson, Hubert Laws, Richard Davis, this one, that one. And so anyway, that's a very interesting story I thought the world would want to know.
THE ART OF FILM SCORING
NEA:   Is your audience important to you?
Tom McIntosh:  Always. All communication is to an audience. As a matter of fact, the motion picture experience taught me that you'd better learn to translate the language of music into the language of pictures. Because the producer of the motion picture is not talking in terms of music, he's talking in terms of words in terms of the picture. So if he's hired me to score the music, you had better understand what it is he expects the music to accomplish. And that requires a thorough investigation of the human condition on every level.
For instance, the first thing I had to go through was, what is the distinction between anxiety, horror, and terror? I had to write a scene that's got those three basic emotions. So then it dawned on me that fear is at the core of all three and that anxiety is fear of the unknown. Horror is fear in the distance. Terror is fear when it's upon you. And you need to know exactly how you are going to set this up. And so that experience has taught me I can move any audience to feel exactly as I want them to feel.
NEA:  And so what would that be for? What was the project, do you remember?
Tom McIntosh:  It was an episode in Mission Impossible or something.
NEA:  So when you're doing that kind of work is the director just giving you a sense of the story line or is it already filmed and you're seeing it and you're writing it exactly?
Tom McIntosh:  The composer is called in the last of all because the music is the most important element of communicating the emotion of the film. It's the last opportunity to bring all elements together. In fact, my wife used to note all the time, she said, "Mac, I don't care how good the acting is, the movie really didn't come together until the music happened." So Hollywood always brings the music in last. It's called spotting. So when the movie is complete the composer comes in, sits with the producer or the director, generally the director, and they decide where music is to start and where music is to stop throughout the entire picture. So you listen carefully to why the director thinks it ought to start there. And you can challenge that: "Why should start there? Oh, because so and so and so." And then I learned to recognize whenever the picture people are talking about action, they're talking about rhythm. Whenever they are talking about character, they're talking about intervals, pitches. Whenever they are talking about conflict, they're talking about harmony. They don't know that, but you had better know it otherwise I don't care how good a composer [you are] or reputation you have, if [the music] does not accurately fit, they throw it out and you along with it.
NEA:  Was there any one particular relationship with a director that stands out, or one particular thing that you scored that you're proud of?
Tom McIntosh:  Well yes. Really the first one because I had none of this knowledge but I had to grab a hold of understanding quickly, and the next thing I knew the entire Academy thought my first motion picture [score] should be nominated for an Academy Award. It's called The Learning Tree . And then from there I went on and I did an animated film and it featured Roberta Flack. And it was nominated for an Academy Award. She did a great job, an excellent job, in a short period of time. And I had some of the best musicians, old jazz masters:   Herbie Hancock played piano, Ron Carter was on bass, and "Tootie" Heath was on drums. It was just superb.
COMPOSING AND ARRANGING
NEA:   I want to ask you a little bit about the process of composing. How do you come up with compositions?
Tom McIntosh:  Each situation is new. Basically I've understood that in all communication you've got to go through five steps. Why does it start? Why does it continue? Why does it make impact on all facets of the audience? Why does it make total sense? Why does it stop? So those are the five questions I had to address. I've tried to speak in a manner or on a level that is not looking down at any section [of music] but so that everybody can have something to go with it.
NEA:  Who are some of the people you have worked with in terms of composing and arranging?
Tom McIntosh:  Well, James Moody is at the top, and this is significant for me because without Moody none of these would have occurred. My story, my connection with Moody is just absolutely awesome. A story unto itself, but the short of it is that Moody made me the musical director for his band. And so in that capacity he allowed me to develop any and everything that I thought was important. It was just a great growing experience. And as a result of that I got to meet Dizzy Gillespie. And Dizzy, the first time he met me, he says, "Hey man, one of these days you and I are going to be standing before a symphony orchestra." I said, "What?" Lo and behold it happened. Dizzy wanted his work done on a symphonic level and he got in touch with the RAI Symphony Orchestra in Italy. They televise for all of Italy. And we did a concert, a live concert that was broadcast to all the provinces. And all the reviewers just gave you glowing, glowing return. And Dizzy, we shared the same dressing room, he came to me and hugged me with tears in his eyes and thanked me for sharing it. And I said, "Dizzy, these people came to see you." But he said, "Mac, I believe in giving credit where it's due. I know you did all the work."
NEA:  Well now it's very interesting that you bring that up because with the announcement of the NEA Jazz Masters you are someone who is extremely highly regarded amongst musicians. But a lot of the public haven't heard the name Tom McIntosh.
Tom McIntosh:  That's right. And then who was celebrated last night? John Levy. I happened to be walking in his neighborhood one time. And I didn't know that he lived there. This is in Hollywood. He saw me and he came out and said, "McIntosh. Get in here." And he was handling Nancy Wilson and Joe Williams and all the top talent in jazz, and he chewed me out. He said, "Mac, I saw a situation that was criminal." He said they were celebrating an album that Cannonball Adderley had done and all the people involved were getting rewards and whatever. And he was a witness to the fact that I really did most of the work.
NEA:  In what sense of the work?
Tom McIntosh:  Well, arrange this and that. We had an arrangement that everybody was supposed to have been responsible for X amount of music, for X amount of musicians each day. And so the guys got so involved with partying that I ended up doing all and some. I did the first piece and many of the guys said, "Mac, oh man, the stuff that I'm doing is not equal to that. Would you do mine for me?" So there was that spirit and it was well, "Mac, in a pinch you're the guy to turn to." So I ended up doing practically all the work. John Levy said, "Mac, this is a crime. Why has this happened?" He said, "You've been doing all of this stuff and nobody knows. You've got to stop that." My nephew is on my chops for the same thing.