NEA Announces Lifetime Honors Recipients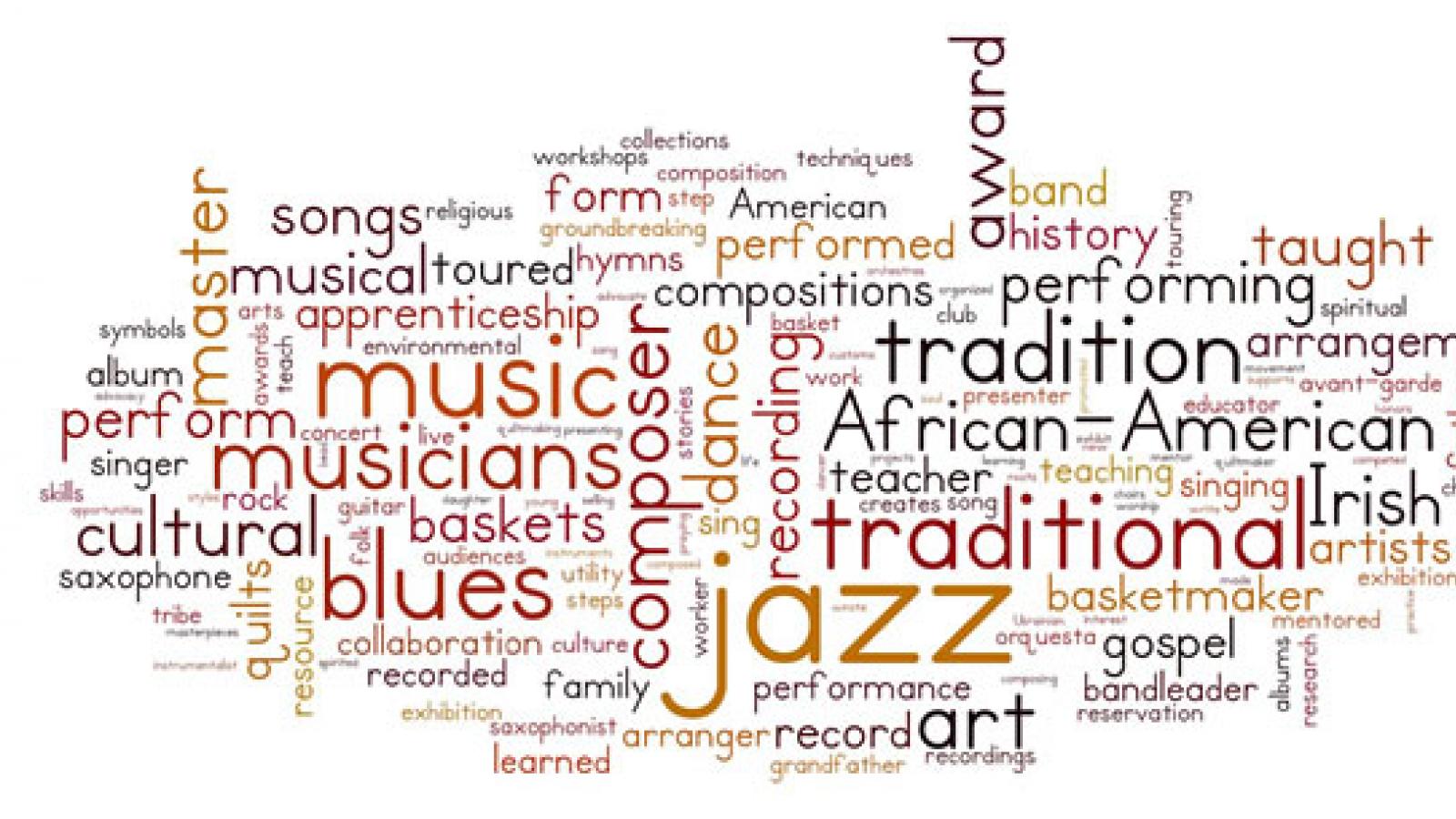 Washington, DC—NEA Chairman Jane Chu announced today the latest recipients of the NEA National Heritage Fellowships and NEA Jazz Masters awards, the nation's highest honors in the folk and traditional arts and jazz fields. These artists, musicians, culture bearers, and advocates have dedicated their lives to their art—mastering the artistic skills needed and preserving the cultural traditions while also using their own creativity to push the boundaries of their respective art forms.
Chu said, "Among these thirteen recipients of NEA National Heritage and Jazz Masters Fellowships there is a recurring theme. Starting at a young age, these individuals were exposed to the arts—whether it was in the home, as is the case with Vera Nakonechny whose fascination with her mother's embroidery inspired her to seek out training when she was older—or in the neighborhood, as with George Coleman and Charles Lloyd's exposure to jazz music in their hometown of Memphis. Today these artists' passion for their art can be seen both in their long and dedicated careers and their willingness to share their knowledge with new audiences."
NEA NATIONAL HERITAGE FELLOWSHIPS
The 2014 NEA National Heritage Fellows are recognized for their artistic excellence and efforts to conserve America's culture for future generations. Click on each name for more information on the recipients, including bios, photos, audio samples, and more.
*Carolyn Mazloomi is the recipient of the 2014 Bess Lomax Hawes NEA National Heritage Fellowship Award. The Bess Lomax Hawes Award recognizes an individual who has made a significant contribution to the preservation and awareness of cultural heritage.
The 2014 NEA National Heritage Fellows will be honored at an awards ceremony on Wednesday, September 17, 2014 and a concert at George Washington University's Lisner Auditorium on Friday, September 19, 2014. Both events will be open to the public and the concert will be streamed live at arts.gov. More information, including how to obtain free tickets to the concert, will be available later this summer.
More information about the NEA National Heritage Fellowships.
NEA JAZZ MASTERS
The 2015 NEA Jazz Masters are recognized for their lifetime achievements and exceptional contributions to the advancement of jazz. Click on each name for more information on the recipients, including bios and selected discographies:
Carla Bley

(Willow, New York)—

keyboardist, composer, arranger, bandleader
George Coleman (Jersey City, New Jersey)—saxophonist, composer, educator
Charles Lloyd (Santa Barbara, California)—saxophonist, flutist, composer
Joe Segal* (Chicago, Illinois)—jazz presenter and club owner
* Joe Segal is the recipient of the 2015 A.B. Spellman NEA Jazz Masters Award for Jazz Advocacy, which is bestowed upon an individual who has contributed significantly to the appreciation, knowledge, and advancement of the art form of jazz.
The NEA will honor the 2015 Jazz Masters at an awards ceremony and concert at Jazz at Lincoln Center on Monday, April 20, 2015. Please note the concert will take place in April to coincide with Jazz Appreciation Month. The concert will be streamed live on arts.gov and jalc.org/live. More information about the awards ceremony and concert will be released closer to the concert date.
More information about the NEA Jazz Masters.
How to nominate a National Heritage Fellow or NEA Jazz Master
The NEA is currently accepting nominations for the 2015 NEA National Heritage Fellowships (deadline: July 17, 2014) and 2016 NEA Jazz Masters (deadline: December 31, 2014). Visit arts.gov/honors/heritage and arts.gov/honors/jazz for more information and to submit a nomination.
About the National Endowment for the Arts
The National Endowment for the Arts was established by Congress in 1965 as an independent agency of the federal government. To date, the NEA has awarded more than $5 billion to support artistic excellence, creativity, and innovation for the benefit of individuals and communities. The NEA extends its work through partnerships with state arts agencies, local leaders, other federal agencies, and the philanthropic sector. To join the discussion on how art works, visit the NEA at arts.gov.
# # #
Photos
are for media purposes only. Please contact the NEA Public Affairs
office at 202-682-5570 with any questions. - See more at:
http://arts.gov/downloadable-photos-june-2014#sthash.gKLdOXw9.dpuf
Contact
Liz Auclair
auclaire@arts.gov/202-682-5744