George Coleman
Saxophonist, Composer, Educator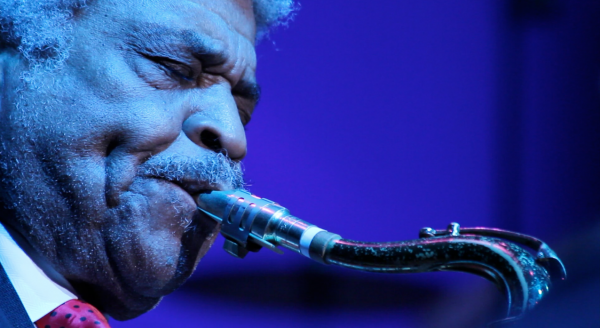 Bio
"Being named an NEA Jazz Master is truly one of the crowning highlights of my career. As committed music professionals, we toil away at our artistry for many years without the expectation of accolades or awards. Our only goals are to expand and evolve our craft through dedication and hard work so that we can represent this national treasure called 'jazz' at the pinnacle of artistic professionalism."
The spectrum of George Coleman's musical career extends from playing blues in the Beale Street clubs of Memphis on one end to blowing modern jazz on the New York stages on the other. His deeply soulful tone continues to provide memorable support to the numerous jazz greats he works with and is woven tightly into the fabric of his own compositions.
Coleman grew up in Memphis alongside jazz musicians such as Booker Little and Harold Mabern. Intrigued by the music of Charlie Parker, Coleman taught himself to play the alto saxophone. In 1952, at the age of 17, he got his first big break with blues guitarist (and NEA National Heritage Fellow) B.B. King, touring and recording with him for several years. Coleman switched to tenor sax when King needed a tenor man in his band (and bought Coleman the instrument).
In 1956, Coleman moved to Chicago and joined Walter Perkins' group MJT+3. In 1958, he attracted the attention of drummer Max Roach and was offered a position in his band, requiring Coleman to relocate to New York City. In 1959, he signed on with trombonist Slide Hampton's octet, which afforded Coleman opportunities to tour Europe for the first time and develop his composing and arranging skills.
In 1963, Miles Davis came calling, and Coleman was soon part of the groundbreaking quintet that included Herbie Hancock (piano), Ron Carter (bass), and Tony Williams (drums). In addition to the group's four classic albums, Coleman also played on Hancock's landmark Blue Note recording, Maiden Voyage.
After leaving Davis' group, from 1964-74 Coleman freelanced as a composer and arranger for various musicians, such as Betty Carter, Chet Baker, Lionel Hampton, Lee Morgan, Elvin Jones, Charles Mingus, and Cedar Walton. He then began to focus on his own groups, working in quartet, quintet, and octet settings, and adding the soprano saxophone to his instrument repertoire. Coleman has played at festivals and in prestigious concert halls and top clubs around the United States and in Europe. He continues to perform, usually with his son George, Jr. on drums.  
During the past 30 years, Coleman also has made a name for himself as a jazz educator, holding teaching positions at Mannes College The New School for Music, Long Island University, and New York University, in addition to conducting master classes at universities nationwide. A winner of numerous honors and awards, Coleman has twice been presented the Key to the City of Memphis. In 1997, he received the Jazz Foundation of America's Life Achievement Award, and in 2012, he was inducted into the Memphis Music Hall of Fame. A documentary film about Coleman's musical family (including his son and his wife Gloria, who was a musician and composer as well) is in production and is scheduled to be released in winter 2015.
Selected Discography:
Max Roach, Deeds, Not Words, Riverside, 1958
Miles Davis, Four & More, Columbia, 1964
At Yoshi's, Evidence, 1987
My Horns of Plenty, Dreyfus Records, 1991
Four Generations of Miles, Chesky, 2002