Art All Around Us: The Connection of Creativity To, Well, Everything
American Artscape | 2015 No. 3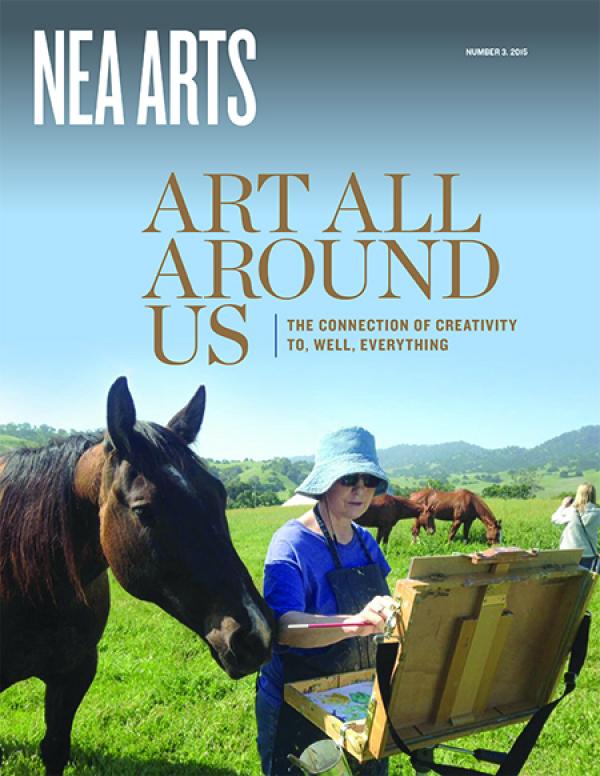 Download Issue
All Issues
About this Issue
Art is everywhere, whether you know where to look or not. It's the design of your soda can and cereal box, or the graphics of that videogame your kid is currently obsessed with beating. It's the songs you sing in church or synagogue, and that quilt your grandmother made you years ago. It's the mp3s you bop to on your way to work, and the books stacked on your bedside table. It is all art, and it affects our lives in ways both subtle and obvious, expected and unexpected.
In this issue of NEA Arts, we examine some of the more unexpected ways the arts interact with American life. In Wisconsin, an artist residency at the Kohler bathroom fixtures factory is changing the face of industry. In Massachusetts and New York, art has become a vehicle for empowering domestic workers, and in California, art and agriculture have come together to reinforce community. Poetry has enlivened public transportation systems across the country, and art—from dance to music to design—affects the NFL game day experience in more ways than you might realize.
To strengthen such partnerships between the arts and non-arts sectors, the National Endowment for the Arts recently announced a new initiative called Creativity Connects.* Through a report, interactive graphic, and grant opportunity, Creativity Connects will examine the country's current arts infrastructure, identify areas and industries where creativity exists, and fund new opportunities for arts organizations to connect with new sectors.
As you read through this issue, we hope you'll take a closer look at your own world and begin to see the ways the arts and creativity affect—and enhance—your life.

*Creativity Connects™ is used with permission from Crayola, LLC.