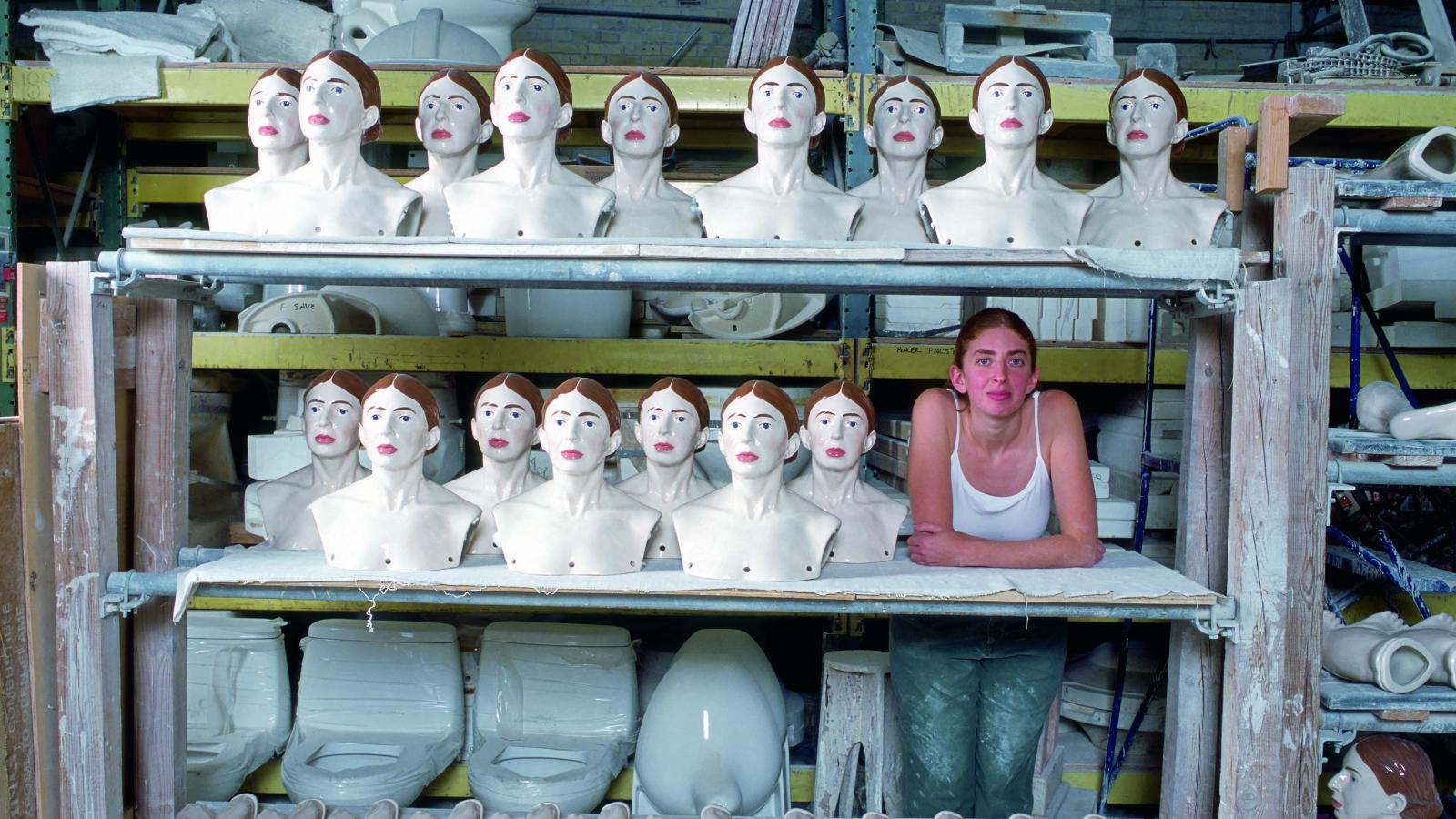 A few blocks from Lake Michigan in Sheboygan, Wisconsin, the Kohler Company factory floor vibrates with the industrial maelstrom of production. The hiss and thump of machines mix with the rumble of passing forklifts. Classic rock and country music blare from dueling radio stations. And in row after row, parts for sinks, toilets, urinals, and bathtubs are made and assembled, before their delivery to bathrooms around the country. 
It hardly sounds like an ideal environment for contemplation and creativity. But through the Arts/Industry residency program of the John Michael Kohler Arts Center (JMKAC), it works. Each year, 15 to 18 artists are selected from approximately 300 applicants to spend two to six months in the Kohler factory, where they can use the factory's materials and equipment to create original work.
Throughout the residency, they have access to the factory's three main areas: the Pottery, the Iron and Brass Foundry, and the Enamel Shop. In the Pottery, slip-casting is done, pouring liquid clay into funnels inserted into plaster molds that are designed and produced onsite. In the foundry, liquid brass or iron is poured into molds, and pieces are ground into gleaming sinks and other products. The Enamel Shop is where powdered glazes are applied to hot cast iron to create the familiar sinks and bathtubs.
Sculptor and installation artist David Franklin recently completed his second residency at Kohler. "The factory creates an environment where the production potentials are extraordinary because of the materials that are available," he said. "Since I was here before, I went home thinking, 'What kinds of projects could be made at Kohler, in that environment, with those resources, that could make the most of that opportunity?' That opened my imagination to ideas that were beyond my normal way of thinking. How can I make my own little factory that I get to create in the pottery so it can be used to its best advantage with all its resources? There is a potential that exists here that doesn't exist anywhere else."
Artist and designer Ted Lott echoes that sentiment. One of the objectives of the Arts/Industry program is to encourage artists not only to imagine big but also to create big, taking from industry its size and scale. Lott worked in the Foundry at Kohler and hopes to use that experience to continue working with metals to produce more durable work that can be sited outside. The residency encouraged him "to work bigger and know that I can pull that off."
Even the hiss and hum of factory life can become a welcome part of the experience. Sculptor and visual artist Leslie Fry has now been through the Arts/Industry program twice. "I remember in the beginning thinking, 'Oh my God, how am I ever going to concentrate?' There are all these workers coming by and asking questions and then tours come through and you have to stop what you're doing and talk to them," she said. "But by the time I left, I was in love with the place. When I got back to my own studio, I felt lonely and that it was just too quiet."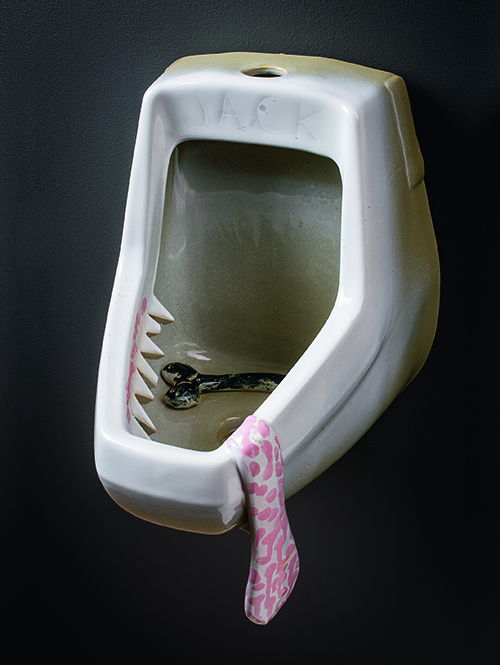 __
The seeds of the Arts/Industry program were sown in 1973 with the exhibition Plastic Earth at JMKAC. Conceived by Ruth DeYoung Kohler, director of JMKAC, and sponsored by Kohler Co., the exhibition marked the company's 100th anniversary and featured 87 contemporary ceramic artists. For DeYoung Kohler, having such an exhibition dedicated to clay was a natural given the arts center's and the company's missions.
To open the exhibition, the arts center and the company collaborated on a seminar that brought the exhibiting artists for a tour of the Kohler factory and demonstrations of industrial technologies. As reported in a subsequent article in Ceramics Monthly, "Later in the evening at the reception for the artists held at the J.M.K. Arts Center both ceramicists and engineers were heard to express the hope that these discussions would mark the beginning of an ongoing cooperation between individual artists and industrial technicians."
Those discussions did in fact lead to a four-week, pilot residency in 1974 for two ceramic artists, Jack Earl and Tom LaDousa, who refashioned and redefined Kohler products into witty works of art. In 1976, eight artists joined Earl, working primarily in the Pottery. That year the residency expanded to allow artists to create original work. Then, beginning in 1984, residencies were offered year-round. Since the Arts/Industry program began, it has graduated more than 500 artists. In addition, JMKAC offers two other artist residency programs: Connecting Communities, which brings together artists and specific communities to collaborate on art projects; and ExAIR (Exhibition Artists-in-Residence), which offers students the opportunity to meet and work directly with artists working at the center. Both of these programs have been supported by the National Endowment for the Arts.
In a video about the Arts/Industry program, DeYoung Kohler speaks of the impact of the residency on the artists that she has seen over the years. "It's amazing how many people have seen this program as transformative and changed the way they work, changed their goals for their careers. It's astonishing how many people have thought it was THE pivotal moment in their careers."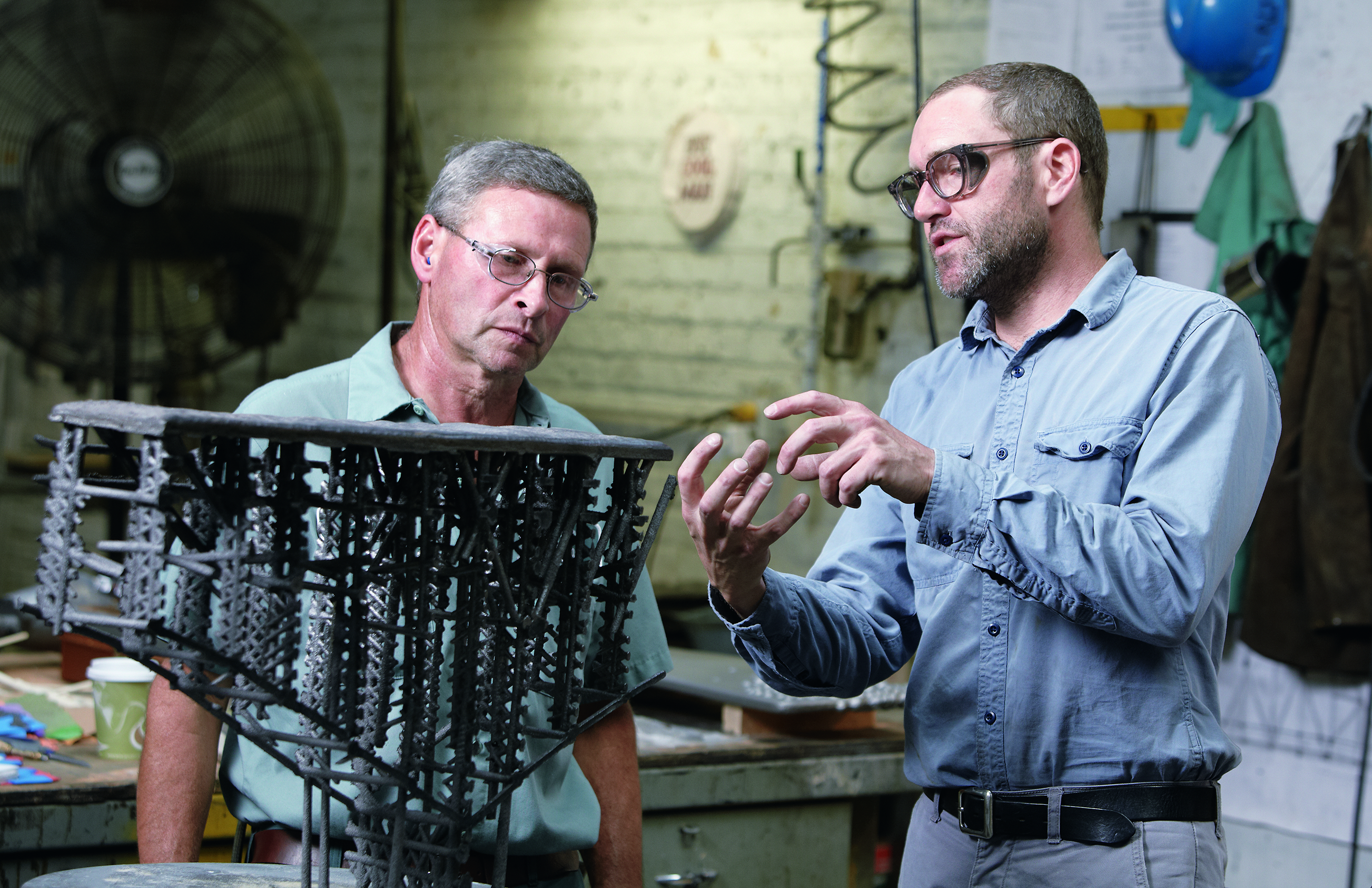 __
Every artist that has passed through the residency has benefited from the Kohler technicians, or associates, who teach the artists how to safely use the equipment and can demonstrate techniques of slip-casting, glazing, and casting molten brass, among others. Associates bring their considerable wealth of knowledge to advise or problem-solve an entirely different challenge from their own day-to-day, and most artists quickly realize that the associates are skilled craftspeople in their own right with creative ideas and insights.
"Brass" Bob Halfmann is an engineering technician III at Kohler overseeing the melt operation for all the brass that's made into faucets, fittings, and artwork. Halfmann has been with Kohler for 40 years, and involved in the Arts/Industry program since 1990. He likes meeting the different people that come through the program and having input into their work—but only when that input is necessary or requested. Whether Halfmann is helping make faucets or a work of art, the goal is the same: "to make a good piece."
Daniel Mihalyo, co-founder of the Seattle-based architecture firm Lead Pencil, likened the experience to being at a university with professors around to offer guidance and assistance. In fact, Mihalyo credited the associates and their expertise with helping him and his partner Annie Han complete their project. They came to Kohler to create 3,600 ceramic urns to house the cremated remains of patients who had died at the Oregon State Hospital, a mental institution established in the 1880s. The original remains had been found in deteriorating copper canisters. As part of a larger project to honor the memory of those who had died at the hospital, Mihalyo and Han created new resting places for patients. Using plaster molds—a common technique in industrial settings, where mass production is the standard—the work was completed at a far greater pace than would typically be possible. 
But the artists are not the only ones who benefit from the Arts/Industry program. With the increased presence of onsite creativity, Kohler has the opportunity to learn new techniques, processes, and possibilities for their products.
In 1976, artist Karen Thuesen Massaro was watching Kohler glazers and the way they were able to gauge the movement of glazes during firing. This led her to develop a method of layering glazes to look like marbleized paper. Kohler was thrilled with Massano's technique and introduced a limited edition of marbleized plumbing ware in 1984 as part of Kohler's Artist Editions. The Artist Editions line continues and is a direct result of having artists-in-residence in the factory.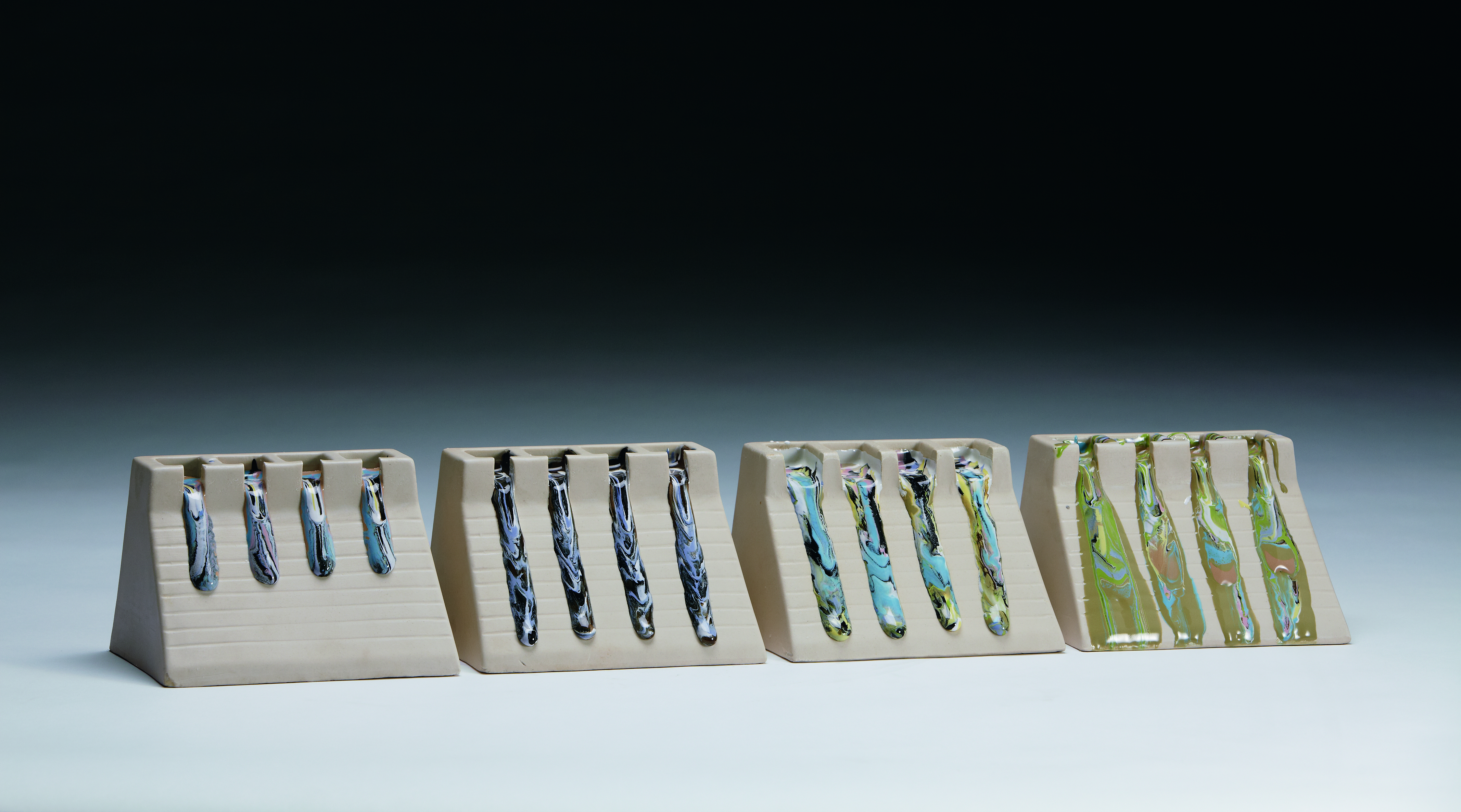 The example, and indeed the program, is indicative of how the human interaction between artist and associate on the factory floor can lead to something greater than any one individual or company. "The program broadens everyone's understanding of what the arts are and what factory life is," said ceramicist Miranda Howe, who participated in her first Kohler residency in the fall of 2015. "It's a symbiotic exchange of how we perceive each other."
All photos courtesy of the John Michael Kohler Arts Center