Arts as a Healing Element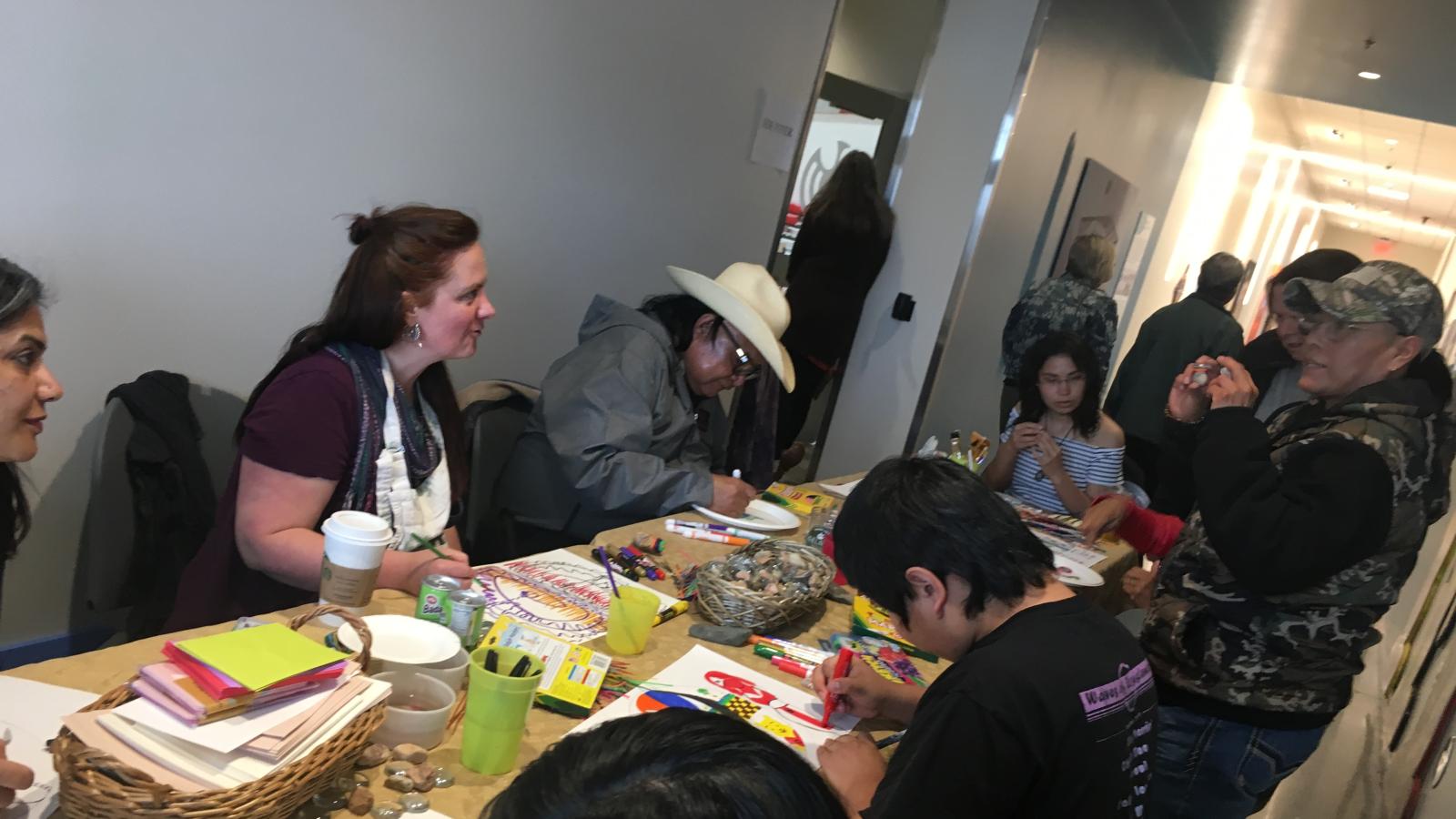 When musicians Tash Terry (Diné [Navajo]) and Elena Higgins (Maori/Samoan) first met, they quickly decided to join forces as Indigie Femme and set off on a tour of Australia and New Zealand. As they traveled, the duo purposefully reached out to Indigenous communities as part of their tour. That experience—one that highlighted both the connection and isolation of these communities—inspired Terry and Higgins to start IndigenousWays, a nonprofit arts organization that focuses on the arts and music as a pathway to connection. Located in Santa Fe, New Mexico, but boasting a global audience, the organization presents events such as the annual, two-day Indigenous Healing Festival, which focuses on the power of arts and music to heal; the Black Mesa Project, which supports Black Mountain families and elders in Arizona, where Terry grew up; and the Wisdom Circle, an online video series that gives Indigenous artists a platform to talk about their art and their lives. The National Endowment for the Arts has supported their programming over the past few years.
While the COVID-19 pandemic has limited in-person events, it has given IndigenousWays the opportunity to grow their virtual presence, including becoming an exemplar of best practices for sign-language interpretation for Native and Indigenous audiences. In their own words, Terry and Higgins recount how their experience as touring musicians inspired IndigenousWays, and also speak about how their identities as Indigenous people inform their approach to accessibility and inclusivity.
COLLABORATIONS AND COMMUNITY
TASH TERRY: Elena and I were introduced by an ASL interpreter colleague of mine back in 2006. We started playing music together [as the musical duo Indigie Femme], and eight months into knowing each other we were on a 47-gig tour throughout Australia, New Zealand, and then around the North Island. We played at reservations, prisons, hospitals, festivals, concerts, coffee houses, restaurants, pubs, bars. We got to see what it was like to really be on the road and to feel what it was like to be at the mercy of the audience—if the audience is even going to show up or if they're going to like you and if you're going to be able to sustain the road trips financially. There was so much involved, and we decided to start a nonprofit [as a way to give back to the community.] We started doing festivals on the Navajo Nation, and in Santa Fe with the Institute of American Indian Arts, and collaborating with other coalitions because me and Elena being musicians, Indigenous at that, and women, we're like, "We can't do this alone, let's get other people involved."
ELENA HIGGINS: A lot of the nonprofit work has been our give back as musicians to the community. What we've found on our tours is that we were pretty much the only folk women of color who are also LGBTQIA2+ and Indigenous. Through the nonprofit IndigenousWays, what has really been important for us in that give back is focusing on supporting our Native American Indigenous brothers, sisters, those that are coming up, our emerging artists, and also our professional artists. Our ethos has been that we can't keep what's been so generously given to us, whether that's our fan base or the growing support that we've received through IndigenousWays. We really believe in community. We really believe that the arts can transform communities.
The blessings of a nonprofit cofounded and run by artists, musicians, has been our connections to fellow professional musicians who we've been able to support through the Wisdom Circle and virtual concert series that we did during the pandemic. We were able to support over 145 Native American Indigenous presenters, including Deaf and Hard of Hearing Indigenous presenters. So that's been really big for us; what we can do in supporting our beloved communities through the arts. 
TERRY: The main goal for IndigenousWays is to bridge cultures together that colonization has separated purposefully. It's like no, let's not be historical enemies because of what we read in the books. Let's talk about what happened before that, before colonization. How did we get along with each other? How can we get along now? How can we share seeds? How can we share arts? How can we share songs? How can we share foods? How can we share stories and laughter, and how can we talk about our pain? How do we juxtapose all that so that we can all be in harmony? That's what IndigenousWays is all about.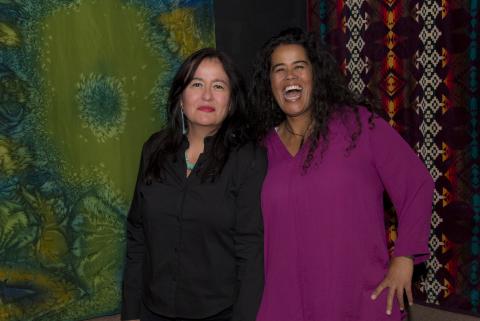 "We really believe art is a healing element, and so having that Indigenous Native American component is really important for us." — Elena Higgins
ON INCLUSIVITY AND ACCESSIBILITY AS A CULTURAL VALUE
TERRY: I believe in full inclusivity. Since we started this IndigenousWays Wisdom Circle, we've always had [ASL] interpreters. I'm an interpreter too, and I just feel like that's the least I can do, to give back for what has been generously given to me by the Deaf culture. Some of the most neglected people are elders or Indigenous people and also Native American Deaf people on the reservations that don't have communication resources.
HIGGINS: As an Indigenous woman, my greatest asset today is the ways in which I was left out, whether that be in the educational system, family, any institution. A huge part of this [focus on] inclusivity comes from…our experience of being excluded. It's been really fundamental for us in making sure that whether someone is Deaf and Hard of Hearing, or needs wheelchair access, or is blind—being aware of that [need for access].
A lot of it is about the collaborations, particularly from our audiences. We have a huge Deaf and Hard of Hearing audience, and what was really beautiful when we started the online, virtual events with the Wisdom Circle and Concert Series, we had a Deaf audience member who we know very well, who just said, "Why don't you think about having Indigenous or Native American interpreters?" Kudos to Tash who had to search far and wide around the country to actually meet those needs, and now we have a really wonderful pool of Native American Indigenous ASL interpreters, which I don't know if anyone else is doing.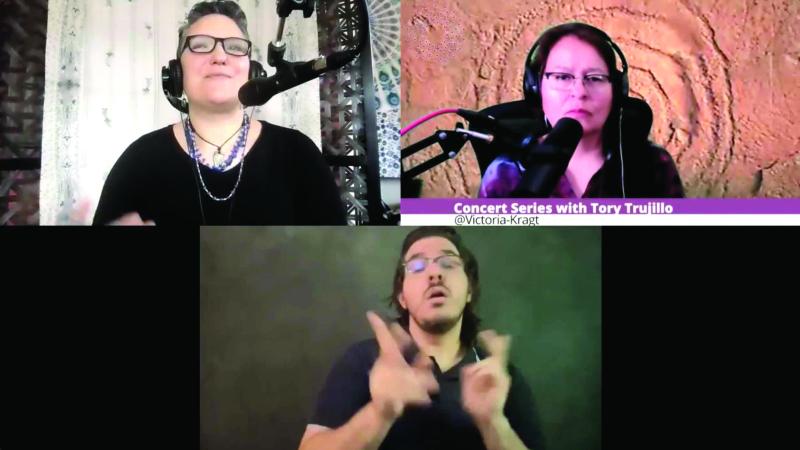 TERRY: What we've heard from other Indigenous platforms and nonprofits is, "Wow, you've really raised the bar for us other Indigenous people since the Americans with Disabilities Act does not apply to sovereign nations, so there's a real challenge going on for the interpreting services happening on the reservations."
I've been involved in the interpreting world for a very long time, and it's a world of its own of gathering as much context as you can before a show that involves a different culture, a different language, music with lyrics, poetry, metaphors that have to be broken down to the target language. When we get a Navajo speaker involved, then I have to find a Navajo interpreter to interpret into English for the [ASL] interpreter, and we do that too. It just turns into this really cool thing.
INDIGENOUS HEALING FESTIVAL
HIGGINS: We really believe art is a healing element, and so having that Indigenous Native American component is really important for us. We started the Indigenous Healing Festival, and collaborated with the Institute of American Indian Arts, particularly the Performing Arts Department, with Dr. Sheila Rocha in 2018.
With Indigenous people, there is that innateness of the spiritual connection, and with the Indigenous Healing Festival, it is that connection that we all bring. With each festival or event, it is really important for us that we have our opening and closing from an elder of that area, on their sacred tribal lands, and also bringing our youth in, which is really fundamental.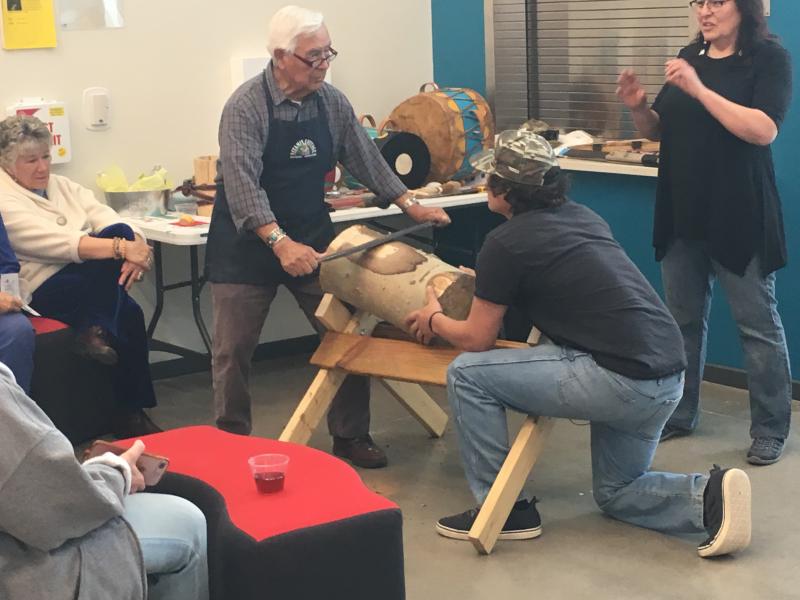 TERRY: Engagement [is an important component]. Actual audience hands-on engagement, receiving the smudge, learning some of the chants to go along with the music part, having instruments available like a whole bunch of djembes and rattles. Get people into the vibe and into the flow, get people into the prayer, and just really engage the audience.
HIGGINS: In 2020, a lot of things got canceled. What was important for us was to keep our communities connected, so we started online virtual events, which was really phenomenal because from that we then tapped into a global audience. Our audience base has gone up tenfold. It's been a lot of fun, and [in 2021] we were able to take the Indigenous Healing Festival online.
We are very, very blessed with the artists that we work alongside with, the incredible gifts that they bring, the elders, our youth, our seven generations. It's this whole reciprocal thing of giving back, giving back as artists, giving back because that's our responsibility when we leave, Tash and myself. At least we've known we've planted seeds, seeds of hope, seeds of goodness through the arts.