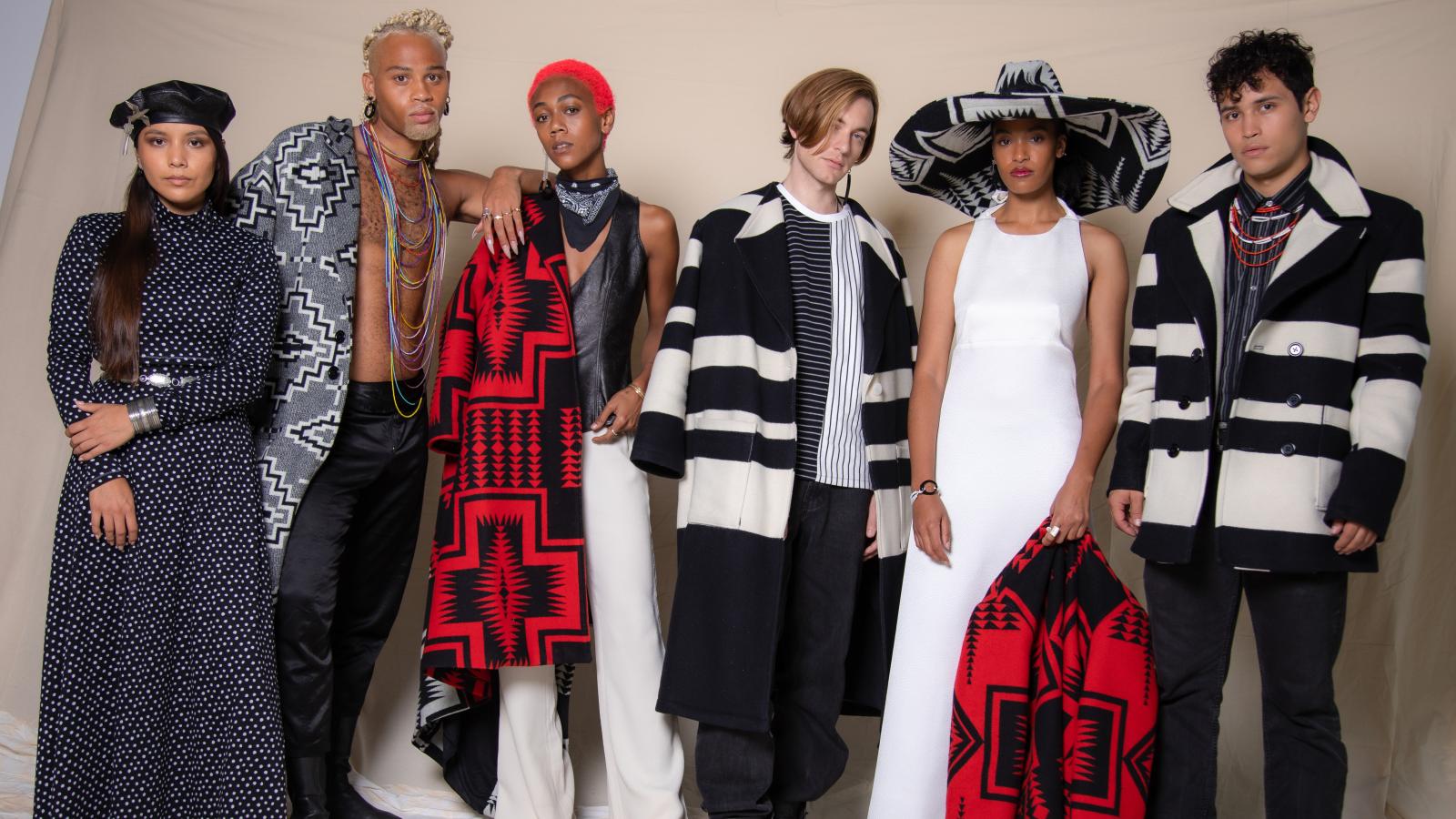 The cover of the August 2021 issue of InStyle magazine features a powerful portrait of U.S. Secretary of the Interior Deb Haaland (Laguna Pueblo) wearing one of her own powwow scarves, jewelry by Native designers, and a vibrant blue jersey dress designed and hand-sewn by fashion designer Korina Emmerich (Puyallup). The cover is notable but also for showcasing the work of Indigenous designers. As Emmerich commented in a radio interview, "As Indigenous people we tend to often get published a lot in online stories. We don't actually get a chance often to be inside of [physical] magazines or on the cover of magazines."
While well-known Native designers are still a rarity in high fashion, the Oregon-born artist has been preparing for this moment in the spotlight her whole life. "I've been obsessed with fashion since a really, really young age. I would just cover my walls in all magazine tear sheets," she remembered. Emmerich's interest in fashion led to an undergraduate degree in fashion design at the Art Institute in Portland, after which she moved to New York City, where she's now lived for more than a decade. While her participation in Season 13 of Project Runway led to her debuting a collection at Lord and Taylor, it also gave her a taste of what she didn't like about fashion, notably the high costs and high waste. Now running her fashion line EMME singlehandedly from her Brooklyn apartment, Emmerich is part of the slow fashion movement, with a focus on sustainability and climate awareness as well as aesthetics. Her approach is not surprising, given that she primarily thinks of herself as an artist. As she said when we spoke by video chat for this interview, "I like to think of myself more as an artist than someone who owns a clothing company. It's like artwork, but textiles are my medium."
What follows in Emmerich's own voice are her thoughts on how her Puyallup heritage has informed her approach to the fashion industry, the blurry line between representation and tokenism, and her deep belief: "Everything you put out is an extension of you and your energy and your story."
HOW HER CULTURAL ROOTS INFORM HER APPROACH TO FASHION DESIGN
I have a sign next to my sewing machine that says, "Everything you make returns to the Earth as either food or poison." I put so much care into every single thing I make, and I make it with my own two hands. For me, it's like a healing process to go through this creative process, and I'm so grateful to be able to spend that time and to be able to do what I do. I think a lot of that comes from all of our teachings when we were kids, to be very aware of your impact, that everything is related, that everything is circular. Something that is inherent about the way a lot of Indigenous people move through the world is that we're very aware of our impact and our use of resources. I use a lot of cradle-to-cradle fabrics instead of cradle-to-grave, which means a lot of the wools I use during the biodegradation process become nutrients to the soil rather than just being poison.
WHAT IT MEANS TO BE KNOWN AS A NATIVE DESIGNER
When I was in school, I didn't want to be the "Native" designer. I was always thinking, "I want to be a designer who happens to be Native." It's almost like you get cornered into this category where that designation almost feels performative. While [my Native heritage] is really important to me and the work that I do, it's not always something that I choose to talk about. I didn't want to be pigeonholed as a Native designer, because the representation in fashion was only in a negative way from our point of view, as far as cultural appropriation goes. You see all these models in headdresses and everything that was just so silly. I think our representation was almost through this mythical lens. Because we're so often put into a historical context, people think we don't exist anymore, that we're not on the other end of an email. We exist here and now, and I think now we're changing that whole narrative.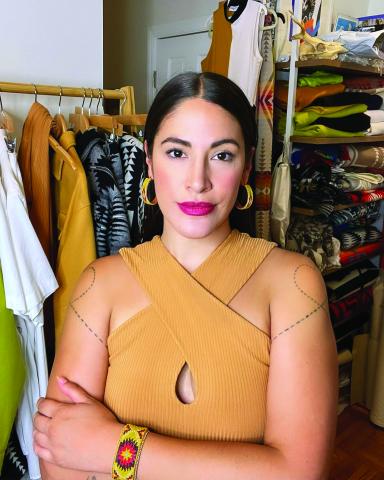 "I didn't want to be pigeonholed as a Native designer, because the representation in fashion was only in a negative way from our point of view..."
Social media has leveled this playing field, where [as Native designers] we are able to have control of our own voices and how we're seen. It's not through somebody else telling our story. It's a big deal as far as representation that our story and our narrative is coming from us here and now in 2022. It's not through some text that is inaccurate or goods that are stolen that were put into a museum. Obviously, we have such great respect for that older work, but we are also continuing to do work now, and that has a story to tell too. The next hurdle is to break that idea that we're a monolith, because Indigenous people are so diverse. We all have different stories, we all have different food, we all have different traditions, we all have different regalia, all of our ceremonies are very different. One conversation that's so interesting is, "What are we called? American Indian? Native American?" The terms always change because people try to put us into a singular category. I prefer Puyallup. That's my tribe. That's what I am.
REPRESENTATION OR TOKENISM?
There is always a level of responsibility to any work that you're putting out into the world, and I understand now, as an adult, the importance of my voice and work … and how I am representing the Indigenous fashion scene. Part of the work that I do is to celebrate that. You get to open some doors that previously you didn't even think could open. Recently, I made a comment that I think [the Council of Fashion Designers of America (CFDA)] just realized that Indigenous people still exist, because I got a call from them to do a meeting. The first thing I asked was, "Are we having this meeting because you have no Indigenous representation in the CFDA?" I just think it's so funny that the Council of Fashion Designers of America has no Indigenous people, and our traditional work that's being made today, it's handmade couture, like the ultimate high fashion. It's somehow always been recognized as craft, and that word is so interesting. It's always associated with something that is not considered a highly respectable art form, and that's why women's work was always called craft, and Indigenous work is called craft. It's highly talented, amazing, incredible work, but that word always makes it seem like it's not luxury, I guess.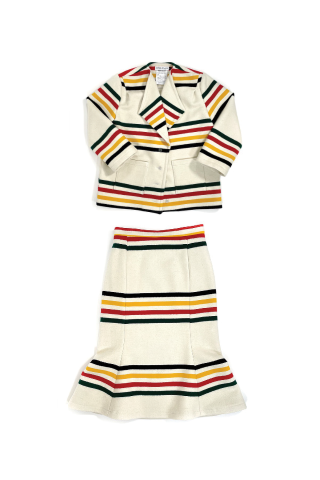 Being part of these large platforms, it's like a sense of validity for your work. To have something at the [Metropolitan Museum of Art Costume Institute], it's a huge deal. I have a really hard time sometimes celebrating those things. We're in a weird stage almost of tokenism, where it's like are we getting these opportunities because this group of white people are sitting around a table being like okay, well let's just check each one of these BIPOC [Black, Indigenous, People of Color] boxes? Like with [Secretary of the Interior] Deb Haaland [for InStyle magazine], it's only if it's an Indigenous person being dressed do I get big magazine asks. It's not just for whoever, and I'm hoping we can break that barrier soon.
Another thing that's interesting, as far as that whole gatekeeping mentality, it's like there's one opportunity. There's one Indigenous person that gets to be in this show. There's one Indigenous person that gets to be a fashion writer. With the Met, I was the only Indigenous designer included in 100 looks. I had a whole email exchange with the curators about how there is going to be more Indigenous representation in the second part of the show, and I don't know for sure who's going to be in it. I didn't know that I was the only Indigenous person in the [first part of the] show until a reporter reached out and told me. I think that breeds this weird competition where we're looking for validation from these gatekeepers, and then they give us one spot.
What's so important in the Indigenous design community is we're so supportive of each other. Collaborations are huge; we're always doing cross promotion. We want everybody to succeed together. We want to move up together. So it does feel strange sometimes when what they're offering are these crumbs.
HOW CONSUMERS CAN SUPPORT NATIVE FASHION DESIGNERS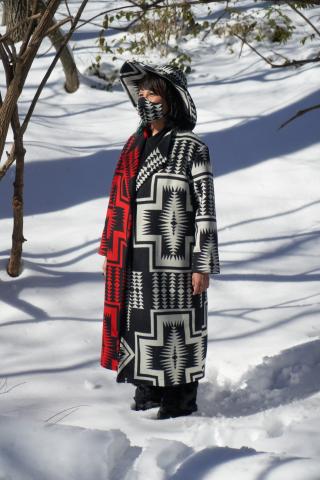 One thing that's so great about us supporting each other in the design community [on social media] is you can find one Indigenous designer and then open up your world from there and see everybody else that is doing work. Look at the comments section. Look at who's tagged.
I think patience is really important too, to have the respect for those things that you're receiving or buying. I think it's great to support Indigenous designers because, for a lot of us, that's our only income, and, unfortunately, we have to engage in a capitalistic society. It's just a great way to support our autonomy. A lot of Indigenous designers do things that are handmade, because the design process is a very healing process. I have a handwritten piece of tape on my sewing machine that says, "Your energy goes into your work," and I'm just so aware of what I'm putting into the things that I'm sending out to people.