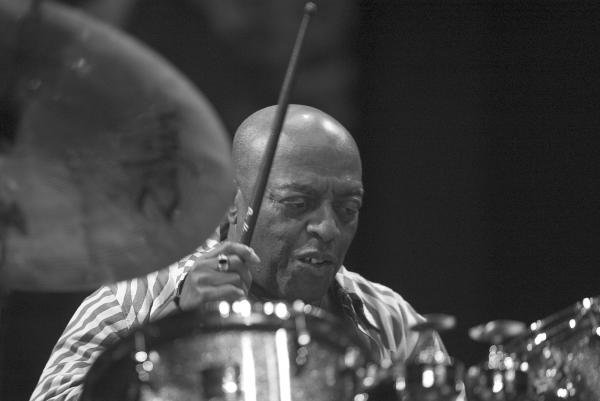 Bio
Seemingly ageless, Roy Haynes has played the drums from the bebop days of the 1940s to the present day with the same restless energy. Haynes has remained fresh in his outlook and in his thirst for collaborating with younger artists and those who play in challenging styles, as is shown in his work with such disparate artists as Roland Kirk, Danilo Pérez, and Pat Metheny. He also has been a favorite sideman for any number of artists because of his crisply distinctive drumming style. Thelonious Monk once described Haynes' drumming as "an eight ball right in the side pocket."
Haynes became interested in music through his father, a church organist. In his earliest professional playing years in the mid-1940s, he worked in Boston with Sabby Lewis, Frankie Newton, and Pete Brown. In 1945, he joined the Luis Russell band, remaining until 1947, whereupon he joined Lester Young's band. In the late 1940s to mid-1950s, he worked with such greats as Miles Davis, Charlie Parker, Bud Powell, and Kai Winding. He later played in Monk's band at the Five Spot Cafe before forming his own band in 1958.
Some of his most noted work in the early 1960s came when he subbed for Elvin Jones in the John Coltrane Quartet, both on gigs and on records. His drumming style was a marked change for Coltrane from Elvin Jones' approach -- lighter, less aggressive -- and it gave the quartet a different sound. Among his other affiliations during the late 1950s to early 1960s were George Shearing, Kenny Burrell, Lennie Tristano, and Stan Getz. In addition, his style of drumming was an ideal accompaniment to singers, accenting the vocals without overpowering them, and he worked with Sarah Vaughan, and Lambert, Hendricks & Ross.
He later joined vibist Gary Burton, who had been a member of Getz's band. After Burton's band, which was one of the precursors of the jazz-rock movement, Haynes formed the Hip Ensemble, featuring such musicians as George Adams, and Hannibal Marvin Peterson. The band had a decidedly contemporary flavor, often employing various guitarists. He also has enjoyed an occasional playing relationship with Chick Corea, dating back to their Stan Getz days. He joined Corea's Trio Music band in 1981. Haynes received the prestigious Danish award, the Jazzpar Prize, in 1994.
While periodically leading his own bands, he has also worked with artists such as Billy Taylor, Hank Jones, and Ted Curson, and as an innovative drummer in a variety of settings. His bands have included some of the more exceptional young musicians on the scene, ranging from his Hip Ensemble to his various quartets. He continues to influence the next generation of drummers with his distinctive sound.
Selected Discography
We Three, Original Jazz Classics, 1958
Out of the Afternoon, Impulse!, 1962
Te Vou!, Dreyfus, 1995
The Roy Haynes Trio, Verve, 2000
Whereas, Dreyfus Jazz, 2006