Donald Harrison, Jr.
Cultural Activist, Saxophonist, Composer, Educator (Award for Jazz Advocacy)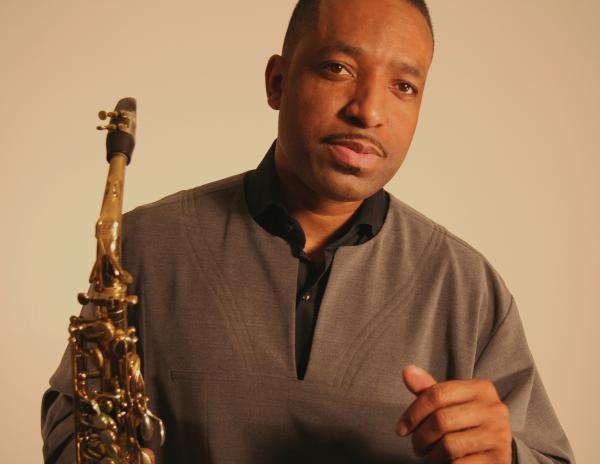 Bio
As a saxophonist, Donald Harrison, Jr.—recipient of the 2022 A.B. Spellman NEA Jazz Masters Fellowship for Jazz Advocacy—is known for his hard-swinging improvisational style and the creation of "Nouveau Swing," a blend of jazz with R&B, hip-hop, rock, and soul. And his dedication to preserving the music and culture of New Orleans has been crucial to assuring its important legacy survive. Following the devastation of Hurricane Katrina in 2005, Harrison increased his activism, creating employment opportunities in his own bands for young musicians who had remained in the city when many others had left. He also mentored now world-renowned jazz artists from New Orleans and beyond, including Jon Batiste, Christian Scott aTunde Adjuah, Trombone Shorty, and Esperanza Spaulding.
Harrison is the son of the late New Orleans folklorist Donald Harrison, Sr., who was known for his involvement in local Mardi Gras traditions. Like his father, Harrison devoted himself to the Crescent City's multifaceted cultural heritage, founding the Congo Square Nation Afro-New Orleans Cultural Group to honor the place that Blacks, both free and enslaved, could sing and dance in public. "The incredible part to me is, even though the players today don't have a consciousness of that, some of those things are still at the root of what we call jazz music," Harrison noted in a 2021 Tennessean story.
He also has served as artistic director and educator for Tipitina's Foundation's Internship Program, a nonprofit after-school program for New Orleans high school students interested in music business careers. The program allowed them to perform at New Orleans-based festivals and gave them opportunities to travel to Los Angeles, Memphis, New York, and even to Japan for performances, cultural exchange, and master class experiences.
Harrison studied at the New Orleans Center for the Creative Arts with Ellis Marsalis, Jr. before attending the Berklee College of Music in Boston. Playing professionally during his high school years, Harrison soon was noticed for his talent on both the alto and tenor horns, playing in the bands of Roy Haynes, Jack McDuff, as well as in Art Blakey's Jazz Messengers, along with fellow New Orleans native, trumpeter Terence Blanchard.
Harrison also performs in the traditional New Orleans jazz and hip-hop genres with his group the New Sounds of Mardi Gras and has performed and recorded with distinguished musicians such as Ron Carter, Billy Cobham, Miles Davis, Lena Horne, Eddie Palmieri, the Notorious B.I.G., as well as with the powerhouse jazz group the Cookers. As part of his dedication to preserving New Orleans traditions, Harrison appeared in Spike Lee's When the Levees Broke: A Requiem in Four Acts, a documentary about the devastation on the city after Hurricane Katrina hit, and also in the post-hurricane New Orleans HBO series Treme. He continues to celebrate and promote the culture and music he loves.
Selected Discography
Donald Harrison/Terence Blanchard, Black Pearl, Columbia, 1988
Nouveau Swing, Impulse!, 1996
Spirits of Congo Square, Candid, 2000
The Survivor, Nagel Heyer Records, 2004
The Cookers, The Call of the Wild and Peaceful Heart, Smoke Sessions, 2016
Being chosen amongst the illustrious list of NEA Jazz Masters is an honor nonpareil. For me, this is an acknowledgment for staying the course in jazz culture, and it leaves me in awe. I hope the future sees me on the same path of learning our music then sharing those lessons with others. I dedicate this honor to my parents, Donald and Herreast, my wife Mary, my daughter Victoria, and my siblings Cherice, Michele, and Cara. In addition to them, my nephews Brian, Kiel, and Chris, son-in-law Derrick, family, friends, and all who use their lives to keep and advance jazz. I am grateful to the NEA for having the Jazz Masters Fellowships. In my estimation, the award recognizes the work against all odds that jazz artists and advocates wage every day. In my case, the award showcases that I live on both sides of the aisle. My role is that of a musician and cultural participant who has advocated for all. My heart is joyous and humbled for being selected as the 2022 A.B. Spellman Jazz Masters Fellowship for Jazz Advocacy recipient. The work and passion of A.B. Spellman toward jazz being the best it can is a shining beacon that I will work to purport as a musician, teacher, and proponent.