2017 Recipients of Nation's Highest Award in Jazz Announced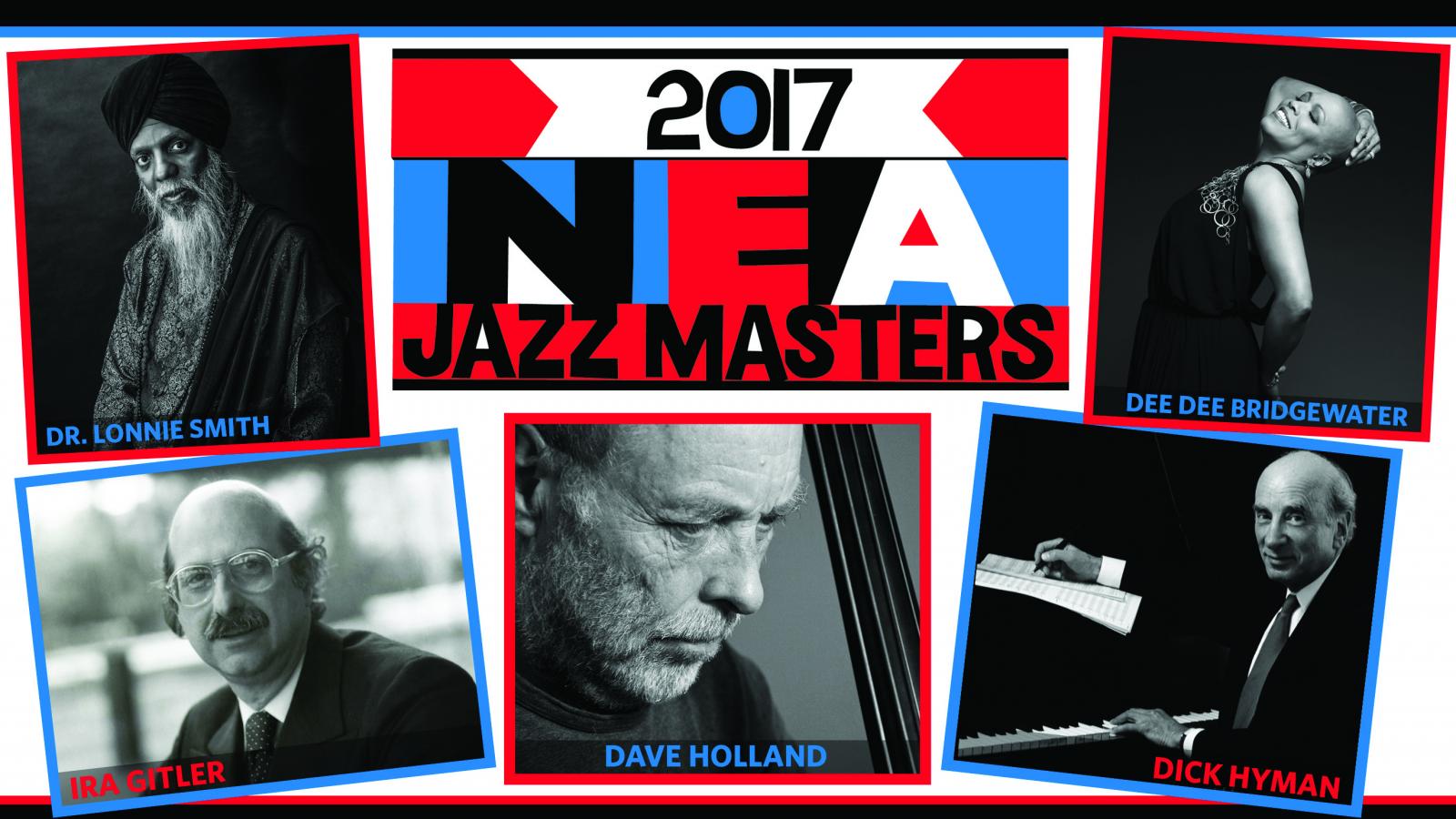 Washington, DC— This evening at the DC Jazz Festival's concert at the John F. Kennedy Center for the Performing Arts in Washington, DC, the National Endowment for the Arts announced the 2017 NEA Jazz Masters Fellows, recipients of the nation's highest honor in jazz. These five individuals—four musicians and one advocate—are recognized for their lifetime achievements and exceptional contributions to the advancement of jazz. Each will receive a $25,000 award and be honored at a tribute concert on Monday, April 3, 2017, produced in collaboration with the Kennedy Center.
The 2017 NEA Jazz Masters are:
Bridgewater is a daring performer of great depth whose singing talents have earned her both a Tony and multiple Grammy Awards. In addition, her commanding personality made her a natural for hosting the award-winning National Public Radio syndicated radio show JazzSet with Dee Dee Bridgewater from 2001 to 2014.  
Gitler is an American jazz historian, journalist, educator, and author who has written several books about jazz and hundreds of liner notes for jazz recordings. He has also written for many jazz publications, and served as associate editor of Downbeat during the 1960s. In the 1980s and '90s he produced concerts for George Wein's New York jazz festivals. Gitler also taught jazz history at several colleges and is considered one of the great historians and champions of the music.
Holland is one of the most versatile bassists in jazz, working across different styles seamlessly, from traditional to avant-garde jazz to world and folk music. He is also an accomplished composer and bandleader, bringing together musicians of exceptional talent to perform his intricate compositions. In a career spanning five decades, he has continued to evolve musically with each new project while honing his instantly identifiable sound.
Hyman is a piano virtuoso who—Zelig-like—has been known for playing in any style he wants. A masterful improviser, he is also a composer of concerti and chamber music, and the soundtrack composer/arranger for more than a dozen Woody Allen films (including, appropriately, Zelig). In addition, he launched the acclaimed Jazz in July series at the 92nd Street Y in New York City and served as its artistic director for 20 years.
Smith is a master Hammond B3 jazz organist and composer who, in a career spanning more than 50 years, has been featured on more than 70 jazz, blues, and rhythm-and-blues recordings. He is considered one of the premier purveyors of funk/soul jazz. 
* Ira Gitler is the recipient of the 2017 A.B. Spellman NEA Jazz Masters Award for Jazz Advocacy, which is bestowed upon an individual who has contributed significantly to the appreciation, knowledge, and advancement of the art form of jazz.
NEA Chairman Jane Chu said, "For 35 years, the National Endowment for the Arts has celebrated jazz, one of our nation's most important cultural contributions, by honoring those who have dedicated their lives to this music. I am pleased to welcome these five individuals with their artistry, energy, and commitment to jazz to the NEA Jazz Masters family."
A free concert honoring the 2017 NEA Jazz Masters will be presented on Monday, April 3, 2017, at the Kennedy Center's Concert Hall and also available through a live web stream. This concert will be open to the public. More information about this concert and how to obtain tickets will be available in 2017. An archive of the 2016 NEA Jazz Masters Tribute Concert, which also took place at the Kennedy Center, is available here.
About NEA Jazz Masters
Each year since 1982, the National Endowment for the Arts has conferred the NEA Jazz Masters award. With this new class, the NEA has awarded 145 fellowships to great figures in jazz. More information about the NEA Jazz Masters and the agency's collection of free jazz content is available here.
NEA Jazz Master Fellowships are bestowed on living individuals on the basis of nominations from the public including the jazz community. The NEA encourages nominations of a broad range of men and women who have been significant to the field of jazz, through vocals, instrumental performance, creative leadership, and education. The NEA is currently accepting nominations for the 2018 NEA Jazz Masters (deadline: December 31, 2016). Visit arts.gov/honors/jazz for more information and to submit a nomination.
The NEA also supports the Smithsonian Jazz Oral History Program, an effort to document the lives and careers of NEA Jazz Masters. In addition to transcriptions of the comprehensive interviews, the website also includes audio clips with interview excerpts. This project has transcribed the oral histories of more than 90 NEA Jazz Masters.
About the National Endowment for the Arts
Established by Congress in 1965, the NEA is the independent federal agency whose funding and support gives Americans the opportunity to participate in the arts, exercise their imaginations, and develop their creative capacities. Through partnerships with state arts agencies, local leaders, other federal agencies, and the philanthropic sector, the NEA supports arts learning, affirms and celebrates America's rich and diverse cultural heritage, and extends its work to promote equal access to the arts in every community across America. This year marks the 50th anniversary of the National Endowment for the Arts and the agency is celebrating this milestone with events and activities through 2016. Go to arts.gov/50th to enjoy art stories from around the nation, peruse Facts & Figures, and check out the anniversary calendar.
About the John F. Kennedy Center for the Performing Arts
The John F. Kennedy Center for the Performing Arts is America's living memorial to President Kennedy, and the nation's cultural center. Under the leadership of Chairman David M. Rubenstein and President Deborah F. Rutter, with guidance from artist-leaders including Artistic Director for Jazz Jason Moran, the nine theaters and stages of the nation's busiest performing arts facility attract audiences and visitors totaling 3 million people annually; Center-related touring productions, television, and radio broadcasts welcome 40 million more. Opening its doors on September 8, 1971, the Center presents the greatest performances of music, dance, and theater; supports artists in the creation of new work; and serves the nation as a leader in arts education. With its artistic affiliates, the National Symphony Orchestra and Washington National Opera, the Center's achievements as a commissioner, producer, and nurturer of developing artists have resulted in more than 300 theatrical productions, and dozens of new ballets, operas, and musical works.
 # # #