Creating Something No One Has Seen Before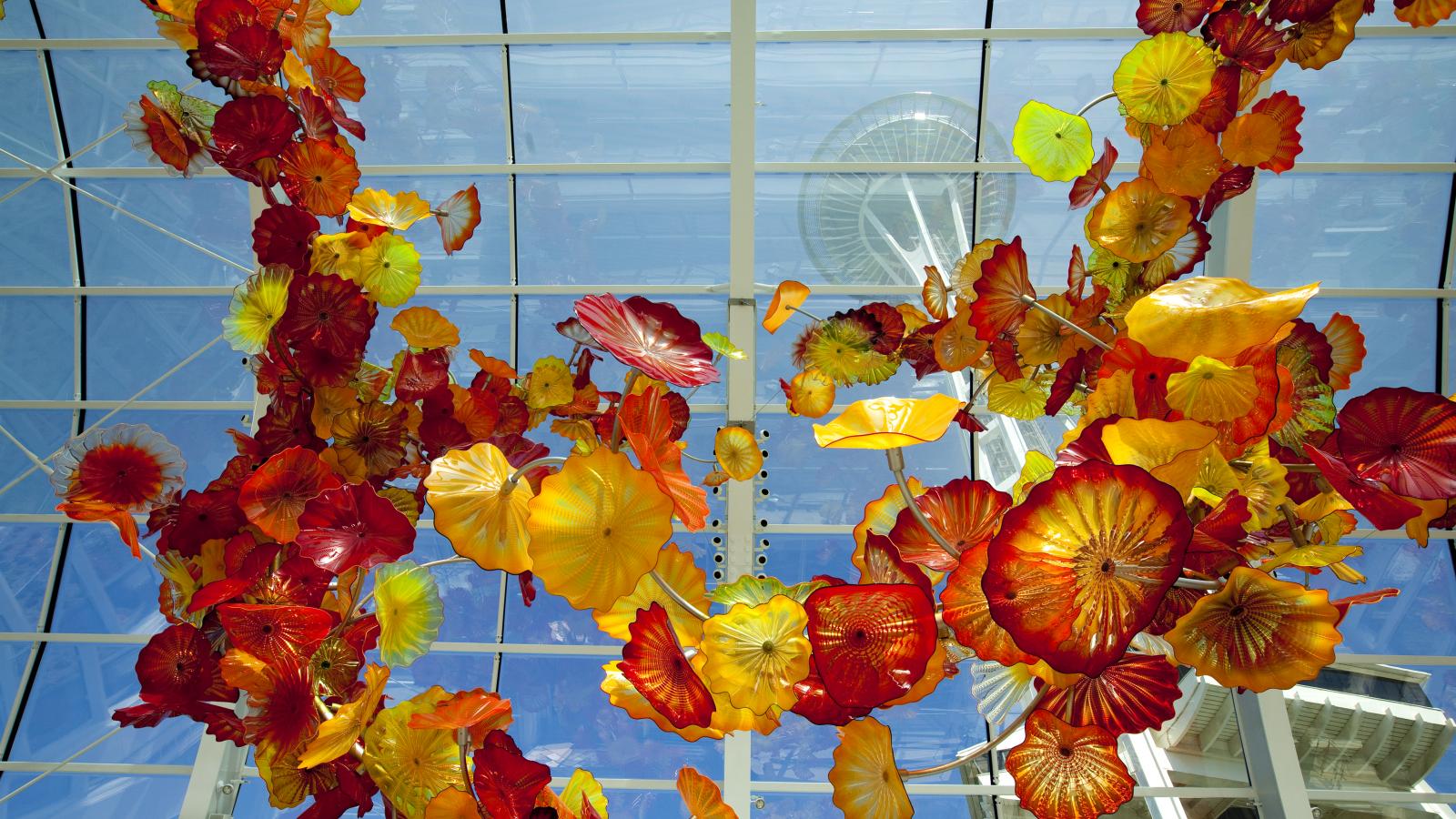 Artist Dale Chihuly is a magician of sorts. He has suspended elaborate chandeliers over the canals of Venice. He has made glass blossom into elaborate gardens of dazzling flora. He has defied gravity as his massive glass spirals unfurl toward the sky, and he has created crystals and sea anemones that almost seem to merit scientific classification themselves. In short, he has stretched the most fragile of mediums to its absolute limit, creating forms and colors that seem beyond possibility.
And for much of history, they were. Although glassblowing has been practiced since at least the Roman Empire, Chihuly is one of the first to work in such a grand scale, and to elevate what was once a largely decorative form to a fine art. His pieces are visually astounding, and as such, are immediately recognizable: if a work of glass makes you gasp, chances are good that it's a Chihuly. For the same reason, they are also immensely popular. In 1999, his installation Chihuly in the Light of Jerusalem broke records when it drew over a million visitors to Israel's Tower of David, and the exhibit Chihuly: Through the Looking Glass (2011) is one of the Boston Museum of Fine Arts' top five most-visited exhibitions of all time. A recipient of two NEA Visual Arts Fellowships, one in 1975 and the second in 1979, Chihuly today has his work in more than 225 museum collections around the globe.
"People for centuries have been fascinated with glass, colored or crystal," said Chihuly as he described his work's appeal. "It transmits light in a special way and at any moment it might break. It's magic. It's the most magical of all materials."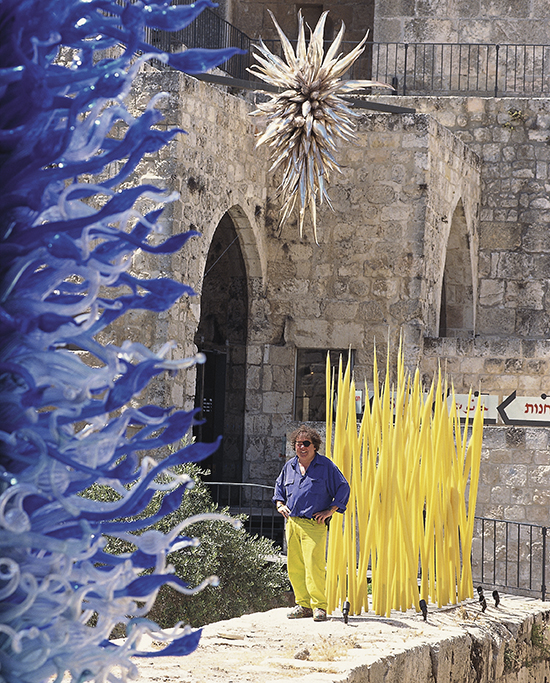 Dale Chihuly was born in 1941 in Tacoma, Washington, an area he would later turn into a hotbed for glass. Although he had been an indifferent student, he eventually enrolled at the University of Washington to pursue architecture and interior design, a subject he became interested in after redesigning his mother's basement. It was when working with fiber arts—whose pliable, durable nature is something of a foil to the rigid fragility of glass—that Chihuly first became intrigued with the properties of what would become his preferred medium.
"I took a weaving class where I incorporated glass shards into woven tapestries," Chihuly said. Fascinated by the way the shards caught the light, he melted stained glass in his basement over a kiln and fashioned a makeshift pipe. "While I was experimenting in my basement, I blew my first glass bubble and became obsessed with learning everything I could about glassblowing," he remembered of that day in 1965. "I had never seen glassblowing, but I had a poster of a glassblower on my wall and it provided me with enough of a visual—with an idea—to blow my first bubble of glass."
From there, he went to work turning this obsession into a calling. In 1966, he enrolled at the University of Wisconsin-Madison, home to the nation's very first glassblowing program. After receiving his bachelor's degree in sculpture, he worked at the Haystack Mountain School of Crafts in Deer Isle, Maine, and received a Fulbright grant to study the artisan techniques of Murano, an island off Venice, Italy, famous for its centuries-old glassblowing industry. It was here that Chihuly first observed glassblowers that functioned as teams rather than as individual artists—a rare practice among American glassblowers at the time.
"I realized if you worked with half a dozen or more people, you could achieve things you could never do alone," said Chihuly. "When I returned to the States in 1969, I was teaching at the Rhode Island School of Design [RISD]. I started working with my students as a team. From that point on, I've worked with a group, and now I have a really big team so I can make whatever I want."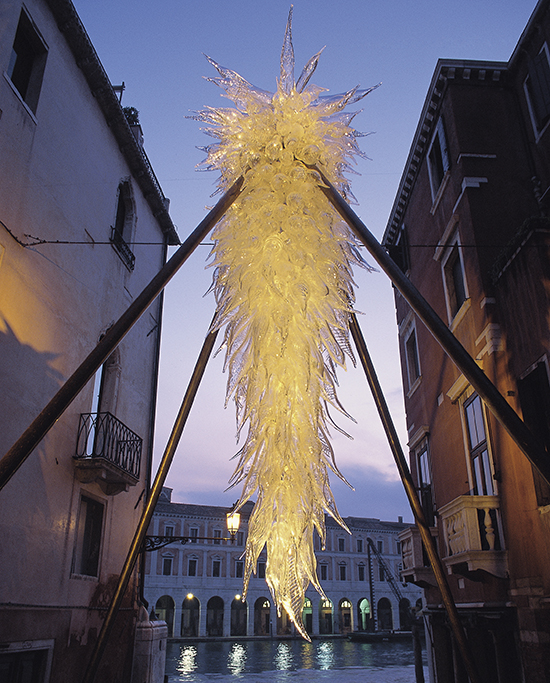 Within a few years, this practice would become not just a preference, but a necessity. Chihuly was blinded in his left eye following a car accident in 1976, which damaged his depth perception (he has worn his signature eye patch ever since). Then in 1979, he dislocated his shoulder in a bodysurfing accident, which made it difficult to hold a glassblowing pipe.
If anything, this seemed to fuel his commitment to his practice. Today, Chihuly largely works with his Seattle-based team as a conductor might to his orchestra: he designs the pieces and gives instructions rather than physically handing the materials—similar to the Renaissance workshop tradition. With this combination of manpower and international prestige, Chihuly has been able to experiment wildly, produce prolifically, and take on pie-in-the-sky projects.
Among his favorites are Chihuly Over Venice (1996), which involved hanging illuminated chandeliers in the streets, in courtyards, and over the canals of Venice; Chihuly in the Light of Jerusalem (1999), which installed fantastical formations of spears, stars, and crystal towers in a medieval citadel known as the Tower of David; and Chihuly Garden and Glass in Seattle, a 1.5-acre long-term exhibition dedicated to one of Washington's most creative native sons.
His smaller-scale works showcase his attention to detail. Drawing from other cultures, he has given his own spin to ikebana, the art of Japanese flower-arranging, and putti, figures of chubby little boys commonly found in Renaissance and Baroque paintings. One of his earliest series, Cylinders, reinterprets Native-American textiles by fusing thread with molten glass to create intricate, unusual patterns.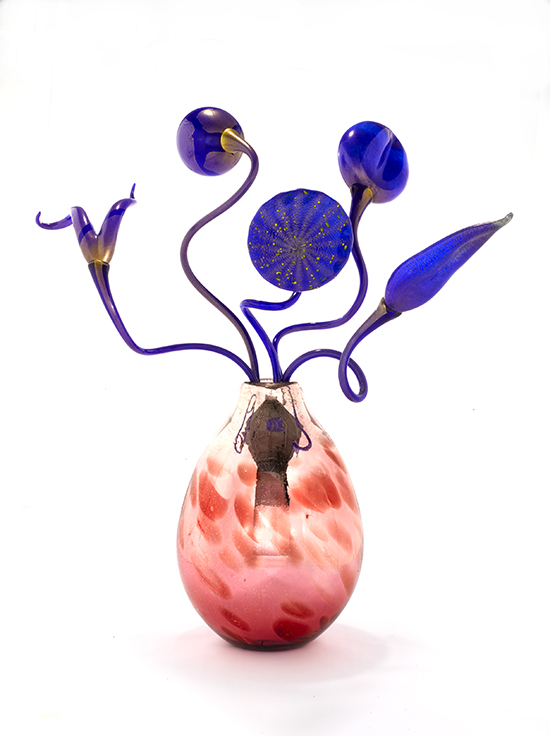 But he has left his mark on the cultural landscape in ways beyond his own work. In addition to teaching at RISD, Chihuly co-founded the Pilchuck Glass School with Anne Gould Hauberg and John H. Hauberg in 1971 in Stanwood, Washington. It was the first learning institution to be dedicated exclusively to glass. A proponent of the anti-establishment, back-to-nature movements of that era, Chihuly initially fashioned the school as more of a commune, with primitive facilities (think tents) and an extemporaneous approach to art-making. Pilchuck, which has received 18 NEA grants through the years, is now one of the world's most respected glass education facilities, and offers both courses and artist residencies. Although facilities have been upgraded, the school continues to emphasize its early hallmark of experimentation and exploration.
"The whole idea of making art, as far as I'm concerned, comes from doing it over and over and over," said Chihuly. "You have to make a lot of mistakes. Mistakes in glassblowing can become some of the most beautiful artworks." At the age of 73, Chihuly continues to create. His advice for budding glassblowers reflects the credo he himself has followed throughout his career. "Follow your dream; your passion," he said. "Follow your gut and create something no one has seen before."
All photos courtesy of Chihuly Studio