Improvising with the Community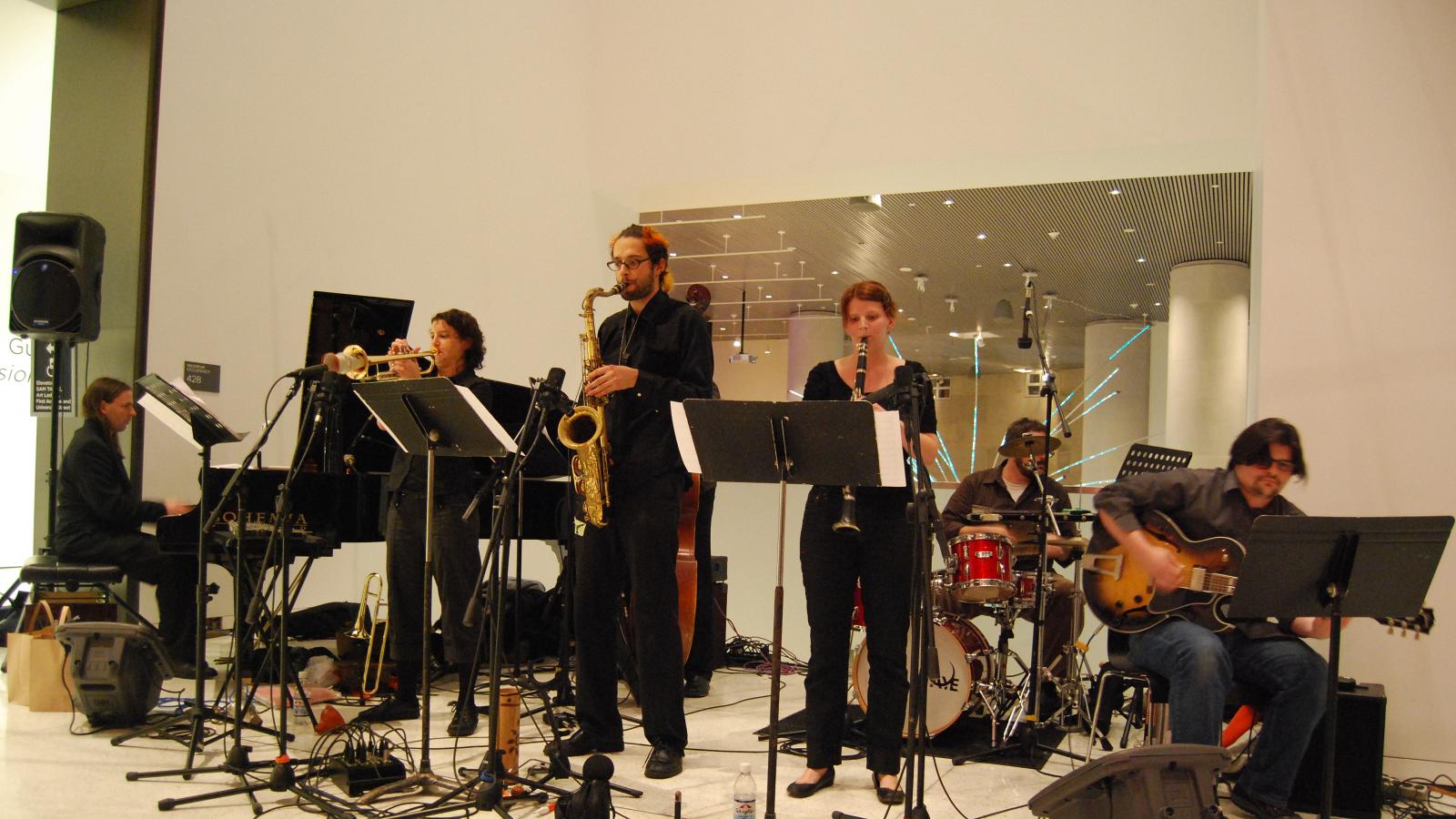 In the words of NEA Jazz Master Wynton Marsalis, "Jazz music is America's past and its potential, summed up and sanctified, and accessible to anybody who learns to listen to, feel, and understand it." Since its formation in 1984, Earshot Jazz has diligently worked to cultivate a rich appreciation for jazz music in Seattle, Washington, and beyond, serving as a platform where people can learn to listen to, feel, and understand the dynamic beauty of the art form. And the NEA has supported the organization all along the way.
Earshot Jazz's biggest impact has been with its annual jazz festival in the city. What started as a weeklong festival has turned into a month-long celebration, of which DownBeat magazine wrote, "Earshot brings emerging adventurous voices, both near and far, to mix and match with the national acts. Every year, the Earshot Jazz Festival disrupts assumptions, gets in your face and finds fresh synergies."
The Earshot Jazz Festival introduced Seattle audiences to important artists like Jason Moran,Vijay Iyer, and Robert Glasper early in their careers as well as established artists such as NEA Jazz Masters Toshiko Akiyoshi and Keith Jarrett. While Earshot also introduced the local community to the international and adventurous work from artists like Matana Roberts, Peter Brötzmann, and Kris Davis, it has always promoted the hometown talent as well, such as Kate Olson, John Semen, and Wayne Horvitz—who composed new work for a recent festival concert with the Seattle Symphony Orchestra and guest soloist, Bill Frisell. Based on its history of strong presenting, Earshot has been awarded nearly two dozen NEA grants through the years, in addition to participating in the NEA Jazz Masters Live program and NEA/Doris Duke Charitable Foundation's JazzNet initiative.
Despite its international reputation, Earshot has remained a true community organization. Its initial one-page newsletter has morphed into a monthly news magazine, surveying the vibrant Seattle jazz scene. It has a team of three full-time employees, headed by John Gilbreath, a man with a large love for music and culture. Gilbreath's lifelong fascination with jazz music started after first hearing the music of Duke Ellington at the age of ten. He began volunteering with Earshot in 1990 and has served as executive director since 1991.
Gilbreath believes strongly that "we all have to create an environment around us individually that values arts and that supports artists." In many ways, this means keeping it local. Earshot has developed partnerships with community organizations such as the Seattle Art Museum, the Seattle Drum School, and the Seattle Jazz Experience. Furthermore, close to 70 percent of Earshot Jazz Festival concerts are performed by local musicians, serving as a catalyst for resident artists to reach a bigger stage.
"I love to create projects with jazz artists who came up in Seattle and have moved away to develop their art," said Gilbreath. "Often times it is young artists who have left Seattle for the jazz mecca of New York City. It's great to bring back people like Chris Speed, Anne Drummond, or, this year, the Westerlies, hear their current work, and team them up with old classmates and colleagues." The festival serves as a sort of homecoming event for these acclaimed artists, and allows them to remain integrated in the community that helped give them their start.
But even as it celebrates established musicians, Earshot is committed to nurturing the art form's future. The organization has an extensive educational commitment, including artist residencies with high school jazz bands, instrumental summer programs for middle-schoolers, and jazz history lessons and performances by older musicians for school groups. Earshot also schedules daytime workshops with musicians during the festival that are free and open to the public. "The best thing that we can do is to keep fertile the ground that would nurture new jazz artists, young jazz artists, any one of whom could go on to be the next Ornette Coleman or a major influence in the future of the music," said Gilbreath.
Perhaps this dedication to young musicians in part explains a new trend among Earshot Jazz Festival audiences: an increased percentage of young concertgoers. Gilbreath credits this increase to the ability of young people to reject preconceived notions of what jazz is or is not, and their tendency to absorb various types of music as well as performance options. In order for Earshot to remain relevant in a music world that is ever changing, they must be flexible in their approach. "Because we are flexible, we can make adjustments as we go," he said. "It's kind of what jazz is all about: being responsive to the environment that you're playing in and willing to change up your approach so you can be more effective in it."
The NEA has also been responsive to the environment, starting with its first jazz grant in 1969 (to future NEA Jazz Master George Russell) to awarding nearly 100 grants totaling more than $1.8 million in jazz funding in 2014, supporting organizations such as Earshot for their annual jazz festival as well as educational programs such as Arizona Classic Jazz Society's in-school musical education programs at five local elementary schools. The NEA Jazz Masters awards have honored significant artists in the field since 1982, including such jazz legends as Dizzy Gillespie, Miles Davis, Ella Fitzgerald, Anthony Braxton, Eddie Palmieri, and Carla Bley. Through its funding, education, and promotion, the NEA is committed to ensuring that this essential American music continues to thrive.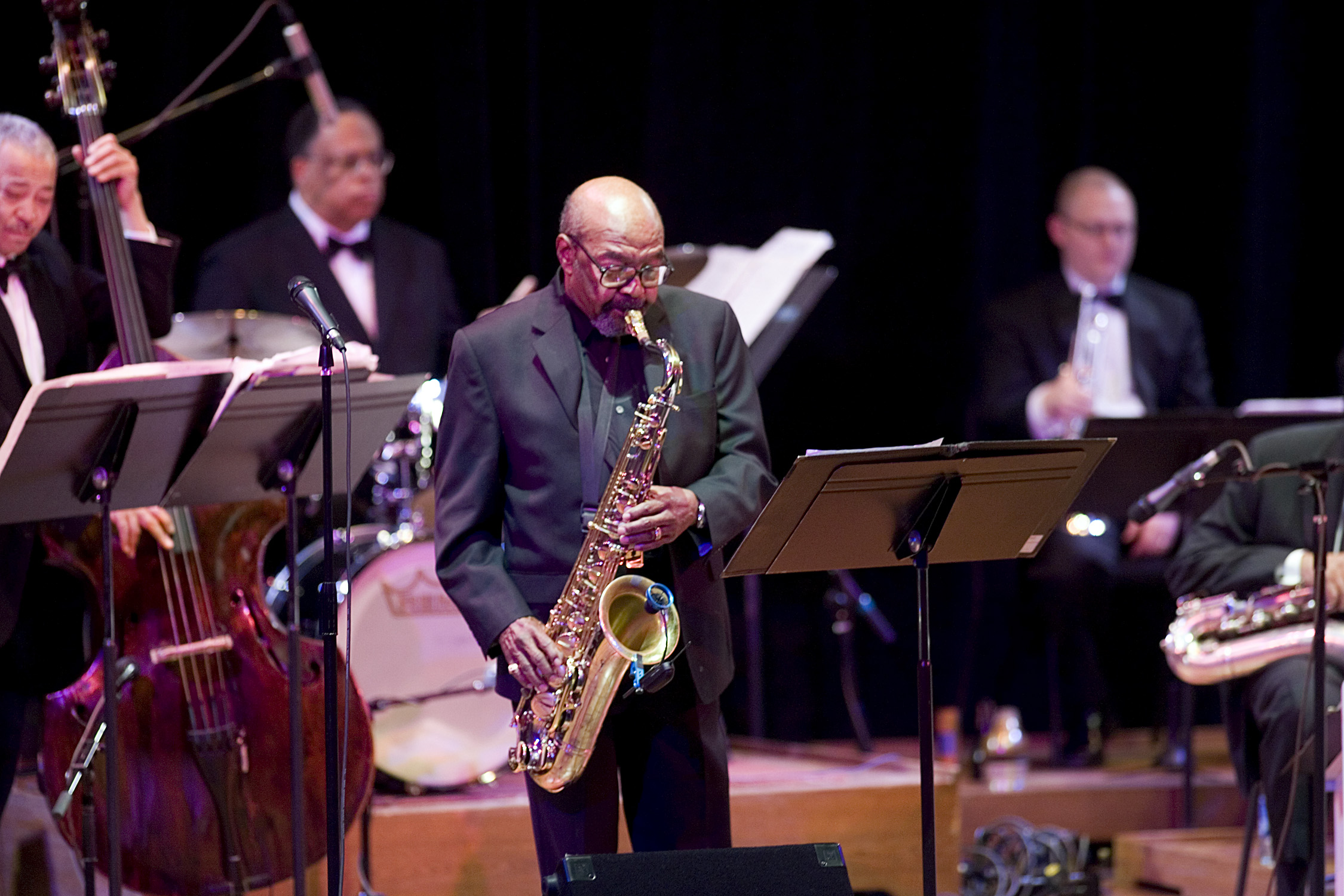 In fact, in 1990 Earshot Jazz received an NEA Jazz Management grant that came at a time when the young organization was shaky. Earshot began when journalist Paul de Barros and radio host and concert producer Gary Bannister grew frustrated with local jazz coverage by the Seattle Times (where de Barros is now a music critic). Sensing a decline in the city's historically vibrant jazz scene, the pair sought to reinvigorate the community. They began organizing concerts in 1987, and their first weeklong festival was held in 1989. By 1990, according to de Barros, Earshot "probably would have gone the way of so many idealistic nonprofits with lots of heart but no sustainable budget and dissolved altogether" without the NEA support.
Earshot has continued to grow over the years under Gilbreath's direction and is ensuring that jazz continues to thrive in Seattle through its engagement with the community. By keeping community engagement as a priority, Gilbreath reasons, there are two main outcomes: "One, we can help shine a very positive light on Seattle's our own artists in the context of the world stage; and, two, we can bring a world of jazz to our own community, presenting new ideas from artists who are re-thinking the possibilities for the art form and honoring the jazz tradition of creative progression."