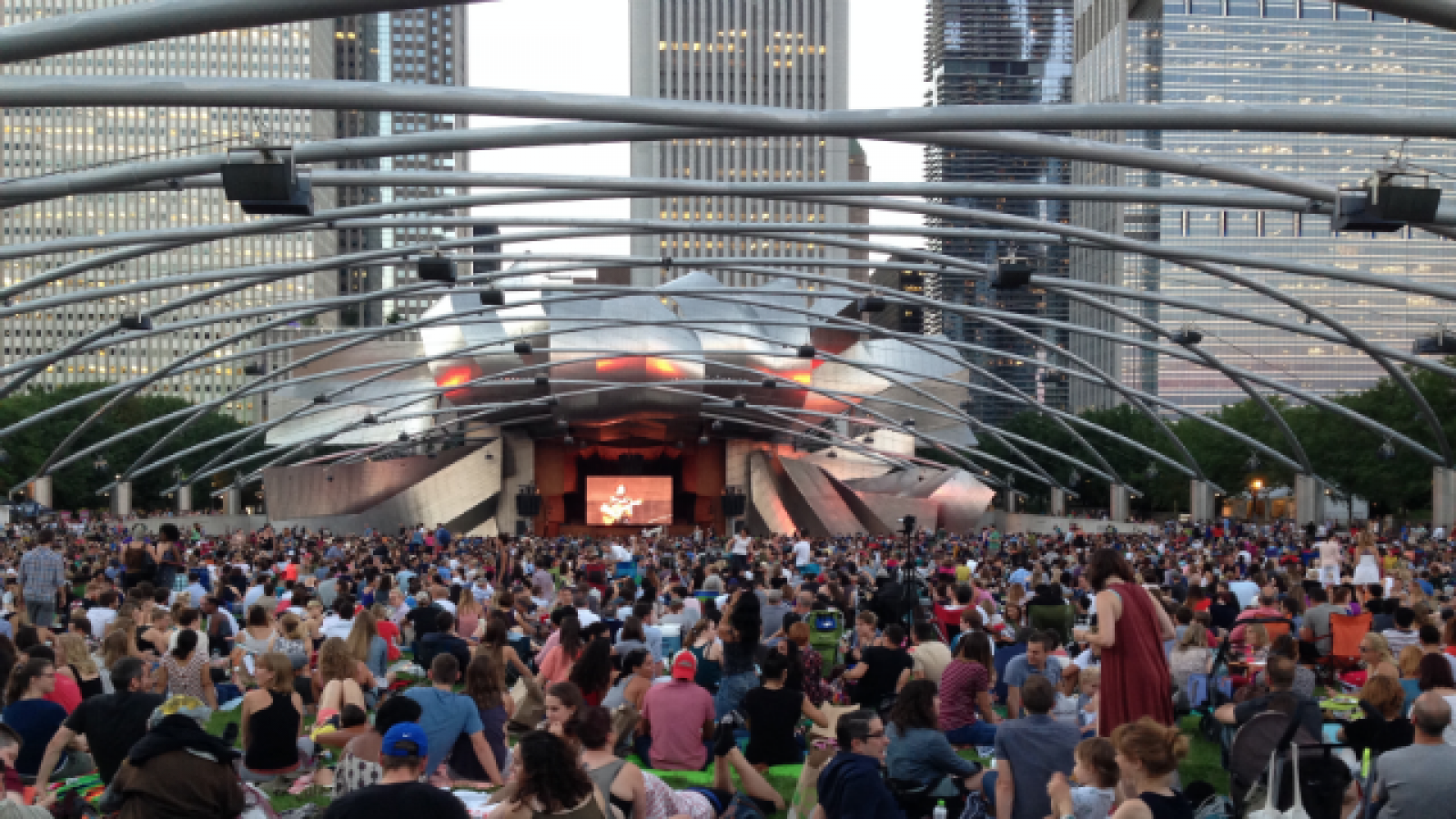 Think about your favorite concert: The sound of your favorite artist's voice. The people around you, dancing and cheering. The infectious energy. Your own voice, singing to whatever familiar song was playing at the time. It's easy to remember those elements of a live performance. But what about all of the other elements that made your concert experience magical? Do you remember the lighting? Do you remember the audio system, tuned to perfection? Do you remember the visuals?
Most people don't remember or even notice these details, but they are essential to the quality of live performance. These are the details that define Dayna Calderón's career. Calderón is stage manager for the Pritzker Pavilion in Chicago's Millennium Park, a venue known for the quality of the live performances it produces. Since it opened in 2004, Millennium Park has become one of Chicago's main artistic hubs, boasting fantastic public art and free performances. Right now, the park is filled with people ice-skating and participating in holiday events. However, in the warm months, the park's open-air, Frank Gehry-designed Pritzker Pavilion presents about 80 outdoor concerts per season.
As stage manager, Calderón is the production force behind these live performance series. During her time at Millennium Park, she has produced events ranging from the annual Chicago Gospel Festival to Soul Train's 40th Anniversary Celebration. She is responsible for every aspect of these live performances, from pre-production to final bows. Each performance requires a detailed list of items needed and schedules for the production team and the artists. Most importantly, a team effort is required to guarantee the successful execution of the event. 
Calderón's passion for production came from her experience producing live radio broadcasts. "I loved the whole live element of it," she said. "I loved what could possibly happen. Either your system will go down or a show will be cancelled or the artist isn't showing up. I live for that kind of controlled chaos."
She eventually took a job with the Old Town School of Folk Music—a frequent NEA grantee—where she started producing live performances. This eventually led her to work for Millennium Park. In addition to the 80 shows she does per season at the Pritzker, she also works on other music festivals and smaller performances as an independent contractor, including NEA-funded events such as the Make Music Festival.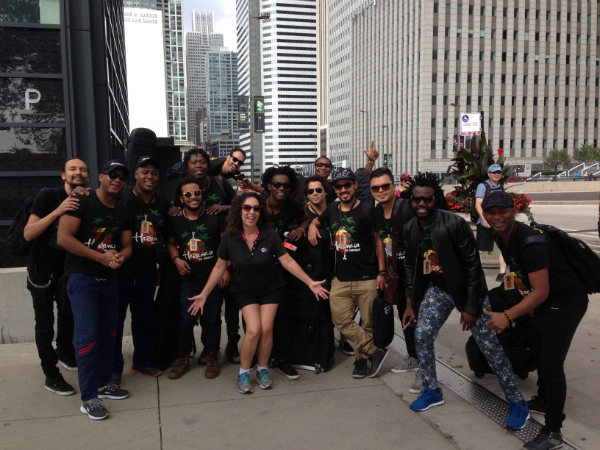 When asked what her typical day looks like, Calderón said, "It depends on the day." If an event is in pre-production, she first has to review an artist's technical and hospitality requests, known as "riders," to make a list of what needs to be provided for the artist. This means everything from ordering the proper equipment for the band or artist to requesting culturally specific dishes from the caterer to making sure the dressing rooms are comfortable.
Calderón considers this type of hospitality an essential component of successful stage management. "I want every band to leave the Pritzker Pavilion saying, 'That was the best experience I've had on my whole tour.' That's my goal. We've got the stage set for them ready to go. We've got a good meal waiting for them. We've got some nice facilities backstage for them to rest. We're keeping them on track so they don't have to be watching their clocks. It's a lot of logistics along the way about what needs to be done. But it's definitely giving them a little bit of mothering when they get there."
During a long tour, when artists are away from their families and sleeping on the road, this type of treatment is greatly appreciated. It can also help smooth things over when an artist's requests cannot be fulfilled. "If we can't get the amplifier that they really, really wanted and they complained about it the whole way, you give them a good meal and all is forgiven," she said. Other times, it's a matter of communication. "[It's] going back and seeing who can make a compromise on a number one keyboard to a number two keyboard, for instance. It's talking people through, you know?" Calderón is prepared for these challenges and truly enjoys the pace of her work.
Finally, all of the planning culminates into one final event, and the schedules, logistics, and preparations are put into action. Those days are quite a bit more hectic than pre-production. She explained, "It's confirming your catering is coming in time. It's confirming that the backline rental is arriving on time, and as soon as it gets there checking it off, making sure it's the right order. And if something is missing, calling it in right away, making sure it's all in working order. If it's not working, we'll figure it out. It's working with the stagehands and making sure they've got their stage plots, helping to set up and [plan] how we're going to make our changeovers smooth. We only have 15 minutes between bands."
Although she is responsible for organizing the major elements, Calderón credits her team with an event's successful execution. "It's pretty much everybody involved in it. It's the caterer. It's the maintenance. It's the monitor engineer. It's the people who are supplying our backlighting. It's definitely the stagehands and the audio crew and the people who program [the event], who work so hard. The people in marketing. It's a lot of moving parts." This teamwork is one of the things that Calderón enjoys most about her job.
But even with foolproof planning, challenges always arise. One specific challenge of producing events at Millennium Park is the weather. "We're a slave to the weather," said Calderón. "But it is rain or shine, until it gets dangerous." Even on the most perfect of summer days, there is also the daily noise of urban living: the sirens, buses, and occasional rehearsals for air and water shows on Lake Michigan. Although she noted these sounds can be distracting for unamplified performers, such as an orchestra, she said, "Those are things that we deal with. We're not going to cancel a show because of this."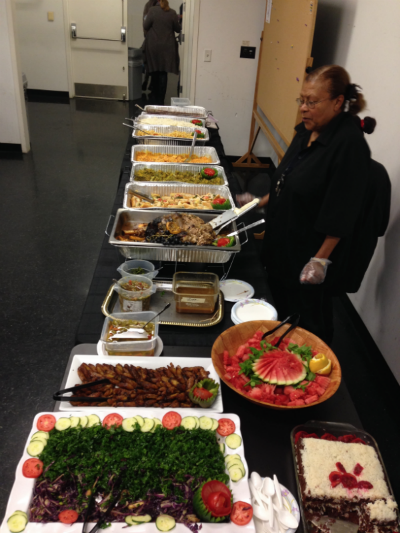 Certain events require more facilitation to properly execute, like the Chicago Gospel Festival, which Calderón said is one of the most challenging events she handles. "But believe it or not, it's my favorite festival, because it's dealing with so many people," she said. "We're talking about 100-plus voice choirs—not just one a day, several a day. It's coordinating all of those different tech riders from about five bands per day for a three-day period. And just dotting every 'i' and crossing every 't' and making sure you've got that right equipment." There are buses to park, backstage security lists to update, and space to find for the choirs before they perform. "But when that first beat hits, it's gospel in its glory," she said. "I can't help but smile and jump up with the spirit."  
Multivenue festivals present their own unique challenges as well. "You have to look at your schedule every day and [think] where am I today? Where are the shows today? Where's all of our equipment going? I set a lot of alarms," she laughed, which remind her what needs to happen and when.
If possible, one of Calderón's rituals during each performance is sitting out in the audience to get the full experience of the show. "I think my favorite moment is being out there in that audience," she said. "I make it a point to go out there to look at the audience. It's always such a great feeling to be out there to see people of all different ages, different ethnicities, races, economic backgrounds, older seniors to children. The different way people react to music is interesting to me."
Even with all of the challenges that come with the work that Calderón does, she enjoys her work and appreciates the opportunity to work in her industry. "I am blessed," she said. "I have a great gig. I couldn't think of anything else I would rather do."