When the Shoe Fits, Dance In It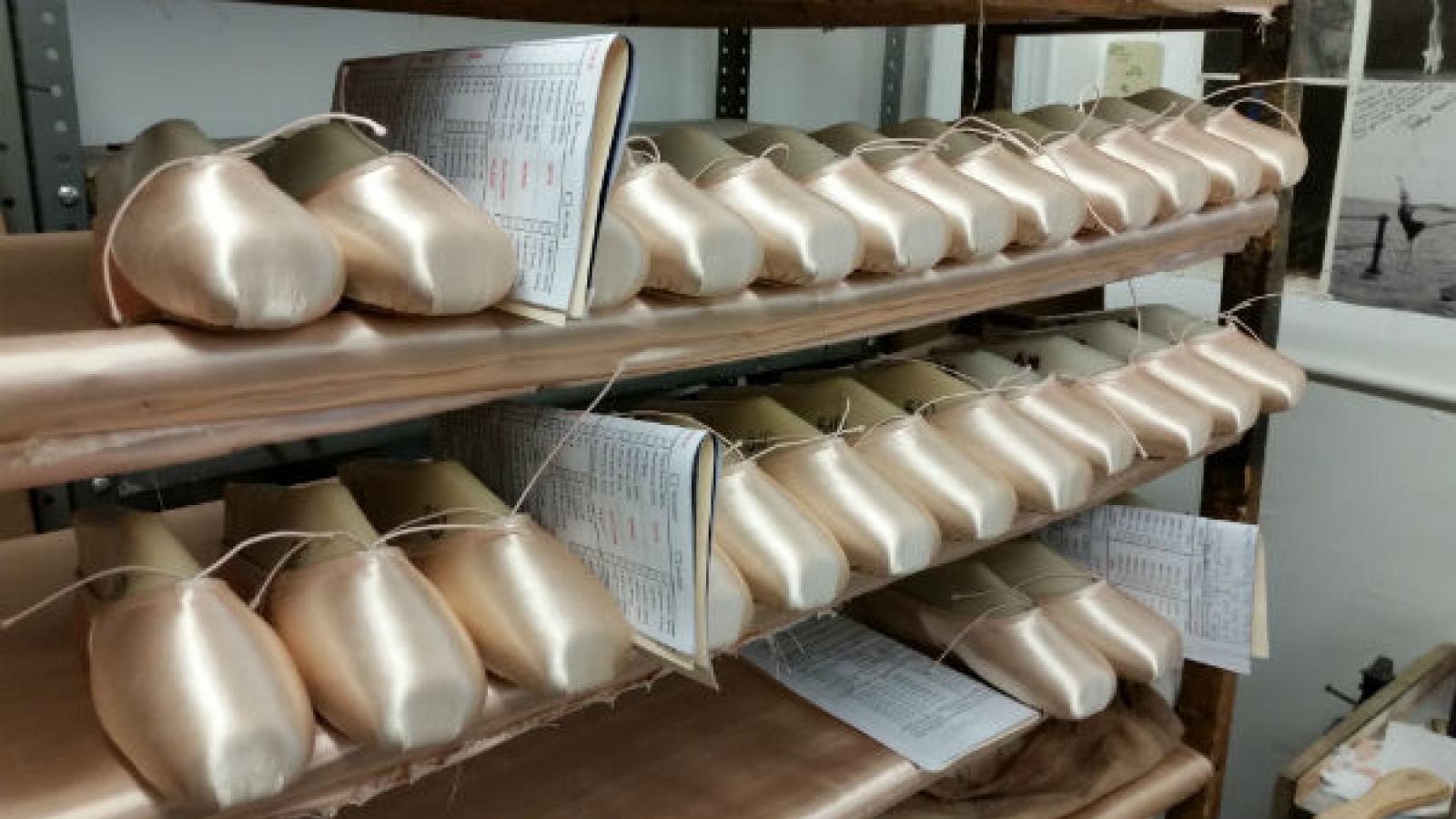 Ever since 1796 when choreographer and inventor Charles Didelot attached wires to French dancers so they could skim the stage before actually leaving it, ballet dancers have tried to appear ethereal by rising to their toes. However, it would take many decades for the soft slippers and wires of Didelot's time to evolve into the pointe shoes that allow dancers not only to rise to their toes, but to stay there.
Today, pointe shoes have become a ballet dancer's most important piece of equipment. In addition to suggesting lightness, they significantly extend a dancer's range of motion, affording greater spin, speed, and visual interest as well as dramatic possibility. Pointe shoes are largely made with the same materials as decades ago—layers of fabric, stitched together and hardened by glue with a leather sole and satin cover. Shoes are handmade, one by one, by cobblers in a process that evokes tradition, craft, and unheralded artistry.
Tony Sousa is one such cobbler. He plies his trade in a shoe factory in Little Falls, New Jersey, that is managed by Capezio—one of only a handful of pointe shoe manufacturers worldwide. The company has been in the dance shoe business since 1887 when Salvatore Capezio opened a theatrical shoe repair shop near New York City's original Metropolitan Opera House.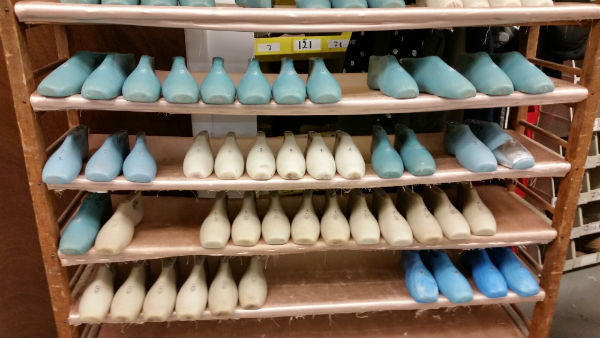 Sousa has been making pointe shoes for Capezio for 31 years. Originally from Portugal, he was hired by Capezio despite not having shoe-making experience, learning his craft on the job. It takes at least two years of training before a cobbler can specialize, becoming a "maker" for individual dancers.
The importance of such a maker is immense. In her book, Winter Season: A Dancer's Journal, author and former New York City Ballet dancer Toni Bentley said, "We each have a 'maker' designated by his mark on the shoe. I have Y, and there is a frightening rumor around that Mr. Y is dying or retiring. Well, we Y devotees are at a real loss. Some of us have already been given P—such messing around with our shoes…is not taken lightly!"
At Sousa's station at the factory, there are shelves of completed shoes and shoe lasts (the internal foot-like form) on one side and a small table in front with a nail gun, a bowl of flour-based paste, and a variety of knives and implements.
Needless to say, it's not your usual factory setup. The size of the pointe shoe market—a niche among niches—has been an advantage in a technology-driven world where individual handcrafting regularly falls victim to machines. Paul Plesh, the senior product line manager for Capezio who develops pointe shoe styles, said, "We are cognizant of the possibility for automation but it would be difficult to recover the costs from an initial investment. We're happy with the way we are doing now. As business grows, I train more people, and with more shoe options, there's greater opportunity for specialization." Currently, Capezio offers 17 shoe styles, each with different characteristics intended to suit a range of feet and structural preferences. Of course, each style requires its own precise type of craft and construction.
In his position, Plesh—who previously danced with the Pittsburgh Ballet Theatre and Boston Ballet—wears many hats, which includes traveling to schools, companies, and dance retail outlets to do fittings. When Plesh does a fitting, he looks for a number of things. "First I look at the shape of the foot. That will tell me the best shoe style in terms of width and shape, whether that's broad, moderate, or tapered. We'll ask them to point their foot to see their arch to determine which shank strength will be appropriate. Also, you can tell a lot by looking at a dancer stand on pointe and seeing her alignment."
These kinds of measurements are also part of custom orders from professional ballerinas that go to Sousa. Measurements are detailed in a shoe order or ticket, laying out exact specifications regarding the height of the heel and sides, width of the toe box or vamp, type of shank supporting the arch, and other requirements. With every shoe he creates, he adds his mark, number 7, to the inside lining. Quality and consistency are his and every maker's hallmarks. Each custom order must be absolutely, exactly the same. Any deviation can ruin a performance.
Sousa makes 40 pairs (80 individual shoes) per day to keep up with dancers' needs. Warm air from the dancer's foot (as well as humidity and air temperatures) plus the constant flexing and weight-bearing involved in pointe work quickly wreak havoc on a shoe's constitution. Although a student can hang on to a pair of pointe shoes for months, professional dancers can go through a pair in one night's performance.
Each pair is made using a turnshoe technique wherein a shoe is made inside out and then turned right side out for the final stages. When shoes are new, there is no distinction between left and right, nor are there any ribbons or elastic. Those must be sewn on by the dancer herself. 
Sousa starts with three pieces of cut satin sewn together with a cotton lining, resembling a flat pink collar. Then he pastes layers of cotton in descending sizes below the satin cover forming the all-important box of the shoe, where the toes will go. Next, he takes the appropriate-sized last and nails a leather outer sole to the bottom of it, slips the glued fabric piece over it, and pulls the fabric into very tight pleats at the back of the shoe's tip.
Next Sousa stitches the shoe at a fierce, chattering sewing machine that secures the fabric to the sole. Back at his station, he releases the nailed sole from the last, pulls the shoe off, and turns it. He then places the shoe, now outside out, back on the last, and pounds and shapes it with smooth-headed mallet. Finally, an interior shank and cotton liner are glued and nailed into place before the toe box gets a final shaping. He works quickly but is constantly eyeing, touching, and testing to make sure everything is right.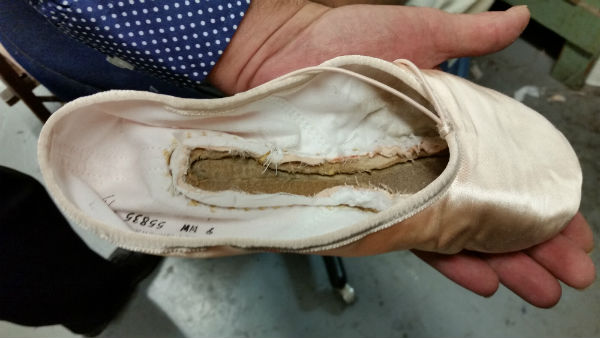 Sitting across from Sousa is fellow maker Serafim Mendes. Also from Portugal, Mendes has been making Capezio shoes for 33 years as maker 17. Among the dancers who rely on maker 17 is Stella Abrera, a principal dancer with American Ballet Theatre.
"During my busiest performance seasons, I can wear through two pairs in a day," said Abrera. "That means I spend up to an hour transferring ribbons from old pair to fresh pair. This task could be tedious were I working with lesser shoes, but Serafim's are little masterpieces, and I enjoy holding my beautiful [pointe shoes] in my hands almost as much as I do wearing them."
Abrera recently had the pleasure of meeting Mendes, something that rarely happens between dancers and makers. "Everything about him seems deliberate and meticulous, from the manner in which he chooses his words to his approach to cobbling," said Abrera. "Even before we met, I felt connected to him in a powerful way. I'll never cease to marvel at Serafim's craftsmanship and artistry, nor to appreciate having met the man. After all, how many violinists can say they got to hug Signore Stradivari?"
For both makers and dancers, their job is their art. Each is proud and committed to their work, respects tradition, strives for perfection, and even suffers injuries whether from slipping on stage or slipping with a shoemaker's knife. Plesh noted, "There is such a romance between the dancer and their maker. Dancers hold makers in such high regard because they couldn't do their art without them."