The Lyric Theatre of Oklahoma: Of the People, by the People, and for the People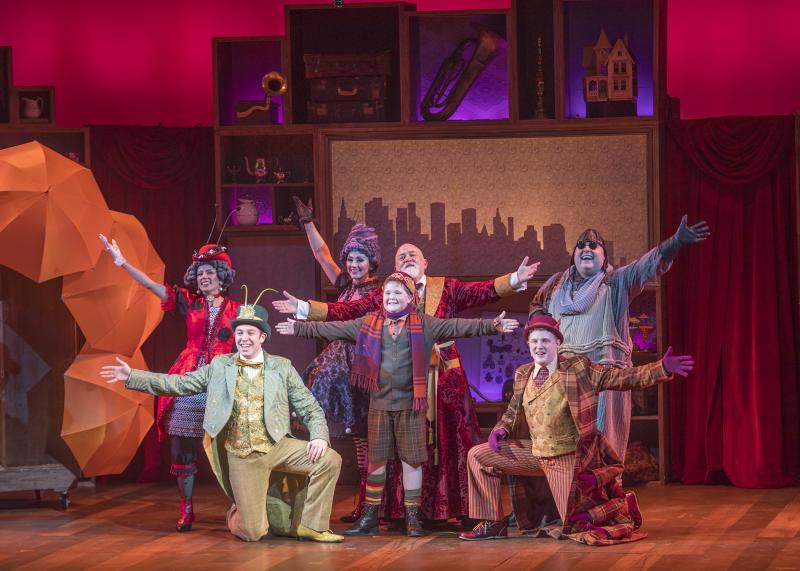 The Lyric Theatre of Oklahoma in Oklahoma City regularly receives organizational support from the Oklahoma Arts Council, the state arts agency, which receives part of its funding from the National Endowment for the Arts. So, both state and federal money impacts the theater's operational expenses and many of their productions, like a recent mounting of Roald Dahl's James and the Giant Peach. For two special performances of this show, the Lyric also received an Arts Endowment grant—their 14th since 2001—to provide free and reduced tickets to area students and develop sensory-friendly performances for children with autism, Asperger's, and other special needs. According to Producing Artistic Director Michael Baron, "In almost every case, it was the child's first experience seeing live theater."
To mount James and the Giant Peach, the Lyric Theatre partnered with Adventure Theatre, a veteran producer of theater designed for young audiences with a long history of producing sensory-friendly performances. [In fact, Adventure Theatre's Artistic Director, Michael Bobbitt, pioneered this kind of work]. 
I spoke with Michael Baron and Marty Scantlen, an Oklahoman mother of two autistic children, about the impact of accessible live theater—something that's vital to a number of communities across the United States.
THE LYRIC THEATRE OF OKLAHOMA: OF THE PEOPLE, BY THE PEOPLE, AND FOR THE PEOPLE
Michael Baron: We always get money from the Oklahoma Arts Council and part of that money comes directly from the NEA. They get an allocation as the state and so we do get some of that money. That happens every year luckily.
ADAM KAMPE: THAT'S MICHAEL BARON, PRODUCING ARTISTIC DIRECTOR OF THE LYRIC THEATRE OF OKLAHOMA IN OKLAHOMA CITY. THE LYRIC REGULARLY RECEIVES ORGANIZATIONAL SUPPORT FROM THE OKLAHOMA ARTS COUNCIL, THEIR STATE ARTS AGENCY. AS MICHAEL MENTIONED, A PORTION OF THE MONEY AWARDED BY THE STATE ACTUALLY COMES FROM THE NATIONAL ENDOWMENT FOR THE ARTS. SO, BOTH STATE AND FEDERAL MONEY IMPACTS THE THEATER'S OPERATIONAL EXPENSES AND MANY OF THEIR PRODUCTIONS, LIKE A RECENT MOUNTING OF ROALD DAHL'S "JAMES AND THE GIANT PEACH." FOR TWO SPECIAL PERFORMANCES OF THIS SHOW, THE LYRIC ALSO RECEIVED AN ADDITIONAL NEA PROJECT GRANT TO GIVE KIDS WITH SPECIAL NEEDS A CHANCE TO SEE LIVE THEATER.
MICHAEL BARON.
MB: Every year we usually do apply to the NEA for a project grant that usually involves new audiences. We're doing a lot of outreach and inclusionary efforts as far as the deaf community and the autism community and minorities in the state. So we applied to the NEA for "James and the Giant Peach" to provide sensory-friendly performances as well as discounted or even free tickets to Title I and kids that don't usually, kids and families that don't usually get to come to the theatre.
AK: FAMILIES LIKE MARTY SCANTLEN'S FROM NORMAN, OKLAHOMA. SHE HAS TWO CHILDREN ON THE AUTISM SPECTRUM. HER OLDEST SON, ISAAC, IS FOURTEEN-YEARS-OLD AND IN THE SEVERE AUTISTIC RANGE.
Marty Scantlen: He can't really convey his needs very well to us and we can't engage in normal conversation. Basically, he only answers in yes or no questions.
AK: UNTIL LAST MONTH ISAAC HAD NEVER SEEN LIVE THEATER. MARTY HAD NO IDEA IF HE'D BE INTO IT.
MS: I didn't want to ask him too far in advance because he might get nervous about it. So I asked him the morning of the performance if he'd like to go see a play, and he said yes even though I don't think he quite knew what that meant.
AK: MICHAEL BARON
MB: We partnered with Autism Oklahoma and with them we figured out during the show how we would change the show for these specific performances that do cost extra money but are worth it to make them feel welcome.
MS: Well, the main one for us is that the volume is not too loud on the music. That's something my son's really sensitive to. He's sensitive to sounds.
MS: The content didn't change but the lights. We took out all the flashing gears; we lowered the volume. It's a musical, "James" is, so right before the song ended when there would be applause we had ushers holding up glow sticks so that the parents could cover their kids' ears if that kind of loud noise would distract the child or make them uncomfortable.
MS: Another difference is, they don't turn the lights all the way down. So we could basically see each other. It wasn't too dark in the theater. We could see everyone else in the audience. So that was good, for it not to be too dark. That way, it wasn't too intimidating for my son or anyone else in the theater.
MB: And before every show the best part was I made sure to tell them, "It's okay if your kids make noise, if they're loud. It's okay if they need to get up, if they walk around.
MS: Children with autism tend to make sound. They maybe talk to themselves, mutter to themselves, or hum, or maybe there's occasional hand-clapping. And so, in a regular theater environment, you might not feel comfortable taking your child to that because you don't want them to be a distraction to other theatergoers. But at a sensory-sensitive production, we didn't have to feel uncomfortable, in case my child made a sudden sound or was humming to himself or something like that, because the other children in the theater were doing things like that, too.
MB: All of that we expected. The actors know that's going to happen and we welcome it and you don't have to be embarrassed; you don't have to leave the theatre. You're amongst friends and family here and we really want you to enjoy live theatre.
Overture excerpt
MS: One of the great things about this performance was that it gave us a chance, gave me a chance to see how Isaac would do in a theater, to see a performance like this. That way, I could see if he could possibly go to a regular production or not.
He liked it. He enjoyed it very much. Very emphatic yes, so that means he enjoyed it quite a bit. So that's good.
MB: The great thing about the show though: It's actually a really good show and not just I-- 'cause I directed it but it's well written. Pasek and Paul were the composers who won the Academy Award for "La La Land" so they wrote the songs, which are really, really fun, and it's a really great adaptation of the show. I think most of the audiences laughed and there were some tears; it's very touching. So it's not just theatre for young audiences and for families and for children but it actually is good theatre and it's an accurate portrayal of what theatre can do as opposed to a cartoon on stage or something that talks down to the kids and the families.
MS: That makes me, as a parent, feel really special because it makes me feel like my children are included. And so I'm excited to take him to more performances.
MB: Well, and the great thing about the NEA and the funding that they give is they allow us to do these special projects and the exciting thing is that now we've done it once we're definitely doing it again next season with another show, and the woman who organized the special-needs kids from one of our schools said, "I have access to a whole county of schools and each school has a classroom of these special-needs kids and next year we would all love to come." So now that it's in place the key is to continue it.
James and the Giant Peach hot, fade out.
Special thanks to Michael Baron and Michael Bratcher from the Lyric Theatre of Oklahoma and to and to Marty Scantlen for sharing her family's story.
For the National Endowment for the Arts, I'm Adam Kampe.
Sound and Music Credits:
Excerpt of Roald Dahl's "James and the Giant Peach," with music/lyrics by Benj Pasek and Justin Paul, used courtesy of the Lyric Theatre of Oklahoma.
Excerpts of Curious Case, PolyCoat, and Milkwood from The Cabinetmaker by the Blue Dot Sessions, used courtesy of Creative Commons and found on WFMU's Free Music Archive.