Opening Eyes, Opening Hearts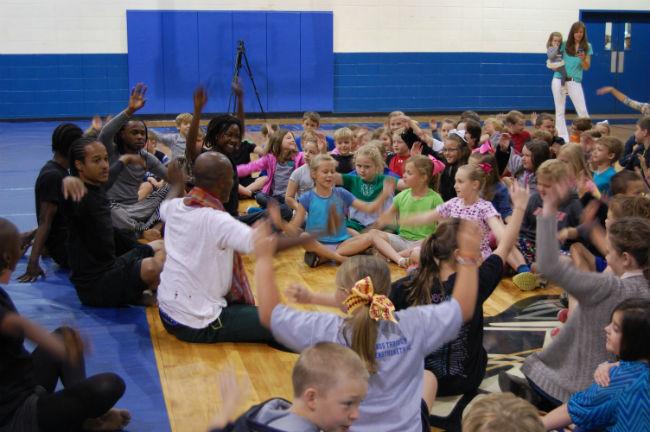 When Karen Berman arrived at Georgia College to chair its department of theater and dance, it was something of a shock to her system. She had arrived from Washington, DC, where she said the arts "are everywhere... It's in the air, it's in the wind." But in the small town of Milledgeville, Georgia, the college is one of the few providers of theater and dance throughout a multicounty area, a region largely made up of low-income, rural communities.
Needless to say, when the school invited Ayikodans, considered Haiti's premier dance troupe, to serve a residency at the college in April 2016, it was a rare opportunity for students and Milledgeville residents to experience international dance. In fact, staff believe that the dance company was the first international guest artist ever to perform at the school, allowing the community to experience an art form that they may not otherwise have had access to. "I've seen Baryshnikov; I've seen Nureyev; I've seen Alvin Ailey," said Berman. "For these students to be able to watch this caliber of dance here in Milledgeville, Georgia, was just incredible."
The school received funding from a 2016 National Endowment for the Arts Challenge America grant to arrange the dance residency as part of a multidisciplinary symposium titled "The Symposium on Performance of the African Diaspora as Social Change." It was one of four grants the NEA has awarded to Georgia College since 2010, which have supported projects that provide better access to dance in this rural area.
The symposium included various panels, workshops, and performances, and commenced with a presentation from Atlanta-based author and playwright Pearl Cleage. Cleage helped introduce the symposium's theme of how the arts can be used as a catalyst for social change in diversifying and culturally enhancing a  community. "The outcome of this was all about diversity of culture and learning and experiencing something we never have before," said Berman.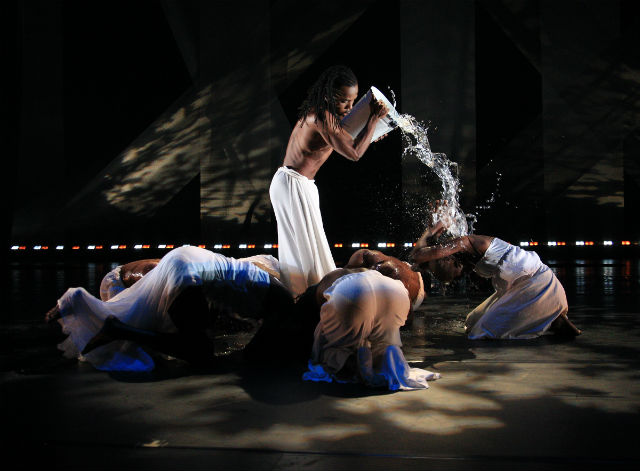 Ayikodans made the symposium's themes tangible through master classes for Georgia College students, a public performance, a matinee for local students in grades K through 12, and yoga and improv workshops, all of which were free of charge. Founded in Port-au-Prince, Haiti, in 1988, the contemporary dance company is rooted in tradition, and was established to allow both men and women the opportunity to express themselves. Esteemed choreographer and Founding Artistic Director Jeanguy Saintus Riché was "delighted" to participate in the Georgia College residency, and described how it gave his company the chance to share real Haitian culture with the rural Georgia community.
"The information [people] usually have about a little country like Haiti—we're talking about poverty, misery," he said, referencing the hurricanes, earthquakes, and political upheaval that have garnered international headlines over the past decades. "They don't know that we have artists, we have great dancers, we have choreographers, and we have dreams like people have anywhere else." Thanks to the residency, he said, "People have better information about Haiti, about dance, about artists, and how we should enter art with each other as human beings."
Berman agreed, noting that the residency helped reveal the humanity beneath the headlines. "When you watch Ayikodans, you see the struggle in Haitian history," she said. "They bring that to life. It rips and tears at you. You see their history and their culture, and their joy and sorrow. It's a new way of teaching history, a new way of teaching culture. It's a way to reach young people that's different from sitting in a class and reading about something. It's very affecting and kind of life-changing."
But even as residency audiences gained new appreciation for Haitian culture, light was also shed on commonalities between Haiti and Milledgeville, said Kristi Papailler, the grant's project director and former assistant director of acting and directing at Georgia College. For instance, she noted the tight-knit families, economic hardship, and strong work ethic commonly found in rural communities, as well as a shared appreciation for the arts.
"In these rural communities [in Georgia], we have this really rich tradition of storytelling, as well as creating art that also helps to tell the story," she said. "Haiti has a very rich culture of those things as well, like dance, storytelling, and visual art—being able to communicate in a very particular stylized way." These commonalities, along with Georgia's sizeable Haitian population, allowed Milledgeville residents "to make some connections around socio-economic status and see that the material wealth one might have does not define who you are or the value of your expressions," said Papailler.
Saintus noted that the arts provide another cultural necessity for both communities: a means to keep dreaming. "Underserved communities— they don't have hope," he said. To counteract this, he established a scholarship program at the Ayikodans' affiliate dance school that allows Haitian youth to enjoy free dance training, while Georgia College has a strong focus on community engagement, providing free performances and dance and theater classes to area youth.
But providing access to Ayikodans helped create another level of possibility for Milledgeville students, and encouraged them to imagine what they could achieve. "It allows youth in our communities in middle Georgia that may not otherwise have had access to this international dance company to start dreaming," said Papailler. "You know, 'I can do this dance right here in Georgia,' or 'Maybe one day, I will be able to travel around the world through dance.'"
Berman agreed. "The importance of having a professional company come to raise the bar, to give us new expectations and insights for our students—it's just an incredible and inspiring opportunity," she said.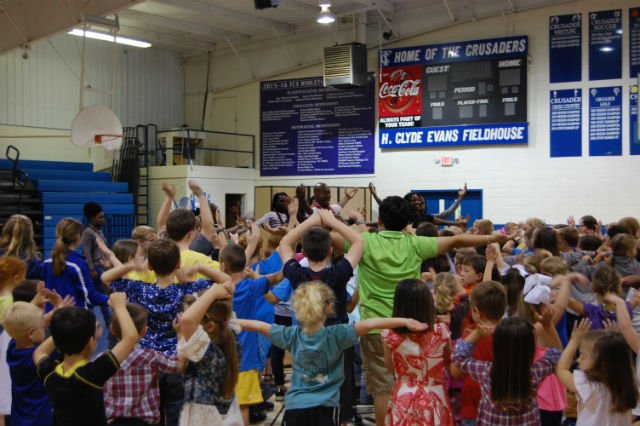 Regardless of dance aspirations however, Papailler said that experiencing Ayikodans was empowering for the community-at-large. "It was particularly impactful to the audience because of the mastery and the beauty, just the excellence of what Ayikodans does on a stage," she said. "You are able to watch part of the human experience that connects you to the present moment as well as affirms the possibilities for your own personal [experience and] the collective human experience."
Although affirming cross-cultural, collective human ties was the wider goal, the residency also connected audience members with people who were much more familiar: their neighbors. "You have community members seated together that may not necessarily be sitting together otherwise," said Papailler. "You have a community that's then united in sharing space and appreciating this artistic expression that's new to everybody in the room. That becomes powerful."
It can also become infectious. Berman described one of the shows Ayikodans performed for elementary school children, which Saintus concluded by calling all 450 students down from the bleachers. With singers, dancers, and drummers creating what Berman described as a Carnival atmosphere, the children participated in a call-and-response dance and snaked through the gym in conga line fashion. "One little child, a first-grader, came up to me and looked in my face and said, 'This is the best field trip I've ever gone on!'" remembered Berman. "She wasn't even on a field trip! She was in her own auditorium! But she had been swept away. They were swept away to another world, to this Haitian Mardi Gras."
Although Georgia College's plans to establish a study abroad program in Haiti were canceled following Hurricane Matthew in October 2016, the school instead launched a fundraising drive to provide aid for the country. It was the type of gesture that seems to suggest the compassion and connection that the residency set out to accomplish. Berman is hopeful that arts experiences such as these will continue to have profound effects.
"We're trying to open eyes, open doors, open hearts. We're living in a world where there is prejudice and bias," she said. "What I want my students to walk away with is, first of all, empathy. I want them to have understanding. I want them to embrace all races and genders and religions and have an appreciation for other cultures. I'm trying to bridge cultures, bridge communities, give people new insights, break down barriers."
Grace Schaub was an intern in the NEA Office of Public Affairs in summer 2017.