Weaving the Sweetgrass Braid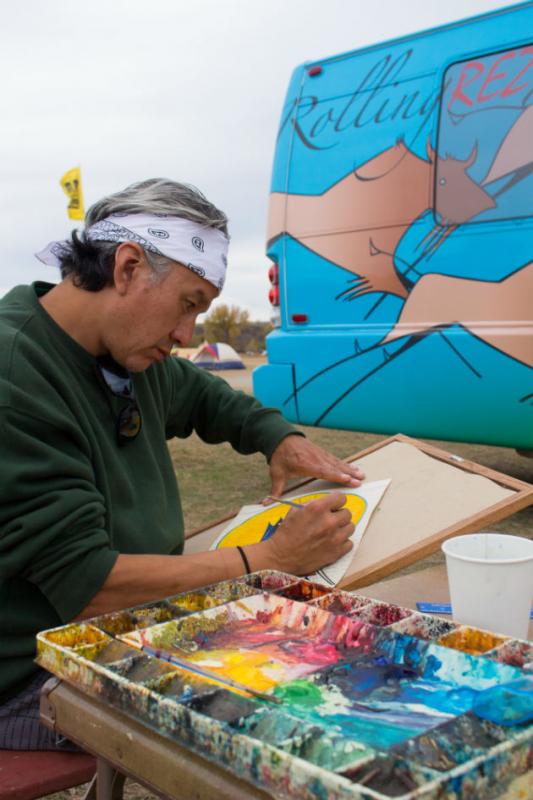 The Pine Ridge Indian Reservation in southwest South Dakota is big. At 3,469 square miles, the reservation is more than three times the size of Rhode Island's land mass with only 16 percent of the population of that state's capital, Providence, spread across the reservation's expanse. Eighty percent of residents are unemployed with 98 percent living below the federal poverty line. To say it is underserved is as vast an understatement as the breadth and beauty of the land.
And yet, the reservation has abundant artistic resources. A force in nurturing those resources is First Peoples Fund (FPF) based near Pine Ridge in Rapid City. Founded in 1995, the organization is committed to supporting Native-American artists, showcasing their work in all its variety, and channeling their creativity towards economic and social empowerment. Since 2007, FPF has been a regular NEA grantee.
Patrick Baker, director of the South Dakota Arts Council, cites the value of FPF in the council's efforts to serve those on Pine Ridge. "First Peoples Fund has become an effective and reliable way for the South Dakota Arts Council to help support some of the most underserved artists and communities in the entire state. It is heartening to know that the council's investment in First Peoples Fund will ultimately advance the interests of Native artists living on the Pine Ridge Reservation."
ENTER ROLLING REZ ARTS
One way of advancing the interests of Native artists in such remote places is to bring services to them instead of having artists travel to the services. Enter Rolling Rez Arts, a mobile artist studio, classroom, bank, and marketplace that travels across the reservation. A tricked-out airport shuttle bus, it features contemporary images of charging buffalo on its exterior, created by FPF artist alumni and teacher Don Montileaux, a member of the Oglala Sioux Tribe. Inside the bus are tables for workshops, computers with design and film editing software, cameras, a cash register, a safe, and, very important in the summer, air conditioning. Lakota Federal Credit Union and ArtSpace Projects are partners with First Peoples Fund in Rolling Rez Arts. The Bush Foundation and ArtPlace America supported its creation while two NEA grants totaling $160,000 have helped fund its programs.
The impetus for Rolling Rez Arts came from a 2013 position paper reporting on an earlier study that examined the economic viability of developing the art of Lakota artists as a means to financially sustain them and their communities.
The paper, Establishing A Creative Economy: Art as an Economic Engine in Native Communities, stated, "Native art has been indispensable in both preserving and perpetuating cultural practices through very challenging times as an inseparable element of life. Because of this long tradition of viewing art and culture holistically, modern day art has not been seen as a commodity that can evolve into an income-generating occupation." In order words, when art and culture have always been bound together, separating out art as an economic tool can be difficult for Native peoples to recognize and put into practice.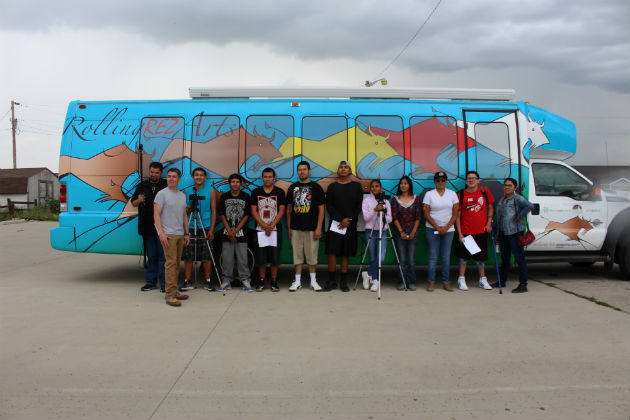 The study also revealed that 30 percent of those on Pine Ridge are artists (as compared to 1.5 percent nationally); 50 percent of Native households on Pine Ridge have a business that is based in the home and participates in an informal, trade-and-barter economy; and 79 percent of those home businesses are in the arts.
"I always say it's not really an informal sector economy," said FPF President Lori Lea Pourier (Oglala Lakota). "It's actually a thriving economy. It's just not a 'viable' business in a Western way of thinking in terms of capitalism and entrepreneurship."
The study concluded, "The creative production of art and artistic expression are, today, among the most promising ways to expand the market economy in rural and urban Native communities."
WHAT'S ON THE BUS
Rolling Rez Arts has an impressive array of offerings that touch all aspects of building a successful career from the artistic as well as business perspectives. The bus embarked on its first drive in March 2016, and as of July 2017 has given 67 classes to more than 350 people, reaching across Pine Ridge and onto the neighboring Cheyenne River and Standing Rock Reservations.
Among the critical services it offers are "buying days." For artists from around the reservation who can't afford the time or gas to drive to retail outlets to sell their artwork, the bus provides access to markets. A buyer from the Heritage Center at the Red Cloud Indian School hosts buying days to purchase work that is then resold in the center's gift shop, with a small markup to cover expenses. The center is a key support within the reservation's creative community, selling art from more than 250 Lakota artists each year through its retail shop and website.
Pourier tells the story of Tony Richards, an Oglala Lakota jewelry maker. One day this spring, he couldn't make the drive to the Heritage Center to sell his work because his horses were foaling and he had to tend to the colts. So he was grateful he could take advantage of the bus's arrival and sold several bone chokers and beaded necklaces.
On the business side, the bus has banking services through a partnership with Lakota Funds and the Lakota Federal Credit Union. Established in 1986, Lakota Funds makes business loans and offers technical assistance, as well as financial management training, for families and businesses on Pine Ridge.
When Lakota Funds started, 85 percent of its clients had never used a checking or savings account and 75 percent had never received a loan. Today, Lakota Funds has made more than 900 loans totaling $7.2 million, creating 1,415 jobs and 500 new businesses on Pine Ridge. Lakota Funds sponsored the Lakota Federal Credit Union in 2012 as the first and only federally insured financial institution serving the reservation. By having a mobile banking unit in the form of Rolling Rez Arts, the credit union gains more customers while far-flung artists have access to personal financial services.
In addition to banking, Rolling Rez Arts is a classroom for business courses such as FPF's Native Artist Professional Development curriculum, which covers how to write a business plan, create a budget, develop a pricing strategy, and other topics.
Bryan Parker (White Mountain Apache/ Muscogee Creek/Mississippi Choctaw) is the arts coordinator and driver for Rolling Rez Arts, and a working artist specializing in multimedia. He said, "For some of the classes that Rolling Rez Arts offers, we contract local Native artists. Many of them are FPF fellow alumni from both the Cultural Capital and Artist in Business Leadership programs, and are award-winning artists nationally. They are important mentors to the emerging artists on Pine Ridge who are equally talented in their art medium."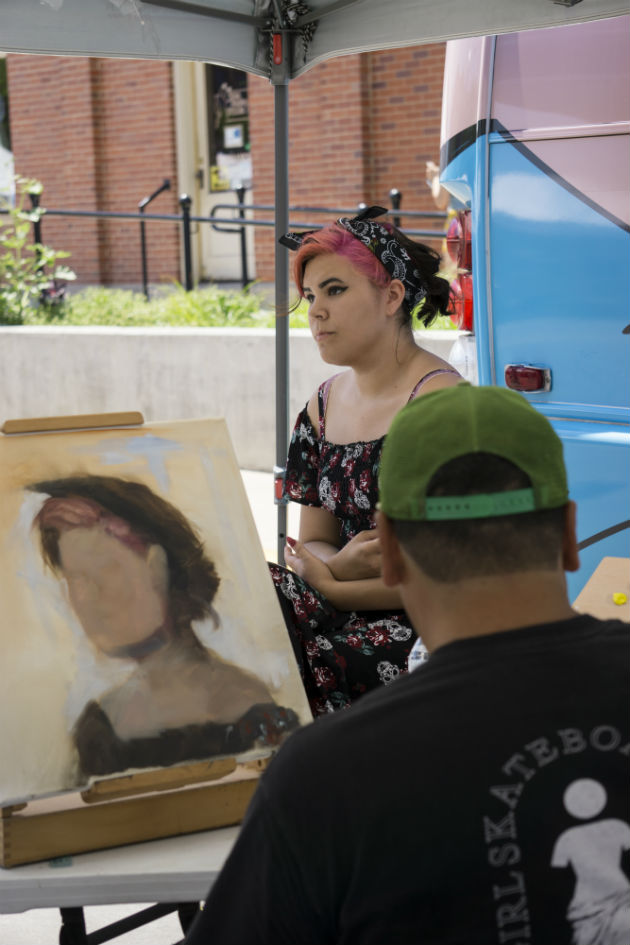 Speaking of how he programs the art classes, which range from traditional practices such as ledger art and beadwork to comic illustrations and video editing, Parker said, "What I try to do is keep it more culturally relevant with the traditional art. But also, I like to bring on some artists who have more experience in the contemporary world and who are more hands-on with technology."
Parker's wife Molina is an Oglala Lakota beadworker who also teaches classes on the bus. Her career has been boosted by her connection with First Peoples Fund and the opportunities afforded by Rolling Rez Arts. Parker said, "We moved back here in about 2011 and we struggled for a few years. Then we heard about First Peoples Fund and I encouraged Molina to apply to the Artist in Business Leadership program, and she got it. It's opened up so many doors for her. I can't say it enough, but it's just amazing how far this has taken her in her professional career."
RIPPLES
At the opening ceremony for Rolling Rez Arts in October 2015, First Peoples Fund founder Jennifer Easton, who passed away in August, described it as one of the ripples that extended out from the pebble she dropped in 1995 when she started the organization. Another ripple is starting now, reaching out beyond Rolling Rez Arts to continue encouraging economic sustainability through the arts. An arts and business incubator, the Oglala Lakota Artspace is coming to Pine Ridge in 2018. The 8,500-square-foot facility will occupy five acres within the Lakota Prairie Ranch Resort property below the Oglala Lakota College campus.
The facility will include artist studios, a co-working space for business training and networking, a computer lab, gallery, recording studio, and administrative offices. Rolling Rez Arts and its programs will be managed from the incubator with the bus in an adjoining garage. Neighboring Oglala Lakota College will refer students, provide instructors, and spread the word across its campuses in all nine reservation districts.
What augurs well for the incubator's success is its strong undergirding of smart business—it is a limited liability corporation among FPF, Lakota Funds, and ArtSpace—plus extensive outreach to the community and to reservation and non-reservation organizations. This approach has already attracted interest and funding from the Department of Commerce's Economic Development Administration as well as local and national foundations, not to mention the NEA. FPF recently received a $150,000 Our Town grant to support the project.
With NEA funds, FPF is hiring a design consultant, architect Tammy Eagle Bull (Oglala Lakota) from Encompass Architects in Lincoln, Nebraska. Eagle Bull is working on architectural drawings that will be shared with reservation residents from the nine districts for their feedback via Rolling Rez Arts. The project team hopes to break ground this fall before the ground freezes, with construction starting in the spring of 2018. Pourier said, "This is not a business incubator first. It's an artist space first and foremost."
And in that artist space, creativity, connection, and possibilities will grow. The bonds that form when artists have the chance to work together is reflected in the strengthening of First Peoples Fund's network of nonprofit partners and regional and national funders. "At FPF, we always talk about tightening that weave," said Pourier. "And as we weave, our work is growing in the region into what will result in a tightly woven sweetgrass braid."