Behind the Scenes: What It Takes to Mount a Musical
American Artscape | 2017 No. 4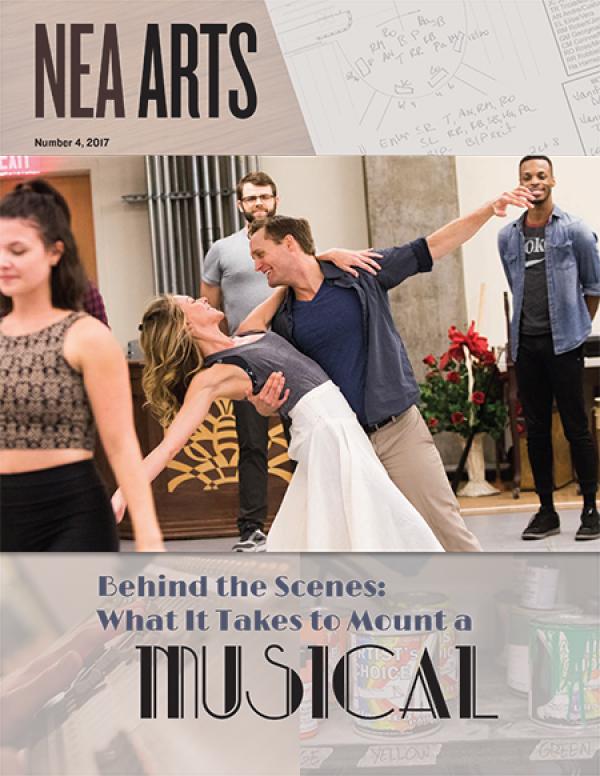 Download Issue
All Issues
About this Issue
"Hey kids, let's put on a show!" When Mickey Rooney rallied his gang to show biz in the 1939 film Babes in Arms, he and his friends embarked upon a theatrical lark. A couple of kids, a few costumes— what else do you need? 
Turns out, a lot. In 2014, according to Bureau of Economic Analysis data, performing arts presenters contributed $8.7 billion in value to the U.S. economy, but it isn't all due to the people onstage. For actors, musicians, and dancers to succeed, there are multitudes behind the curtain that make it happen. In fact, in all the arts this is true: from the people mounting the artwork at a museum to the publishers and editors behind a literary work, the workers behind the scenes contribute to an artwork's success. 
In this issue of NEA Arts, we go backstage at the Signature Theatre's production of The Gershwins®' & Ken Ludwig's Crazy for You®, which will run through January 14, 2018, in Arlington, Virginia. Based on the songs of George and Ira Gershwin, the exuberant musical debuted on Broadway in 1992 and received three Tony Awards for Best Musical, Best Choreography, and Best Costume Design, in addition to six other Tony nominations. To remount this sprawling love story, which is set during the 1930s in New York City and Deadrock, Nevada, a massive crew of casting directors, costume designers, stage managers, marketing associates, choreographers, music arrangers, and light and set designers was required to execute the director's vision, and to make sure the actors and actresses could fully shine. 
We spoke with six members of the behind-the-scenes team about their experience with Crazy for You, and how their work supported the full production. Told in the interview subjects' own words, these stories illuminate the truly massive effort required to put on a show.