Tristan Raines, Costume Designer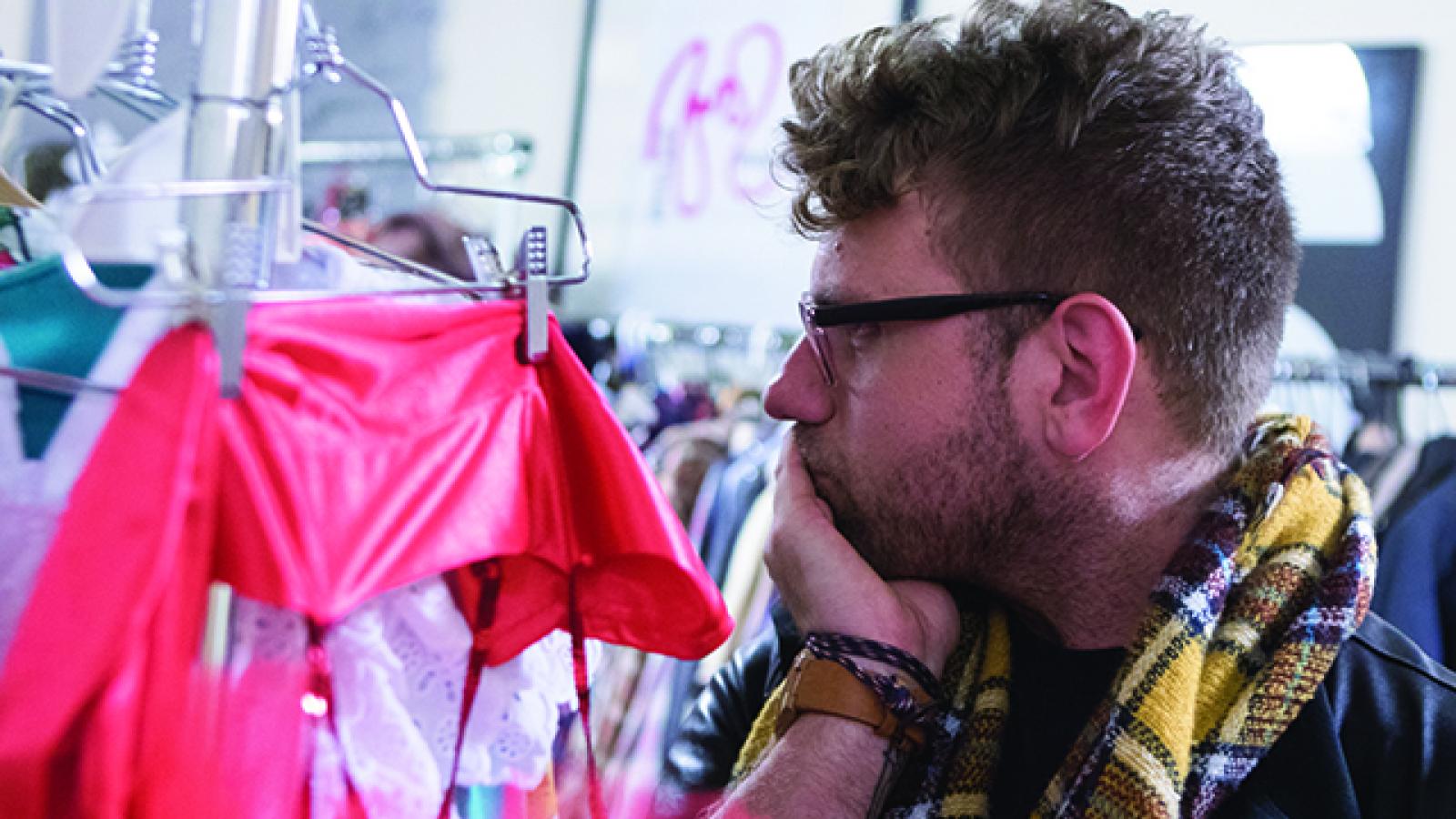 Although Tristan Raines had been involved with theater in high school, it was always onstage, rather than behind the scenes. But in college, while working in the costume shop, "I found that I could actually create 26 characters a show instead of just creating one as an actor," he said. "It stuck." 
Based in New York, Raines designs for plays, musicals, and dance, and has worked on productions as stylistically varied as A Christmas Story, Ring of Fire: The Music of Johnny Cash, The Cottage, and I Do! I Do!, for which he received the 2014 Best Costume Design Award from Broadway.com. After seeing a production of Crazy for You a year ago, he was immediately taken with the storyline. So when he got the call from Matthew Gardiner, the director behind Crazy for You at Signature Theatre, it was an easy sell. 
Raines spent months researching, designing, sketching, and refining for Crazy for You, but he and his team had only three or four weeks to build, fit, and alter the 150 costumes needed for the show. There were also milliners and cobblers to hire, garments to rent, pieces to distress, and between 75 and 100 fabrics to source. As Raines understated, "It's a big team to get this show up." We spoke with him a few weeks before opening night about just what the process was like. 
LOOKING (OR NOT) AT PAST PRODUCTIONS
I don't look immediately at original productions. With a show like this, there's a conversation of "iconic" that we have to have. I think you have to have that conversation with any revival. It's, "What about the show do people know and will they expect?" The next conversation is, "Is it okay if we can't have that? What will people feel? Will they not remember it, or is it so iconic that we have to have it?" 
For instance, the Fantasy Follies in the beginning of the show are always pink. I asked myself, "Why are they pink? Does that still ring true in our production?" We decided that it doesn't totally ring true. I thought that with our production, a purple and coral palette would solve the emotional feeling that [the original designers] were solving with pink. I needed to look at theirs to understand that we could change it. But I try not to look at it so immediately because I do want to be able to have my own opinion.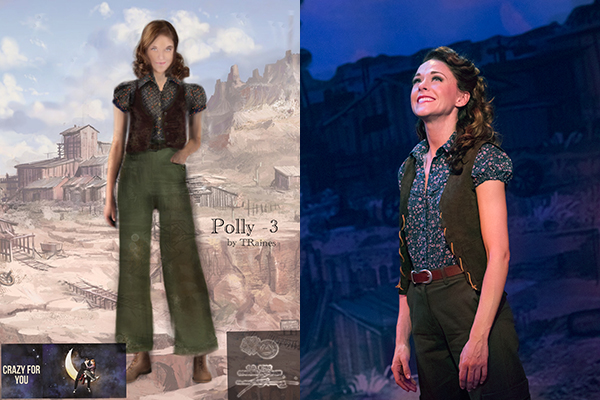 CREATING AN AESTHETIC
Matthew and I love reality-based things. We love things that feel relatable, but we also wanted to highlight the grandeur of the period, the '30s. There's a glamour, there's an iconic shape to the period and the clothing. I think what you'll see is a beautiful juxtaposition between this glamorous New York versus this grounded, realistic Deadrock [the fictional Nevada town where half the play is set]. When we're moving to Deadrock, we're looking at a masculine, earthy palette. When the Follies come in from New York, we're playing with a jewel-toney palette. We're looking at shape as well. [New York] is very form-fitting, a very fashionable fit. Then it goes into something a little more homemade.
The play winds itself through all of those layers of visual society and fashion of the period. We're using some amazing vintage pieces. So these clothes that these [actors] wear when they're in Nevada are actual clothes from the period that people lived their lives in. What that does is it grounds our piece in the lives of these characters and in the life of this beautiful music. Denis [Jones, the choreographer]—his choreography highlights that, the shapes and the beauty of that juxtaposition of these working people who are struggling to make it and reminiscing about the grandeur of yesteryear and New York. 
THE BUILD-OUT
There are 150 costumes in the show, and we only have three weeks to put the show up. We built about 20 costumes [from scratch], which is a lot of clothes to build in three to four weeks. The shop here [in New York] or at Signature looks at all of the designs and says we can build this, this, and this. For instance, they're building most of Polly's [costumes] and all of the Follies'. Once they decide what they can build with their staff, we have other artisans bid out the show and build [certain elements]. 
And then [there are] half-builds. For instance, we're buying corsets for our Follies, and then we're building the skirts and adding trim and panels and fabrics to make them what we want them to be. A lot of things are being rented too. We found some amazing vintage dealers that are allowing us to rent actual 1930s clothes for some of our characters, to round out the period feel that we need in select moments. 
There's no costume that is just, "Let's buy this costume as it is." Everything has some sort of tweak that has to happen. Or it's a combination of we bought it but then we altered it or we're mixing it with a vintage piece. There are a lot of different hands making it all come together.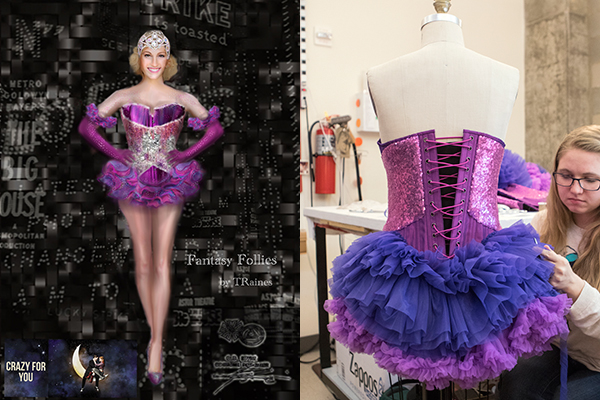 COSTUME MAGICIANS
We have a wonderful wardrobe staff who are basically costume magicians. There are a lot of different rigging techniques that we can do. If we're building a garment, I sit down with the costume shop draper, who is the head of the team within the costume shops. Let's say she's building a dress for Polly—say it's a 20-second quick change. As she's draping and creating the clothing, she can begin to work that rigging into that garment, whether the front looks like it buttons up, but it's really just a zipper down the back, or maybe it snaps under the buttons. She starts to plan that through the build. 
So it's a lot of planning, and it has to be done for every transition, every costume change. There are a lot of costume changes that happen in the dressing room. The actors can do it themselves, or the dresser can meet them there. But there are a lot of costumes that have to be managed backstage because they happen extremely quickly. For instance, there's a scene where the girls are getting ready for a performance in Deadrock, and they're in a dressing room. We're staggering the change so they'll appear onstage in partial costume. As the scene goes on, they put the clothes on. Then the finishing touches will be a quick change as they exit into the next scene. 
Additionally, we do a lot of underdressing. For instance, if it's a tight-fitting garment in one scene, we can maybe overdress a costume on top of that costume. So instead of removing a look then adding a look, we can just remove the look and they're ready. There's just a lot of planning and it takes a lot of thought.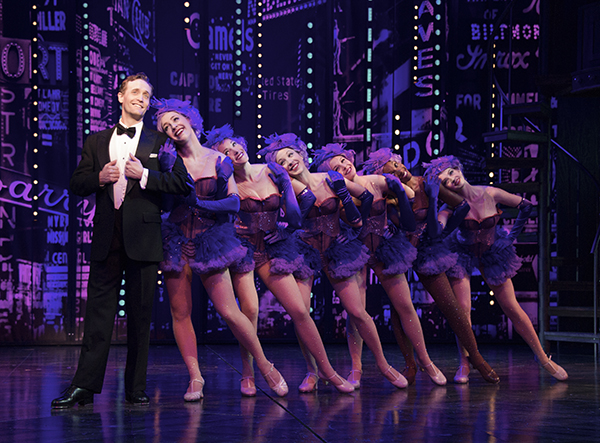 BRINGING CHARACTERS TO LIFE
I always like to contact my principal actors and some of my ensemble to say, "What kind of shoes do you like? What kind of undergarments do you like? What kind of things make you be able to do your job better?" As I'm designing, I make sure that I'm including them into that process, because we're creating the character together. And they [should] feel comfortable in the clothes. At the end of the day, they're living in these clothes for nine weeks. I'm not living in them at all. So I have to make sure that the choices we're making allow them to do their jobs well. 
Where the character really comes in is once they start fitting. I live for getting into a fitting with an actor. That's the moment where the character comes to life. All of those little quirks, and all of those little character traits kind of click. If I've done my job before those fittings to really lay down an idea and a style and a point of view, we can adapt that vocabulary to bring out whatever those actors and I and the director are discovering throughout the rehearsal process. Like, if this is shorter and the skirt kicks out, that feels flirtier and I really want this girl to feel extremely flirty. Or she's going to be more conservative, so is there a way to do the sleeves differently? Can we add fur? Do you want glasses? Is this heel high enough?
There's nothing better than when you're in a fitting and you try something on and suddenly the actor completely changes the way they stand, the way they move their arms, the way they hold their head, the way they talk. That means it's right. Clothes are just clothes. When you look at a rack of clothes, they're just fabric on a hanger. They might have character choices within the fabric or the cut of them, but until they're on a body, that character just doesn't exist.