Kerry Epstein, Production Stage Manager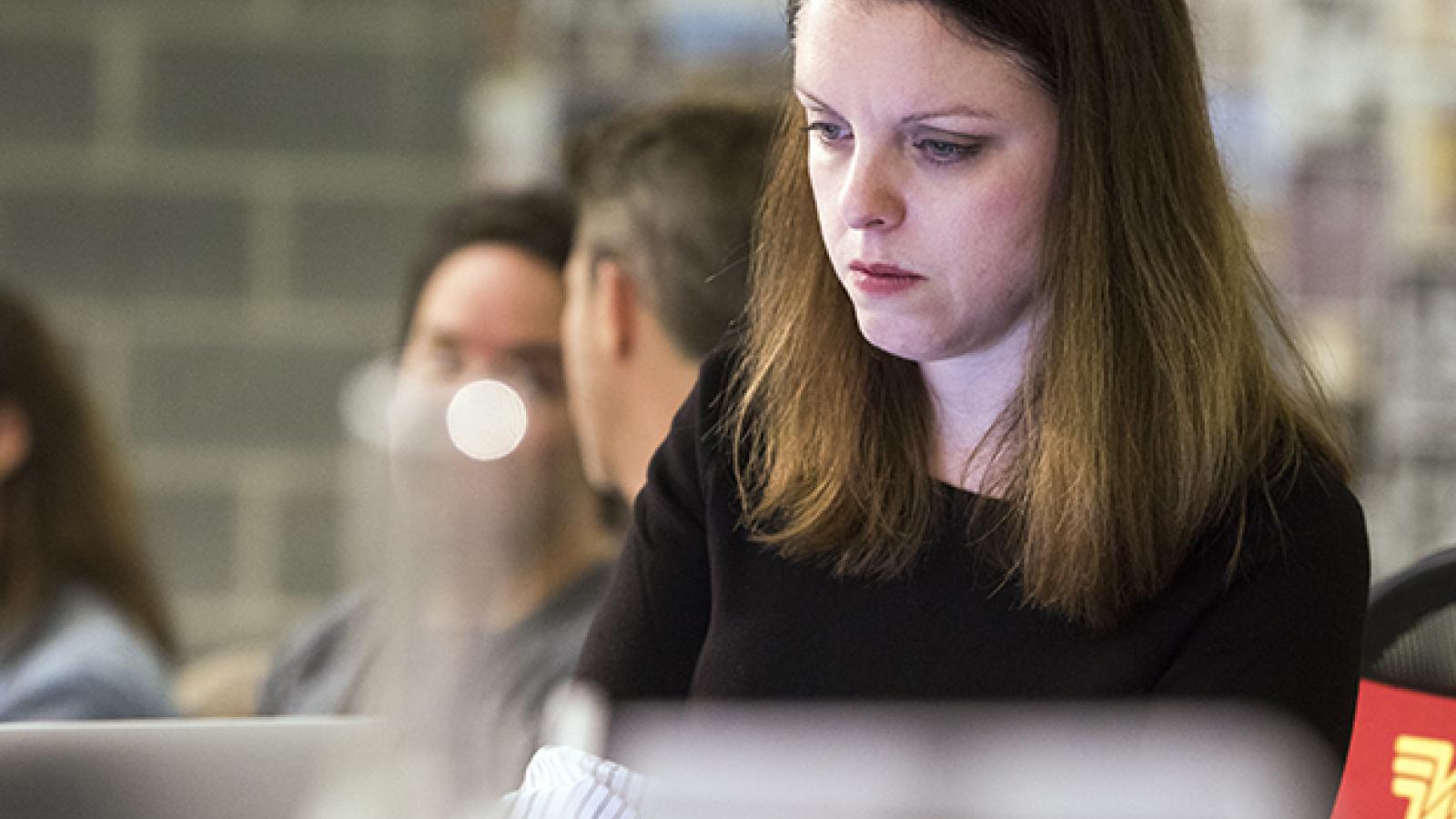 A former dancer, Kerry Epstein studied theater in college, intending to focus on acting. After a few stints as a stage manager, however, she shifted her focus from onstage to backstage. As Epstein remembered, "I loved how all aspects of the theater that I absolutely loved coalesced into that particular job. The more I did it, the more I just fell in love with it." As she honed her stage management skills, Epstein's undergraduate history studies also came in handy, teaching her about research and documentation, two skills she considers essential to her job. Epstein has now been a full-time stage manager for 16 years, 12 of those with Signature Theatre. While she can't get through a production without her trusty notebook, she also considers a sense of humor essential. As she put it, "We are grown-ups putting on costumes and putting on a show just like Mickey Rooney and Judy Garland did." 
We spoke with Epstein about how she defines the job of the stage manager, what her day-to-day looks like, and why she considers her job "a joyful experience." 
THERE FOR THE WHOLE PROCESS 
[The stage management team] is the only one that is there for the whole process, beginning to end. So we are there in the rehearsal room with the actors and directors. We're also there with the designers as the production elements come together. Everybody comes together at tech, so that's sort of the central focal point. Then as folks go their separate ways, we're still there to maintain the communication. 
Because we aren't onstage like the actors or we're not as known as directors or designers, it's very much a behind-the-scenes profession, which I think is also where the beauty lies. There's lots of magic that we get to work to make things happen, and there is an art to doing that. There is an art to the rehearsal reports and the tracking of the props and things like that. 
Sometimes you get asked to describe your job in six words or something like that. My six words are, "Magic happens when I say go." I think it is kind of amazing that you say, "Light 57, go," and all of a sudden the stage is bathed in a bright blue light with twinkly stars in the background, or that a chandelier is coming down from the sky, and it happens seamlessly.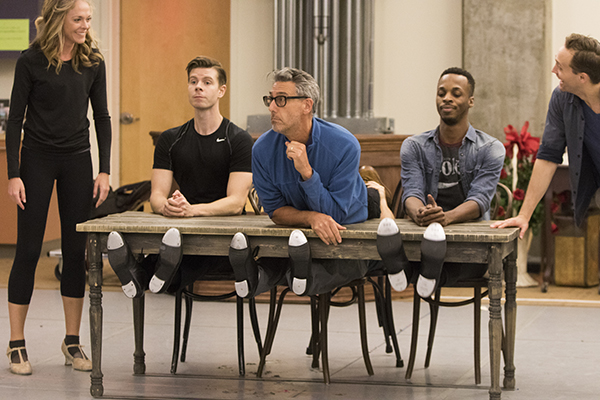 A VERY PARTICULAR SET OF SKILLS 
I feel like the stage manager is the historian of the production. We're the record of everything that happens, from the blocking in the rehearsal room to tracking where all the props and costume pieces need to start offstage to make sure that they end up onstage in the right place. [Stage management includes] sending out the daily reports to the design team so that they know all of the wacky, ridiculous things we created in the rehearsal room that we would like for them to make for us for the next time we hit that scene, or making sure that actors know what time they need to be called for rehearsal. During performances, since the rest of the design team and the directors usually leave the production at that time, it's communicating with them as to how each individual show has gone that night, how the audience reacted to a certain song…just keeping everybody informed as to how everything has progressed. 
THE NITTY-GRITTY 
For Crazy for You, I have Jessica Skelton, who is my assistant stage manager, and Regina Vitale, who is my production assistant. We go through the script and find out how many actors are in which scene, where we think they're going to be entering and exiting, what props are going to be used, and basically mapping out everything we need to know to start, knowing that once we start rehearsals everything is going to change. Flexibility is essential to survival; you need to be rigid to get everything prepped and then bend like a tree to make sure everything can change. 
In the rehearsal process, I have my eyes going in all different directions to try to absorb and pick up everything that is happening. Once we get to technical rehearsals, as we're putting all of the elements together with the lights and the sound and the costumes and all of that, then I start talking a lot more. It's making sure that everything is together as I start calling the light and the sound cues and the automation cues— we've got one chandelier that has to fly in here or the truck has to come onstage—so it's more of air-traffic control. 
Once we're in performances, I'm still calling the cues and watching the show. But I try to have the director's eyes on the show as well to make sure that the actors are maintaining the performance as the director has intended. So there's some acting notes that get given. I will work with the dance captain to make sure that all of the dance moves are the same way that the choreographer intended. So maintaining the artistic integrity of the show comes into play during performances so all of the work that the designers have done up to that point is still there for every audience member to enjoy for the whole run. 
Actors are called a half-hour before performances, and I will usually arrive an hour before that to make sure that everything is set and ready for that evening. I'll check-in with the crew, make sure everything is functioning. I'll give the half-hour call and then head down to the green room to be there as an available reference if anybody needs anything. I will give a 15- and 10-minute call to each dressing room to let actors know that we're on schedule and ready to perform, and then I will head up to the stage management booth. 
Even though it is challenging to do all that, it's a lot of fun to try to piece all that stuff together. I think if I didn't enjoy that kind of detailed puzzle piecing, this [would be] the absolute wrong career. You really have to enjoy getting all the details and getting the nitty-gritty.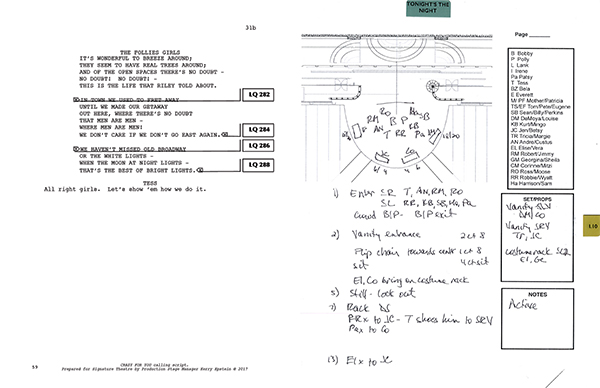 THE CHALLENGES OF CRAZY FOR YOU… 
[Crazy for You] is a huge show. Every element is huge, and we have a 23-person cast. We've been staging "I've Got Rhythm" for the past couple of days, and the song never ends. What the choreographer is doing with the actors is amazing, and the centerpiece of that song is townspeople finding ways to create music and rhythm based on everything that they have discovered. While those rehearsals are going on—and I've got one eye on that—I'm trying to figure out how to get 23 wig and costume fittings scheduled in the next two rehearsal days. It's a whole scheduling Tetris that has to happen. I cracked it right before the end of the morning session, so I'm feeling very proud of myself for getting all that figured out in puzzle pieces. Now, could that all go out the window when the director decides to change his mind on the schedule? Maybe, but I really hope not. 
…AND THE JOYS. 
One of the great things about Crazy for You is that it's such a joyful show. You just have a huge smile on your face when you're working on it, and the dancing is amazing. To be able to showcase performers who have that great tap-dancing ability is really wonderful. I have a dance background, and so I loved the old movie musicals and the Gene Kelly/Fred Astaire kind of genre. To be able to work on this show, which has so many callbacks to that era, is just wonderful. 
WHY THE SHOW MUST ALWAYS GO ON 
Sometimes [success is] the fact that no one can tell that I have done my job, because if I have done my job correctly then everything is prepared, it's smooth, there are no hitches. It's the art of trying to anticipate what someone is going to need and have it ready for them as they're saying, "You know what, we need..." and you're putting it in their hands, [whether] it's an actual prop or solving whatever scheduling issue is coming up. 
It's also watching the show every night and having the audience have the same reactions that I had during rehearsals. That's more of a personal notation of success. It's less about the glory in this profession. You are watching it happen for other people, which I think is great. 
I am very fortunate that I have a fantastic team here at Signature. The backstage crew is wonderful. I cannot do my job without them, so I really rely on them and their abilities. What you try to do is anticipate everything that might go wrong and have a tentative backup plan for what you think could happen. It's also knowing that things will go wrong. That's fine; we just pick up and keep on going.