Denis Jones, Choreographer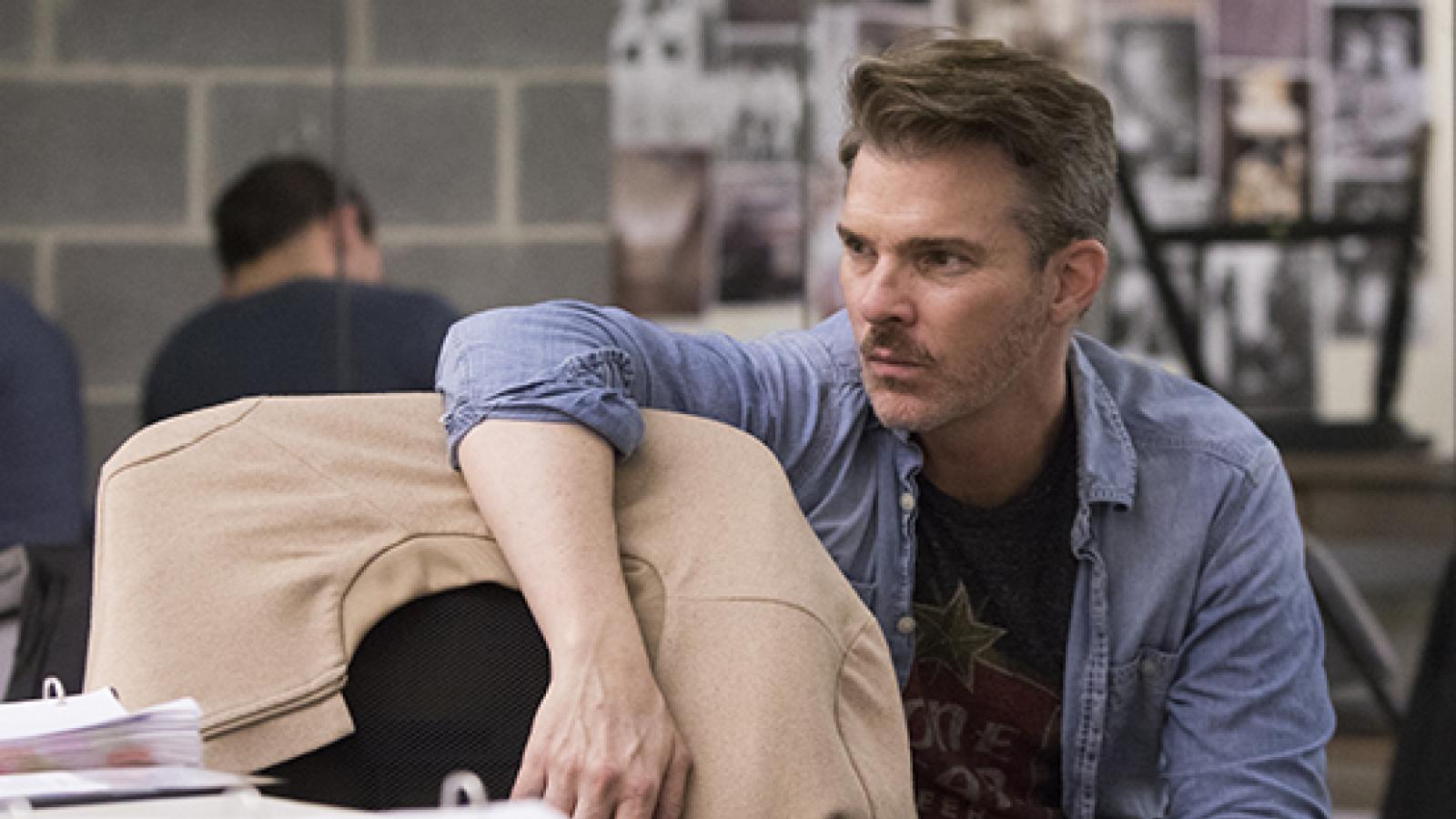 As a self-professed theater kid, Denis Jones lived and breathed all things musical theater. On any given weekday after school, you could find Jones directing his own plays in his backyard with his brother and any other neighborhood kids he could rally together. But it wasn't until his father took him to see the 25th-anniversary performance of Singin' in the Rain when Jones was in third grade that he truly found his calling. "I was absolutely transfixed by Gene Kelly's performance and by his incredible feet and immediately started taking tap class after that," remembered Jones. Although he went on to study jazz and ballet as well, "at the end of the day, tap is my first love," he said. 
It was a childhood passion that stuck. Jones has had an expansive career as a Broadway dancer, dance captain, and associate choreographer to Jerry Mitchell. Nine years ago, Jones decided to become a choreographer in his own right, which landed him a 2017 Tony Award nomination for best choreography for the Broadway production of Holiday Inn, The New Irving Berlin Musical. Jones is currently putting his creative genius to work on Signature Theatre's production of Crazy for You. A massive, tap-centric show, Jones declared that "this musical is like a kid in a candy store for a tapper." 
Arriving just five weeks before opening, Jones and the cast worked tirelessly during rehearsals, focused on forging original, memorable dance numbers. In his own words, here's Jones on his process of creating dance, his love of Gershwin, and his determination to develop authentic work.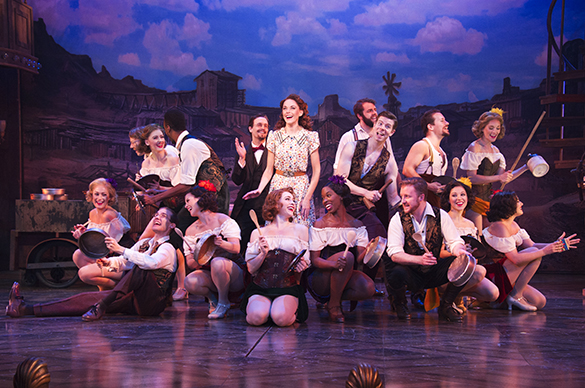 AN AFFECTION FOR THE GERSHWINS' SONGS
I saw the Broadway production of Crazy for You a couple of times when I was right out of college, and of course, had the cassette tape, which I wore out because the arrangements are pretty spectacular. Obviously, the score and the Gershwins' music are just so incredible. Growing up, every Sunday when my parents were making breakfast, they would put on An American in Paris, which was a big favorite in my house; many of the songs are also in Crazy for You. So that was my first introduction to Gershwin and to Gene Kelly, which was a double whammy for me! 
These are some of the greatest songs that have ever been written, and it's an honor to create dance to them. I consider it a privilege. As soon as the pianist starts playing the score in rehearsal, the dancers light up. I can see it in their faces, I can see it in their feet, the way they move, that they share the same affection for this great American music that I do. 
GOING YOUR OWN WAY WITH THE WORK
Since finding out that I was going to choreograph Crazy for You at Signature Theatre, I've stayed away from it. Out of respect for the great work of Susan Stroman [who choreographed the original Broadway production of Crazy for You], I feel like it's important not to replicate or plagiarize her work. She sets the bar very high, I think, for anybody who's working on a musical that she has choreographed or directed. You want to create a work that lives up to that expectation level, but you still want to create your own work that operates at that level. I've tried to let the dance that I've created for this only be inspired by what is on the page, and to go my own way with it. We want to create a production that is specific to this theater and for this specific audience, in this time and place, and not to try to remount someone else's work. 
But it's not like I'm putting everybody on roller skates—I think you have an obligation to an audience who buys a ticket to see Crazy for You to deliver Crazy for You. You can create your own version of it, but you don't want to, you know, set it on Mars.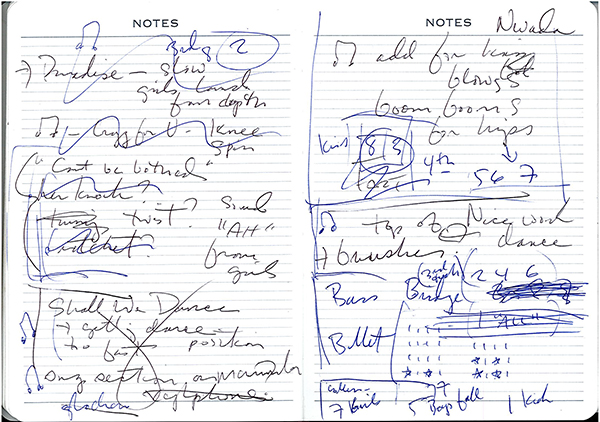 WALKING IN CIRCLES
My process of creating dance always starts with listening to the music and just walking in a circle. Getting up on my feet, listening to the music over and over again, walking and thinking and listening to the lyrics to see what body language helps me communicate that lyric information. I have approached all [the songs] in different sorts of ways, but I always start by walking in a circle. 
When creating a dance, I do think that the most important thing to start with is the story. At what point does the number live within the larger narrative of the play? Who are the characters involved and what are they learning within the context of the number? It is important for these musical numbers to have a beginning, middle, and an end—they're not there just to be dance for dance's sake. It always wants to further the storytelling. 
For "I Got Rhythm," there are all kinds of crazy directions that this number has gone, but it is solidly rooted in the idea of where do we find rhythm in our world, in the world of this town? The number starts with the residents of a small Western town picking up percussive objects that act as instruments and work with tap dancing: a hand-held tire pump, a twisting socket wrench, a violin bow screeching against the edge of a saw, a plunger pulled off a deck, etc. These items create rhythm with one another in the same way that this community is finding rhythm with one another in order to create something artistic.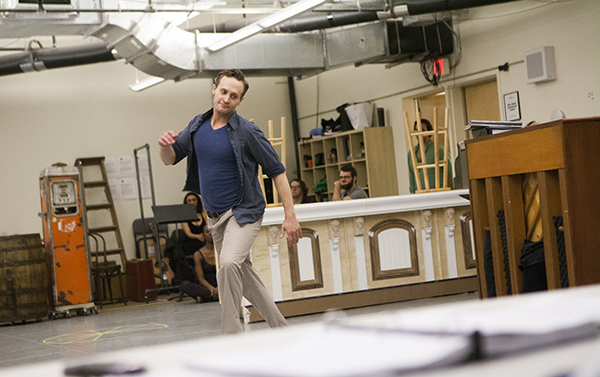 AN INCLUSIVE PROCESS
I did a fair amount of pre-production over the course of a month before I arrived at Signature Theatre. I did a number of sessions in New York with other dancers just to start to create movement. I do find that I like to approach a rehearsal with my work about 70 percent done, and leave enough brain space to be inspired by things that I see in the room, because I think it's very important to create movement on the actors that are in the show. You want movement that looks good on the person who's going to be dancing in front of the audience, so that they're invested in it and they feel good dancing onstage, and they will get that rush that I enjoyed for so many years as a dancer. 
There is enough time to get these dances right [in the weeks leading up to the show], but it does involve being extremely focused from 10:00 a.m. to 6:00 p.m., and what is being asked of the cast is enormous. They're all rising to the occasion. I see them dancing on breaks. I see them asking questions to one another. They come in and they warm up before we start rehearsal. They stay after rehearsal to go over things. They want to film everything on their phones to make sure that they get the choreography right. 
I will make alterations right up until opening night, and then it is set. And hopefully, the adjustments that I continue to make will become more and more focused as we get to opening night so that I don't, in the last hour of rehearsal, say, "Hey, guys, put on your roller skates! We're changing everything." 
I hope that I'm very respectful of the actors' process and how much information they are able to actually manage leading up to opening because obviously, there's a lot on their plate. Once we get into the theater, they're dealing with costumes, they're dealing with the set and the orchestra and the wigs and the makeup and all the other things that they have to think about. I choose carefully what additional information I give them leading up to opening because they have a lot to focus on. 
The dancers have a generosity of spirit and artistry that allows me to try steps on them. I'm very blessed to have an amazing associate, Robbie Roby, on this project with me; he's happy to try things over and over again, which can serve as a jumping-off place to some other idea. Sometimes it takes a bunch of performers together in a room to find solutions for a dance number. It's an inclusive process with the dancers, and I do believe that we're all holding hands and taking a leap together. 
Morgan Mentzer was an intern in the NEA Office of Public Affairs in fall 2017.