Women in the Arts: Galvanizing, Encouraging, Inspiring
American Artscape | 2018 No. 1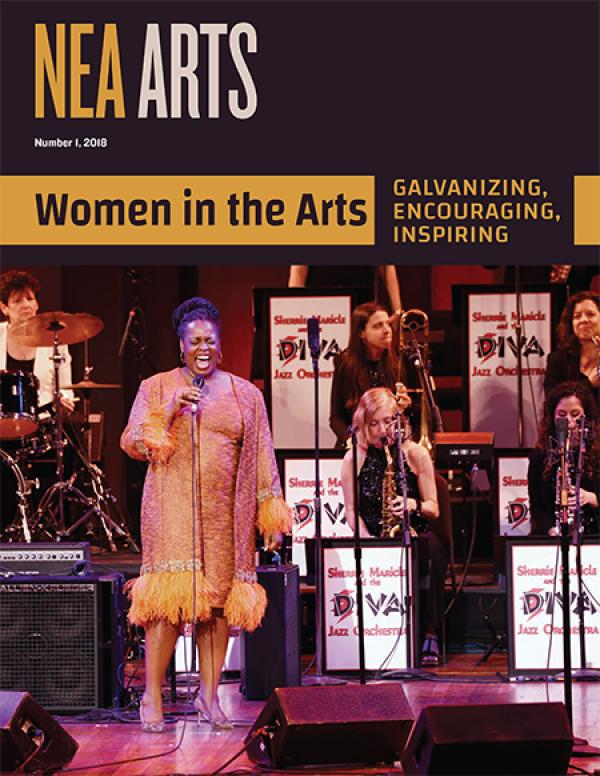 Download Issue
All Issues
About this Issue
By Chairman Jane Chu
There has not been a standard roadmap to follow when it comes to making a living in the arts. For women, it has been more difficult—for women of color, even more so. It isn't that there has been a dearth of women artists: In the 1930s, Florence Price was the first African-American woman to have her composition performed by a major orchestra. Amy Beach was a prolific composer in the late 1800s, although her compositions were only published under her married name, "Mrs. H.H.A. Beach." These examples are representative of the challenges of being publicly acknowledged as a woman artist.
Still, less than 25 percent of produced plays are written by women. Women artists make up only three to five percent of major art museum collections in the U.S. and Europe. In films, female characters receive about half the screen time and dialogue as male characters. And a recent Grantmakers in the Arts study found that though there are more women in arts management, "men predominantly held upper-management positions and earned significantly higher salaries than women."
We focused this issue on women in the arts to give voice to the barriers they continue to face, and where there are reasons for hope. We are galvanized by the roles Diane Rodriguez has written for Latina actresses and by Wendy Red Star's empowerment of Native women in her artwork. We are encouraged by Susan Fisher Sterling's visionary leadership at the National Museum of Women in the Arts and how Brenda Laurel refused to believe that video games were of no interest to girls. We are inspired by the ways choreographer Bebe Miller has celebrated the "awkward grace" of the body through dance and by how 2018 NEA Jazz Master Dianne Reeves has followed in the footsteps of the giants who preceded her, like Betty Carter, Ella Fitzgerald, and Sarah Vaughan.
As we celebrate the accomplishments and impact of these women, we hope you'll feel equally galvanized, encouraged, and inspired.