Poets Laureate Rita Dove and Tracy K. Smith in Conversation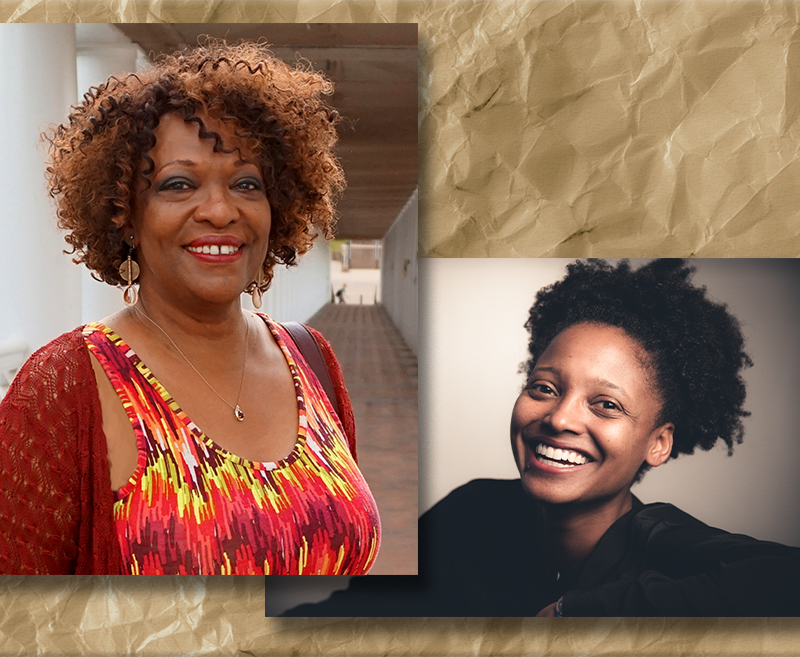 Rita Dove and Tracy K. Smith share a few things in common beyond the fact that they are African-American female artists. They are also professors at top universities (Dove: University of Virginia, Smith: Princeton), and Pulitzer Prize-winning U.S. Poets Laureate. No big deal.
The Poet Laureate of the United States (PLOTUS, if you will) is a position chosen by the Librarian of Congress. Since 1937, the PLOTUS has acted as a sort of chief poet-in-residence for the nation. Back then, the position was known as the Consultant in Poetry to the Library of Congress. The Library of Congress switched titles in 1986. Dove, a two-time NEA Literature Fellow (1977 and 1989) and recipient of the National Medal of Arts in 2011, became the first official African-American Poet Laureate under the new title in 1993. At age 41, she was also the youngest. The position has grown significantly in importance and reach over time, largely thanks to how Dove redefined what was possible. Poet Stanley Plumly once remarked that Dove "changed the job description" and "created a sense of mission in the position."
Tracy K. Smith is the current Poet Laureate and the 11th woman to be appointed to the prestigious post. It was Dove's work, along with that of Yusef Komunyakaa's, that first gave Smith a sense of poetic kinship and sharpened her desire to be a poet. She noted to Dove: "I felt like there was a family that I could somehow find in the pages of those books, and I wanted to sound exactly like you." Fittingly, Smith carries on Dove's legacy of bringing poetry to the people through her own work in rural communities, and has recently been appointed to a second term.
Rita Dove: "Let it be said while in the midst of horror we fed on beauty,
and that, my love, is what sustained us." – from "Transit"
Hello. My name is Rita Dove, and I identify myself as a poet, first and foremost, though I am also a commonwealth professor of English at the University of Virginia.
Tracy K. Smith:  And I am Tracy K. Smith.  I am also a poet, and I direct the creative writing program at Princeton University.
ADAM KAMPE: NOT ONLY ARE RITA DOVE AND TRACY K. SMITH POETS AND PROFESSORS AT TOP UNIVERSITIES, THEY ARE BOTH PULITZER PRIZE-WINNING U.S. POETS LAUREATE. THE PRESITIGIOUS POST OF POET LAUREATE IS CHOSEN BY THE LIBRARIAN OF CONGRESS AND IN THAT ROLE ACTS AS A SORT OF CHIEF POET-IN-RESIDENCE FOR THE NATION. AFTER THE POSITION TITLE CHANGED FROM CONSULTANT IN POETRY TO POET LAUREATE, DOVE BECAME THE FIRST "OFFICIAL" BLACK LAUREATE IN 1993. AT 41, SHE WAS ALSO THE YOUNGEST. THE POSITION HAS GROWN SIGNIFICANTLY OVER TIME, LARGELY THANKS TO HOW DOVE REDEFINED WHAT WAS POSSIBLE. TRACY K. SMITH IS THE CURRENT, OR 22ND, POET LAUREATE AND SHE CARRIES ON DOVE'S LEGACY OF BRINGING POETRY TO THE PEOPLE.  
BEFORE THEY INTRODUCED THEMSELVES AT THE START, RITA DOVE READ AN EXCERPT FROM OF A NEW POEM CALLED "TRANSIT." YOU CAN HEAR THAT POEM IN FULL ALONG WITH A NEW POEM BY TRACY K. SMITH IN THE OTHER PIECE ON THIS PAGE. I CHOSE TO LEAD WITH THOSE LINES BECAUSE THEY GET AT A KEY THEME FROM THEIR CONVERSATION—THE TRANSFORMATIVE POWER OF ART, IN THIS CASE POETRY AND MUSIC. A POEM, LIKE INK ETCHED ONTO SKIN, IS A WAY TO MARK TIME, TO DOCUMENT EXPERIENCES BIG OR SMALL, TO TELL A STORY. PEOPLE OFTEN GRAVITATE TOWARDS POETRY TO MAKE SENSE OF TRAGEDY, PROCESS GRIEF, OR TO CAPTURE AND CELEBRATE LIFE. WHAT FOLLOWS IS A CONVERSATION BETWEEN RITA DOVE AND TRACY K. SMITH ABOUT THE VALUE OF POETRY, THEIR WORK AS POETS LAUREATE, AND WHAT IT MEANS TO BE EDUCATORS AND FEMALE ARTISTS IN THE WORLD TODAY. I BEGAN BY ASKING THEM TO COMMENT ON A POIGNANT QUOTE BY YET ANOTHER POET LAUREATE, KAY RYAN.                                   
Kay Ryan: A novel is something you read when you're killing time. A poem is what you read when time's killing you.
Tracy K. Smith: Oh, I love that idea, that poetry is something that's life-saving. I think of it as something that's life-sustaining because it brings me into touch with what I believe is my real self, my true self. The inner voice that is quietly there speaking, perceiving, believing that there is something permanent that we are all a part of, despite so much of the commotion and disappointment that sometimes seems to negate that. It's something that helps me to almost recalibrate my sense of who I am, where I am, why I am, and that's something that's always changing as well.
Rita Dove: As Tracy has said, it is life-sustaining. It is, it buoys me.  It makes me able to rise above the babble, I guess you could say, of contemporary life, and as a poet myself, it restores my faith that the very language that we use every day can be extracted and honed and positioned in such a way that the words illuminate each other rather than kind of bury the emotion that is right under the surface. So that, especially today in our world of social media and all sorts of things that are bombarding us, to be reminded that there is a way of using this and crafting this language is immensely reassuring, challenging, uplifting, and calming.
Tracy K. Smith: I also love the, what to me is the sense that all of these things—social media is going to be my catchall phrase for what is really marketing, advertising, "information", in maybe quotation marks, unfiltered information, all of these things that are being launched at us.  It almost feels like shrapnel or buckshot. And there's something inside that is actively, maybe it's the unconscious mind, but that's actively seeking to make sense and to create a sense of order and meaning, and when we can turn the decibel level down on all that other stuff—the fragments, the kind of junk-- there is something there. It's not that we have to conjure it, but we just have to tune ourselves to it. I think sometimes as a reader it's other poets' voices that remind me of that, that remind me, "Oh right, I'm feeling and thinking something similar. I've just been ignoring it."
Rita Dove: I love this idea of tuning in. That's really kind of what it is, isn't it? When I first became Poet Laureate, I remember being immensely excited by the number of letters that I got from people from all over the country, and this was before everyone did it by email, so I would get physical letters, and they would talk about, invariably they'd talk about finding a poem in the middle of the turmoil of their lives, finding it, or reciting a poem over and over again, as a new immigrant tried to learn the language and was walking the streets, or discovering a poem that changed their lives, and they needed to tell someone about it, and they thought that maybe I would be the one to tell them. But it reminded me that, again, of why I was a poet.
Tracy K. Smith:  Oh yeah, that's beautiful.  I meet a lot of people who initially say, "Oh, I don't have anything to do with poetry, really.  It intimidates me," and then the conversation inevitably takes two or three more steps, and then they say, "Oh wait, but there's this-- the only thing I know about poetry is this one poem that I memorized in grade school," and then they commence to recite it.  And so it's something that they've lived, kind of protecting in a way, that bobs up to the surface sometimes.
Rita Dove:  Mm-hmm.  Yes, and then they also, what I love-- people would say things like, "I don't know anything about poetry," or "Oh my gosh, poetry's so difficult," and then they would proceed to give the most articulate, passionate defense of poetry because of that one poem that they had memorized or kept in their wallet or whatever, and I thought, "Why is this fear there?  Why does it reign so fiercely over people's heads?"  And I think that that's part of what gave me the kind of strength to get out there and say, "Okay, I'm going to do this thing and be this Poet Laureate, whatever that is.
Musical bridge
Rita Dove: Well, when I was Poet Laureate, which was '93 to '95, I think the role of the Poet Laureate was changing, and it really hadn't been defined.  I was not given any instruction about what I meant, so to speak, and I remember thinking that I would simply create it, create what I wanted the role to be up to that time. But when I got to the Library of Congress, I asked what the budget was for it and what I was supposed to do, and I met with blank stares pretty much. 
And I knew that I was the youngest, I knew I was the first African American under that rubric-- there had been Robert Hayden and Gwendolyn Brooks before, when it was the Consultant and not this title-- and I thought to myself, first of all, that that sends a message.  If I'm going to be the youngest, I don't have any laurels really to sit on, so therefore I need to get out there.  And I also-- I could not just sit idly by and say, "Hey, I'm a laureate."  And so I thought to myself that it was incumbent upon me to just find out what a Poet Laureate means to a country, and I did come to believe that I was more of a lightning rod than a driving force, but I was a lightning rod for people to tell me what to do, tell me what their passions were, tell me what their fears were, and then to act upon that. I really felt like I was inventing it as I went along, and my main thrust was to get out among people and to bring poetry back into everyday life, which meant going places that poets normally didn't quote-unquote normally didn't go-- the Naval Academy or bringing Crow Indian children into Washington to read their poetry-- but it was in a sense scattershot.  It was wherever I saw something, I would go until the money ran out that I didn't know they had. But it felt really exciting, and since then I've seen the role get really much more attention and it seems like-- and Tracy can talk to this-- I don't know for sure-- but it seems like there is a more efficient way of making sure that projects are funded, which only makes me happy that's happening. So yeah, I did change, I think, the job description.
Tracy K. Smith:  Mm-hmm.  I'd say, yeah.  I mean, I feel in part like, "Okay, what do you do?  Well, okay, Rita gave poetry to people.  She brought people to poetry.  She celebrated the role that poetry could play, where it might begin to live more actively or consciously," and I think I-- and I think other recent laureates come to the position thinking, "Well, what can I do?  What in my way could contribute to that aim?"  I love that side-effect.  It feels like a way of being my poet self and also becoming a citizen of this nation in a fuller way. For this brief time, I get to give with all my heart around this thing that I love, that I think is so vital to a full and anchored life. 
The project I've begun has to do with going to rural communities and having the kinds of conversations that poems facilitate.  I think having this position at this moment in the 21st century, where we hear so often and so discouragingly that, "Oh, our nation is becoming more and more divided," it felt imperative to me that I wanted poetry to seek to bridge many different types of divides, and I see it happen.  I see what happens in my classrooms where students who come from different parts of the university, different relationships to language, sit at a table and they bring their most vulnerable selves into a space where they can talk about what is real and what is meaningful, and I think, "Oh, how exciting would it be to do that on a national scale?"  And so that's what I'm seeking to do.  One of the things that I also have been really delighted by is, unlike just being me, my private poet self, and going to a bookstore or a college campus and reading my own work and talking about it, which is what my life as a poet on the road has mostly been characterized by, I'm now getting to celebrate other people, other voices, and to talk more broadly about this art form and why it is still something that's so vital. So far it's been just a really fulfilling shift in perspective.
Musical bridge
Tracy K. Smith: I know everything we do changes us, but Rita, how did being the laureate change you?
Rita Dove:  Oh, I'm going to ask you that too, because you're right in the middle of it, beginning of it.  Hmm.  We talked about that sense of authority that male poets seem to exude and that students also expect them to have, and I think that being Poet Laureate gave me permission, in a way-- a permission to exude authority or to assume authority, but not to abuse it-- to be able to just stand up and say something and make a difference and to consciously go out and make that difference, to walk out on the mantle of being Poet Laureate without feeling that I was a fake, without second-guessing myself, just say, "No, own it," and that changed me really I think quite a bit.  It also changed me in the sense that I had to figure out a way to be a public person and a private person, and also a private poet at the same time, which was something that I did not-- this is purely practical, you know? … which I did not really have to do before that—manage my life to keep the creative juices still on simmer when I went out into the world.  And you?  How does it feel?
Tracy K. Smith:  I understand what you mean about accepting the sense of authority, or claiming it.  I think I'm beginning to feel that, beginning to say, "Okay, I don't know what so-and-so would say.  How would Robert Frost answer this question?  It doesn't matter.  I'm going to think about what I believe," and there's something really exciting about having permission or being offered or claiming permission to do that, and sort of sink into a sense of clarity, and also for me, I guess wanting to be useful, wanting to say, "Okay, why is this important, and why is what I think about this important?  Well, maybe because it could help someone," and that feels really exciting to me, to say that my belief in language and the sensitivities that it affords us and requires of us can be helpful to someone out there, and for that reason I'm going to talk about this poem and talk about my opinions, about the art form, with confidence.  I think that's been a really beautiful kind of gift.
Rita Dove:  That is beautiful.  I mean, I think that's one thing as women that we can bring to the world, that one can have authority and exude that authority and still be open and vulnerable and willing to, through that vulnerability, invite others to open up as well.
Tracy K. Smith:  I think of that term, vulnerability and being receptive—receptivity; I think of those as feminine traits.  I don't know if that's okay. I don't know if that's even scientific, but that's how I feel.  I feel like women are good at seeing, recognizing, listening, hearing what isn't being voiced, and reaching back toward that, and I feel like those are skills we need.  Like those are the skills that have to be more celebrated, and taught, and it's exciting to be a woman in a position to do that.
Rita Dove:  Yes.  Yes.  I think the problem with those terms really doesn't reside in what they mean; it's just really what people have decided that vulnerability, what it connotes.  It is not a weakness.  To my mind, it is a strength, and like you said, to be able to change that definition, to alter it and show people what gifts, what wealth it is to be vulnerable, is a wonderful thing.
Musical bridge.
When I was growing up as a poet, and that means going I think from college on, because before that I wasn't really growing; I was kind of stewing in my own little poetic attempts, but from the time I began to take literature courses seriously and creative writing. I had some wonderful teachers, but most of the material was male, let's face it, and as Tracy said, the world of poetry, which I absolutely adored, and the sounds that were washing over me in poems were from the voices of men, and all of the objects that mattered to them; the totems that mattered to a male sensibility were there.  There were others as well, but still there was something missing, and it wasn't until a professor of mine in a creative writing class actually introduced us to Sylvia Plath that I heard a female voice, a contemporary female voice, who was unabashedly using things or situations that had not really appeared in poetry, such as a child, and looking at the child as a mother, or nursery rhymes and that that kind of lilt that can be made terrifying or not. I realized there was a whole world that I didn't know in poetry, that I had no experience with.  So as a teacher of poetry, I realize how important it is to expose my students to as many different voices and rhythms and environments that create poetry as possible, and that means not only saying that they should read poems by black female poets because I happen to be a female black poet, but not to be blinded by self, and to realize that they need to hear poetic styles that I may not be a fan of but I think, who knows, it might touch their sensibilities.
Tracy K. Smith:  Yeah, I agree with that, even down to the idea that there are things that are going to be used for my students that I have resisted, and I think having to seek those things out and submit to them has made me a better poet, and made me, you kind of get past some of the apprehension that really is just about fear.  Like, "Ooh, I don't know how to….am I invited to that?"  "Do I know how to do that?"  And then suddenly you say, "Oh, this is a tool that's really fascinating," and maybe it will sound different in someone else's hands, but it's a tool, which is to say it's a kind of gift.  I mean, it's funny, right?  We live inside of so many layers of self, and the bedrock that I'm really in as a poet is beneath all of these external markers.  I'm really trying to get to: What is the voice of thought?  What does the voice of being sound like?  That's what I want my poems to come from.  But then I say, "Okay, but all of that, even my interest in subject matter, is filtered through the lenses of race and gender and geography and class, and all of these other things. So let's talk about those other things too." And one of the things that I'm beginning to recognize that has an impact upon my teaching is that, at this point in human history, students still respond differently I think to men and women, and they still have a different sense of whose authority is most unquestionable, and whose authority maybe is up for debate.  I see the kinds of assumptions that students make when they have to make a request of a male professor and how that changes when it's a woman.  And so there's one side of me that's frustrated by that, but then the other side says, "But okay, if that's a reality, what does it mean?  How does that change what my role is, and how can I sort of accept that?"  And so I kind of think that there's an intimacy that students fall into more with me, I think, as a woman.  It's not about decorum and obedience. It's about, "Hey, I have access to you.  I need this from you."  Or, "Can I be honest with you and tell you this is what's going on for me?"  And the older I get the more I realize my job is like I'm serving these young people.  I'm helping them to learn about themselves and the world, and to be fuller people.
Rita Dove: Yes, it's a double-edged deal, isn't it?  Because I agree with you that I've noticed that students will come to me or to my female colleagues, and to bear their souls, basically, they will bring the more difficult, the more precarious poems to us and not to my male counterparts.  And on the one hand, I'm honored and I'm moved that they trust me that much, and I do think it has to do, however, with gender, and the fact that they think that women are going to be more sympathetic, or we are at least open to exploring the depths of our being, as you say.  On the other hand, it gives you more work and you really want to say also for them to loosen up and to go to the male counterparts.  So I feel that we've come a long way in terms of-- because at least female-- as female professors, we are in the mix.  We're there.  We used to not even be there, in terms of academia or even in terms of having a voice—a major voice in literary circles. The downside is that we are also the receptacles for a lot of that nurturing, I guess you could say, that some of our male counterparts are relieved of doing.
Tracy K. Smith:  Yeah, it's like the side of the student that wishes to perform expertise. It's still present, but it's accompanied more unabashedly by the person that wants and needs something, and that is scared, or wary, and in a way that kind of vulnerability is, I think in some ways it's what I wish we could draw out of everyone as people in the world, that we could say, "We're not these instant authorities.  We're not here to judge and dismiss each other.  We're not here merely to be offered something that's pleasing.  But we're here to say: Okay, what is real, and what is it asking of you and exacting from you, and how can we be changed by admitting to that?"
Transition to Tracy discovering Rita, the impact of black poets, and the legacy of tradition
Tracy K. Smith: One of the other things that I'm so grateful for is the way that your poems, Rita, open up these private spaces in public history, and I think that's one of the things that poems do; regardless of their topic, they're opening up these intimate, private spaces where one life is sort of spilling over, and it's crossing the divide between the then and the there and the who and the where of the speaker or the subject of the poem and the reader, and that's something that I think made me look at the real world in such a different way, to think, "Oh, there are all of these lives, all of these stories, all of these wishes and observations and secrets that run through every layer of the world," and I think that's one of the things that poems are still primarily interesting to me because of, because they say, "Oh, there's a self inside that life, and now I get to be on intimate terms with it."
I remember, when I was in high school, loving the way that poetic language made me feel, and wanting to put poetic language on paper and make poems.  I didn't really have a strong sense of material, what were my questions or what was I interested in writing about, and I certainly didn't have a sense that there were people alive who were still doing this.  I just had old books or poems from anthologies that I was interested in. And then I got to college and I started realizing there are living poets, and I can go hear them read, I can go to a bookstore and look at new books that are being published right now by people who love language the way that I do, and then realizing, "Oh my god, there are so many black poets whose use of history and whose use of black experience only serves to amplify these other things that poems have already wowed me by doing."  And I remember really two books from that time.  This was like 1990 to I think I finally felt brave enough to say, "I am a poet" in 1992.  So around that time, discovering Yusef Komunyakaa's "Magic City" (now I'm hoping I get my years right, because I don't remember exactly what year that book was published) and Rita, discovering your "Thomas and Beulah", and then "Yellow House on the Corner".  I felt like there was a family that I could somehow find in the pages of those books, and I wanted to sound exactly like you. I remember going to my very first workshop and said, "Well, I love 'Thomas and Beulah' so much, I'm going to imagine my parents when they were young, before they were married, before I was in their lives.  I want to just live through their courtship and think about the world that they knew," and so that's what I would spends my nights in my room doing, preparing my poems that were my mother thinking about going to meet my father, or my father writing these letters to my mother from basic training.  And even your poem that ends with the name Maurice.  <laughs>  I remember bringing a poem to workshop that ended with "Kathy", my mother's name, and just like, "I'm so excited.  I get to claim this language and this legacy," and it's alive still.
Rita Dove:  Well, thank you, Tracy.
Tracy K. Smith:  Thank you.
Rita Dove:  Wow.  I didn't know.  Gosh.
Tracy K. Smith: laughs.
ADAM KAMPE: THAT WAS TRACY K. SMITH AND RITA DOVE ON THEIR ROLES AS POETS LAUREATE AND EDUCATORS. TO READ MORE STORIES ABOUT OTHER PIONEERING WOMEN ARTISTS, PLEASE CHECK OUT THE LATEST ISSUE OF NEA ARTS AT ARTS.GOV – A SPECIAL THANK YOU TO IN-HOUSE POET, KATY DAY, FOR HER BOOKS AND QUESTIONS AND TO THE ENGINEERS AT PRINCETON UNIVERSITY, THE VIRGINIA FOUNDATION FOR THE HUMANITIES AND NPR FOR TRIANGULATING THE RECORDING. LAST BUT NOT LEAST, A VERY SPECIAL THANK YOU TO TRACY AND RITA FOR THEIR TIME. FOR THE NATIONAL ENDOWMENT FOR THE ARTS, I'M ADAM KAMPE.
MUSIC CREDITS:
Excerpts of following used courtesy of Creative Commons and found on WFMU's Free Music Archive except for "History of an Apology" by Paul Rucker from his album, History of an Apology. 
"The Printed Word" by David Hilowitz
"Claire de Lune," (from Variations) and "Delta," and "Floating in Space" (from Daydream) by Podington Bear
"Roll" by Evan Schaeffer
"Joyeux Nol Monsieur Richard" by Julian Winter