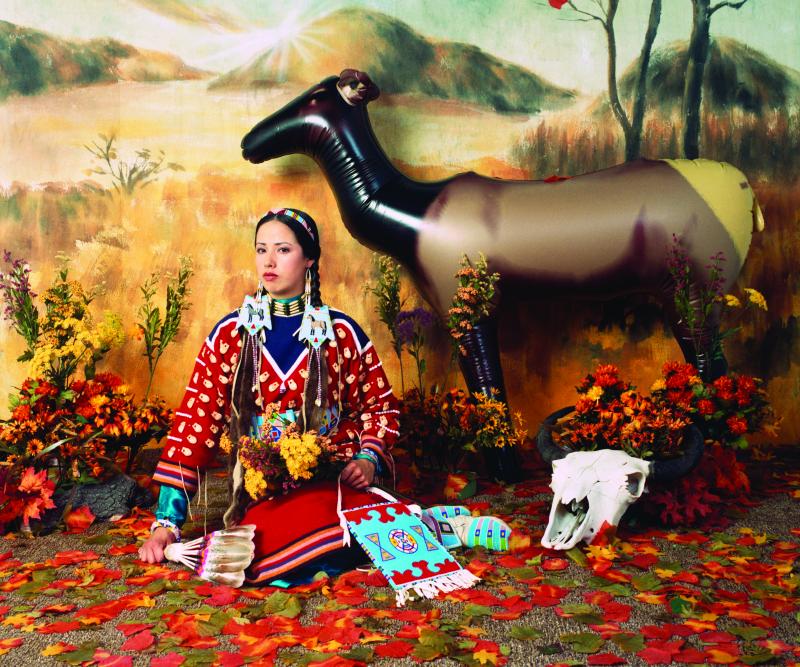 Growing up on the Apsáalooke (Crow) reservation in Montana, Wendy Red Star was immersed in Crow culture and art. Her father was a rock musician, her uncle was a painter, and her grandmother sewed traditional Apsáalooke regalia and beadwork. When reflecting on her childhood, Red Star said that although the reservation may have been poor economically, "culturally, I grew up very rich." 
Today, Red Star explores her cultural heritage and the role of Native women through a variety of media, including photography, sculpture, video, fiber arts, and performance. Her work has been shown at institutions ranging from the Metropolitan Museum of Art to the Fondation Cartier pour l' Art Contemporain in Paris. Her exhibition Wendy Red Star: The Maniacs (We're Not the Best, But We're Better Than The Rest), which draws inspiration from her father's musical career, is on view through March 18 at New Mexico State University, with NEA support.
Red Star has continued to pass down the family's artistic legacy through her ten-year-old daughter, Beatrice. This mother-daughter duo has been collaborating for four years, and demonstrates what "owning your power" as a Native-American woman looks like. In her own words, Red Star tells the story of her artwork and her culture.
THE INFLUENCE OF MY GRANDMOTHER
The Crow Nation is a matrilineal society, so everything is passed through the mother's side. Since my mother is white, I go by my [paternal] grandmother's side. I really love tracing Crow history and culture though my grandmother's line. 
My whole life, my grandmother, Amy Bright Wings Red Star, was always making something in regards to Crow traditional outfits. Most of my memories are of walking into her little craft room. She'd be behind a sewing machine or drawing beadwork designs. But I'd never thought of her as an artist. Being an indigenous person, I thought that was just the lifestyle. It was hard for me to see that in a different light.
I didn't realize that she was a big influence to my practice until much later when I took an interest in sewing and making traditional regalia. Now I would consider sewing to be one of my greatest talents. It surprises me each time I make a traditional Crow outfit or something with fiber. I think just from being exposed to seeing my grandmother making things, I was absorbing that [knowledge].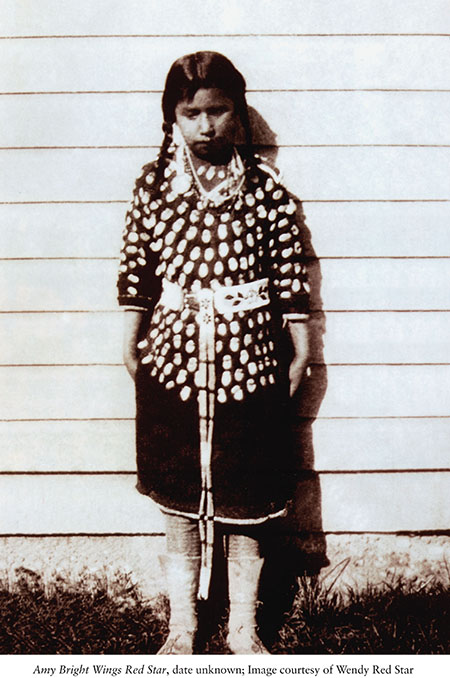 LEARNING TO EMBRACE IDENTITY
When I left the reservation, "otherness" came up. Even folks who thought they were fairly liberal would position me into this "other" box. I felt that a lot when I was in graduate school, especially with identity-based artwork and the culturally pointed artwork I was making. I noticed my professors weren't able to really talk about my work, or they were uncomfortable positioning themselves in a place where they didn't have knowledge. That was really damaging for me. I started to think, "Maybe this is not the right type of work. Maybe I need to make work that is less about my culture." 
I used to hear expressions like "identity-based artwork is dead," and I would feel a sense of guilt about my work. But race, identity, and gender are not dead. They're very much things that we need to be talking about. Now that I am older and have more confidence, I realize that the work I'm making is important and has a place and position in the world. 
As indigenous people, through colonization, we're having to deal with some of the same dilemmas that other women are experiencing as well. There's sexism—women are limited to certain things. I created the hashtag #ApsaalookeFeminist, and anytime I experience something or make something that is historically and culturally specific to Crow women, I'll photograph it on Instagram with the hashtag. I believe that within the feminist movement there needs to be room for this Apsáalooke feminist.
MAKING SPACE FOR NATIVE WOMEN ARTISTS
I found that Native collections with Native curators at museums were recognizing that their collections were flawed in that things written about objects in the collection were all from non-indigenous people. So curators are realizing that we need to bring Native perspectives into museums. I see a lot of Native artists being recognized in exhibitions—I feel like that's a shift and a change. And women artists are doing shows that point out, "There's a lack of women in this collection," or, "There's only one woman in this exhibition and 20 men!" The covers are being pulled off the bed to expose those [discrepancies]. I see certain institutions stepping up to the plate and saying, "Look, we want to do something about that." I definitely feel like my work has been part of that movement. 
I curated an exhibition at the Missoula Art Museum called Our Side, which is a small group show focused on four indigenous women. I wanted to work with these particular women because they're strong artists in their own regard, and they're working in ways that unify all the different aspects that are important to indigenous people. For me, it's really important to support indigenous artists, and indigenous women artists. 
I want [Native women] to have a place and a position within the art world. I don't want it to be this anomaly, or special division. I feel like Native men are making a little bit more headway than Native women. That's something that I think is so important: to have the indigenous female perspective and voice positioned in the art world. I would hope that we continue to see more Native women showing in big shows and exhibitions.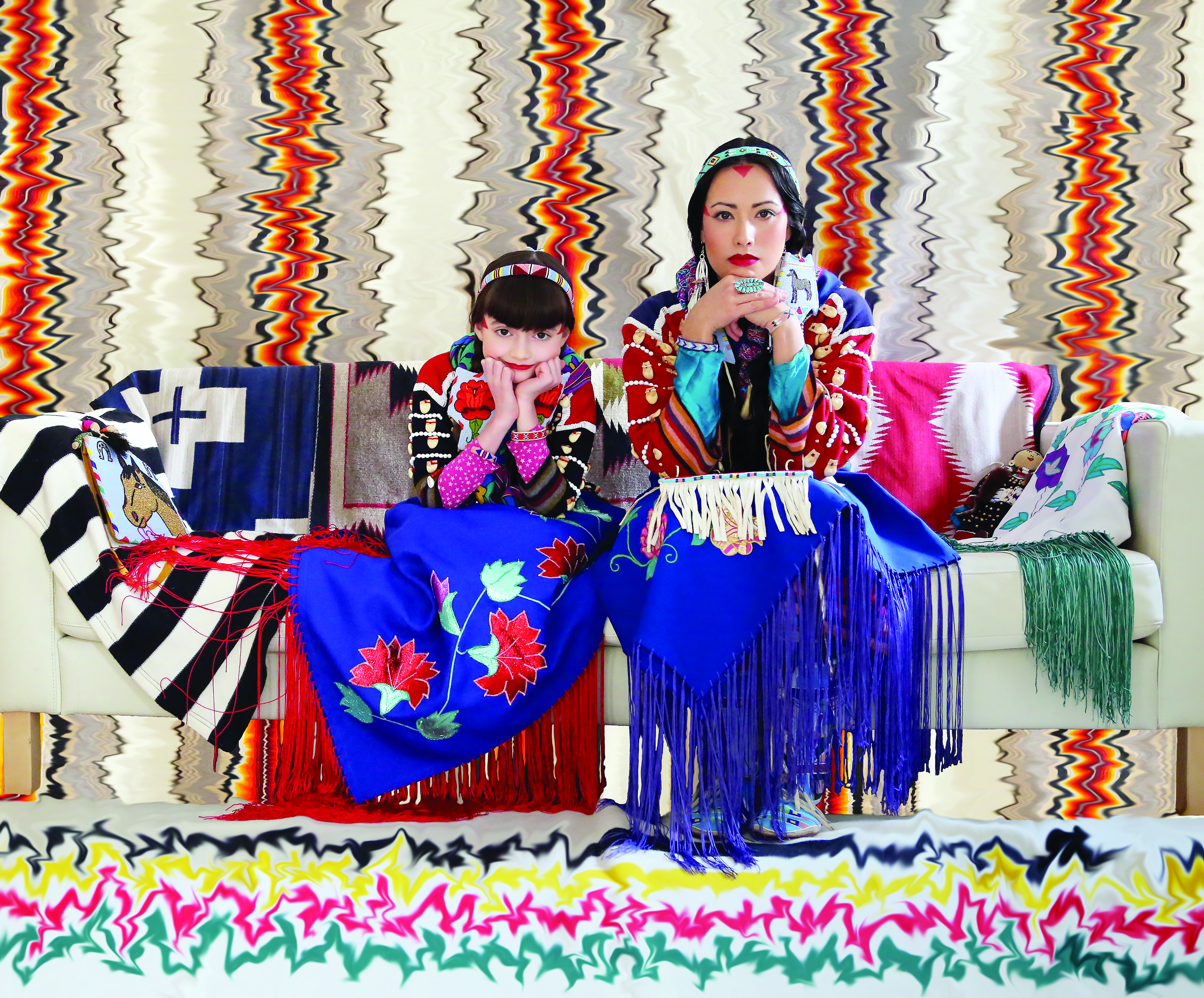 INTERGENERATIONAL COLLABORATION 
In 2014, I was offered a solo exhibition at the Portland Art Museum. I was working on a body of work called Medicine Crow and the 1880 Crow Peace Delegation. As part of the show, there were delegation portraits of Crow Chiefs. One night I was working on the portraits and my daughter Beatrice, who was seven at the time, wanted to play. I told her, "I can't right now, but here, take a stack of these Xerox photos, and you can play with these." A few minutes later, Bea came back to my desk, and she plopped down one of the Xerox photos of the chiefs that she had colored all over the top of. It was beautiful and free, and everything I needed to help round out the show. It was her interpretation of these chiefs who were her ancestors, and it was a perfect way to include the next generation's voice. 
What solidified that we could have a future together in collaboration was, during the opening, she wanted to talk about her work. I thought, "I'm going to be talking about my work. So, okay, I'll indulge you in this." She spoke about her work in front of around 100 people. She has this gift of public speaking. That is when I realized that, "Wow, we can actually do something!" We've been able to collaborate at numerous museums and have a project coming up in 2019 at the Newark Museum in New Jersey. It's been a really great experience for myself and Beatrice as well. 
I want Beatrice to have confidence and to own her power. Those are the tools that I'd like her to have in anything that she does. I feel like within my own life I haven't really done that. I'm doing a lot of work now where I'm realizing, "That's my power, and I can own that." It's exciting to see her in positions where I already see that she's confident and owning her power. 
Morgan Mentzer is an intern in the NEA Office of Public Affairs in 2017-2018. 
All photos courtesy of Wendy Red Star