Pushing the Boundaries: A Look at Visionary Approaches to the Arts
American Artscape | 2018 No. 3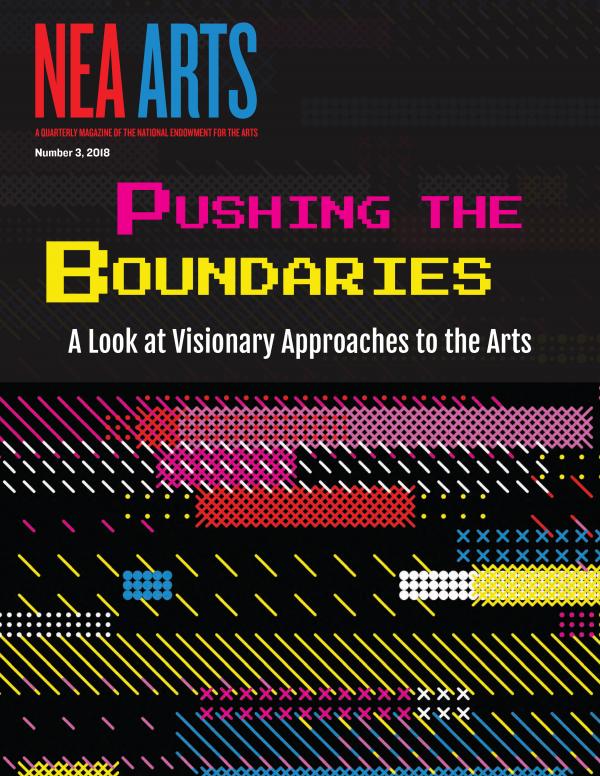 Download Issue
All Issues
About this Issue
"Art is always visionary. Art always disturbs present realities, however satisfactory they may seem to the rest of the world." —Visual artist Ben Shahn
While it may be true that all art is visionary, some visions are more expansive than others—pushing the boundaries of what's seemingly possible, and in some cases, permanently changing the artistic landscape. In this issue of NEA Arts, the National Endowment for the Arts explores organizations and individuals who have impacted artistic fields through their bold approaches and by refusing to limit the scope or daring of their imagination.
We'll learn how the Processing Foundation seeks to break down barriers to digital art by making coding more accessible, and we'll show how Meow Wolf has created a new frontier for how art can be presented. We'll see how director Richard Linklater has experimented with cinematic techniques to make movies in new ways, and how the Martha Graham Dance Company has maintained its status as a groundbreaking company not just through dance but through technology. We'll be introduced to Baltimore's American Visionary Art Museum, where self-taught artists are celebrated, and meet playwright Luis Alfaro, who transmogrifies classic plays into dramas for contemporary audiences. And we'll look at how the new initiative Sound Health explores the impact of music on health through an innovative partnership of musicians and scientists, while Byron Sanders, CEO of Big Thought, shares his own vision for introducing creativity to education to overcome the opportunity gap.
We hope you'll be inspired by the innovation and imagination you find in this issue to see how your own creative vision might similarly impact our world.