Bringing What Is in the Dark to Light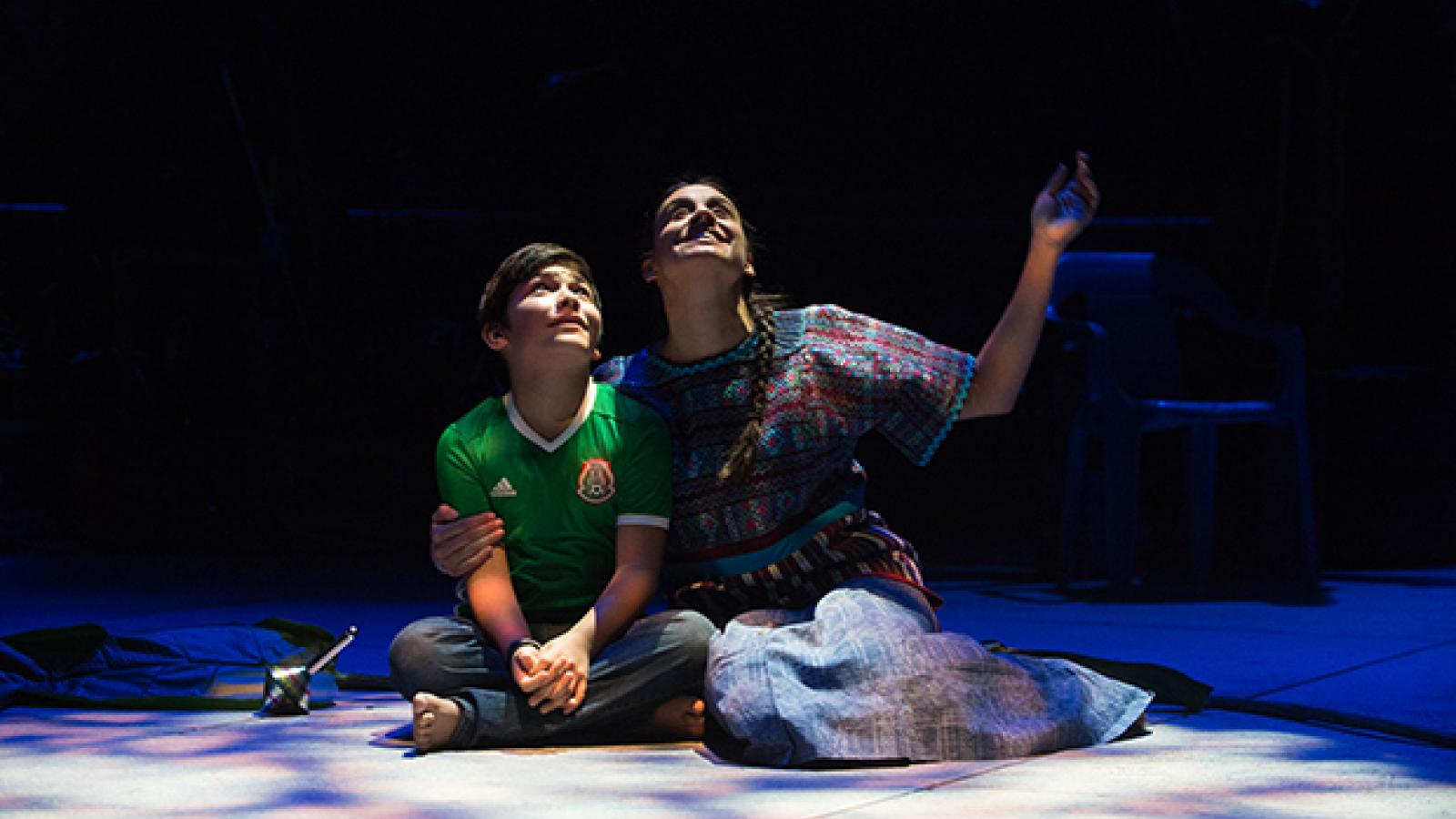 During the 1990s, Luis Alfaro held a playwriting residency at a correctional facility in Tucson, Arizona. There, he met a 13-year-old girl who had murdered her own mother as revenge for the woman's attempt to murder the girl's father. The same night he heard her story, Alfaro happened upon a theater bookstore offering a "Ten Greeks for $10" deal. Having never read the Greek classics, he bought the package and began Sophocles' Electra. Inside the ancient text, he found the same tale he had heard in his workshop that day: a young woman who murders her mother to avenge her father's death. 
The episode inspired Alfaro's critically acclaimed Electricidad (2003). Set in the East Los Angeles barrios of Alfaro's youth, the play adapts ancient theatrical traditions for the Latino community, filling the stage with Spanglish as well as the gang culture and violence that Alfaro frequently witnessed as a boy. 
Other classically inspired texts followed. From Sophocles' Oedipus came Alfaro's Oedipus el Rey (2010). From Euripides' Medea came Alfaro's Mojada: A Medea in Los Angeles (2015). And with support from the National Endowment for the Arts, he is currently developing an adaptation of Romeo and Juliet based on an interracial couple's experience.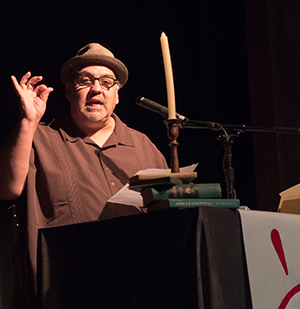 In both his adaptations and numerous other works, Alfaro is known for diving into marginalized communities, empathizing with their struggles, and transporting their stories to the theater, despite the field's long tradition of excluding communities of color. Adapting classic texts, Alfaro has shown that the Latino community is as natural a setting for Western European works as any other, and the issues that they deal with are not issues of the "other"—they are, in fact, the same problems that have plagued humanity from the start. "I'm trying to let us see that 1,400 years later nothing's changed," said Alfaro. "We are part of a continuum. I think the ancient texts are really teaching us something about being very human, about the fragility of humanness and how we can learn to be better people by not repeating our same mistakes."
In both his adaptations and numerous other works, Alfaro is known for diving into marginalized communities, empathizing with their struggles, and transporting their stories to the theater, despite the field's long tradition of excluding communities of color. 
For example, in 2014, 73 percent of artistic directors and 62 percent of executive directors at leading U.S. theaters were white men. Out of 39 Broadway shows produced during the 2015-16 season, there were just six writers of color, including composers. Perhaps not surprisingly, minority groups are still the least likely to attend plays—musical and non-musical—according to studies by the National Endowment for the Arts.
But Alfaro has always seen the value in telling his story, even from an early age. He recalled an incident in fourth grade when he was suspended and sent to a psychiatrist for telling his classmates about a man who was murdered on his front lawn in the violence-riddled Pico-Union neighborhood of Los Angeles. The punishment quickly ignited Alfaro's voice rather than muffled it. Raised by union farmworkers and protestors, he was taught to "bring what is in the dark to light," and treated his school's actions as a fierce blow of censorship. 
"I've got to keep doing this because they're trying to stop me," Alfaro remembered thinking. "In truth, I think that's probably what set me forward in terms of writing about things that were real in my community. I think what I was really trying to do is name the world that I was in."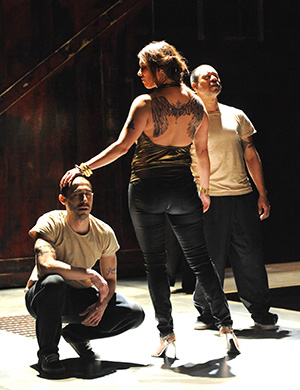 In doing so, Alfaro has developed into one of the most distinguished playwrights in modern day theater. He has received a MacArthur Foundation "Genius" Fellowship, two Kennedy Center Fund for New American Plays awards, and a United States Artists Fellowship, among other awards. The National Endowment for the Arts has also supported numerous productions and premieres of his work throughout the country.
Alfaro says much of his work is rooted in his "citizen artist" identity. While Alfaro's parents encouraged his artistry, they also exposed him to their religious value for community and the subsequent effort to uplift vulnerable groups, like themselves, through advocacy. He has held jobs in nonprofits and social service agencies where he worked closely with the people who inspire his writing today.
"Whenever I start a play, I'm really working with people in the community to help keep the play authentic, to be truthful and honest about the environment or language in the story," said Alfaro. "In some way, I'm always there, I'm always in that world. I'm always trying to think about how I write about the world around me."
But for Alfaro, to truly connect with the community, writing plays about his world is not enough—there must be true interaction that includes outreach and educational efforts by the theater. For example, when he came onboard six years ago as the playwright-in-residence of the Oregon Shakespeare Festival (the first such position in the organization's 85-year history), less than one percent of the festival's audiences were Latino, despite its location in a heavily Latino neighborhood of Ashland. Thinking beyond traditional marketing tactics, he instead turned to the local Mexican community for inspiration.
His vision for connecting with Latino audiences was, first, to recruit a taco truck and park it in front of the theater, despite the owner's initial objection, saying, "No, they don't like me there." He dubbed her fears as rooted in myth and paid her $3,000 to show up alongside a mariachi band from a neighboring town. 
The taco truck made over $10,000 that day and the theater shifted its participation rates to include the surrounding community for the first time. Alfaro continued the effort by translating plays into Spanish, providing open captioning, setting aside tickets for people unfamiliar with buying in advance, and holding festivals geared towards Latino expression. Similarly, when New York's Public Theater produced Oedipus el Rey last year, the show sold out before rehearsals even started, and its run was extended twice.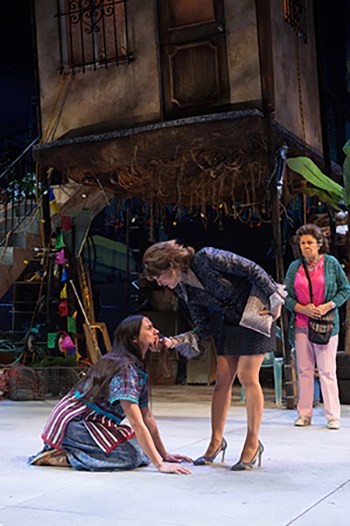 "I not only bring the play, I bring the audience," said Alfaro, "If you let them know, and they find value in it and they see themselves in a story that reflects something they're concerned about or wishing to be represented by, they will show up."
Currently, Alfaro is an associate professor of dramatic writing at the University of Southern California School of Dramatic Arts, where he is teaching a guiding principle he learned from a mentor of his own, Maria Irene Fornes: "There were a lot of great artists before you and there will be a great many after you. All you have to do is tell the story of today."
To better impart this lesson, he is constantly working around an institutionalized curriculum, urging department leaders to allow class outside of the classroom, and providing experiential spaces. He often rejects the notion of writing classes as incubators for marketable works, but rather sees them as opportunities to shift and shape young minds.
"I'm okay if they do failures all three years. If all they did was experiment for three years they will walk out a better artist," said Alfaro regarding his students. "What I do really well is I help people, not only audiences, but students and other artists shift the point of view in our thinking."
In the classroom, Alfaro is constantly reminded that the field of theater has much more work to do to move generations forward. The problem is complex, he noted, involving a struggle to ensure both artistic programs and leadership are inclusive and diverse. As a result, he shares his sense of "citizen artist" with his students to invigorate their civic engagement.
"There's a radical action to 'not play nice,'" said Alfaro. "To hold a board accountable, to hold our artistic director accountable and say, 'Listen, I don't know where you thought it was okay to not feature people of color or women in your season. Look at what's around you.'"
Alfaro himself makes the effort to look around at his surroundings and see the need for his work in communities of every color, gender, sexuality, and background. His goal is to work beyond the confines of identity and produce plays that say something for everyone. Alfaro is consistently asking, "How do I create some sort of parity here that allows us all to be invested in the same thing that we love doing so much?"
Identifying himself as "Mr. Super L.A.," Alfaro has found his place back in the city of his youth. Now, just as in the fourth grade, he thrives in the areas where he is the odd man out, where he is challenging others to question their reality.
"The goal is to create the world that you want to see," said Alfaro. "That's always, always, always a challenge."