If You Burn It, They Will Come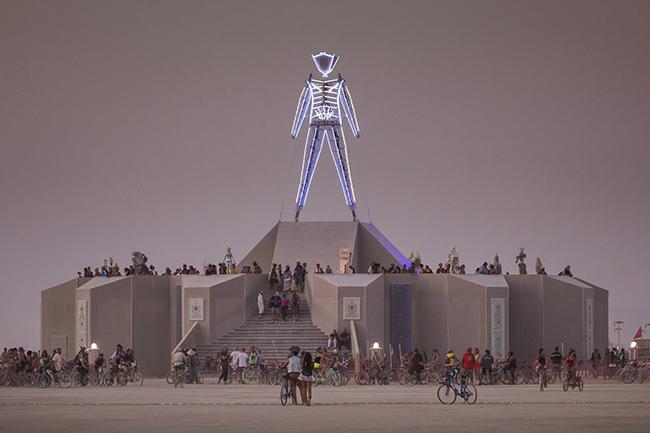 Welcome home! This is how fellow burners greet each other upon arrival in the Nevadan Black Rock Desert for the larger-than-life experience and celebration of art, culture, love, and radical self-expression that is Burning Man.
What started as a small renegade act on San Francisco's Baker Beach in 1986 (burning a wooden man!) has blossomed into a fully functioning city where 70,000 people gather to escape modern society, or what's referred to as "the default world." In the process, Burning Man has morphed into the world's largest outdoor art gallery. Unlike most galleries, however, this one is ephemeral: At the end of eight days of euphoria, a 75-foot wooden effigy is burned and every artwork and sign of life is removed. Black Rock City disappears.
And then the city, or rather the spirit of the city, reappears in the form of smaller, regional "burns" across the country and the globe. It's no longer just a festival in the desert; it's a kind of movement. So the idea of Burning Man is a perpetual work-in-progress, constantly shifting like the dust upon which the temporary city is built. In 2012, the organization transitioned into a nonprofit—the Burning Man Project—to ensure the event lives well into the future. In 2016, Burning Man Project acquired the 3,800-acre Fly Ranch in Northern Nevada, which opens the door for new year-round cultural experiments and innovation projects.
I sat down with one of Burning Man's six founders, Michael Mikel, and their director of art and civic engagement, Kim Cook, to talk about the past and the future of Burning Man. They stopped by the National Endowment for the Arts during a break from the symposium called Radical Inclusion and Tales from the Playa at the Smithsonian American Art Museum, held in conjunction with the exhibit No Spectators: The Art of Burning Man at the Renwick Gallery.
IF YOU BURN IT, THEY WILL COME
Michael Mikel: We arrived in the Black Rock Desert and we drove just off the highway and out onto this vast open plain, there was just huge nothingness for as far as we could see and I took a stick and I drew a line on the ground and I said, "On the other side of this line, everything will be different."
Sound of Silence under
We then stepped across that line together and then we went out into the deep desert and we erected this four story tall wooden man and we burned it and that was the first Burning Man on the Black Rock Desert.
Burning Man is an event that takes place each year in the Nevada desert about 200 miles north of Reno, and we literally over the course of eight days build a city in the desert with large pieces of art and small pieces of art. I would say that Burning Man is the largest outdoor art gallery in the world.
Sound of Silence up
But beyond that, it's also a community. We're currently at about 70,000 people.
Adam Kampe: BY COMPARISON, THERE WERE 80 PEOPLE AT THE FIRST BURNING MAN IN THE BLACK ROCK DESERT. I'M ADAM KAMPE, AND THIS STORY IS FOR THE NEA ARTS MAGAZINE ABOUT VISIONARIES. MICHAEL MIKEL, THAT'S RIGHT MICHAEL SQUARED, IS ONE OF SIX CO-FOUNDERS OF BURNING MAN—THE ANNUAL CELEBRATION OF ART, LIFE, AND COMMUNITY-BUILDING THAT TAKES PLACE THE LAST WEEK OF AUGUST THROUGH LABOR DAY. MIKEL SHARED THAT BURNING MAN BEGAN ON BAKER BEACH IN SAN FRANCISCO IN 1986. ON A LARK, CO-FOUNDER AND CHIEF PHILOSOPHICAL OFFICER, LARRY HARVEY, CALLED HIS FRIEND JERRY JAMES WITH A STRANGE IDEA—TO BUILD AN EIGHT-FOOT TALL WOODEN MAN AND SET HIM ON FIRE.
Michael Mikel: Not knowing how to start a fire they used gasoline so it just incandesced like a second sun which brought people from up and down the beach to it. And so that was the very beginning and they repeated each year and it got larger and larger until 1990 when we showed up on the beach with about 400 people and a four story wooden man and the authorities came and said, "You can't do this here, you don't have a permit."
Adam Kampe: A COUPLE OF MONTHS LATER, THEY RANDOMLY WATCHED A VIDEO OF PEOPLE PLAYING CROQUET IN THE DESERT, BUT THE BALL WAS 8 FEET IN DIAMETER AND THE MALLETS WERE PICK-UP TRUCKS.
Michael Mikel: And we thought, we could go out there and burn a man, this is the kind of place that we could do it.
It was about 1993 that I looked out across the playa, this vast dry lakebed and I realized that something important was happening, there was about 2,000 people there and I knew that there was something significant both in the culture and the art that was evolving there and that's when I really began to focus on the future and where Burning Man was evolving into.
Kim Cook: So I think the movement of going from thinking of Burning Man as an event to thinking about Burning Man as Black Rock City just that subtle adjustment changes an entire point of view on what is exactly happening in the desert. I'm Kim Cook, the director of art and civic engagement. Black Rock City becomes a place of experimentation, a laboratory for civic practice.
Michael Mikel: And it's been a very organic process, as we've grown into literally a city, we have our own kind of security department, we have our own hospital, we have our own fire department, we have an FAA approved airport, we land more than 400 planes every year.
Kim Cook: Black Rock City and Burning Man the event becomes also a laboratory for developing the capacity of artists to make work in experimental and really far reaching ways. I think it's important to remember that the whole entire city is an act of self-creation so all of the participants are potentially costuming, at least half of the participants have created some kind of a camp that's called a theme camp and that theme camp is offering an experience that could be a jazz club or zip-lining or a symphony orchestra or a bakery, many, many different kinds of things, so there's self-expression happening all around.
Burning Man ambience under
You will also see a lot of people riding on bicycles and all of those bicycles will be decorated. You often see in the media, portrayals of people wearing things that are lighting up which is a safety statement more than a fashion statement because there are 400 Mutant Vehicles driving on the desert in the nighttime. All carefully controlled and at five miles per hour but it still is dangerous if you're not visible to the driver of the Mutant Vehicles so you'll see people if it's at nighttime decked out with their bicycles and their clothing all lit up.
You will see the artworks, you will see the dust, you will see the vast mountain landscape and the sort of scale of things, you may see sunrise and you may see sunset and you may see both of them depending on if you spent the whole night dancing to the music coming from a Mutant Vehicle. So there is not one experience, I think when you asked Michael, "Michael, what is the point of Burning Man?" in a way the same answer applies here, it's like one sees what you see based on that particular moment and it may not be anything like what you set out to do in the first place.
Michael Mikel: And then there are times when everything is crystal clear and you may be very close to a piece of art, inspecting one minute detail or you may draw back and see 10,000 people gathered around a piece of art with crystal clarity and it's just beautiful.
Transition
Kim Cook: In the art department, we have over 300 artworks that come to the desert every year, all of whom are supported in some way by the event. About 25 percent receive grant funding for their artworks in the range of 40 to 60 percent of their total cost so they still have to raise a fair amount of money. And some projects can cost as much as 600,000 dollars to complete, some cost 1,000, it all depends on the work.
Because we don't apply a curatorial lens in a qualitative fashion, there's a lot of freedom for artists to test and to try things.
Music bridge
There's an artist by the name of Rebekah Waites who began with Burning Man being a two dimensional sort of painter on canvas and she had an idea to create something called the Church Trap which is a large scale church suspended on a single point with an organ inside and she told me, I asked her last year, I said, "Would you say that doing work for Burning Man has made a difference in your life?" and she said, "Well before I made Church Trap I was a receptionist and since I made Church Trap, I've never had to work as a receptionist again." So there is something actually quite transformational career wise. I look at some of the conditions that create that and there's a lot of collaboration and cooperation when you have more than 300 artworks being concurrently built over a period of two weeks or three weeks, those artists are helping each other to get the impossible done.
Michael Mikel: The construction of the art, as I said can take many forms or processes, pieces which are assembled beforehand, some ideas come out just as ideas and are fabricated on site, so it's a wide range.
Kim Cook: Last year we had a 40-foot tree with 21,000 uniquely addressable LEDs built by essentially eight guys who they had outmatched themselves with their desired end result and it was the volunteers of other art projects around the playa when they finished their work that came and helped these that got the Tree of Ténéré completed which is now becoming a limited edition offering through a large gallery for public art installation in the future.
Transition
Michael Mikel: I think there's something missing in our modern culture that Burning Man tends to fulfill, there's a need for ritual, a need for participation, a need for community, a need for expression.
Kim Cook: They say that you get the burn that you need to have.
Michael Mikel: Everybody comes to Burning Man when it's their time.
Kim Cook: Sometimes people crash, collide with the experience and sometimes people have something triumphant and exultative.
Michael Mikel: There are many works that are burned and many that are not burned, particularly in recent years, we have more and more art that is built to become permanent, to go beyond the event.
Kim Cook: And it seems that always people experience something that changes or affects them. So there's a lot of different kinds of impacts that I could talk about but the spirit itself is ephemeral just like the city.
Michael Mikel: But the one standard, the common ritual is the burning of the wooden man, not that it represents a man but it represents perhaps mankind, it's in all of us, we are all a part of that as we are born and grow and die and it's a reflection of ourselves I think in what we see in this figure.
Adam Kampe: THAT WAS MICHAEL MIKEL AND KIM COOK ON THE PAST, PRESENT, AND FUTURE OF BURNING MAN. SPECIAL THANKS TO ALL THE KIND FOLKS AT BURNING MAN WHO SHARED KEY INFORMATION, ESPECIALLY DOMINIQUE DEBUCQUOY-DODLEY.
A POST-SCRIPT / CODA: BURNING MAN FOUNDER AND CHIEF PHILOSOPHICAL OFFICER, LARRY HARVEY PASSED AWAY ON APRIL 28, 2018. HERE'S HARVEY ON HOW PART OF BURNING MAN'S FUTURE IS THE REPLICATON OF SMALLER BURNING MANS AROUND THE GLOBE. AS HE EXPLAINS, IT'S A MOVEMENT, NOT AN EVENT.
Coda
Larry Harvey: Quite spontaneously, people who've come to the event have gone home and found events of their own. [cheering in background] They've internalized the ethos that they've learned here. Now we're seeing a movement rise across the nation that we're helping to organize with representatives in Canada, across America, in Europe, and the Far East. So now we're not an event, we're a social movement.
People will begin to apply the essential values they learn here to the politics in their hometown and begin to engage in a civic dialogue because they've seen a city that's based on these principles that functions. [more cheering]. That's how civic altruism and wearing a cow costume come together. [cheering fades out over fireworks and burning of the man].
FOR THE NATIONAL ENDOWMENT FOR THE ARTS, I'M ADAM KAMPE.
Credits – Sound/Ambience
Excerpts of wind and other ambience recorded at various Burning Mans, used courtesy of Dr. Yes
Excerpt of sound of the burning of the Temple (2014), courtesy of The Burning Man Project.
Excerpts of ambience (biking, talking) courtesy of The Bikes, Nevada—Burning Man (2012), courtesy of The David Rush Travel Show
Excerpt of Larry Harvey's voice from a ZED-CBC interview (2003), courtesy of The Burning Man Project.
Credits – Music
Excerpt of "Sound of Silence" written by Paul Simon and covered by Swiss DJ, Sorn, used courtesy of Sorn and by permission of Universal Music Publishing (ASCAP).
Following tracks from WFMU's Free Music Archive at freemusicarchive.org, used courtesy of Creative Commons.
Excerpts of "Dirty Wallpaper" (from Lemuel); "The Yards" and "Kid Kodi" (from Skittle); "Well-Water" (from The Bulwark); "Watermarks (from Crab Shack); and "Hundred Mile" (from K2) by Blue Dot Sessions.
Excerpt of "Max Flashback" by Lee Rosevere from Music for Podcasts.