We Need Darkness to See the Stars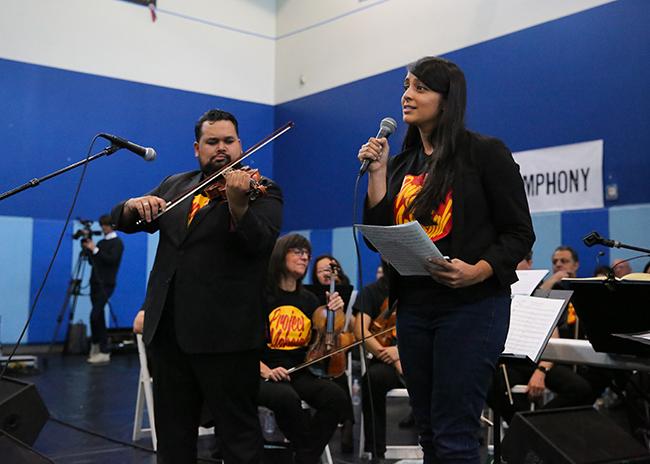 It's not a stretch to say Vijay Gupta is a phenomenon. He passed a Juilliard audition at age six. He made his solo debut with the Israel Philharmonic at age 11. He graduated pre-med from Marist College at 17, and went on to study spinal cord repair at Hunter College and then Parkinson's Disease at Harvard. He joined the LA Philharmonic Orchestra at 19, the youngest musician to ever join its ranks. He founded the nonprofit Street Symphony at age 24. He was named a Kennedy Center Citizen Artist Fellow in 2017 and, a year later, received a MacArthur "Genius" Fellowship. Vijay Gupta is only 31 years old.
Of all his accomplishments (so far), establishing Street Symphony perhaps best encompasses both Gupta's artistic vision and his tremendous generosity and humbleness. Disturbed by the large homeless population in Los Angeles (the city's Skid Row is home to nearly 20,000 human beings), he launched Street Symphony in 2011, an organization dedicated to empowering the lives of those on the margins—particularly those living on the street or in jail—through artistic engagement and musical training. He opted to use his skills to combat social inequity through the transformative power of art, and to reach the overwhelming number of lost souls without a home, unmoored and adrift in one of the wealthiest cities on planet Earth. And it's working.
Listen to hear the story of Street Symphony.
Vijay Gupta: When we started Street Symphony, we came from this place of outreach, right. We were the classical musicians who had the answers. We were going to play world-class performances. The kind of music that you would play in Disney Hall. For folks who could never afford a ticket to come to the hall, and that was very simply our mission, music for the underserved, and then what started to happen is that mission started to shift and change because our audiences would raise their hands during events and they would participate and they would ask questions that provoked us to go back to our rehearsal rooms or into our own studios and chambers and really ask, "Well, what on Earth is this music really about?"
Music up
And so the journey of Street Symphony has been one from outreach into true mutual, almost radically mutual engagement.
Adam Kampe: VIJAY GUPTA JOINED THE L.A. PHILHARMONIC ORCHESTRA AT AGE 19 AS A FIRST VIOLINIST. HE WAS BY FAR THE YOUNGEST MEMBER OF THE LA PHIL. AFTER A FEW YEARS WORKING INSIDE WALT DISNEY CONCERT HALL, A GORGEOUS FRANK GEHRY-DESIGNED BUILDING OF UNDULATING STEEL IN DOWNTOWN LOS ANGELES, GUPTA GREW INCREASINGLY DISTURBED BY WHAT WAS HAPPENING ABOUT A MILE SOUTHEAST IN WHAT'S KNOWN AS SKID ROW. THE SKID ROW COMMUNITY IS HOME TO ALMOST 20,000 HUMAN BEINGS WHO EITHER LIVE ON THE STREET OR IN IMMEDIATE DANGER OF CHRONIC HOMELESSNESS. GUPTA COULDN'T SHAKE WHAT HE'D BE WITNESSING, AND SO AT THE RIPE OLD AGE OF 24, HE TOOK ACTION AND FOUNDED STREET SYMPHONY—A GRASSROOTS COMMUNITY OF ARTISTS, ACTIVISTS AND EDUCATORS, DEDICATED TO COMMUNITY ENGAGEMENT THROUGH MUSICAL PERFORMANCE, DIALOGUE, AND TEACHING ARTISTRY. THEY NOT ONLY PERFORM CLASSICAL MUSIC FOR PEOPLE IN SHELTERS AND COUNTY JAILS, BUT THEY ALSO DEVELOP MUSICAL SKILLS AMONG THE DISENCFRANCHISED, MANY OF WHOM HAVE SERIOUS TALENT.
Vijay Gupta: And we also pay all of our artists, including members of the Skid Row community, to perform with us and in that sense it's almost becoming this very real economic model for artists in the Skid Row community to find the ground under their feet."
Adam Kampe: HERE'S 2018 MACARTHUR GENIUS VIJAY GUPTA ON THE BIRTH AND EVOLUTION OF STREET SYMPHONY.
Patton State Hospital / Do you see me?
Vijay Gupta: One of the first events I ever did, even before there was an idea of Street Symphony, was at a place called the Patton State Hospital, which is about 70 miles east of L.A. in San Bernardino. I went into this place and I played about 25, 30 minutes of unaccompanied solo Bach, the sort of Mount Everest for violinists, for two groups of inmates—all people who are at Patton are incarcerated there because they've committed a crime due to a severe mental illness, and I was playing in the second group. I had never played in a place like this ever before and, you know, I was getting through the second half of Bach's "Chaconne," and I was feeling really good about my performance, and when I finished, however, I got nothing from the audience. It was kind of like they just sort of stayed there looking at me, and this one gentleman <laughs> in the middle of the room, he stood up and he asked me, "Son, don't you know any songs we know?" And so I just turned red, and I had nothing to say. I had no way to engage him, and so he stood up and he started singing the song, "Jesus on the Mainline,"
Jesus on the Mainline under, up, under
… and I had never actually heard this song before. I had to go up and look up the words, and of course the words are, you know, "Jesus is on the main line. Call Him up and tell Him what you want … if you're down and out and want to get out, tell him what you want …
Mainline up, under
But the other thing I also learned is that this song was one of the freedom songs. It was an anthem of the Civil Rights Movement, and of course, this gentleman who was singing it happened to be a very proud, beautiful, black man, and he wasn't asking me to entertain him. In singing "Jesus on the Mainline," he was asking me to see him and understand him. And that has been a formative question in the development of Street Symphony, is in performing music that we love, that I love, which might be Beethoven quartets or chamber music by Mendelssohn, how do we tell the stories of people who are in the room? And in a sense, that was one of the greatest music lessons of my life. Because now when we present Handel's "Messiah" in Skid Row, we begin the performance with a set from an all-female mariachi ensemble and we'll throw in Leonard Cohen's "Hallelujah," after Handel's "Hallelujah," and we'll end the performance with a set from our reggae deejay and end it as a dance party so that everybody's experience matters, everybody's life matters and is reflected.
Paradigm shift / Classical music history and trauma
It kind of provoked us to look at classical music in a very different way. We started to delve into the experiences of pain and trauma in the lives of composers, like Schumann or Brahms or even Beethoven, who are often relegated to being these unexpressive marble busts on the wall, and it was actually in taking this music into Skid Row or into a county jail, where the lives of these composers came back to life. You know, one of our big projects every year since 2015 is a performance, a singalong performance, of Handel's "Messiah," in Skid Row, at the Midnight Mission, which is one of our partner venues in the Skid Row community, and when we actually did the research and delved into the history of Handel's "Messiah," it was first written to release almost 140 men from debtor's prison. Because Handel himself was facing incredible debt and almost bankruptcy at that point in his life. So in a very real sense, this, this project has brought our classical music back to 3D, full-color life and that's an amazing gift.
Handel under, up
Leaning into his own trauma
Something I'm kind of leaning into vulnerably to talk about more is that I grew up around trauma. I grew up around mental illness and abuse, and I had parents who were immigrants from Bengal who came with a lot of loss, and so for me, music was a lifeline very early on, and so now, being thrust into a job at the L.A. Phil at 19, I started to encounter this community of people who were living in Skid Row or who were incarcerated in the L.A. County jails or in places like the Patton State Hospital where I performed, and in a very odd sense I felt a deep kinship with them because these are communities that are defined by trauma.
Nathaniel Ayers / The Soloist
And the first person who I met from this community was Nathaniel Ayers, who's the subject of "The Soloist," and it was in meeting Nathaniel that I understood that here was a man who deserved to be on any concert hall stage in the world, but because he was diagnosed with paranoid schizophrenia, because he was experiencing poverty, but undoubtedly also because he was black, he ended up being homeless in the Second Street tunnel for almost 20 years. That was something that I couldn't wrap my head around as a young, naïve musician coming into the L.A. Phil. So I wanted to spend more time with Nathaniel on his terms and in his community just to understand how on earth this guy survived, and then the question very early on became, "Well, how many more Nathaniel's are out here?" Right. Like, this guy had a book and a movie made about him. He was going to be fine. But how many more lost stories were there like Nathaniel Ayers?
Ben Shirley – We Need Darkness to See the Stars
A couple of years ago, we encountered the story of a man named Ben Shirley, who was a bass player in a death metal band, and Ben, who's just incredibly talented as a professional musician, is also a member of the Skid Row community. Ben spent about 26 months living at the Midnight Mission and then he started composing when he was getting clean, and he actually got into San Francisco Conservatory, and we brought him down to L.A. to partner him with our amazing composer in residence, a woman named Reena Esmail, and Reena gave Ben a year of composition lessons, and Ben worked with the Skid Row community to create a piece called "We Need Darkness to See the Stars," which is a piece for chamber orchestra and double choir. It was actually performed and premiered at the Midnight Mission, where Ben used to live, at the end of 2017, at our last "Messiah" project, and that metaphor of "We Need Darkness to See the Stars," is really indicative and the paradigm itself when it comes to engaging communities affected by homelessness and poverty and incarceration through the arts. Because the plain truth is that we ostracize and criminalize the most fragile and vulnerable members of our society, and I believe that we do it because inherently we have ostracized and shut away the most fragile and vulnerable parts of ourselves. When we see a man pushing a shopping cart walking down the street, we say, "That man could never be us," so we create policies and systems and structures which demonize that man.
So for me the role of the artist is to be a bridge builder. It is as much our job to heal and inspire and sometimes entertain as much as it is to disrupt and provoke, and one of the patterns that I am committed to disrupting is that we only see great art happen in a concert hall or in a museum or in a largely inaccessible medium or platform. Art belongs to all people, and all people deserve access to a creative and expressive voice.
In a very real sense, now our job is to shift the megaphone to artists in the Skid Row community, other musicians like my friend Nathaniel, who are incredible, resilient, brave, creative people. Skid Row is one of the most artistic communities in America today, and it is because for them, music and art is not a form of entertainment, it's a lifeline. It's a very real lifeline.
One of my mentors is a woman named Liz Lerman, who wrote an amazing book called "Hiking the Horizontal," and she did something very similar to Street Symphony couple of years ago with dance where she was taking dance into senior centers and then to the concert hall and she found that the dancers who were dancing in the senior center sometimes danced with even more expression, because for us as artists, it's really easy to get sucked into the myth that we're commodities and that our greatest good or our greatest impact lies in being perfect. You know, there's so much pressure, especially in the orchestral music world, to be perfect, to be bulletproof. And yet that's not why we became artists, and so it's an amazing thing to come back to, especially in the world of community engagement, to remember that we're really here to tell stories about all people.
We See Darkness Finale up, hot, under
It is also our role as artists to sit in that darkness. It is our role as artists to be in touch with pain, and to actually metabolize that pain into something that is life-giving.
We See Darkness Finale up
Adam Kampe: THAT WAS VIJAY GUPTA, FOUNDER OF STREET SYMPHONY AND FIRST VIOLINIST IN THE LA PHILHARMONIC. SPECIAL THANKS TO JEN BRAZGEL AND VALERIE BISCHOFF. TO LEARN ABOUT OTHER VISIONARIES IN THE ARTS, LIKE FILMMAKER RICHARD LINKLATER OR EXPERIENTIAL ART MAKERS MEOW WOLF, PERUSE THE REST OF THE 2018 ISSUE OF NEA ARTS AT ARTS.GOV
FOR THE NEA, I'M ADAM KAMPE
Music credits:
Excerpts of "Sarabande from D Minor Partita" by Bach and "Take What You Need" by Reena Esmail both performed live by Vijay Gupta.
Excerpt of the gospel song, "Jesus on the Mainline," performed live by Ry Cooder for the Old Grey Whistle Test, 1977.
"We Need Darkness to See The Stars," an original piece (string orchestra/double choir) by Street Symphony's First Composer Fellow Benjamin J Shirley, and conducted by Vijay Gupta. Vocals by the Urban Voices Project (Community Choir based in Skid Row, Downtown LA) along with Street Symphony Chamber Singers. Amy Fogerson is the Director of our Chamber Singers, and is a member of the Los Angeles Master Chorale as are other Chamber Singers. The instrumentalists are all professional classical musicians, including many members of the LA Philharmonic.
Note—Street Symphony commissioned this piece specifically for their annual event at The Midnight Mission. Ben Shirley went through Street Symphony's Daniel Chaney Teaching Artist Program,under the guidance and mentorship of Reena Esmail. Ben is now Co-Composer in Residence of Street Symphony alongside Reena.