Changing the Narrative: Equity and Access in the Arts for Black Communities
American Artscape | 2021 No. 1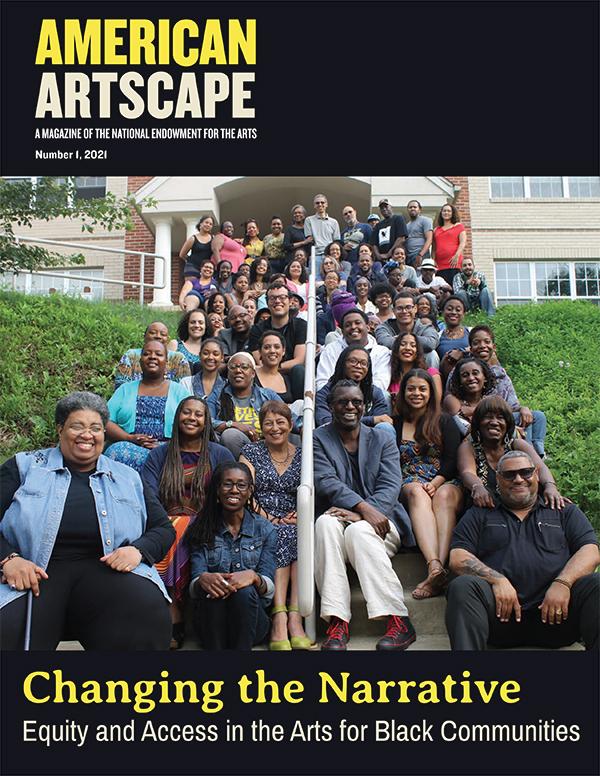 Download Issue
All Issues
About this Issue
The presence of people of color in the arts—both artists and audiences—has helped shape every facet of our culture. However, these immense contributions have not yet been fully recognized as an essential part of our American story.
We see this moment as an opportunity for the arts sector to rebuild in ways that benefit all Americans. Over the next several months, the National Endowment for the Arts will engage in a process of centering equity and justice—along the lines of race, ethnicity, gender, disability, religion, gender identity and sexual orientation, geography, poverty, and the infinite ways these intersect—in everything we do. This work is just beginning, but we are hopeful that it will bring lasting, system-wide change.
The National Endowment for the Arts strives to use its platforms to amplify the stories and narratives from the communities and cultures that help bring us closer to a more perfect union. So, it's our honor to introduce this issue of American Artscape, which lifts up artists steeped in the hard work of building a more equitable future. These stories feature some of the organizations serving Black artists and communities. There are countless incredible organizations across the country whose missions have always been to promote the work of Black artists, to show us that Black art matters, and to use the arts as a tool for racial and social justice.
By showcasing this work and helping share the Black artistic experience, we hope that the Arts Endowment is taking a small step on the long road toward equity in the arts.