Joy is an Act of Resistance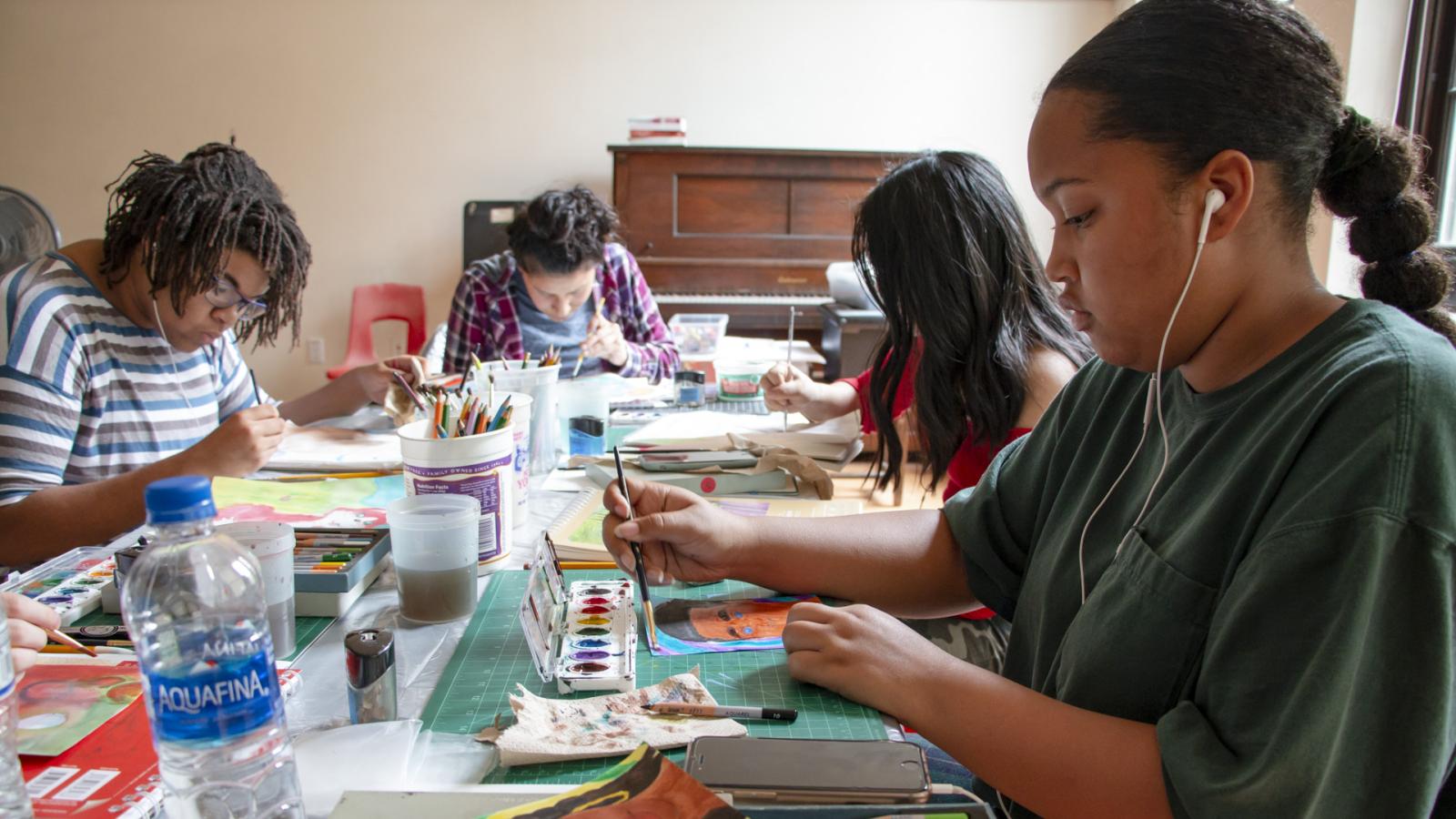 Anyone who has endured awkward preteen years understands that middle school embarrassment is particularly acute—that's why Carrie Siahpush winced as she watched a sixth-grade student trip and fall during an Arts Corps acting exercise last year.
"It took [the adults] right back to middle school and what it feels like. Even when you sneeze it's embarrassing," Siahpush, acting executive director of Arts Corps, said when recounting the incident. There was, however, no teasing, taunting, or laughter. Instead, the student's classmates cheered. "Yes, he has failed gloriously today," the Arts Corps teaching artist facilitating the exercise proclaimed.
"It was the most awesome and affirming kind of message," Siahpush said. "To see that the classroom can have that support and that community building is really, really critical."
Building this type of supportive community is essential to Arts Corps' mission: providing arts education to K-12 students in South Seattle and South King County, Washington, where race is the greatest predictor of whether or not a student has access to arts education. Studies show that students who receive arts education perform better academically overall and have a greater sense of belonging, making equitable access a vital component of racial justice.
Twenty years ago, a group of Seattle teaching artists identified the inequities in arts education access and founded Arts Corps. Many of these artists had children in those schools and witnessed first-hand how low-income Black students and other students of color were left behind. Arts Corps has received 11 grants from the National Endowment for the Arts since 2004 for various multidisciplinary arts projects that aim to close the area's access gap in arts education. Their programming reaches more than 3,000 students each year, of which approximately 72 percent are from low-income families and 84 percent are youth of color.
"We see equity as the heart and core of our work," Siahpush said, emphasizing that it is predominantly low-income minority students who do not have permanent arts teachers in their schools.
Over the years Arts Corps has recognized that the same structures that prevent low-income students of color from receiving an arts education also disadvantage teaching artists of color, so the organization prioritizes hiring teaching artists who reflect the communities in which they work in order to combat systemic racism and strengthen community bonds.
"It is a really nice way to build a sense of belonging with young people and also within the families," Siahpush said. "And we all know that having a strong family community around a school is what has the best academic outcomes."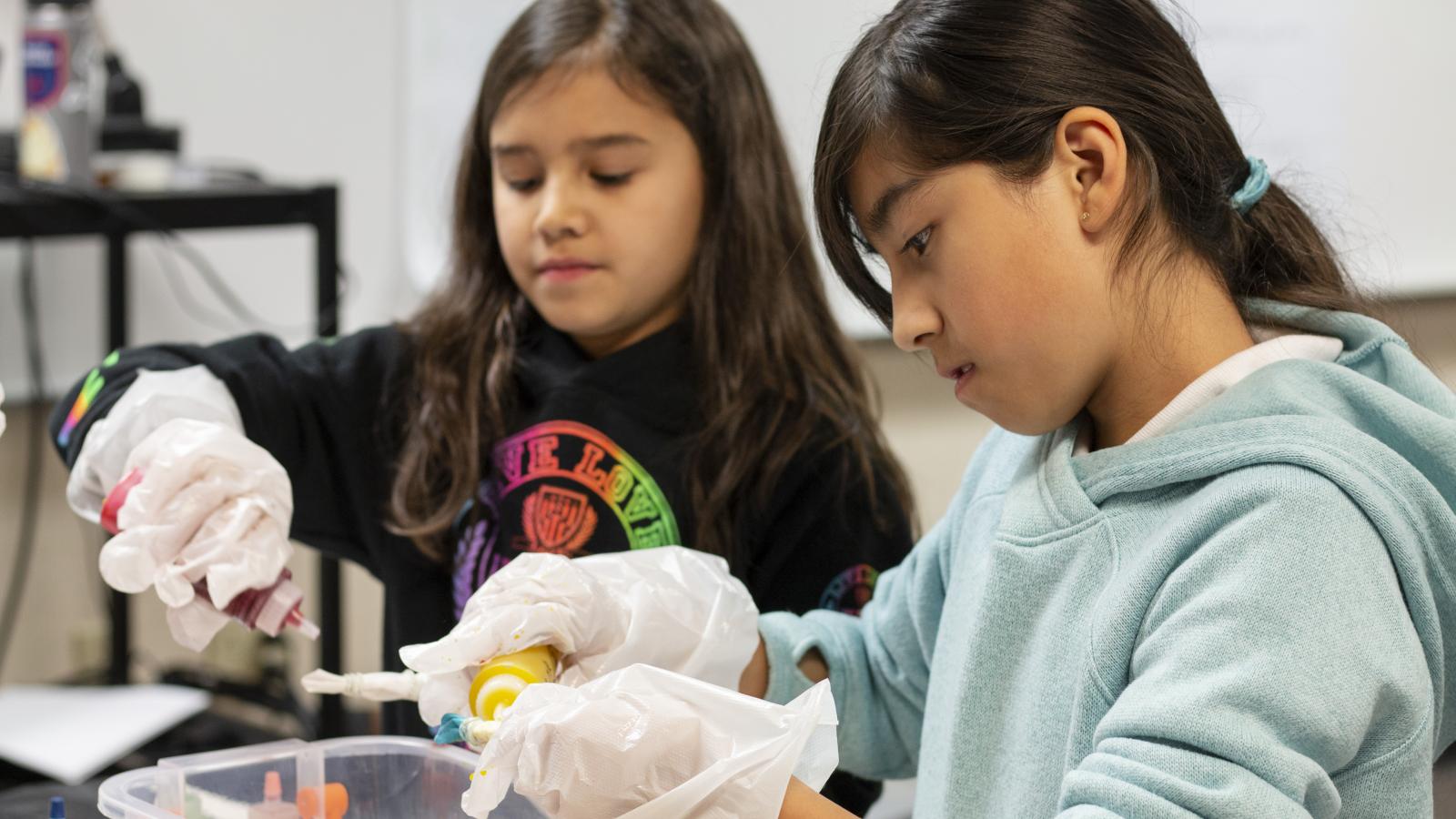 Now that schools are closed due to the COVID-19 pandemic, existing inequities have been thrown into sharper relief. But Arts Corps adapted quickly to the new reality and has distributed almost 4,000 art kits across South King County to date. Staff go to school, low-income housing, and free meal sites to give out the kits, removing as many barriers to access as possible.
"We actually want to go directly to where they live so that they can do art anytime," Siahpush said.
In addition to art kits, in the summer of 2020 Arts Corps teaching artists travelled across the Seattle area to perform pop-up concerts. They would teach dances in parking lots to allow participants to social distance while still experiencing a sense of togetherness during a time of isolation.
Arts Corps has also transitioned some programming online. If students don't have laptops, Siahpush said Arts Corps works with local partners to get them one.
The organization's Arts Liberation and Leadership Institute (ALLI), a 10-week after-school program for teens funded in part by an Arts Endowment grant, is one of the programs that was conducted entirely via Zoom this past fall. ALLI is a leadership development program that trains students to utilize art as a means of combating injustice and envisioning a more equitable future. As the Arts Corps' Social Justice Framework for Teaching Artists notes, "Art develops creative and imaginative capacity, which offers new ways of thinking. All of these lead to social change—and social justice. Making art can feel good, and joy is an act of resistance."
The theme for the 2020 ALLI program was New Earth Rise, inspired by the poem "For My People" by Margaret Walker. Walker uses the refrain "For my people" to describe the centuries of oppression Black Americans have endured and their struggle for freedom. "Let a new earth rise. Let another world be born," the last stanza reads.
ALLI students were challenged to imagine the possibilities of a new, more just society through their art. Working artists spoke with the students about how they incorporate messaging around racial justice, climate change, and reproductive justice into their work.
Students participating in ALLI could pursue one of three different pathways: music, visual art, or digital storytelling. Arts Corps teaching artist Adam Jabari Jefferson led the digital storytelling pathway and served as the social justice lead for the program.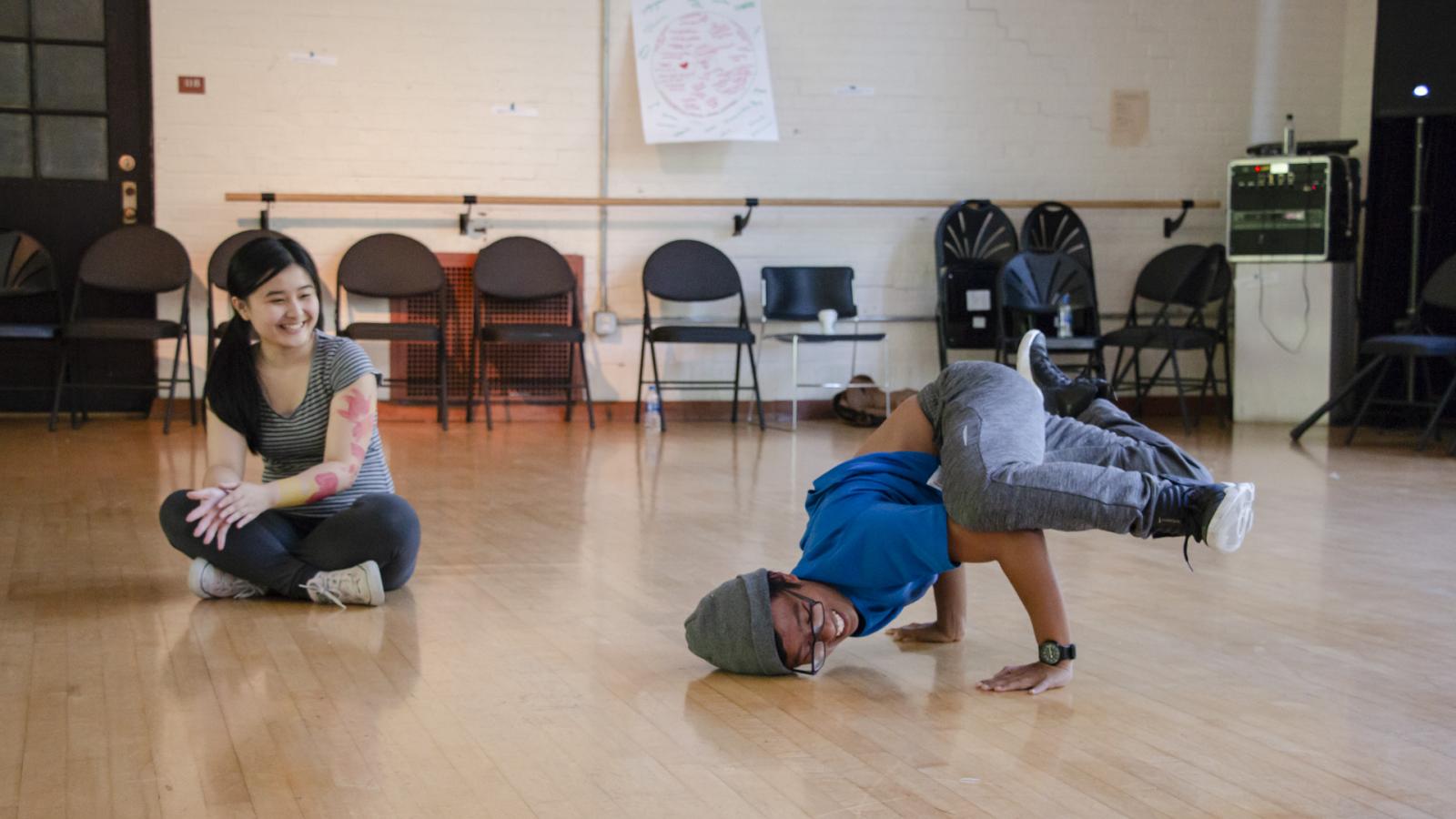 Jefferson said incorporating art in organizing is important. "It's honest and it gives [students] a space to be critical, to imagine different ways to live in society, live in a community with one another, live in relationship with our planet," he said.
"You know, no matter where these students go, they're thinking about their relationship in community, in society, with the planet, and they're processing that through a creative means, a generative means," he added.
In addition to their pathways, students were asked to use creative writing to look internally and tell their own stories. Sharing these reflections helped break down the walls created by a virtual space, and Jefferson said he was impressed with how the students and Arts Corps staff were able to collaborate and create community through computer screens.
"I witnessed more students open up, show themselves, be seen, literally and figuratively, like show themselves and show up there," he said.
At the end of the program, the students shared the work they created in a virtual showcase available on the Arts Corps Facebook page. They also received a $350 stipend from Arts Corps.
Watching the 25 ALLI students' transformation over 10 weeks was a powerful experience for Jefferson, who said he was inspired by the way they created space for each other to share and learn.
Developing that level of support within Arts Corps as an organization has taken time and practice, Siahpush said.
"It takes our community, and between all of the different identities that exist in our Arts Corps ecosystem, it takes trust to be able to have authentic and meaningful moments where somebody may have a real learning moment, and that they still walk away feeling cared for and loved."