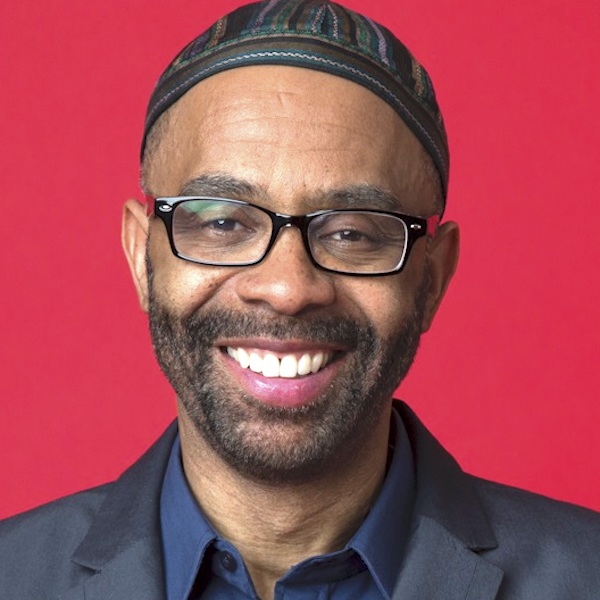 Music Credits: "NY composed and performed by Kosta T from the cd Soul Sand, used courtesy of Free Music Archive.
"Human Nature", written by Steven Porcaro & John Bettis, performed live July 1, 1991 at Vienne by Miles Davis, Kenny Garrett, Deron Johnson, Foley, Richard Patterson, Ricky Wellman.
"Calling" composed by Kenny Garrett from the cd Beyond the Wall, performed by Kenny Garrett,Mulgrew Miller, Pharoah Sanders, Robert Hurst III, Brian Blade, Rogerio Boccato.
"Sounds from the Ancestors" composed by Kenny Garrett from the cd Sounds from the Ancestors, performed by Kenny Garrett, Vernell Brown Jr., Corcoran Holt,  Ronald Bruner, Rudy Bird.
Jo Reed: From the National Endowment for the Arts, this is Art Works, I'm Josephine Reed
You just heard saxophonist, composer, bandleader, and 2023 NEA Jazz Master, Kenny Garrett.
For more than 30 years, Kenny Garrett has received critical recognition for his musical versatility—rooted in jazz but effortlessly incorporating post-bop and smooth jazz , as well as soul, rhythm-and-blues, and world music. Influenced by John Coltrane and then Pharoah Sanders, Kenny's compositions often pay homage to his ancestors and mentors in jazz while still being absolutely contemporary and uniquely his own.
 He began his career performing with the Duke Ellington Orchestra and Mel Lewis Orchestra. In 1987, Garrett began working with Miles Davis a collaboration that lasted for five years until Davis's death.
With more than 20 recordings as a leader as well as appearing on more than 230 as a sideman, Garrett has performed and recorded with a who's who of musical icons, including Art Blakey, Ron Carter, Chick Corea,  Miles Davis,  Freddie Hubbard, and Pharoah Sanders,  among many others. And Kenny Garrett maintains an enviably busy touring and recording schedule-- with his own band, as well as the world's most acclaimed jazz legends. I sat down with Kenny Garrett back in October at NYC's acclaimed Blue Note Jazz Club which graciously opened their doors to us so we might film our interview there during the day. So occasionally you'll hear the background noise of a club getting ready for the evening's performance.  Kenny and I began at the beginning---with the place of music in his childhood home.
Kenny Garrett: Actually, I was born in Detroit, Michigan.  My brothers and sisters played music also, but they didn't take it to the level I took it, so we had a family band where my sister played violin, my other sister played piano, my brother played drums, and my other sister played organ, so we had a band.  We started that way. From the National Endowment for the Arts, this is Art Works. I'm Josephine Reed.
Jo Reed: Amazing.  What kind of music were you playing?  What music was in your home as you were growing up?
Kenny Garrett: Oh, wow.  There was a lot of music in my home.  You know, being from Detroit, my mom was listening to Motown sounds and my father was listening to jazz.  So I heard people like Mahalia Jackson, James Cleveland, Aretha Franklin, The Temptations.  I used to go down to the Fox Theatre to watch those shows because my mom wanted me to be a singer, per se. <laughs> But I loved the saxophone.
Jo Reed: And when did you start to play, and why the saxophone in this, you know, with all the instruments in the world, why that one?
Kenny Garrett: Well, you know, it's-- I started playing the saxophone because my stepfather Benny, he played saxophone as a hobby, and so I liked the smell of the case, which is strange.  There was a velvet interior and I used to love the smell of that, that case, the interior, and I would sit by my stepfather Benny and just listen to him practice.  So he got me my first horn, which was really a plastic toy saxophone, and I started playing around the house like it was, you know, like I-- like most kids would do.  Then he bought me a horn, years later.  But I wasn't really trying to be a musician.  I just loved the smell of his case and I would just sit by the-- by my stepfather and listen to him play. <laughs>
Jo Reed: But then when he got the horn for you, you took to it, or were you hoping you'd get a case of your own and that-- <laughs> you'd be happy that way?
Kenny Garrett: Well, no, not that.
<laughter>
Kenny Garrett: No.  No, I think really what happened at that point is that he sent me-- taught me the G major scale, and then he sent me to a music school, and that was the beginning of it, and then I just started taking private lessons.  I didn't play in school.  I just kind of played around the house.  I wasn't really trying to be a serious musician at that time.  That didn't really happen until I got into high school.
Jo Reed: And what happened in high school that made you decide you wanted to be a serious musician?
Kenny Garrett: I met my high school band director Bill Wiggins, and that's what changed everything.  He saw something in me that I didn't see.  He took me under his wings, and everything I wanted to learn he taught me, and he became my private instructor, you know, private lessons I took from Mr. Wiggin.  He taught me so much about life, you know, and about music.  I mean, matter fact, he gave me one of my first gigs that I was playing with a organist by the name of Lyman Woodard.  He was one of the popular organ players in Detroit and he used to play with Lyman Woodard, so he actually gave me that gig, and so when I would play the gig they were late sets.  I would get home maybe like three o'clock in the morning, and my first class was Mr. Wiggins' class at eight o'clock in the morning, and so when I would show up late <laughs> for his classes, he said, "Don't show up late for my classes," but he knew that I was tired.  But he said, "Don't show up--" that was kind of the discipline that I needed to learn.  He was just telling me so many things.  Matter fact, at one point he told me about-- I didn't want to come to New York.  I wanted to stay in Detroit and be a Detroit musician.  He said, "No.  The C7 is the same around the world," and so that was to encourage me like, "You can go anyplace in the world if you can play a C7.  You don't have to just stay in Detroit."
Jo Reed: There's learning to play and there's learning charts and getting the foundation of music, and then there's getting to the heart of music, to the spirit of music, to finding your own sound and developing that, and I'm curious how that process worked for you, that development of your own sound.
Kenny Garrett: Well, I think, you know, first thing I would have to-- I have to speak about is one of my mentors used to call me The Preacher, and I think I heard record of John Coltrane.  It was called "The Blowin' Session," and it was with Hank Mobley, Johnny Griffin, Art Blakey, Lee Morgan, whole bunch of great musicians, and Johnny Griffin was playing.  It was beautiful.  He's playing all these fast things, and 'Trane came in.  He went, <sings> "Bah."  That changed my life.  It changed my life.
Jo Reed: He played one note.
Kenny Garrett: He played one note.  And when I heard this one note, that was always my quest.  I wanted to find one note that would touch people.  I wanted to play a note that even God would say, "That's a beautiful note," and so that's what I was searching for.  Once I heard that one note that Coltrane played, I was searching for that, searching, and then I started to realize that all of my heroes, Duke Ellington, he had his own sound.  Thelonious Monk had his own sound.  Coltrane had his own sound and his own music, and it was my quest.  I wanted to find this beauty.  I was searching for a sound, and then I remember I was playing with the Ellington band and Harold Minerve who's a lead alto player, he called me.  He played a tape for me.  It was a song I used to play a solo on called "Broadway," and I said, "That's my sound.  That's my sound."  Then I realized I had a sound.  But I wanted my sound to pierce people's soul.  I wanted, you know, I wanted to speak to people when I played, and the reason I mentioned The Preacher, because coming full circle I realize that's really what I'm doing.  In some way I'm a preacher on my saxophone.  I'm playing notes and I'm playing these notes to reflect the spirit of being in church or the hymns.  That's what I'm looking for.  That's what I've been doing all these years, and in turn I was able to find my sound through that even though my first influence were people like Hank Crawford and Grover Washington and Cannonball Adderley.  So I will say I was always on a quest to find my voice, especially after Harold Minerve, right, I understood that it was a possibility for that.
Jo Reed: You were a baby <laughs> when you started with the Duke Ellington orchestra.  Didn't you begin right out of high school?
Kenny Garrett: That's correct.  I was up and coming saxophonist in Detroit.  Marcus Belgrave, who's a pillar of the community, knew of me and my teacher, so they recommended me.  So I ended up just going out-- I thought I would just go out, play a little bit, but I ended up playing in the band for three and a half years.  Was a great experience.
Jo Reed: It's like going to the University of Duke Ellington.
Kenny Garrett: Oh, for sure.  There's so many people that helped me, but the Ellington band was a very crucial moment for me because I learned how to blend.  I learned to blend with 18 musicians.  In turn, I learned how to blend when I played with Miles Davis.  I learned how to make it one horn.  I learned how to blend with Freddie Hubbard, so every time I would play with anyone it was always about one instrument.
Jo Reed: You worked with many bands, with Mel Lewis and with the Danny Richmond Quartet, and then Art Blakey and the Jazz Messengers, which seriously, I think almost every Jazz Master I have spoken with had some time in the Jazz Messengers.  Can you talk about that experience and what you learned from Art Blakey?
Kenny Garrett: Well, what I learned with Art Blakey was how to build a solo.  You had two courses.  That's like two times around the song, and the second course he would do a press roll and you have to make-- finish your statement, but mainly Art was teaching us how to be leaders.  I mean, he allowed us to take the mic.  He allowed us to direct the band.  So he was would teach us how to be leaders.  Sometimes arrangers, you know.  He was just teaching us to be a complete musician.  I mean, just it was a honor just to be in that band, you know, because you think about the saxophone chair.  You know, having people-- I mean, Benny Golson, having Wayne Shorter, NEA Jazz Master Donald Harrison, Billy Pierce.  There was Branford Marsalis, NEA Jazz Master Branford Marsalis.  So was all these musicians who came through there so you get a chance to the experience, to have that same experience.
Jo Reed: When did you move to New York?
Kenny Garrett: I moved to New York in around '80, I started doing-- subbing on the Ellington Broadway show "Sophisticated Ladies".   I wasn't a regular, so I also started playing with Mel Lewis Orchestra at that time.  That was a great band.  It was great for me to really just be able to be in the band for while and to absorb that because I went on to play with other bands, you know.  When I first moved to New York I was really playing in whole bunch of bands, like Lionel Hampton, Frank Foster, all these great musicians, and so I got a chance to be around those musicians and play this music.
Jo Reed: How did you end up with Miles?  How did that come about?
Kenny Garrett: Well, actually, I auditioned for a French movie with a tenor saxophonist by the name of Gary Thomas.  He came in, he said, "Well, are you interested in playing with Miles?  Because he's looking for alto player."  Said, "Of course.  I would like to play with Miles."  So he gave me Miles's number.  I called Miles up.  He wasn't there.  He had-- this valet was there.  He said, "Call back."  You know, Miles called me back later and he said, "Well, send me some music."  So I sent him some music.  I think I had some music had played with Art Blakey and the Jazz Messenger, my own music, which was a little commercial.  So I sent it to him and he said, "Kenny, you sound like you're wearing Sonny Stitt's dirty drawers."
<laughter>
Kenny Garrett: And that was the beginning.  So I went out-- I went out to do like four gigs for Miles and I thought that was it, and I ended up joining the band, and my first experience with Miles was really interesting.  My microphone never worked.  First few gigs playing with Miles, my microphone didn't work, and I remember when he finally heard me he was wearing his sunglasses, and I was wearing sunglasses because I was trying be like Miles.  He took off my sunglasses.  He looked at me, say, "There's something beautiful coming out of this saxophone," and that was the start of that, start with Miles, and we had a great experience because with Miles we had a kind of call and response that wasn't taught.  It was basically he played a line, I played it back.  He don't tell me.  I just thought that's what I was supposed to do, but I didn't, you know, I didn't know the rules.  I didn't have a blueprint of what to do, so he played it back, I played it, and I was learning this language like a African tradition. 
(Music Up)
You know, people said, you know, "What was Miles teaching?"  He taught me every day because I was learning his language by, you know, playing it, and I remember hearing him tell Herbie one day, he said, "Herbie, Kenny's playing all of my licks and the wrong ones, too."
<laughter>
Kenny Garrett: I'm like, "The wrong ones too?"  I'm like, "All those notes were good to me."
<laughter>
Jo Reed: After Miles passed, you began your own group, and I wonder if you can speak a little bit to the difference between being a leader and being a sideman, and I think there's probably joy in both and challenges <laughs> in both.
Kenny Garrett: Well, the challenge of being leader band-- a band leader, I think, is as a sideman, you don't have to do all the other things a sideman don't know about, by doing interviews or while the sidemans are sleeping the leader's out doing things.  I'm usually out doing interviews or some music I have to work on.  There's something I'm doing on it to make sure everything is okay, but the difference between playing with Miles is that that was first class, so I didn't have to do anything but just show up to the gig.
<laughter>
Kenny Garrett: With my band it was different.  I had to do everything because I was up and coming.  Even though I had played with Miles, that was Miles's situation.  Now I had to create my own situation, and so I started from the bottom, and even though I played with Miles, I had to start and start building and playing in different halls that weren't the big halls that Miles played in and I had to build up to, and I was down for it.  I knew that some point I would have to do that, and so I just started just trying to get musicians with me who I thought would be able to play my music, and then I started also trying to think about conceptually how I wanted the music to be.  So I knew that my influencers at that time were people like, I mean, McCoy Tyner and Woody Shaw.  I had been in, you know, playing music with them, so I really wanted to keep that, some people call it a spiritual jazz, I wanted to keep that kind of music going.
Jo Reed: Well, Pharoah Sanders is another person.  I'm-- in fact, we're sitting in the Blue Note.  This is the place where you first played with Pharoah.
Kenny Garrett: That's correct, yeah.
Jo Reed: Another NEA Jazz Master.  Talk about that playing that you did with him.  You've done-- you made beautiful music with him.
Kenny Garrett: Well, you know, Pharoah and I were actually coming from the same spiritual place.  I love his playing because he was organic.  It wasn't really about playing the changes completely but it was about his spirit and his notes, and like I said earlier in the interview it was-- that's what I was searching for, this note, this one note.  I was really honored because Pharoah stood on the bandstand with John Coltrane and I could stand on the bandstand with him.  So we start to develop our relationship really just by I would show up at his, you know, his concerts or his gigs and he would say, "Where's your horn?  Don't show up without your horn."  I guess he really wanted me to experience it on the bandstand, and so eventually I started showing up and I would play with him, and I started to understand the music better.  I guess he understood that I was-- I wanted to go the place he was going, and so he invited me into his world, and I learned so much from Pharoah.  The way I introduced the band is like Pharoah.  The way I-- sometimes I would play, especially the beginning of my-- with my band, I would play longer songs to experiment with the harmony.  I learned so much from Pharoah about how you bring the audience in to this music.  That was my go-to person to really learn, and how to pick songs, and the spiritual part is really what I loved about Pharoah.
Jo Reed: Well, when you're performing live it's such an exhilarating experience for the audience, and I wonder if you can talk about the energy from the audience.  Does that become almost a call and response for you when you're performing, and does it create a heightened feeling for you as you create for the audience?
Kenny Garrett: Well, I think it's important to receive energy from the audience, but I always come to play.  If there are two people in the club, I come to play, because I just feel-- Art Blakey used to tell us, you know, the music comes from the Creator to the musician to the audience.  So the thing is that if there's one person, we don't know if that's the person just hearing Kenny Garrett for the first time.  I can't really hold back.  I have to play.  It doesn't really matter what situation, I just come to play.  Even if it's a sound check, I'm playing.
<laughter>
Jo Reed: You began composing very early.  How do you begin a piece of music?  What inspires it, a melodic line, an image, all of the above, it depends on the day?
Kenny Garrett: Well, how I start compositions, usually from the piano.  Sometimes-- I mean, I've written a whole bunch of songs in different keys, so I'll just sit at the piano and I might just play a chord, and this chord might conjure up something, or maybe something, a melody that comes up first, and I'll keep working on that melody, or I might develop the chords on the piano.  Just so many different ways I write.  It's not one way.  It's sometimes a melody that I hear on the saxophone and then I'll go to piano and put that in and try to work that out, but it-- or sometimes I might hear.  Might be in a dream.  I might hear a melody.  But I hear it and I, you know, write what I'm hearing, and I try sometimes harmonically, I'll change, you know, chords.  What I'm looking for ultimately is really does that composition make me feel good?  And if a composition feels good to me, then that's when I present it.
Jo Reed: Do you leave room when you write for your musicians to put themselves into it?  How much instructions do you give, how much space do you give?
Kenny Garrett: Initially, I mean, the only instructions that I give to the musicians is to conceptually understand the music.  So what that means is that when I'm writing the composition I have them in mind, and then I'm not teaching them by music, even though I read music and write music.  I teach them the music, that way I don't lose the feeling of the music, and when I give it to them, once we play the music enough and I know that they understand the concept of the music, then we can start to move.  I want them to have that experience.  I learned it from Miles.  Miles wasn't saying, "You do this, you do this."  It was that he wants you to understand it, you know, and so that's what I do with my music.  I don't really try to say it's only this, but as long as you-- conceptually you understand it, then we can move together, and with my latest CD, Sounds from the Ancestors, exactly what happened.  You know, they heard it, but now we're taking it to another place.  We can move it to what I heard originally.
Jo Reed: You have so many musical dialects that you speak in your own voice.  I'm not sure how, but...
<laughter>
Jo Reed: But you manage to do this.  You know, it can be some hip-hop, some R&B, Afro-Cuban, and Asian music has long been an influence on you, and your album Beyond the Wall is probably your fullest expression of that.  What's the draw to Asian music?  And talk a little bit about Beyond the Wall.
Kenny Garrett: I've always had a love for the Asian country.  Japan, China and Korea.  I have to back up.  I was going to Europe one year, and I heard someone say, "Americans are lazy.  They don't speak any language--" you know, so I decide I'm going to get a tape and learn Japanese.  That was like my first introduction to the Asian culture, and so I started learning Japanese by tape and books, and it really, when I would play in clubs, I would see Japanese people and I would start speaking.  So I always had an affinity for Asian language.  That actually trickled down to not only the Japanese, because on Happy People I did a Asian medley where I did a Japanese song, I did a Korean song.  I wanted a Chinese one but I didn't know any at that time.  I learned it after that, so I was always searching for that, but you know, what I was looking for the spiritual thing, that comes through the music.  I started learning Japanese folk songs and I loved the melody, but it was the same as listening to a Negro spiritual or the hymns.  I was looking for that same stream in all the music, if it was Japanese, if it was Korean, if it was Turkish.  I was always looking for that, so how I ended up doing Beyond the Wall is how-- which is crazy. I went to a music store looking for a violin book.  So I saw this erhu book, which a two-string violin book, and I bought this book, went back home.  I was practicing out of this book.  Said, "Wow, this Chinese book sound like African music.  Weird."  I had to go to China to figure it out, so I went there to study Chinese music, traditional music.   Now it's full circle.  Now the Chinese music sounds like African music, African music sounds like Chinese music, and then I figured, "Well, it's the pentatonic scale."  So that was a lesson that I learned from searching for this Chinese music, but when I did decide to do Beyond the Wall, I wanted to use Mulgrew Miller, Bobby Hutcherson, Pharoah Sanders, my man, Brian Blade and Bob Hurst.  When I play with the elders I try to find a music to inspire them, because they played everything.  So you don't want to just give them some generic thing.  So when they heard that erhu, they lost their mind, and I knew that they would be inspired. 
(Music Up)
It was just really something that I had to do, and it's just really part of that search of my love for the Asian culture.
Jo Reed: You joined Chick Corea, Christian McBride, John McLaughlin and Vinnie Colaiuta for Five Peace Band and you won a Grammy with Five Peace Band.
Kenny Garrett: That's right.  Yeah.  I won a Grammy with the Five Peace Band.
Jo Reed: How did this band come together?
Kenny Garrett: <laughs> Well, the Five Peace Band came together because Chick had been looking for me for while, and so I knew years out, because, you know, Chick does a lot of project, that it was coming, and then when he called me, said, "Well, we going to do the Five Peace Band," and he told me about the musicians, I was thinking, "Well, maybe I can contribute some music," but I didn't know what direction it was going to be and it was a lot of music that Chick was writing and John was writing.  It was hard music in some ways because I remember playing it and we had like these written parts that played in like-- in unison, and I was thinking, "That's a lot of music," but I don't like to read music.  I read music, but I like to, after two weeks of playing this music, I had to find another way because reading music stops my creativity.  So I needed to take my eyes off of the sheet music and started playing the music, so after coup-- about two weeks I started just playing, learning the music by memory.  But, I mean, the experience of playing with John and Chick, I mean... I mean, I learned so much with John because we used to sit in the back of the bus and we would share our love for languages.  Now at this time I was learning Chinese.  He used to teach me about Indian ragas.  He was a teacher, was educator.  So I would sit in the back of the bus and hang out with John and we would talk about life.  But I have to talk about the brotherhood with Chick and I.  He just wants to learn.  He just wants to play, and I think that's what he saw in me, that I like-- I love to play.  We were friends on the bandstand and off the bandstand.  It was just basically it's love for music, and we shared that.  We just come to the same place, and I think that's why we got along well.  We're different ways but we're still approaching it from that spirit.  He's looking for that too.
Jo Reed: At that point at our interview, Ravi Coltrane, John's son, and a brilliant musician in his own right, arrived at the Blue Note bringing with him his father's soprano saxophone, and it turned out Kenny had history with that particular instrument.
Kenny Garrett: The story with that is that I, when I was in high school and Darrell Roberts , I used to go over to his house.  He used to say his uncle was John Coltrane and I didn't believe him, but I used to go to his house and I would play the soprano, and so one day he was in Queens and he called me, said, "Well, I'm at my cousin Ravi's house."  This is when I realized that that was the truth and I just stopped.  I said, "Wow, he's John Coltrane's nephew."  So then I was thinking about the horn for this, this situation.  I was thinking, "Wait.  Would just, would be nice if we could get that horn."
Jo Reed: So Kenny called his good friend Ravi, who brought his father's saxophone to the club, and Kenny Garrett began to play for us on the saxophone he used as a boy, the one that had belonged to John Coltrane.
Kenny Garrett: <plays saxophone>
Jo Reed: Amazing.  That was a gift.  Thank you.  Thank you, Ravi.
Kenny Garrett: One of my heroes, John Coltrane.  Wow.  Got me on this one.  Sorry about that.
Jo Reed: Take your time.
Kenny Garrett: <laughs> Whoo.
Jo Reed: That was very emotional for you.  What was going on while you played that saxophone?
Kenny Garrett: When I was playing John Cole's horn, something came over me.  I mean, not just the fact that this John Coltrane's horn but the vibration of this horn is taking me to a place.  I'm playing and I'm feeling the spirit of Coltrane come out this horn.  I'm putting this air in but I'm still feeling like, "Wow, this is-- this is something different here."  I think people, they leave their mark on these instruments.
Jo Reed: When I think about the music that you do and the element of spirituality that you talk about, I think about music and I think about art, and its ability to heal.  Do you ever think about that, as you're composing, as you're performing, or do you ever feel that from the music itself?
Kenny Garrett: Well, I believe that music does heal people.  I think, you know, this music we play, it's like a high you get.  It's a place where you go to this zone.  Everybody experiences it but differently, and I think, you know, that's the reason that I play this music, because I know that it heals me, heals my soul, heals my spirit, and I know in turn when we're playing, that's the idea that you want to convey to the audience.  You want to play something for them to experience.  Trying to lift the spirit, because to me music is always about trying to heal.  There's still-- that one note is still about trying to heal people, trying to get to the soul, so I believe strongly that music heals.
Jo Reed: Your last album Sounds from the Ancestors is such a rich tapestry of music.  What was the concept behind this?
Kenny Garrett: Well, the concept about-- behind Sounds from the Ancestor I was really trying to capture that spirit.  When I was a kid I used to-- I don't know how this tradition started but I used to hide all my favorite 45s and 78s and albums, and then when Christmas Day would come I would play this music and would fill up my heart and soul.  I was trying to capture that feeling.  When you a kid and you feel something and you don't know why it is, I didn't understand it, but I knew that it was a love for music and I wanted to have people experience that experience that I had when I was, and I was reaching for it, trying to conjure that back up, and so you have "Sounds from Ancestors" song itself is really a combination of a lot of different genres, of classical, of Yoruban, of gospel, of everything I was trying to put into that song.  But then I'm also-- you have like a song I wrote for the late great Roy Hargrove, then the song that I wrote "For Art's Sake" was really about Art Blakey.  Once again, you know, trying to thank the elders, Art Blakey and Tony Allen, and I actually saw Tony Allen in France right before the pandemic and I told him I had written a song for him, but he never got a chance to hear it.  I wanted to write some music for him because he was influenced by Art Blakey, and in turn I figured, "Well, if he's influenced by Art Blakey, then I could write something for both of them," and so that's where you have like the African meets kind of jazz thing, and I think the thing is I was just trying to bring it full circle.
(Music Up)
Jo Reed: And that album won the NAACP Image Award, which had to have been really gratifying for you.
Kenny Garrett: It was definitely gratifying -- it was great.  Because, I mean, you know, it's speaking to that.  It's speaking to the history and the tradition of music and the ancestors, so that was really apropos.
Jo Reed: Well, you have the ability to bring in all of these voices and honor that legacy and yet at the same time be so contemporary.
Kenny Garrett: Well, you know, I listen to everything.  I have my ears to the ground.  Listen to younger players.  I'm listening to everything.  I've always been that way.  When I first came to New York I could come and I can go to see five bands the same night, because we started having like early hours where you'll start at seven o'clock, so I would actually start at the Iridium.  Then head down to the Village Vanguard.  Then go to the Blue Note.  Then come back to Birdland.  I can't do that now, but I would come over and I would hear all this music in one day, but I've always been curious about what other people are doing, but I also have a strong idea about what it is I want.  But I like to be cognizant of what other people are hearing in the music, what they're trying to do.
Jo Reed: Kenny, you have won many awards, and now you're an NEA Jazz Master.  What does that mean for you?
Kenny Garrett: Oh, that's great for me because it's an honor.  I think about all of-- all my heroes, Dizzy Gillespie and Miles Davis and Freddie Hubbard and Chick.  These are people who I look up to, and to be in their company, to be honored by the NEA, is really-- it's really important for me because I feel like even though a lot of people kind of thought I was already there, it's official now.  I'm part of that, of that group, of that community of musicians.  Of the NEA Jazz Masters.
Jo Reed: And it's more deserved than I can even begin to say.
Kenny Garrett: Thank you.
Jo Reed: Thank you for giving me your time, Kenny, and especially, thank you for playing.  That really meant a lot.
Kenny Garrett: Thank you.  Thank you.
Jo Reed: That was 2023 NEA Jazz Master saxophonist, composer and bandleader Kenny Garrett. Keep up with Kenny and his concert schedule at kennygarrett.com. Many thanks to the Blue Note Jazz Club and to Ravi Coltrane.  And you can find out more about NEA Jazz Masters at arts.gov. You've been listening to Art Works produced at the National Endowment for the Arts. We'd love to know your thoughts—email us at artworkspod@arts.gov. And follow us wherever you get your podcasts and leave us a rating on Apple, it helps other people who love the arts to find us. For the National Endowment for the Arts, I'm Josephine Reed—and thanks for listening.
2023 NEA Jazz Master Kenny Garrett is a saxophonist, composer, and bandleader. He sees himself as a "preacher" on his saxophone—searching for that "one note that would touch people." In this music-filled podcast, Garrett talks about his musical beginnings in Detroit, move to NYC, and time with the Duke Ellington Band, Art Blakey and the Jazz Messengers, and Miles Davis, and the different lessons he learned from all of them. He discusses finding his musical voice,  his role as a band leader, the spiritual aspects of his music, the lasting influence of John Coltrane, and his collaborations with Pharoah Sanders and Chick Corea.  Garrett also talks about his process for composing, teaching his music to band members, the energy created by live performance, playing as part of the Grammy Award-winning Five Peace Band, his ability to incorporate many different genres in his music, his commitment to both contemporary music and music from the ancestors, and his deep belief in music's healing power.  He also plays John Coltrane's soprano saxophone live during an emotional moment in the podcast.  
Let us know what you think about Art Works—email us at artworkspod@arts.gov. And follow us on Apple Podcasts!