Kenny Garrett
Saxophonist, Composer, Arranger, Bandleader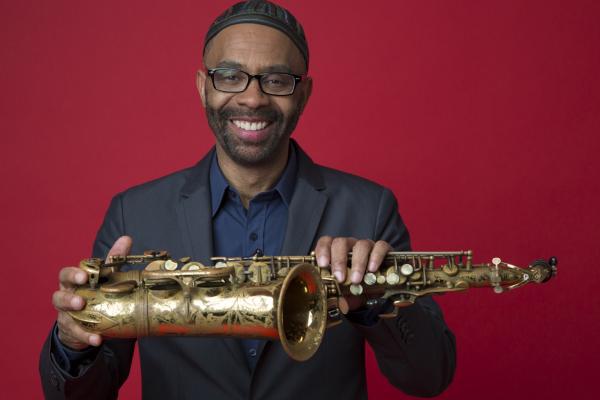 Bio
For more than 30 years, Grammy Award-winning saxophonist, arranger, composer, and bandleader Kenny Garrett has garnered critical recognition for his versatility in jazz, blues, and R&B contexts. He began his career performing with the Duke Ellington Orchestra and Mel Lewis Orchestra. In 1987, Garrett began working with Miles Davis, becoming a member of Davis' working group—a collaboration that lasted for five years.
With more than 20 recordings as a leader as well as appearing on more than 230 as a sideman, Garrett has performed and recorded with a multitude of musical icons, including Art Blakey, Ron Carter, Herbie Hancock, Roy Haynes, Freddie Hubbard, Q-Tip, Pharoah Sanders, and McCoy Tyner among others. Garrett maintains a prolific touring and recording schedule with his own band, as well as the world's most acclaimed jazz legends.
Garrett grew up in Detroit, Michigan, and his father, a carpenter, played tenor saxophone as well. His early exposure to the instrument encouraged Garrett to pick up the horn and pursue a career in music. In 1977, following graduation from Mackenzie High School, he was invited to join the Duke Ellington Orchestra, then led by Ellington's son Mercer. A few years later, Garrett joined the Mel Lewis Orchestra and later became a member of the Dannie Richmond Quartet, as well as playing and recording in Art Blakey and the Jazz Messengers. In 1987, Miles Davis, during yet another comeback in his career, offered Garrett a spot in his band. Garrett recorded and performed in concert with Davis until his passing in 1991.
In 1984, Garrett recorded his first album as a leader. Throughout his solo career, his music has varied stylistically from jazz and post-bop to soul, rhythm-and-blues, and smooth jazz to world music influences. Inspired by the spiritual jazz of John Coltrane and Pharoah Sanders, Garrett's compositions often pay homage to his ancestors and mentors in jazz but are rooted in contemporary sounds. For his latest album, Sounds from the Ancestors, Garrett explored his musical roots in Detroit, reflecting the city's soul, jazz, gospel, funk, and hip hop musical forms, as well as West African and Afro Cuban traditions.
Among his many honors include numerous DownBeat magazine Readers Polls in the alto saxophone category; a 2010 Grammy Award, along with Chick Corea and John McLaughlin, in the "Best Jazz Instrumental Album" category for Five Peace Band – Live; and the 2022 NAACP Image Award for Outstanding Jazz Album-Instrumental for his album Sounds from the Ancestors. Additionally, he holds an honorary doctorate in music from Berklee College of Music in Boston, Massachusetts.
Selected Discography
Black Hope, Warner Brothers, 1992
Pursuance: The Music of John Coltrane, Warner Brothers, 1996
Beyond the Wall, Nonesuch, 2006
Seeds from the Underground, Mack Avenue, 2012
Sounds from the Ancestors, Mack Avenue, 2021
I am honored and humbled to be part of this great community of NEA Jazz Masters—some who are my mentors and some who are my friends. It warms my heart to know that I'm standing on the shoulders of so many soldiers of the field doing my part to keep this American art form alive and moving forward.